The 5 Best Product Review Apps For Shopify in 2021
Shopify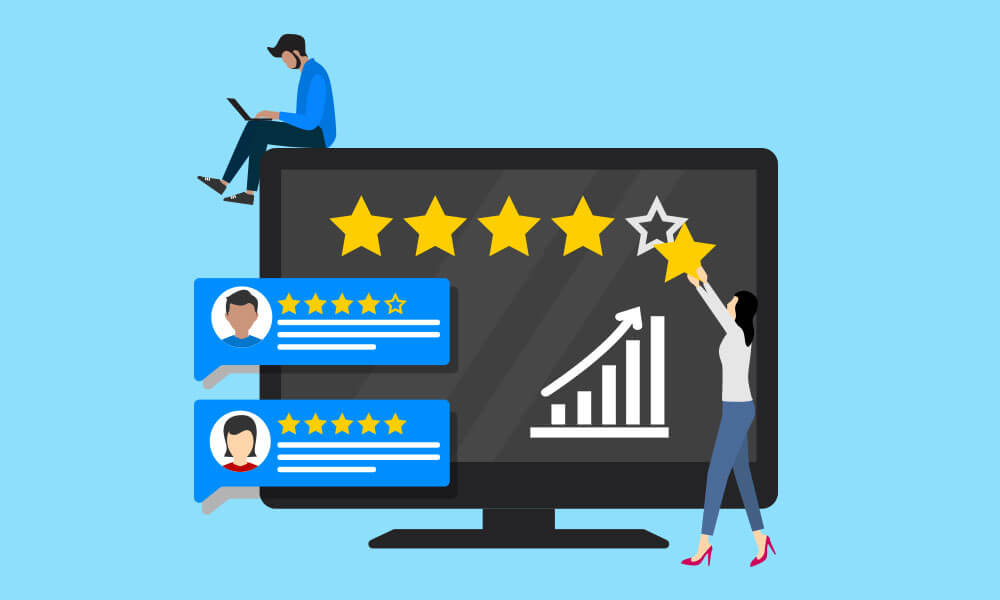 With the advancement of modern technology, online shopping has grown more popular than ever before. Therefore, to optimize your Shopify store, you have to spend a significant amount of time seeking and researching supporting apps, including Shopify product review apps.
It's impressive that you can collect customer reviews in bulk with a single click and display them beautifully in your store. There is no requirement for programming knowledge.
We've collected the best Shopify product review apps so you can leverage one of them to grow and enhance your store's credibility.
List of the best Shopify product review apps for your store
Out of the over 5,000 Shopify apps that integrate with its online stores and serve a wide range of company optimization needs (including profit-boosting apps), here are the 5 top Shopify product review apps in 2021 based on overall app ratings, features, and pricing.
Ali Reviews
Product Reviews
Stamped.io
Yotpo
Opinew
Why is social proof essential for your business?
Product reviews are crucial to the growth of your online store. However, you may be unaware of their true significance. According to BrightLocal, the following statistics:
91% of millennials place as much faith in online reviews as they do in friends and family
97% of people who read reviews read businesses' responses to reviews
The average consumer reads ten reviews before deciding whether or not to trust a company
If you've ever purchased on Amazon or eBay, you've undoubtedly seen the impact of product reviews. The fact is that most of us are hesitant to take risks and would rather hear about other people's experiences before making a purchase.
1. Make your store more trustworthy
New businesses can have a tough time competing with old mainstays, whether you have a brick-and-mortar establishment, a cutting-edge tech service, or something in between. Online reviews show customer approval and prove that your product or service works and performs effectively. You will earn authority, credibility, and approval.
2. Improve your rankings
Besides social proof, customer reviews can help your store and products gain more visibility. How? Through SEO (search engine optimization).
User-generated content offers your website essential keywords that are updated daily with the inclusion of new reviews (Google also loves websites that steadily add new content). As a result, the more reviews you have, the better you should rank in Google for your store's most crucial keywords.
3. Social proof increases conversions
Customers tend to buy from a website that includes product reviews rather than one that does not. Display customer reviews on your website offer potential buyers greater confidence in their purchase decisions and minimize doubts, result in a better conversion rate.
The important role of Shopify product review apps
Even if a customer is pleased with your product, it is not always easy to acquire reviews. You're probably wondering why customers don't leave reviews if they're happy. The solution rests in how simple it is for your customer to leave a review.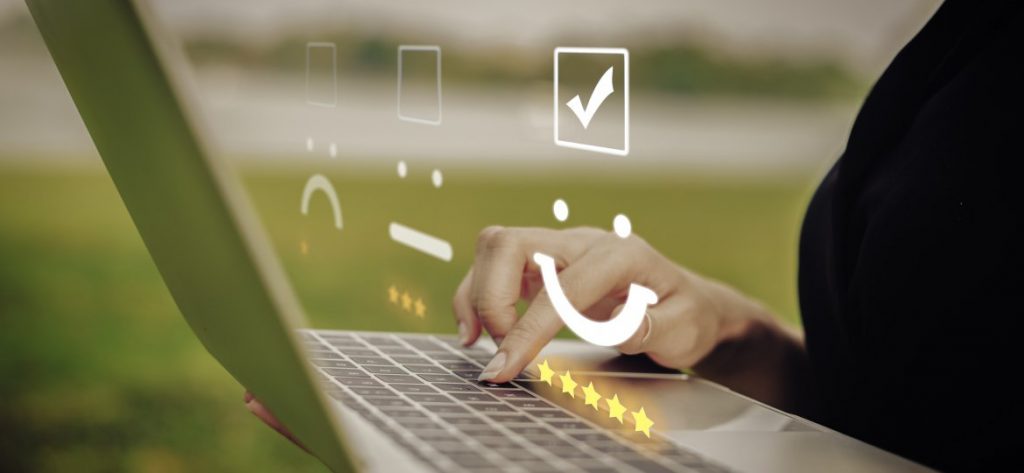 Product review apps can assist your store in doing many amazing things rapidly, such as automatically collecting reviews in bulk, sending customer-friendly review requests, displaying them most attractively, and using them to encourage sales. Find the fittest Shopify product review app for your business to help you boost the power of your customer reviews.
Best Shopify product review apps
We have selected some of the top Shopify product review apps on the market to assist you. The Shopify product review apps on the list were chosen for their efficiency in collecting and displaying reviews and based on their trust scores and ratings on the Shopify app store.
True of a rating of 4.9/5 stars on Shopify, Ali Reviews offers helpful and unique features, such as sending automated review requests via email and SMS, rewarding reviewer efforts with discount codes, and more. Ali Reviews is a powerful app to build trust and – most importantly – boost conversion.
Ali Reviews allows you to display custom content at various points throughout the buyer journey and impress them at the first visit. In addition, you can personalize customer reviews to motivate their confidence and reduce cart abandonment.
One more plus point is the user-friendly app interface and great user experience. Ali Reviews is fully responsive to Shopify themes, including the latest Dawn theme and Online store 2.0.
Key features:
Collect reviews by sending customized and automated review requests via emails and SMS.
Reward customers with discounts for photo reviews, increase retention and repeat purchases esp. in 2021 Halloween, BFCM, Christmas, New Year…
Schedule emails by order status and add Country Timing to ensure emails reach customers at the perfect time.
Wide range of widget styles: Review box (Grid, List, Carousel), Review popup (Horizontal/vertical), and 4 styles of Carousel slider.
Feature reviews on Homepage Carousel, Cart page, or any page to boost product discovery and encourage buyers.
Display personalized reviews based on customer info (location/ AOV/ total spending), on-site behavior (products in the cart, viewed products).
Display reviews of key products to upsell/cross-sell and increase Average Order Value.
For AliExpress, DSers dropship: Import photo reviews from AliExpress & DSers to your store in few clicks.
Pricing: 7-day free trial
Starter: $9.90/month. Free $0.3 SMS credits
Essential: $19.90/month. Free $5 SMS credits
Premium: $49.90/month. Free $15 SMS credits
Enterprise: $99.90/month. Free $35 SMS credits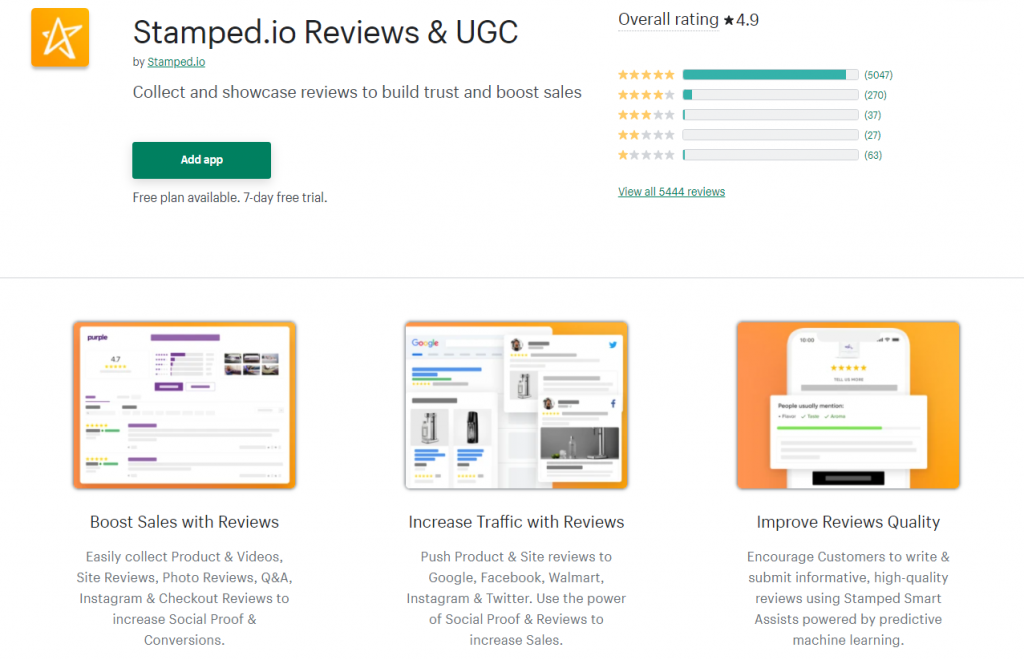 Stamped.io is more than just a Shopify product review tool; it's a powerful customer marketing platform. Stamped.io is stuffed with remarkable features and advantages such as collect video reviews, social network reviews, net promoter score app, or check-out reviews to generate a high impact and strong impression on shoppers.
​From over 5,000 reviews, the app has received an average rating of 4.9 stars.
Key features:
Collect reviews from multiple channels, such as review request email, Facebook Messenger bot, SMS review request.
Multiple on-site display widgets – Carousel, Side Drawer, All Reviews page, Instagram Feed, Checkout Comments, and more.
Measure customer happiness as it relates to the company brand, product, or service with Net Promoter Score.
Encourage customers to write higher-quality reviews with predictive AI machine learning algorithms.
Uses AI to analyze shopper reviews and converts them into contextual overviews.
Offer coupons to reviewers – Incentivize photo and video reviews.
Retargeting Ads – Create Facebook & Instagram ads with reviews.
Pricing: 7-day free trial
Lite: Free
Basic: $23/month
Premium: $49/month
Business: $119/month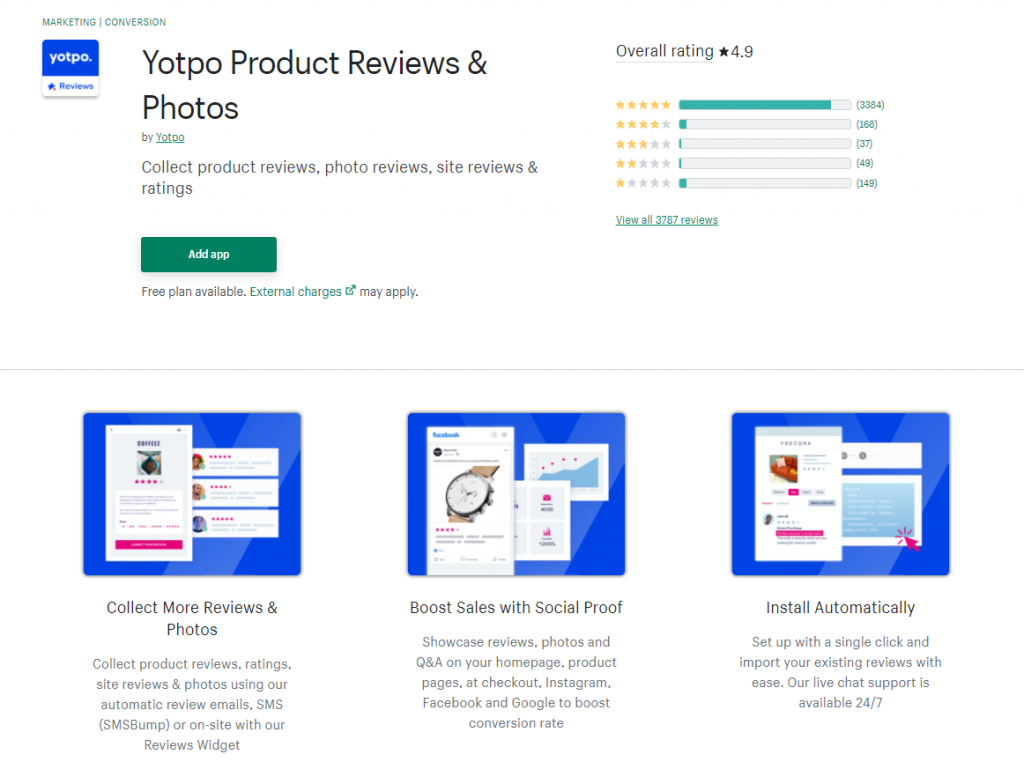 The next candidate on the list of the best Shopify product review apps today is Yotpo. Yotpo is an all-in-one eCommerce marketing platform that boosts sales for merchants. This app allows you to showcase customer content on site, plaster them across social and search platforms. It has an average 4.7 stars rating from more than 2,500 reviews.
Key features
Collect reviews in multiple ways via emails & SMS review requests.
On-site display — Widgets, tabs, and star ratings can be placed on multiple pages and at checkout.
Automated review requests — Easily collect reviews via email.
Review management — Moderate, filter, organize and comment on reviews from a simple dashboard.
Business growth tools — Paid plan offers coupons, email upsells, and rich snippets to help users increase sales.
Pricing:
Free: Free
Growth 50: $19/month
Growth 100: $29/month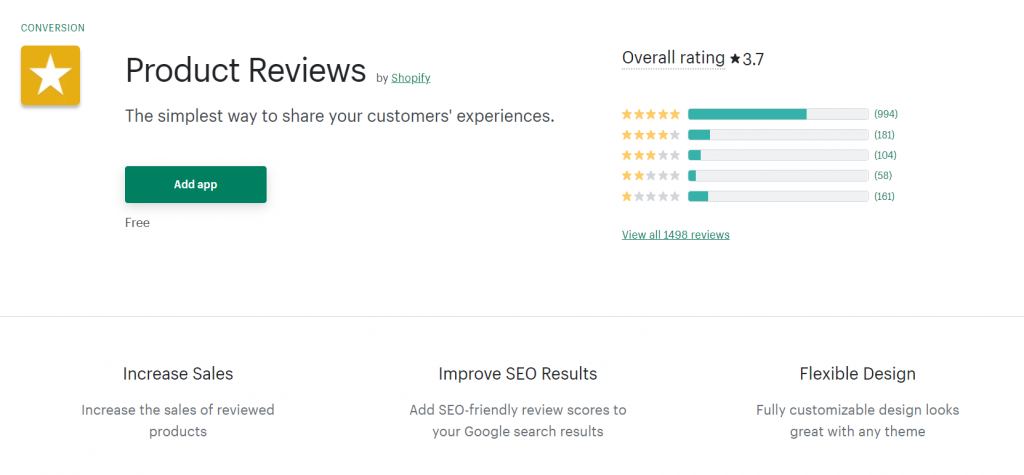 If you're new to Shopify and want a low-cost, simple way to add reviews to your website, Product Reviews is probably the review app for you.
The biggest compliment we can pay to Shopify's tool is that it gets the job done. It doesn't come with the bells and whistles of Okendo, but it can be customized to fit nicely with any store and makes it as straightforward as you could hope for to collect, manage, and publish reviews. The app has a 3.7 stars rating from more than 1000 reviews.
Key features:
Simple customization — Layouts, colors, and text can be edited without the need to code.
Bulk management — Easily filter, publish, and hide reviews.
Import and export — Download reviews as a CSV spreadsheet.
Multiple theme integration — Fits seamlessly with virtually all Shopify themes.
SEO-friendly review scores — Use review scores to Google search results.
Pricing:
Free: Free
Growth 50: $19/month
Growth 100: $29/month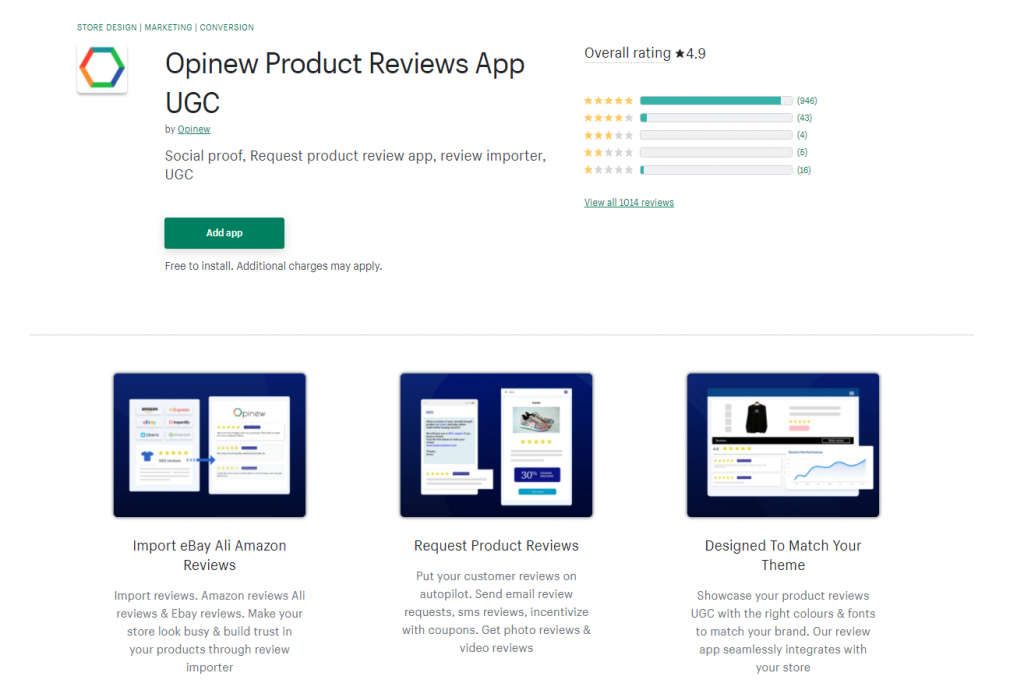 Opinew app is a Shopify product review app that allows you to collect product reviews with the option to add photos from customers. It also lets you import from Amazon, AliExpress, and eBay, making it easy to get started.
You can also optimize with AI to feature your best reviews at scale for up to 20% higher conversions. The app has a 4.9 stars rating from more than 1000 reviews.
Key features:
Import product reviews to your store
Review request emails – ask reviews through email requests
Using the power of AI, Opinew will automatically pin the best converting reviews on all your products.
All Reviews Page – create a page with all reviews from your shop
Customize color, style, fonts of reviews widget
Search Engine Optimization – rich snippets make stars and product info appear in the Google search results
Explode your sales right now with the best Shopify product review app
With a small investment and virtually any time or energy required, your store will sparkle under the halo of customer reviews when you've picked the appropriate Shopify product review app for you.
There's no reason you can't start harnessing the incredible power of customer reviews.
Take action today!
Related: 8 Effective Ways to Find Products to Sell on Shopify
Launch your Shopify store now! https://www.shopify.com/