June 13, 2019 9:43 am / by Lucy
To enhance customer's experience, Fireapps teams are happy to announce the new interface of Ali Reviews plus the new function Email Request Review. Let's go over and see how Ali Reviews will totally dazzle you in the journey of requesting reviews from your customers.
First of all, if you already have downloaded AliReviews, it's super simple to just click the button under to update it. If not, you can easily install the app here: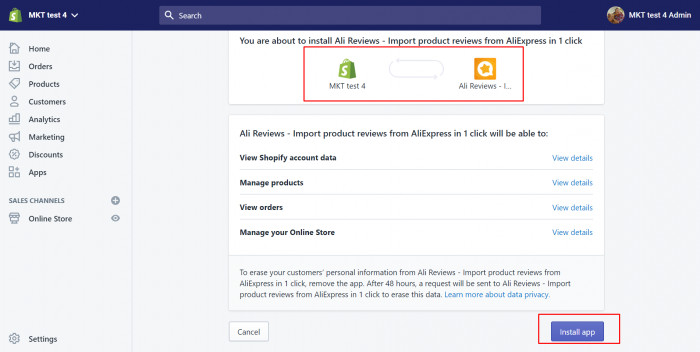 After that, you will be taken to the new appearance of AliReviews. Simply you will be arriving in the right place!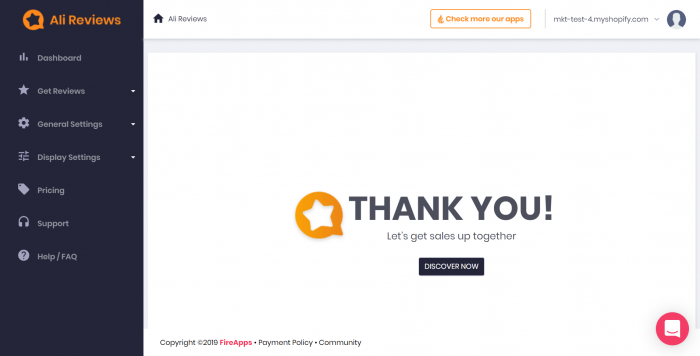 Then, you will see this brand new awesome Dashboard. Such an attention-grabbing welcome, right?
P.S: Haft way through! Did you notice the better change we made in the left column with more explicit functions? Basically, you can use those functions easily because their functions are exactly as their so-called names.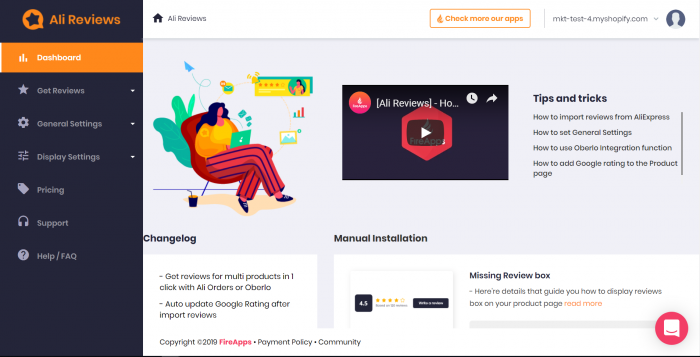 That was just a general display. Let's break down into the important functions facilitating your work to up to the whole new level.
You can see there are 4 crucial sections. Instructions are easy as pie guaranteed!
1. Get Reviews
You can manually import reviews of each chosen product. Or to avoid inevitable mistakes and hassles, you can import all chosen products at once.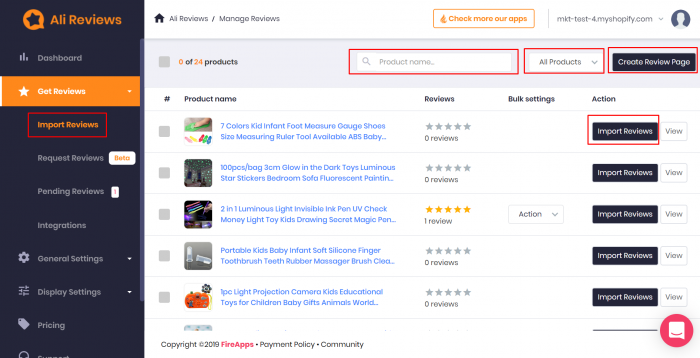 Here, it will show you a list of emails has been scheduled before for requesting reviews from your customers.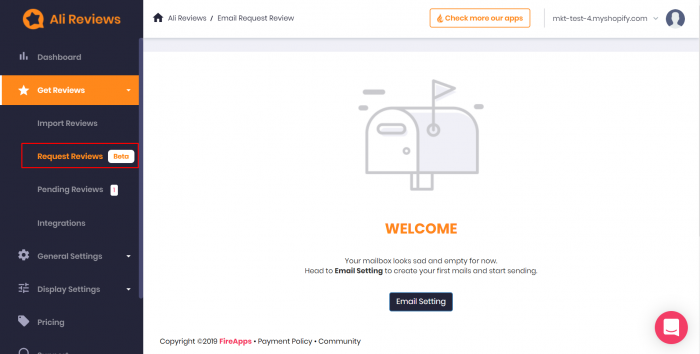 If your customers leave their reviews on your online store, to keep them under control, those reviews will be pending here until you give them a go. Such a thoughtful function to keep your brand intact, right?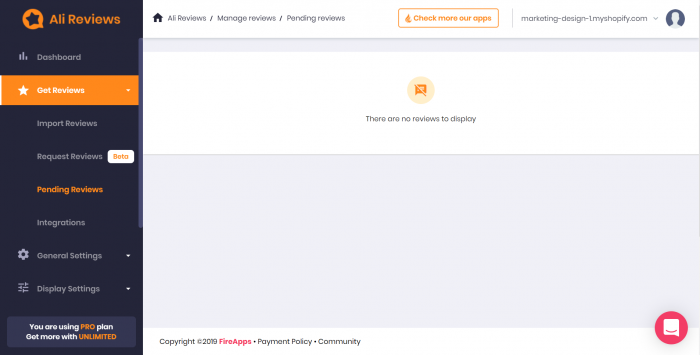 You can integrate with either Ali Orders or Oberlo within seconds by 3 steps as below: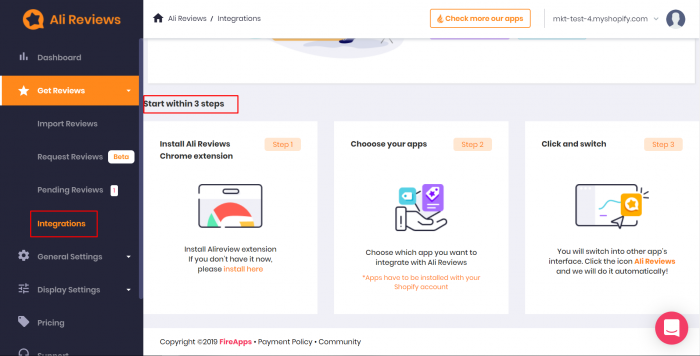 2. General Settings
Basically, you can select the type of reviews you would like to import. Plus you can create personalized emails to request reviews from your customers.
Selecting the reviews that would boost your sales and help your business grow. You can tailor make the reviews with these optional varieties: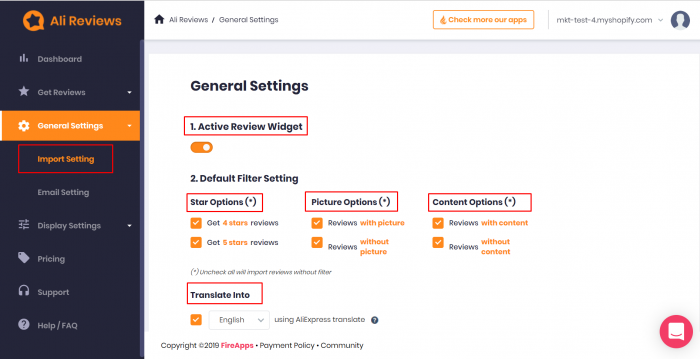 Star Options: You can choose the reviews with a specific number of stars rating
Picture Options: You can opt of the reviews with or without pictures
Content Options: You can pick the reviews with content or without content (only star-rating)
Translate into your preferred language by using AliExpress translate tools.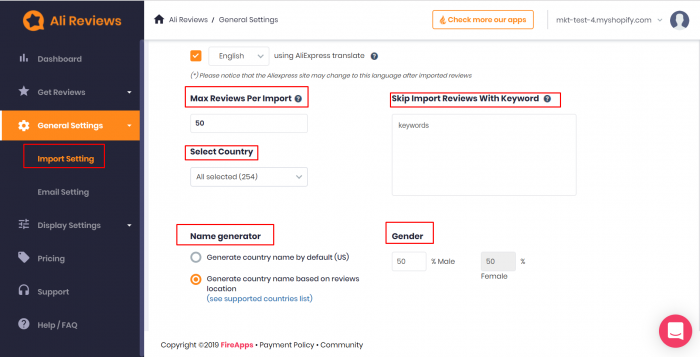 Max Reviews Per Import: you can choose the maximum number of reviews per import depends on how many reviews you would like to have on your products.
Skip Import Reviews with Keyword: Amazingly! You can take out the reviews with the keywords that could harm your products or business. For example: broken, bad quality, low and the like.
Select country: there are 245 countries you can choose to take your reviews from.
Name generator: You can generate country name by default (US), generate country name based on reviews location.
Gender: You can even choose the reviewers on the percentage of male and female.
Furthermore, you can Publish Review automatically by rating stars by only one check in a box. If you upgrade into UNLIMITED plan, you can unlock the advanced Affiliate Program with more competitive edges from AliExpress.com program credentials by filling in API Key and Tracking ID. Or else, if you have an Affiliate ID, you can just place it in the box. Then, click on "Save Settings", your demands will be carried out.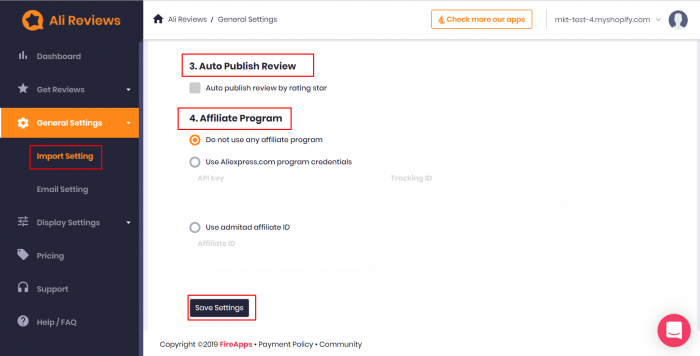 This is one of the most outstanding features coming out this time. And I have to say, it is incredibly user-friendly. To have more details, you can have a quick read here as well.
Or follow this step below, the words mean exactly what you can do with these functions:
From the top to the bottom, you can customize Email Header and Footer first.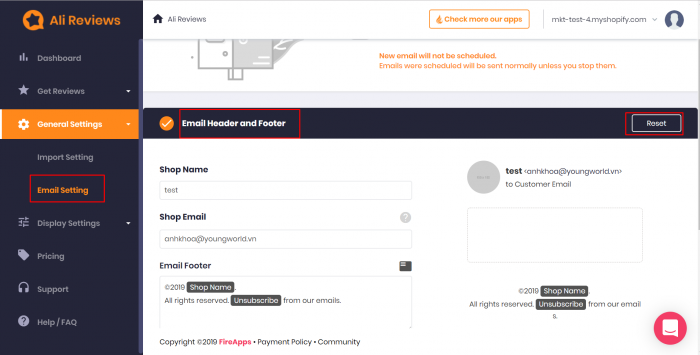 Next step, you can write your email to request reviews as personal and brand-related as possible.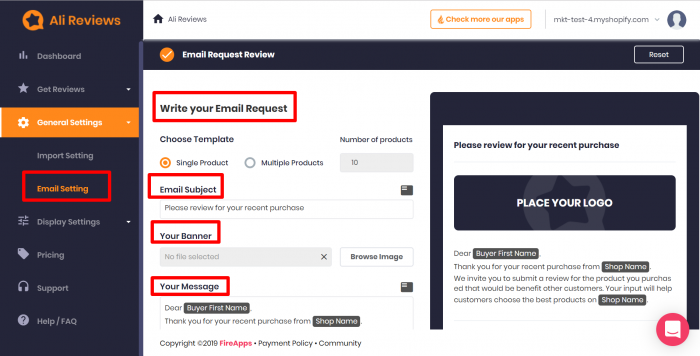 Moreover, with Other Emails function, you add new email with subjects of your choice.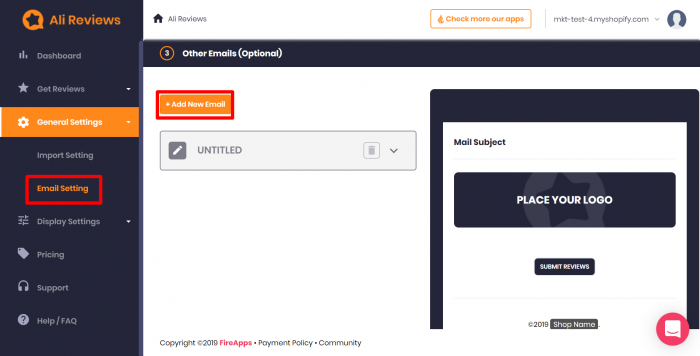 Especially, Email Automation Campaign function helps you to set up email series automatically for days to come in the future. For instance, if the first email will be sent on day 1, you can schedule the next emails will be sent out on day 2 or 3 or how many days you see fit.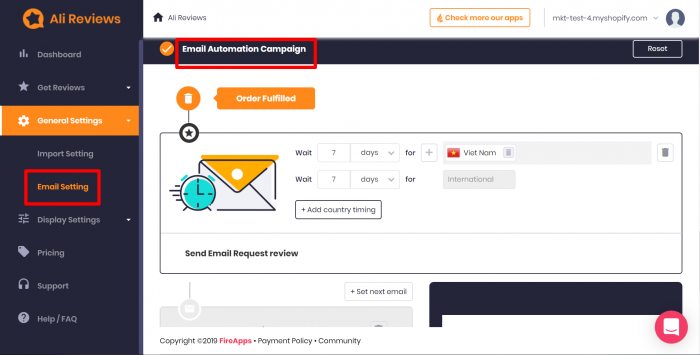 The final step in Email Setting, how powerful it is that you can add unwanted blocklist. Either you want to block some certain products or certain users, it is totally within in hand click. Simply add those into the box on the right-hand side.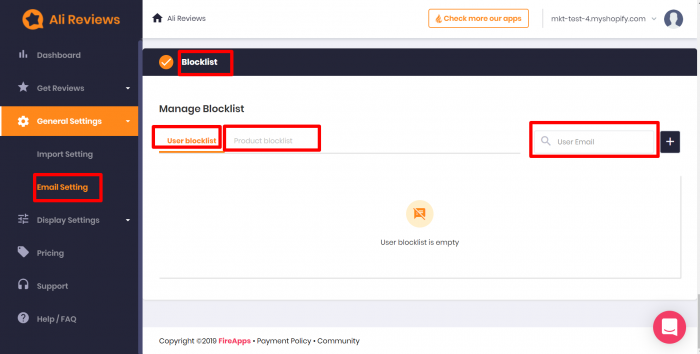 Handy tips: You can save your settings and come back to edit at any time later. Your new adjustment won't be lost. But you need to keep in mind, once saved, it will automatically have updated accordingly. So you cannot go back to the previous non-updated version.
3. Display Settings
I can tell that you are probably right about Theme Settings.
Here you can design how your customers' reviews would display on your online store from showing Date format, Rate list, Number of reviews per page and how to sort these variants. Either eye-catching or simple or classic tone of colors, it is all your choice! Lastly, remember to save your hard work!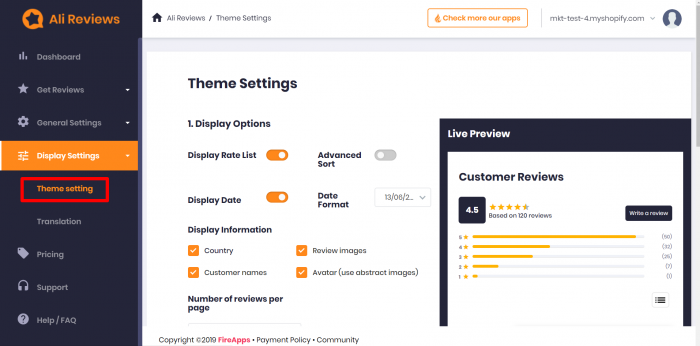 Personally, I adore this function. Because it helps me to personalize my wordings to show my customers that I care about their reviews and their reviews indeed mean a lot to my business. You can try and tell me how much you like it!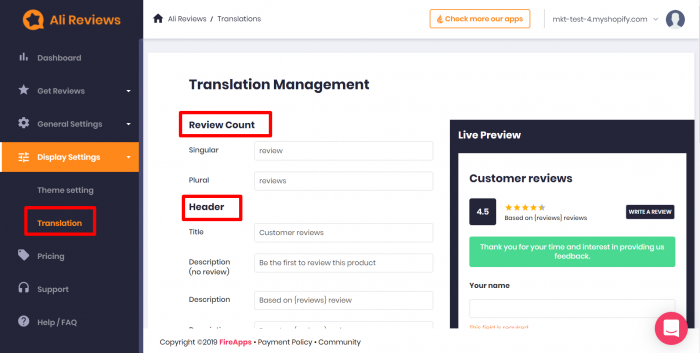 4. Pricing:
You can check our prices transparently with all key benefits from FREE to the UNLIMITED version. Also, did I mention that you can switch easily from Free to Paid and Paid to Free within a single click? Try it out. The decision is yours!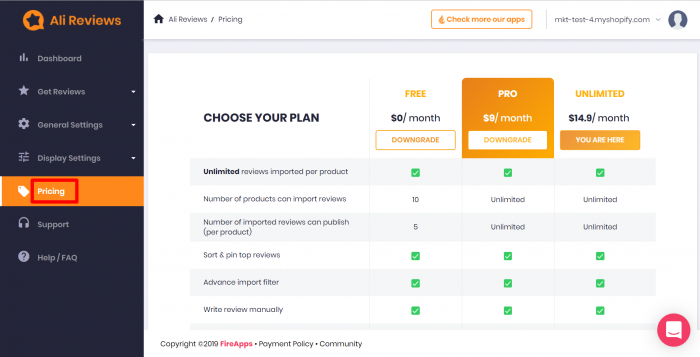 Finally, besides remember to save your updates after editing with your amazing ideas, please keep in mind that Fireapps teams are always available to help you out. Simply contact us through Support or else, you can have a quick read at Help/FAQ.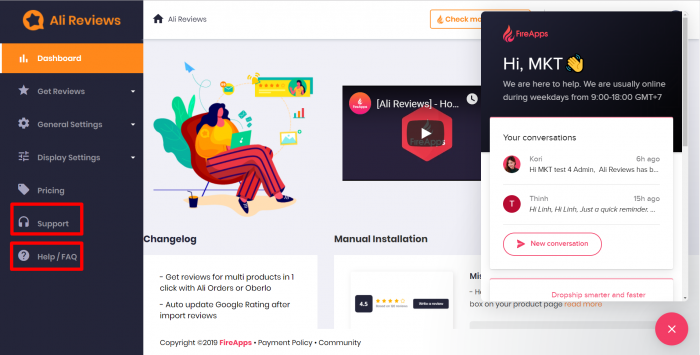 That's all. Aspire to bring you to your next REVIEW game plan!
Cheers!