Case Study: Ultamodan – Cutting-edge fashion site to empower women through fashion
Case Studies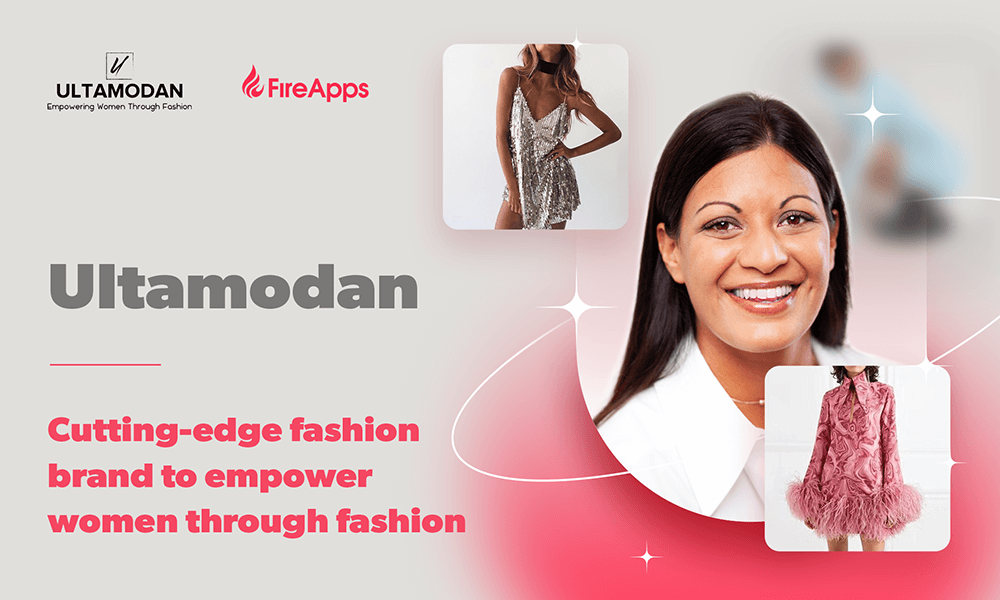 Company Information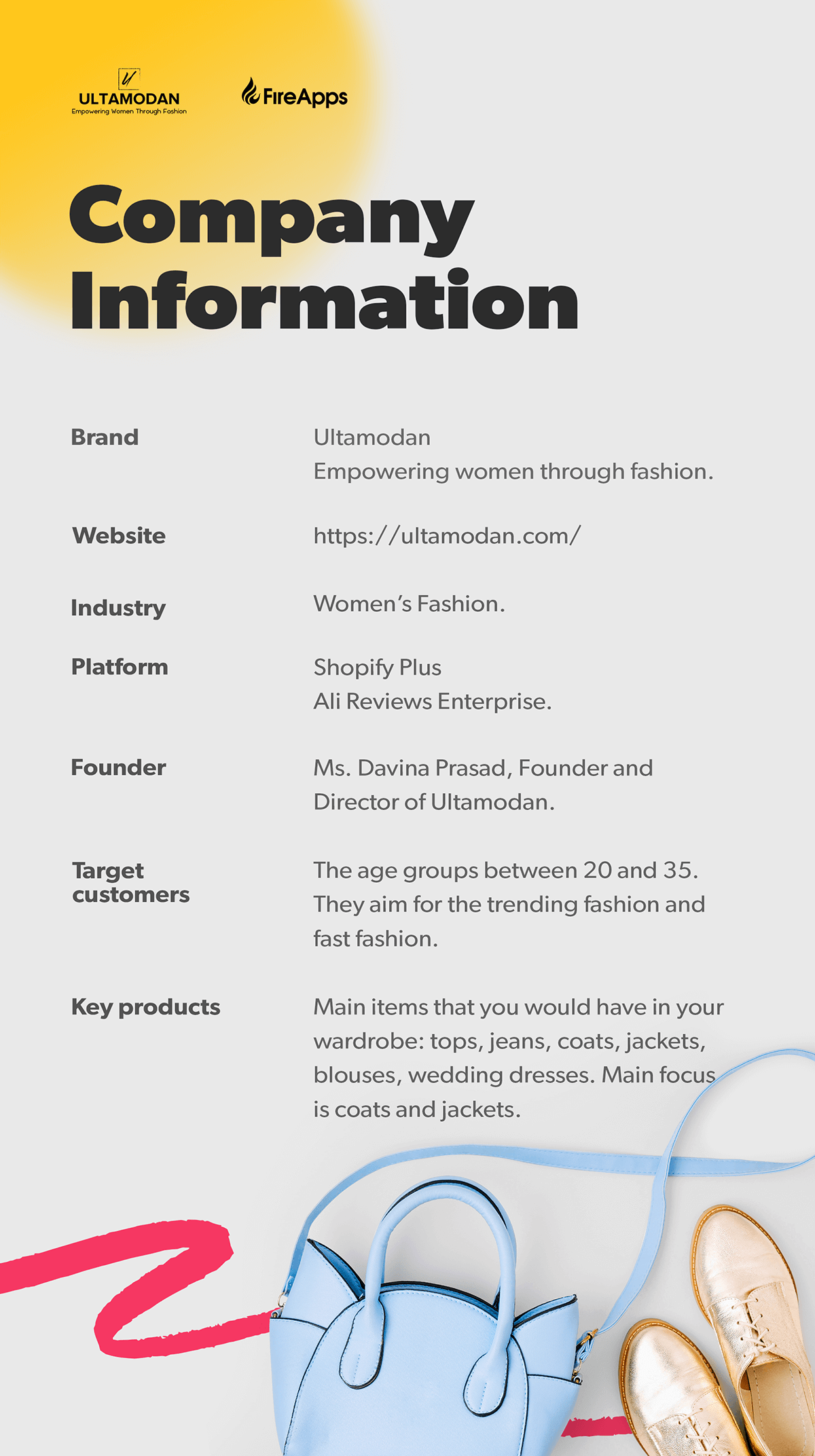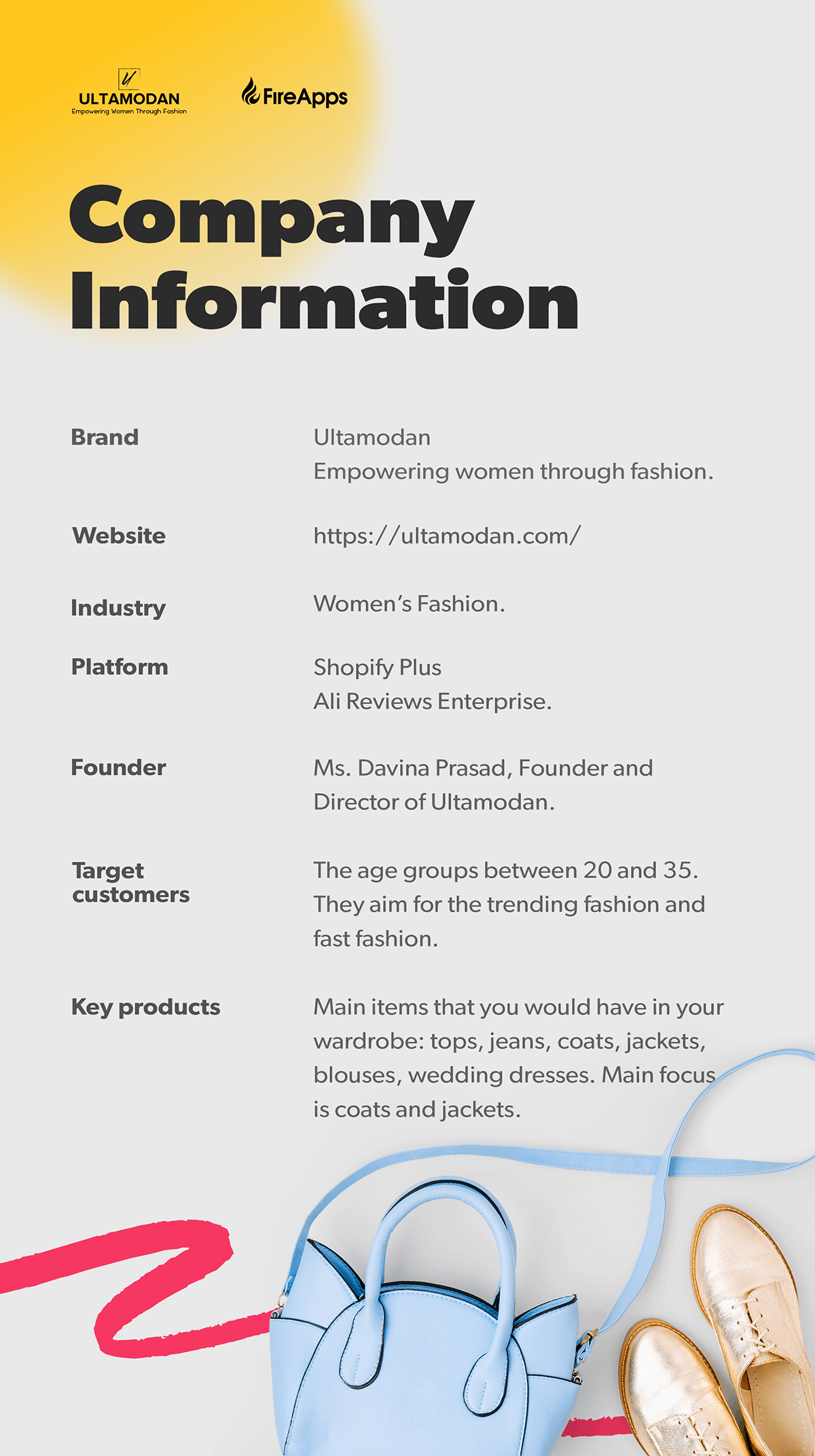 Founded in 2016, Ultamodan is a cutting-edge fashion site with a difference. Based in the heart of London, Ultamodan is dedicated to bringing you the latest trending fashions at affordable prices.
Ultamodan was created by a team of people who are on a mission to empower women through fashion. What started out as a solo venture has since developed into a fashion brand that seeks to build each other up, foster confidence, pursue empowerment and break down restrictive barriers.
They sell thousands of hot hand-picked looks to virtually every country globally. But what really sets them apart in the fashion world, is their mission to ensure that all women have a place to feel safe.
At Ultamodan, they endeavour to support and uplift women. As well as aiming to create confidence in their customers when it comes to how they dress and present themselves in the world, they are also big believers in giving back. That's why they support women's rights and equality charities across the globe.
Challenges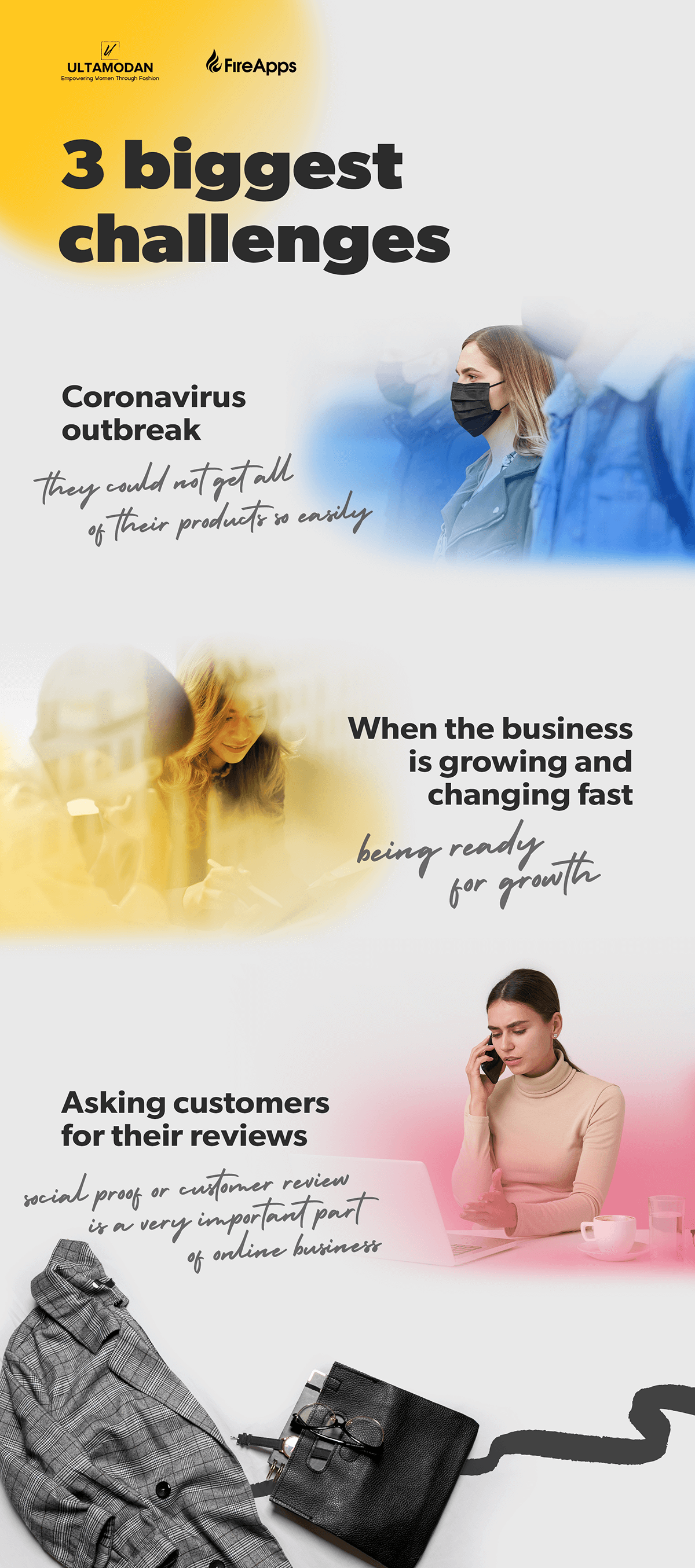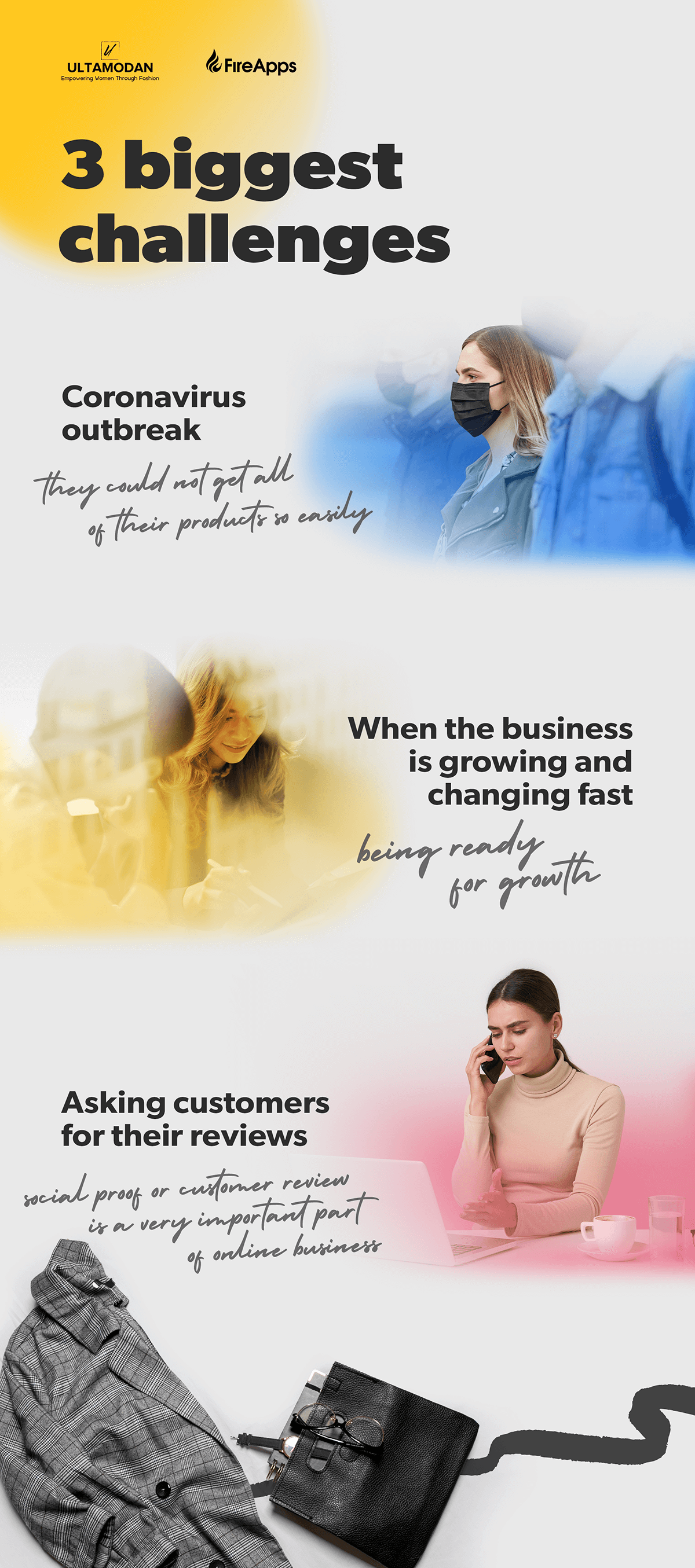 According to Ms. Davina Prasad, Founder and Director of Ultamodan, there are 3 biggest challenges:
First, the coronavirus outbreak was a big challenge because they could not get all of their products so easily. This has been an issue since 2020 and a lot of other stores have been having that problem as well.
Second, one of the biggest challenges for Ultamodan is trying to keep up when the business is growing and changing all the time. They have to keep up with the growth and the problems that will come with it. For example, if in two months the sales revenue doubles, then what staff do they need in place? Do they have job descriptions ready for them? How are they going to be prepared for that? So the biggest challenge is being ready for growth and what is around the corner.
Last but not least, social proof or customer review is a very important part of online business. It is a really big challenge, especially when their store is online and it's not an actual physical store that people can go into. Customers will ask: Is this a real product? Are the products actually going to look like this?
That is a massive challenge because people not only want to see the product photoshoots but they also want to see what it looks like in real life. They will want to see what the products look like on a person, different angles and the colors and the sizing. This is because products can look completely different on a model to what they look like on a real person. Also, the sizing is different in each country which can make it hard for customers.
Solutions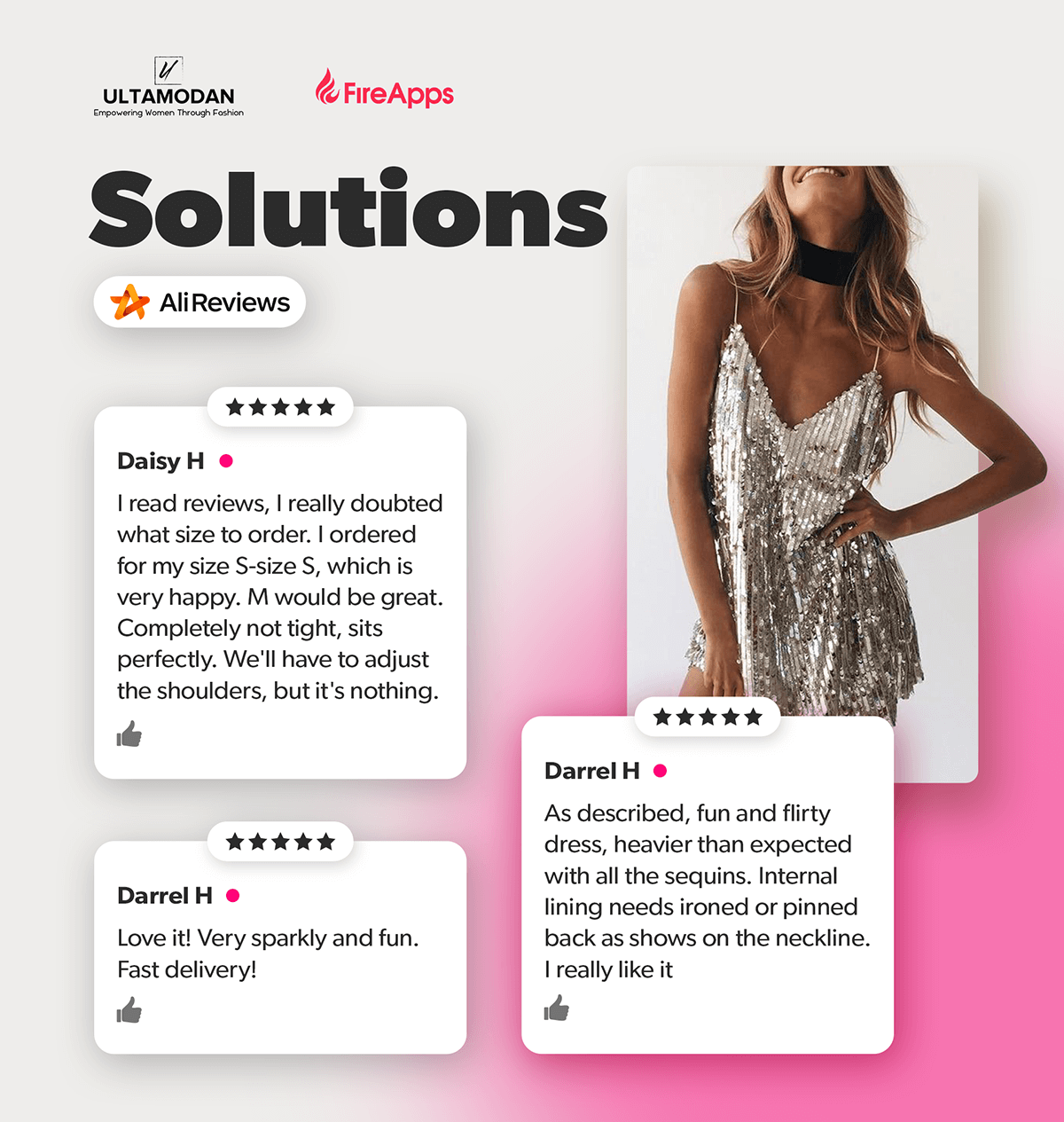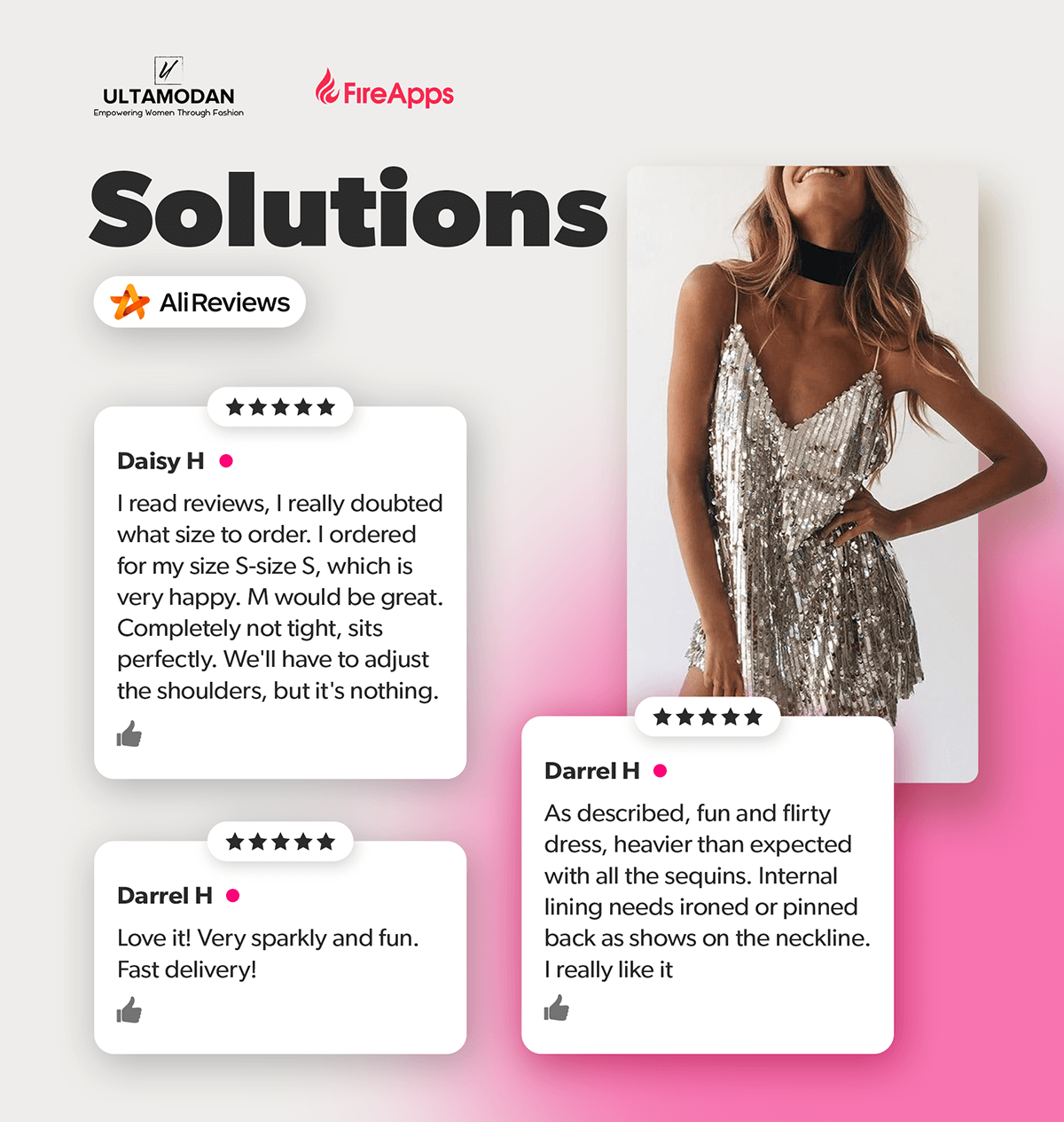 For finding solutions, Ms. Prasad and Ultamodan look to other entrepreneurs who've grown their businesses. There is always somebody else who's been through something similar so they can figure out a solution to issues by asking people with experience and listening to different ideas.
When it comes to customer reviews, if the customers can see the product on somebody else, they can figure out what size they actually need. The product review can solve a massive problem. So, product review definitely helps. That's why Ms. Davina has chosen Ali Reviews – top-rated review app to build stunning social proof that drives growth, for her Ultamodan online store.
Ms. Davina said: "Ali Reviews had more features than a different app and it was quite easy to sync up with the Aliexpress and get the actual reviews. Since then, we have kept it on the website because the Ali Reviews app has changed and developed over the last few years. It's displayed on the website and stuff is so much better than it used to be. It's constantly improving day by day.
With Ali Reviews, you can select what reviews you want and there is a language feature available so you can pick what language for your store. The filtering aspect of Ali Reviews is the largest feature that we utilize. Ali Reviews just makes the site look more real for our customers."
Results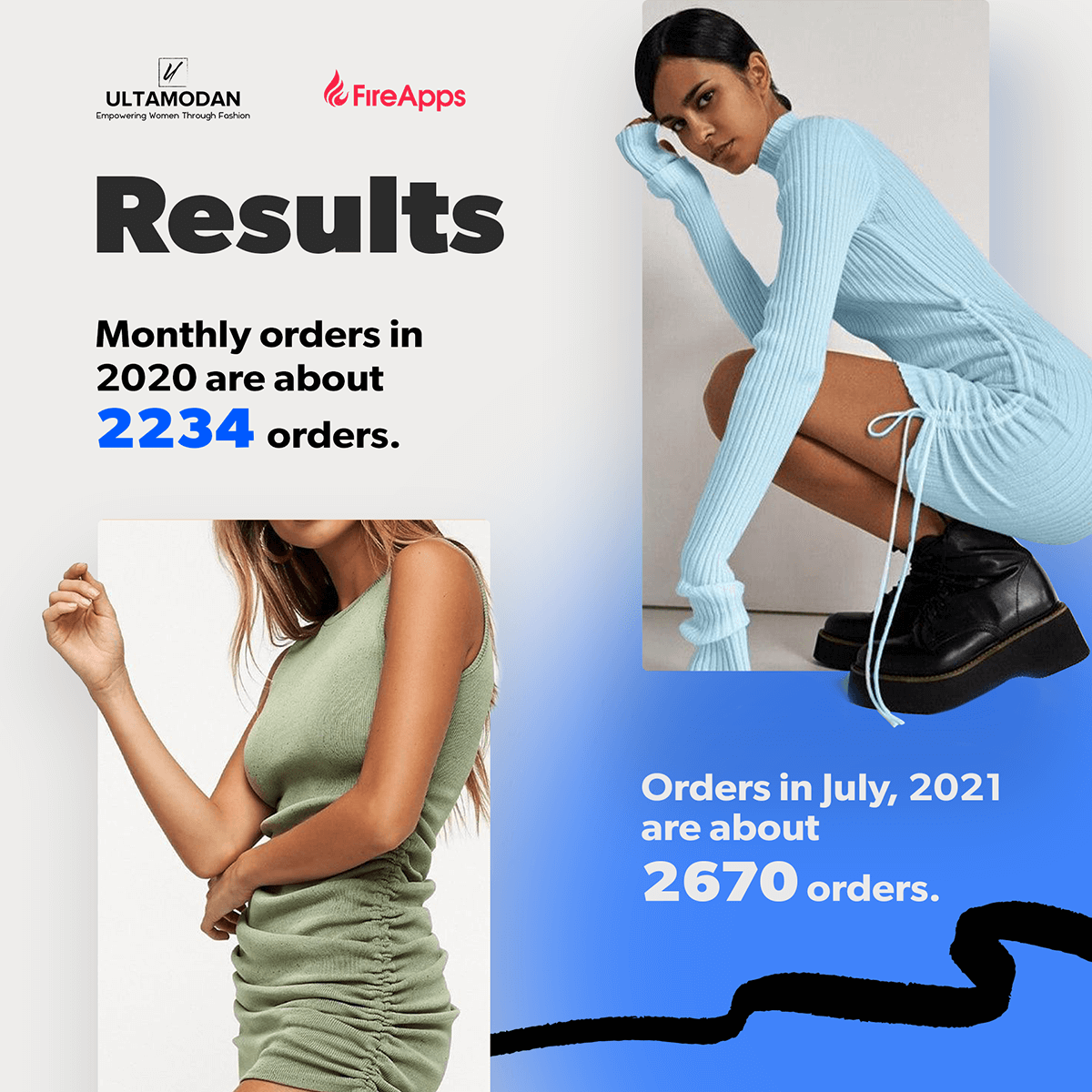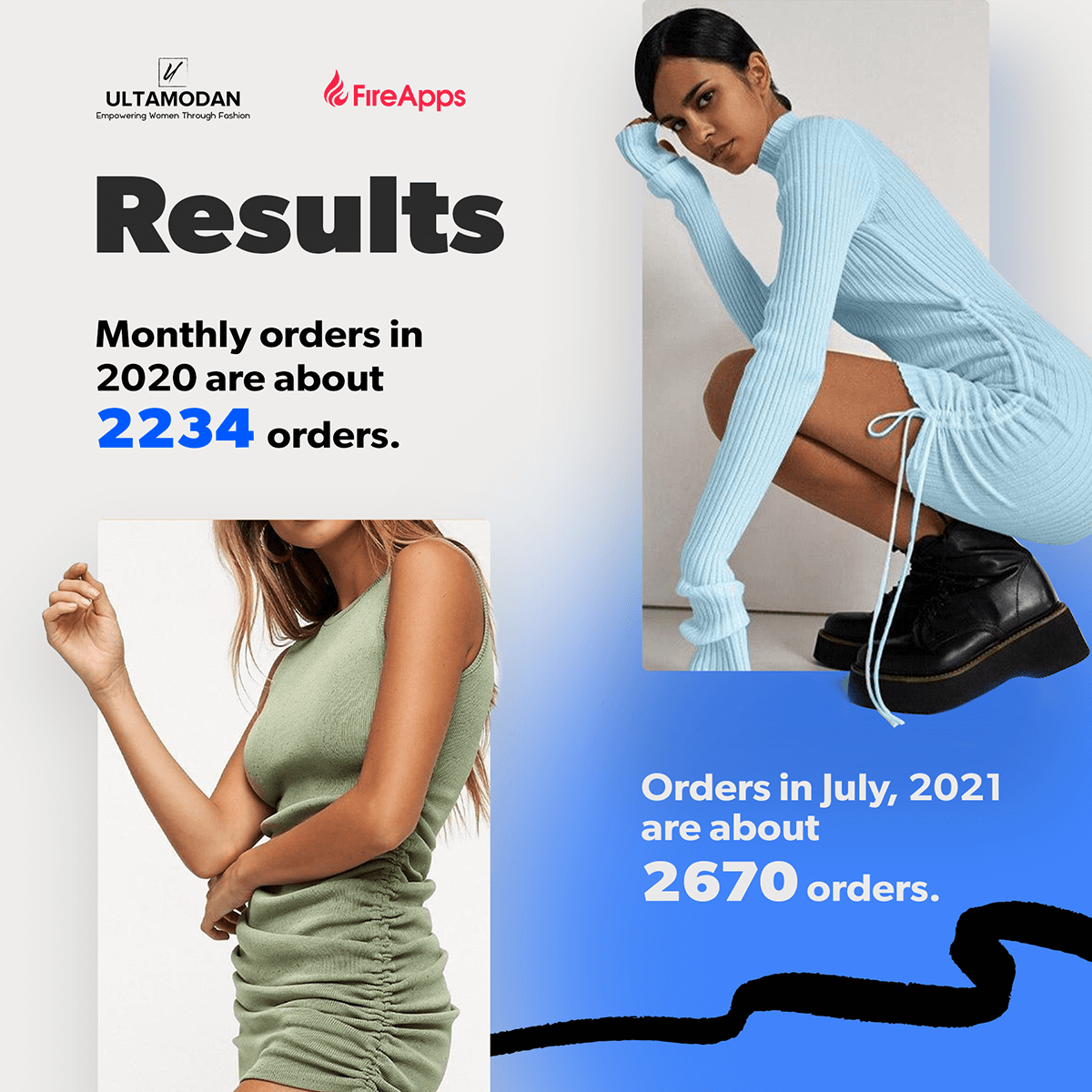 Last year before the coronavirus hit, Ultamodan was quite a small store. During the coronavirus pandemic, a lot of people started shopping online so they have grown a lot since the second half of 2020.
Monthly orders in 2020 are roughly 2234.
Orders in July 2021 hit around 2670.
Future Plan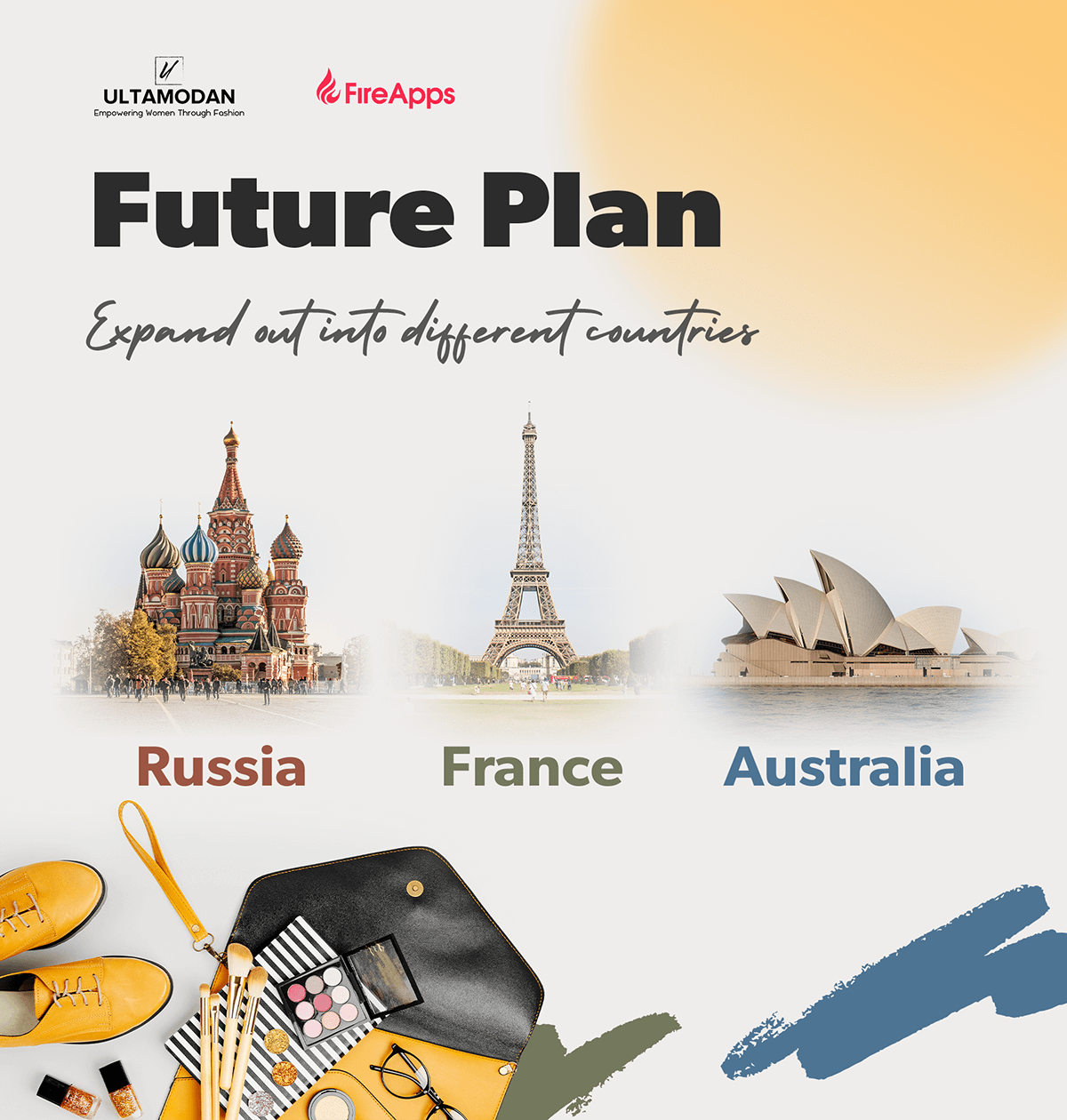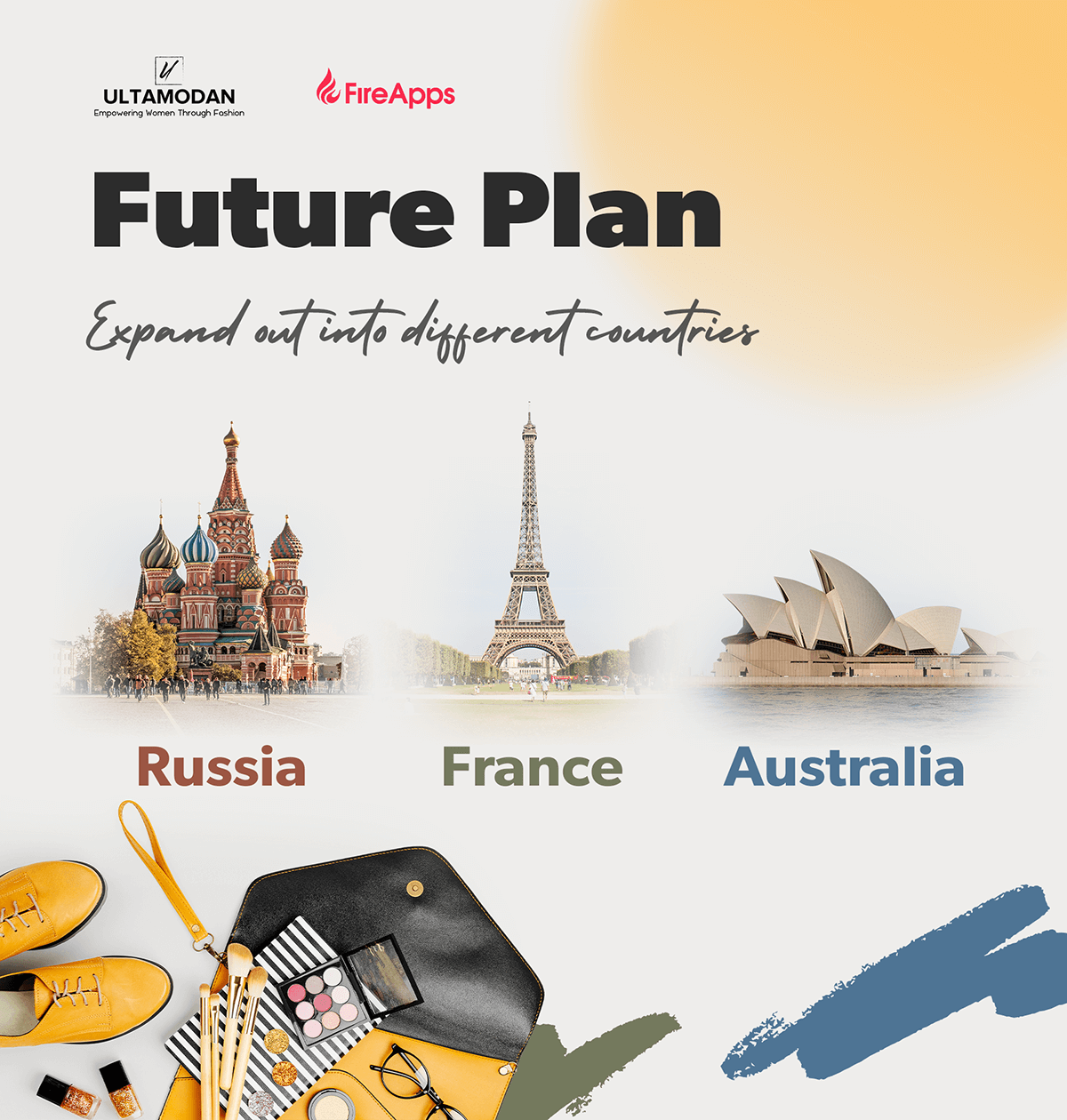 At the moment, Ultamodan are building some different stores to expand out into different countries such as Russia, France and Australia. The plan for the future is to stick with the same products and store name but operate in a number of different countries.
And for the products, Ultamodan will expand what they are offering to customers by building on the category ranges such as accessories, handbags, hair pieces, etc.
Advice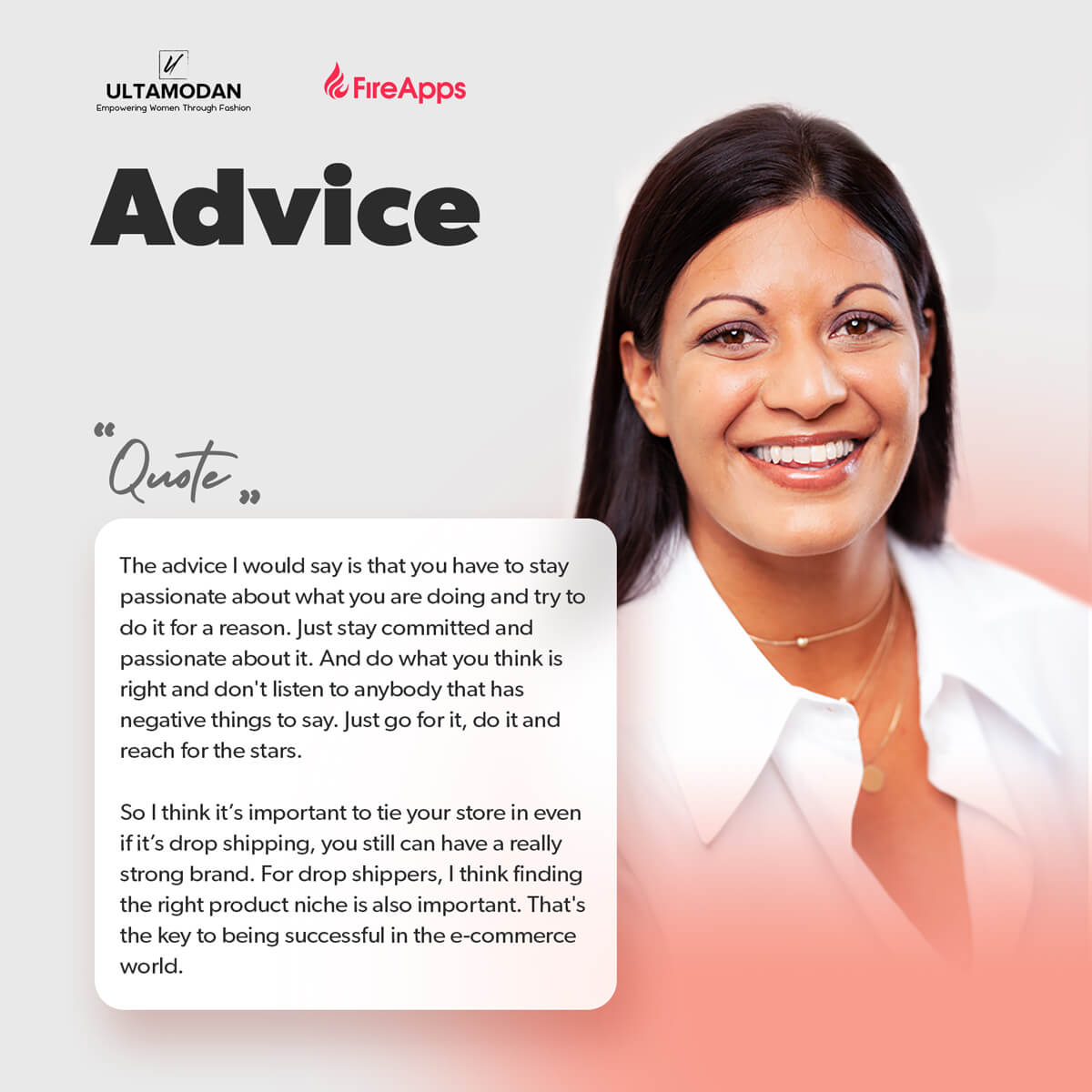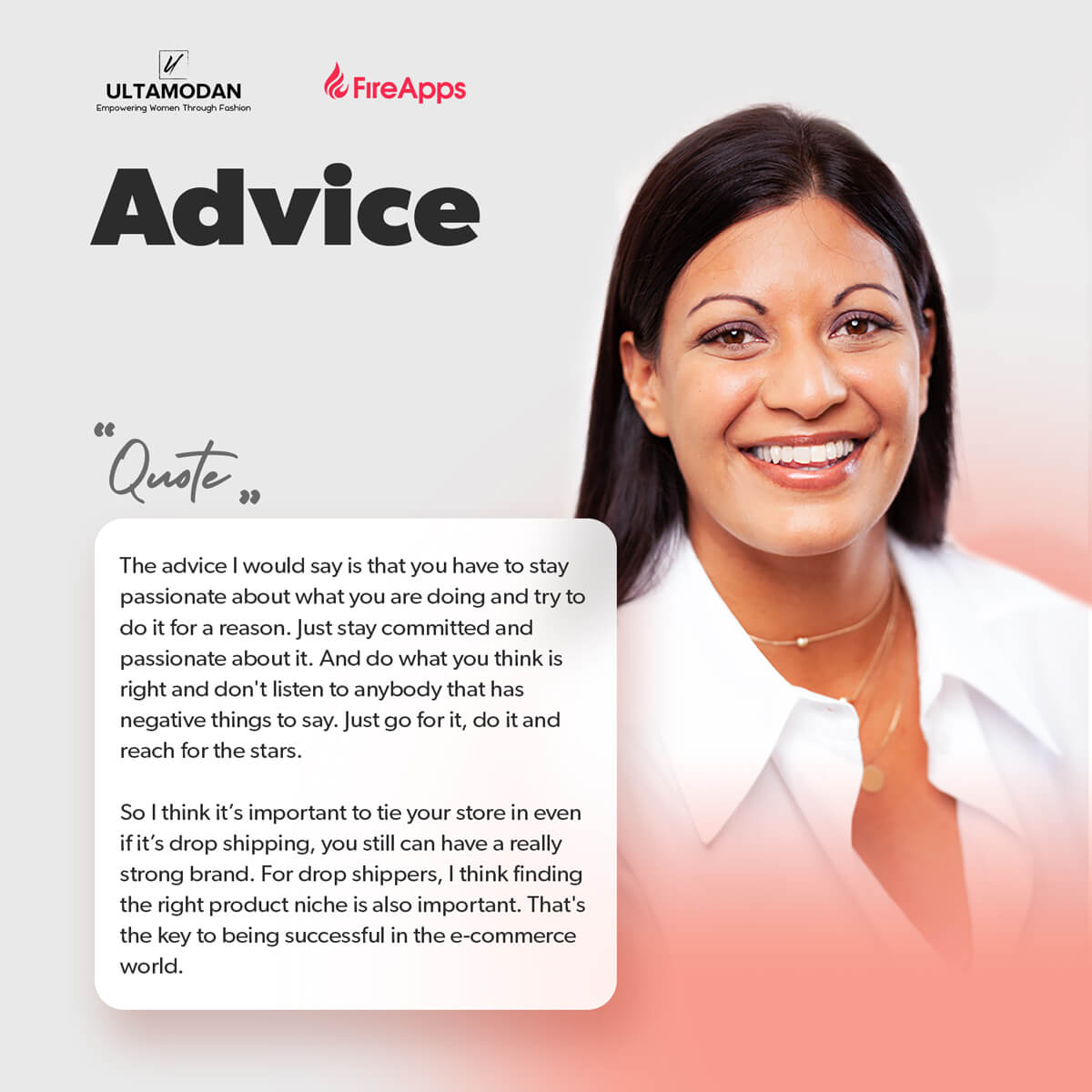 "The advice I would say is that you have to stay passionate about what you are doing and try to do it for a reason. Just stay committed and passionate about it. And do what you think is right and don't listen to anybody that has negative things to say. Just go for it, do it and reach for the stars.
So I think it's important to tie your store in even if it's drop shipping, you still can have a really strong brand. For drop shippers, I think finding the right product niche is also important. That's the key to being successful in the e-commerce world."
Visit Ultamodan at:
You can listen the full interview with Ms. Davina Prasad, Founder and Director of Ultamodan here:
Hungry for more interesting information? Keep an eye on https://fireapps.io/ for more case studies.
Launch your Shopify store now! https://www.shopify.com/