Making up to 5 figures extra income per month by doing online business is not a dream anymore. Without start-up capital, you can put at least $2,000 into your pocket in the first month as the result of running dropshipping with Shopify store. In this article, we'll help you to create your own website using… View Article
Making up to 5 figures extra income per month by doing online business is not a dream anymore. Without start-up capital, you can put at least $2,000 into your pocket in the first month as the result of running dropshipping with Shopify store.
In this article, we'll help you to create your own website using Shopify E-commerce platform, and start making money online in just 15 minutes.
---
STEP 1: CREATE A SHOPIFY ACCOUNT
Shopify gives you a 14-day trial to experience all the features with no credit card required. This is the best thing for you to get acquainted with the website at the beginning.First, access to Shopify website
here
, select
"Get started"
. Fill in your desired email address, password and store name. 3 seconds later, your own professional website is ready to use.After given Shopify some basics information, you're welcomed to the new storefront management interface where you'll do all your management tasks. So it's a good idea to spend a few minutes getting familiar with it.
---
STEP 2: SET UP THE BASIC COMPONENTS
To get ready for the real dropshipping battle, a product page with an eye-catching, impressive and informative layout is an indispensable weapon you need first. The product page is where you want your customers to come in and make purchases. Also in your upcoming strategies, you'll direct potential customers to this page. So, let's follow these steps to build up the most attractive product page.
---
1. Customize the look of your store
Make your customer impressed at the first time visiting your store with the best look. A beautiful and friendly theme which can show off your product strength is what you need.To choose your theme, go to
"Online store"
->
"Themes"
The Shopify Theme Store hosts a collection of over 100 premium and free e-Commerce templates with hundreds of ways to customize your style.Think of them as a starting point, choose your most suitable one by clicking on
"Explore free themes"
or
"Visit theme store"
for more unique look.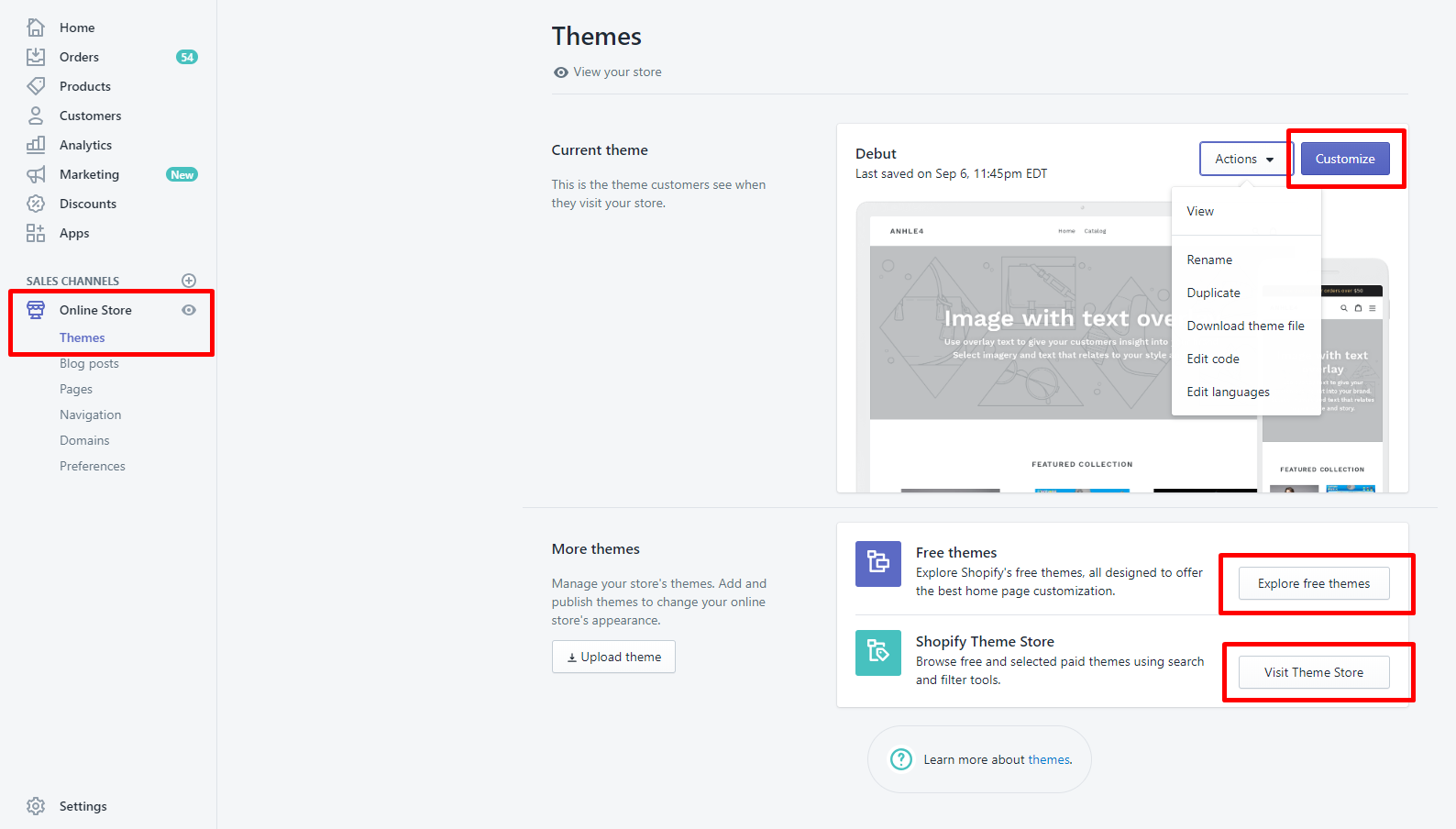 In the
"Customize"
field, you can tweak or amend the layouts, colors and images as you go through. However, don't spend too much time customizing your theme structure because each of them are pre-designed to display in the most beautiful way. Moreover, a complex theme can distract customers from your products. A clean, simple and eye-catching them always be a good choice.Here we choose the
Pop
theme cause it looks fairly good. To set up, choose
"Action"
->
"Publish"
to apply the Pop theme as the default theme.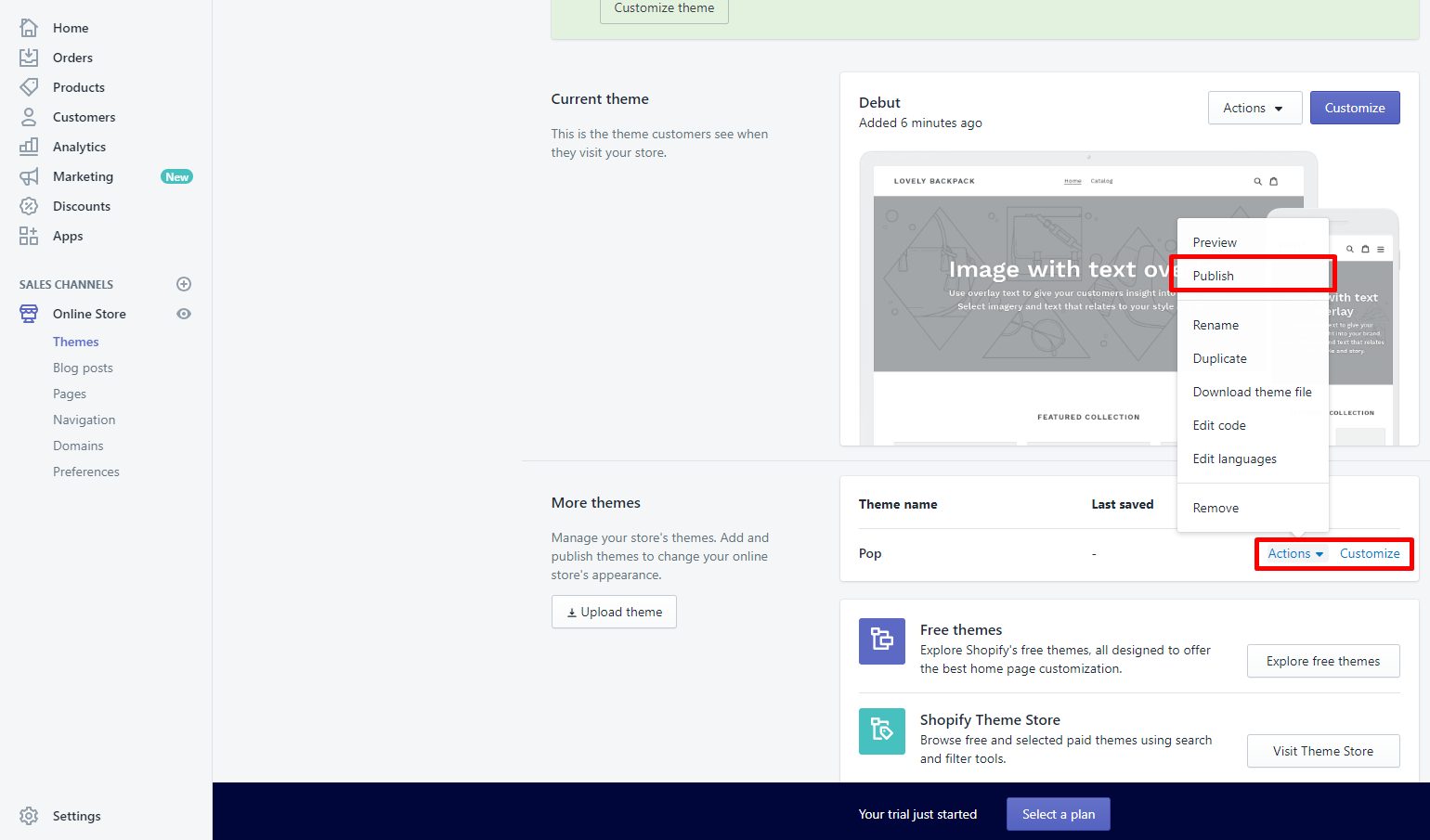 Click on 
"Customize"
 button -> At
"Section"
tab
Click on "Slide show" to update your cover images
Click on "Rich text" to add your brand description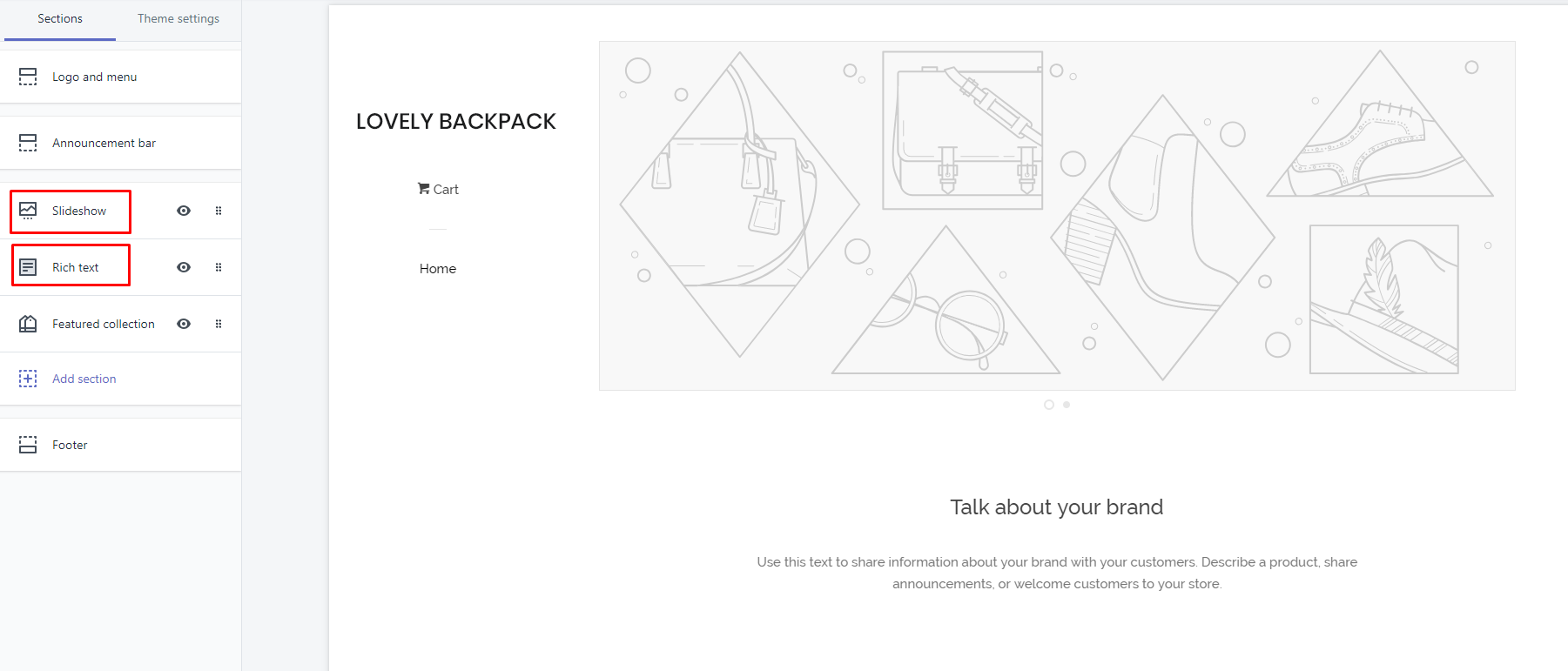 So you've just completed decorating your new Shopify store. It's time to add some interesting products to sell.
---
2. Add your first product
There're many ways to add new products to your Shopify store. So don't try to add products manually if you don't want to face with copy & paste nightmare and throw much of your time away. Here we help you to add new products to your Shopify store quickly and accurately in just a few clicks by using Ali Orders app.
First, install app Ali Orders for free here -> "Add app" -> Enter your Shopify store URL to sign up.
Visit AliExpress, search for needed products -> Click on Ali Orders icon to import product to your app dashboard.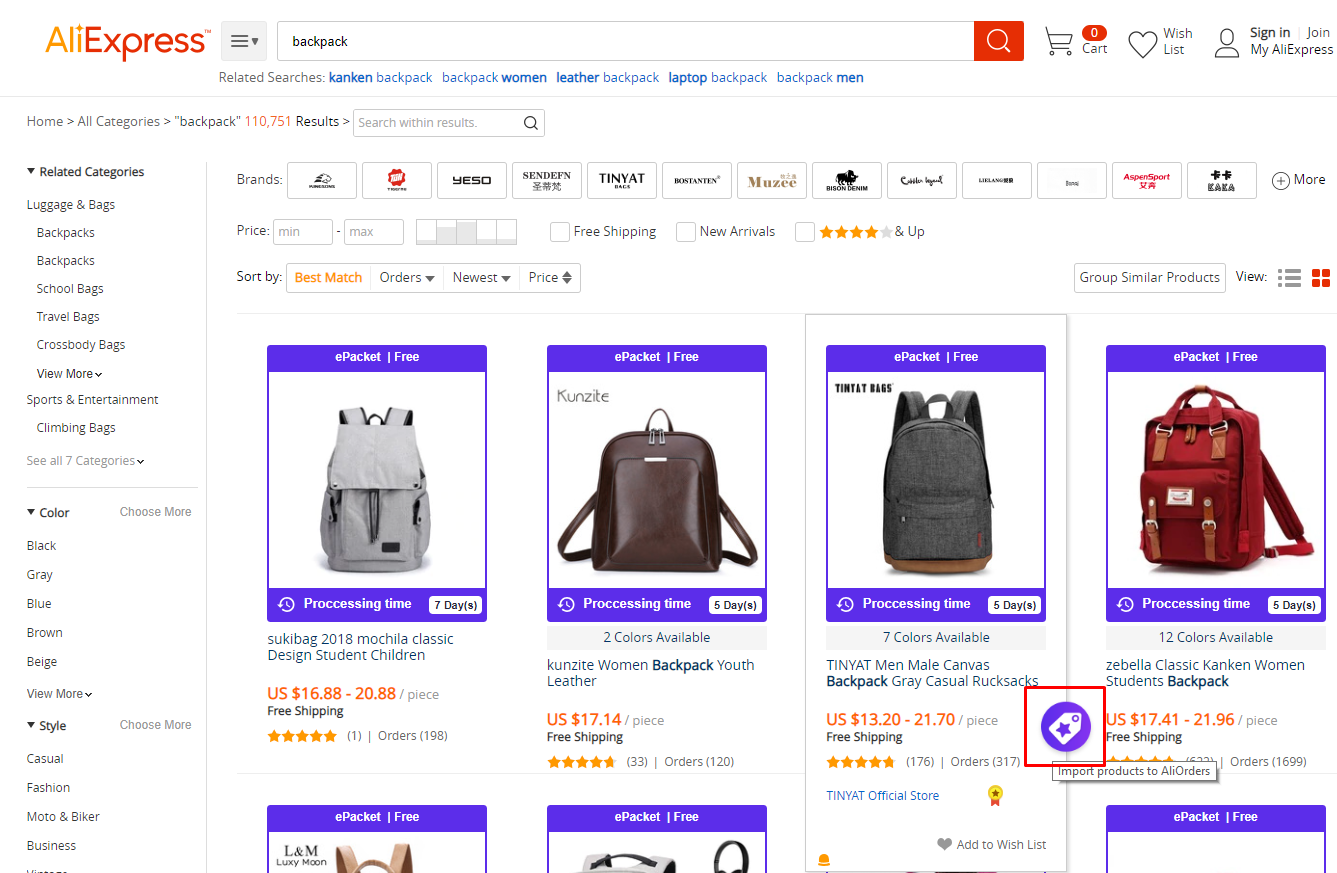 Go back to app dashboard -> Select "Import List" -> Here you can customize your product information: Title, description, price, variant, images,… to make it look more professional before publishing to the Shopify store.
Choose "Push to Shop" to publish products one by one or "Push All to Shop" to publish all the products at once.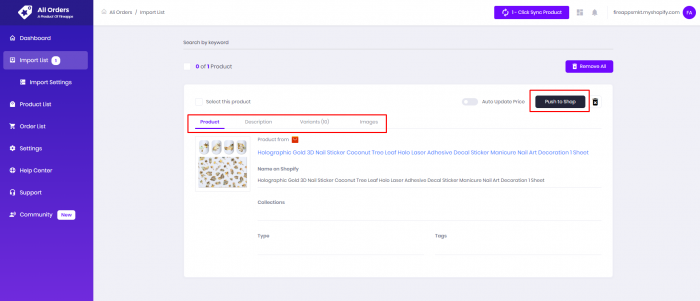 By this way, you can add each new product to your Shopify store in just less than 2 minutes. A long list of new products is not a problem anymore.In case, you're going to sell products of different categories, it's a good idea to create "collections" of similar items. Nothing frustrates potential customers more than having to fight with your site to find the products they want to buy.
Select "Product" -> "Collection" ->"Create collection"
Add products title, description, feature image, choose collection type,… and click on "Save" to set it live.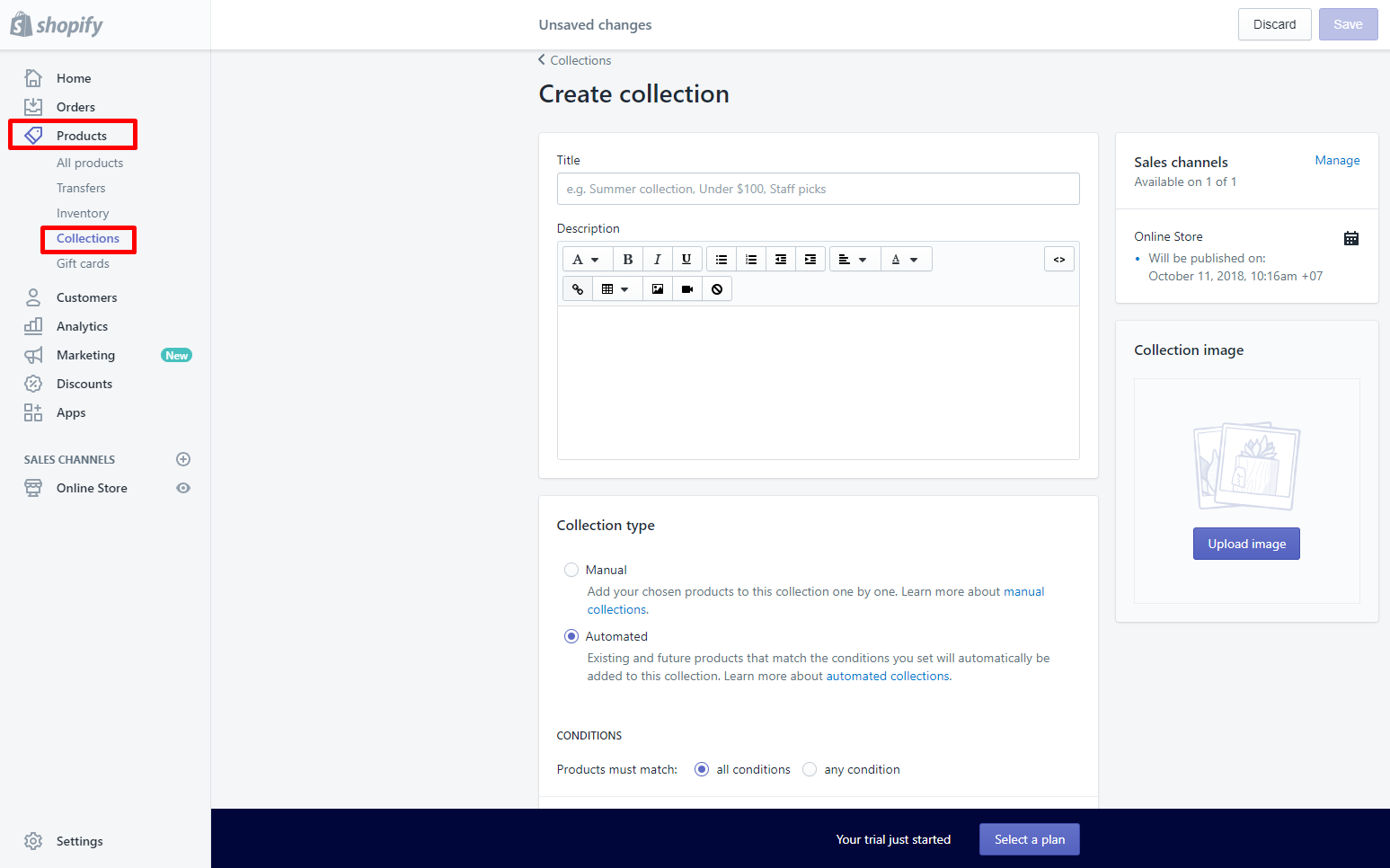 Remember to put your product into its right collection before publishing to your Shopify store.
---
3. Set up payment and shipping method
After getting your product out of the door, you need to set up your payment and shipping method, which allows your customers to place orders directly on your site.
Set up payment gateways
Customers are often afraid to provide their personal information and credit card before placing orders, especially when buying from a new store. Therefore, to ease the worried mind of your customers and prompt them to purchase faster, you have to give them the safest payment method.It's easy to accept various payment options in Shopify, including PayPal, credit cards and other offline methods. However, for dropshipping, PayPal is a commonly accepted payment method when shopping online, perhaps the most popular and safest method after credit cards. So Paypal is our recommendation.It requires a Paypal business account to set Paypal as your Shopify store payment gateway.
To set up, go to "Setting" -> "Payment providers"
At "Paypal" field ->Select "Paypal Express Checkout" -> "Active" -> Log in your Paypal account to connect.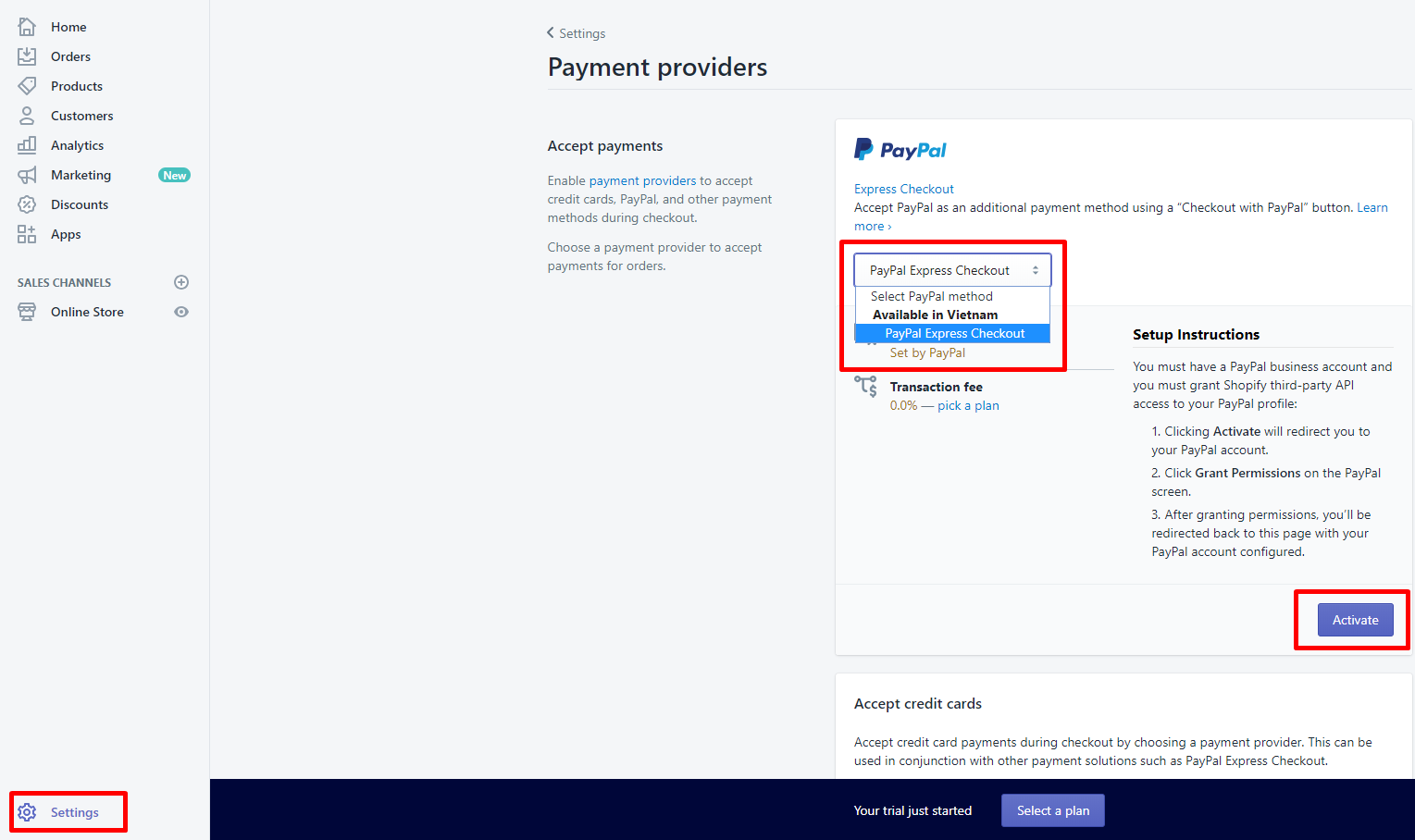 You'll see this notification right after the connection is complete.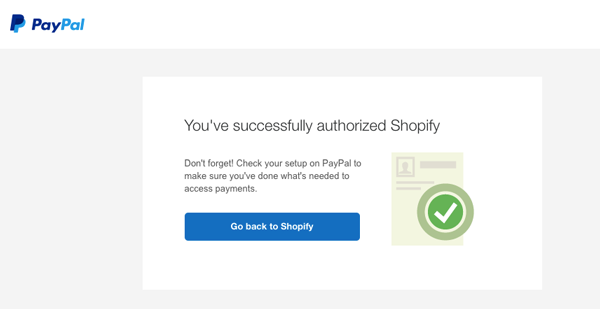 Set up shipping method:
In the Shopify store, you can charge your customers for the shipping, or make the shipping as free and include the potential cost of the fee in the product price. However, if you're dropshipping, we recommend you to set up "free shipping" because shoppers are extremely attracted by this word. This way your conversion rate can be increased up to 30% while still ensure that you will not face any loses.Take note, that you only need to pay attention to the
"Shipping origin"
and
"Shipping rates at checkout"
sections, and do not need to do anything with other settings below.
First, choose "Setting" -> "Reference" -> "Shipping"
At Shipping origin field: Click on "Change shipping origin" -> "Manage location" -> "Add location" to add your location address.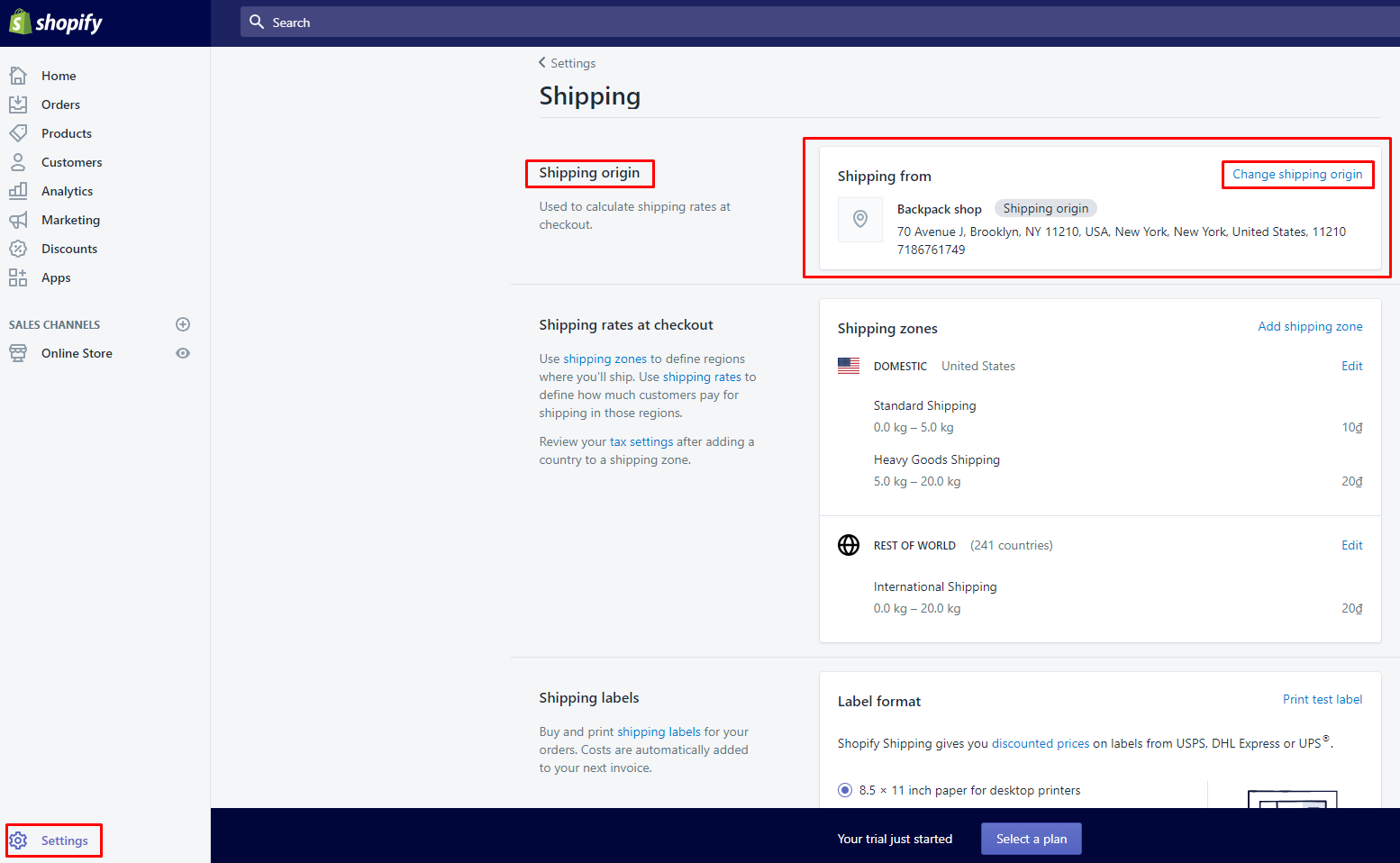 To set up free shipping: At
"Shipping zones"
field -> click on 
"Add Shipping Zone"
. In the
"Price based rate"
part ->
"Add rate"
-> stick on
"Free Shipping"
then
"save"
.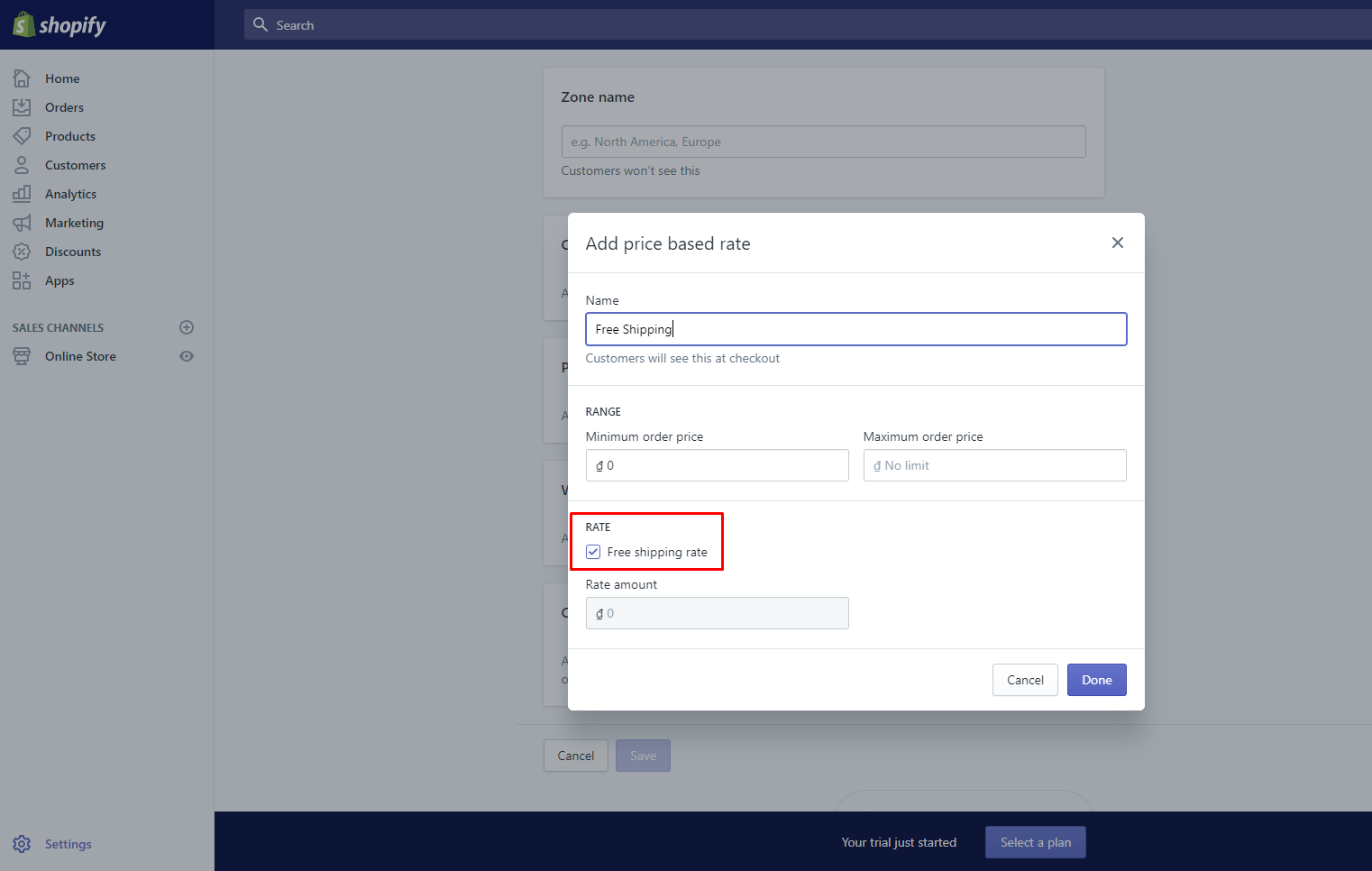 Right here, everything seems to be complete. However, don't rush to pay effort to draw potential customers into your website if you don't want to end up your day with an empty cart. Here will be the problem: Much traffic, but no orders. Your store is now lack of trust, and your customers have no confidence to buy. Therefore, before selling or marketing, make sure your Shopify store is trustworthy enough.
---
STEP 3: BUILD TRUST FOR YOUR SHOPIFY STORE
These steps help improve your shopper's purchase decision-confidence and trust to turn them from visitors into loyal customers.
1. Add more non-product pages
When shopping online, shoppers are not only read the product information, but also want to know more about the seller, the policies, the contact,… to ensure their benefit. Thus, you need to create some pages that involve these important information.
Go to "Online Store" -> "Pages" -> "Add Page"
Enter page title and add content, choose the template.
At "Visibility" field,  you publish the post right away, or choose the public date as you want.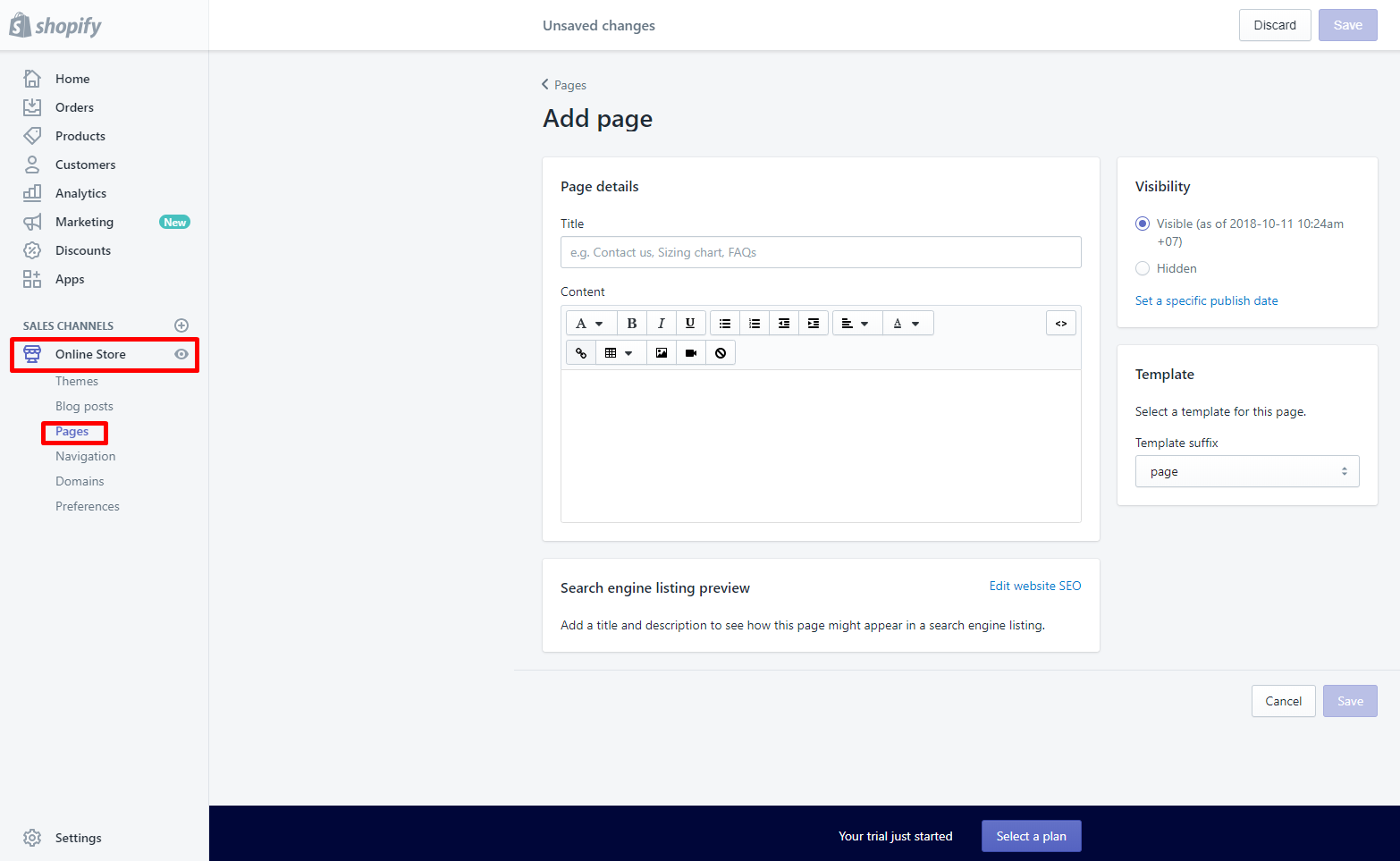 Especially, you can easily create legal pages from templates of Shopify and customize them. Just click on
"create from template"
and you have 3 legal pages in just seconds.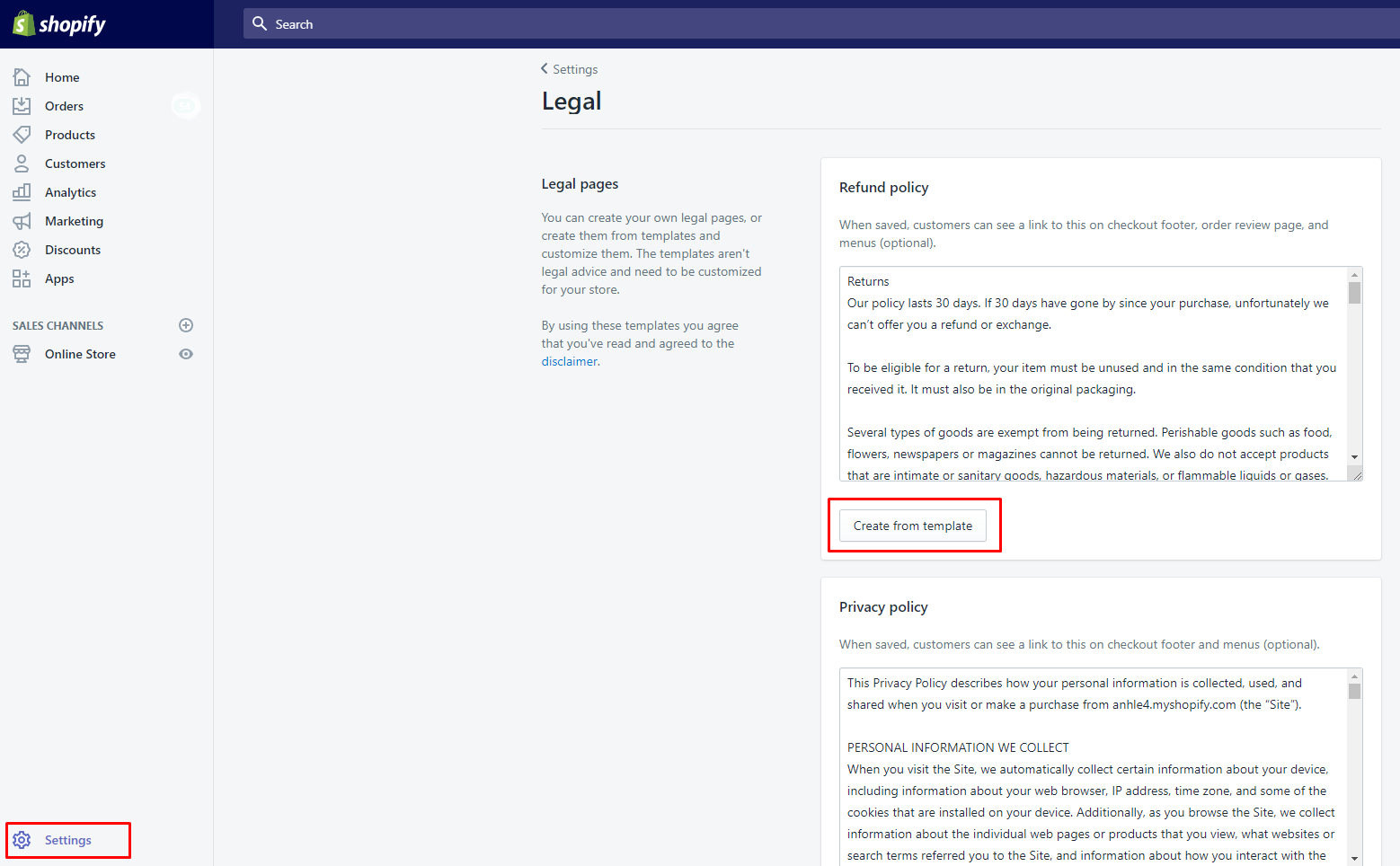 After created, these pages haven't published yet. You need to the add menu bars to display them on the storefront.
At "Online Store" tab -> Select "Navigation" -> "Add menu"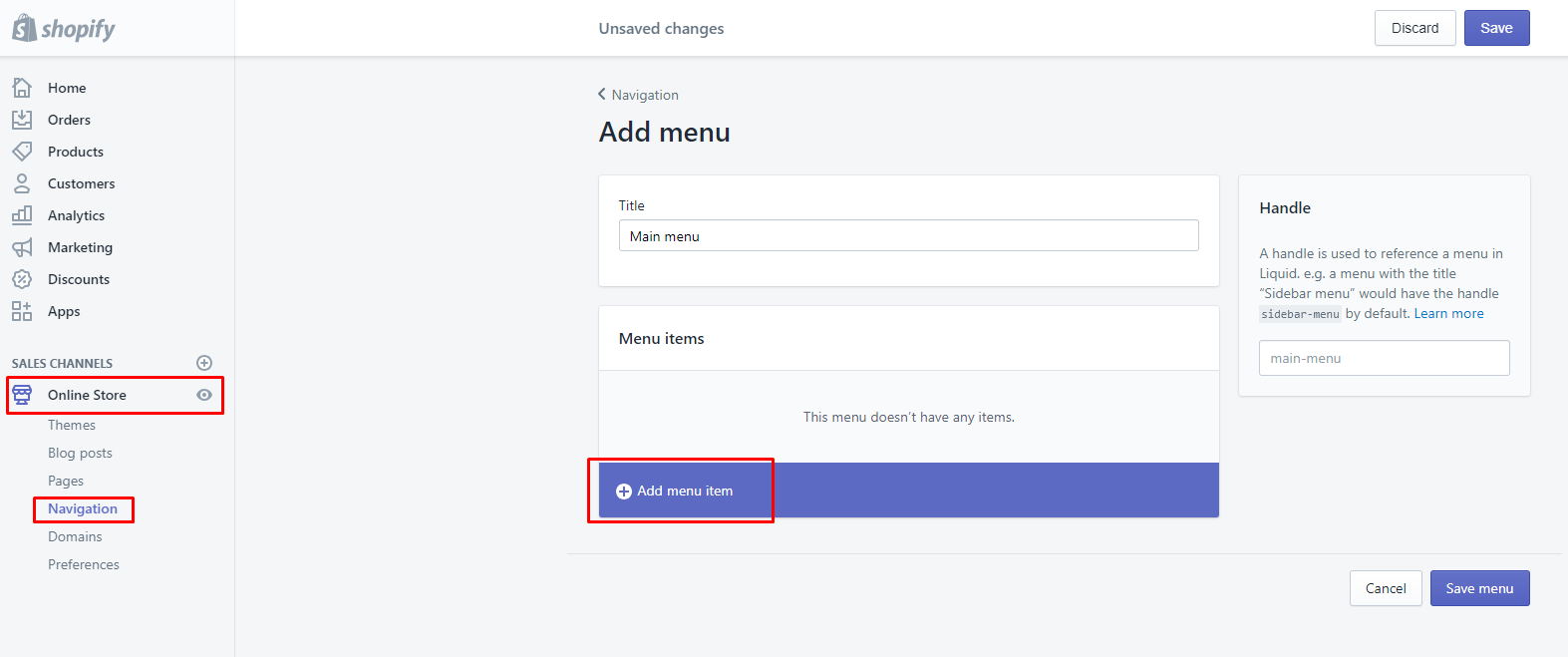 Name the menu bar: Main menu, Footer menu.
Click on "Add menu item" to find the page link and add to the menu.
Click on "Save menu" then check them in your storefront.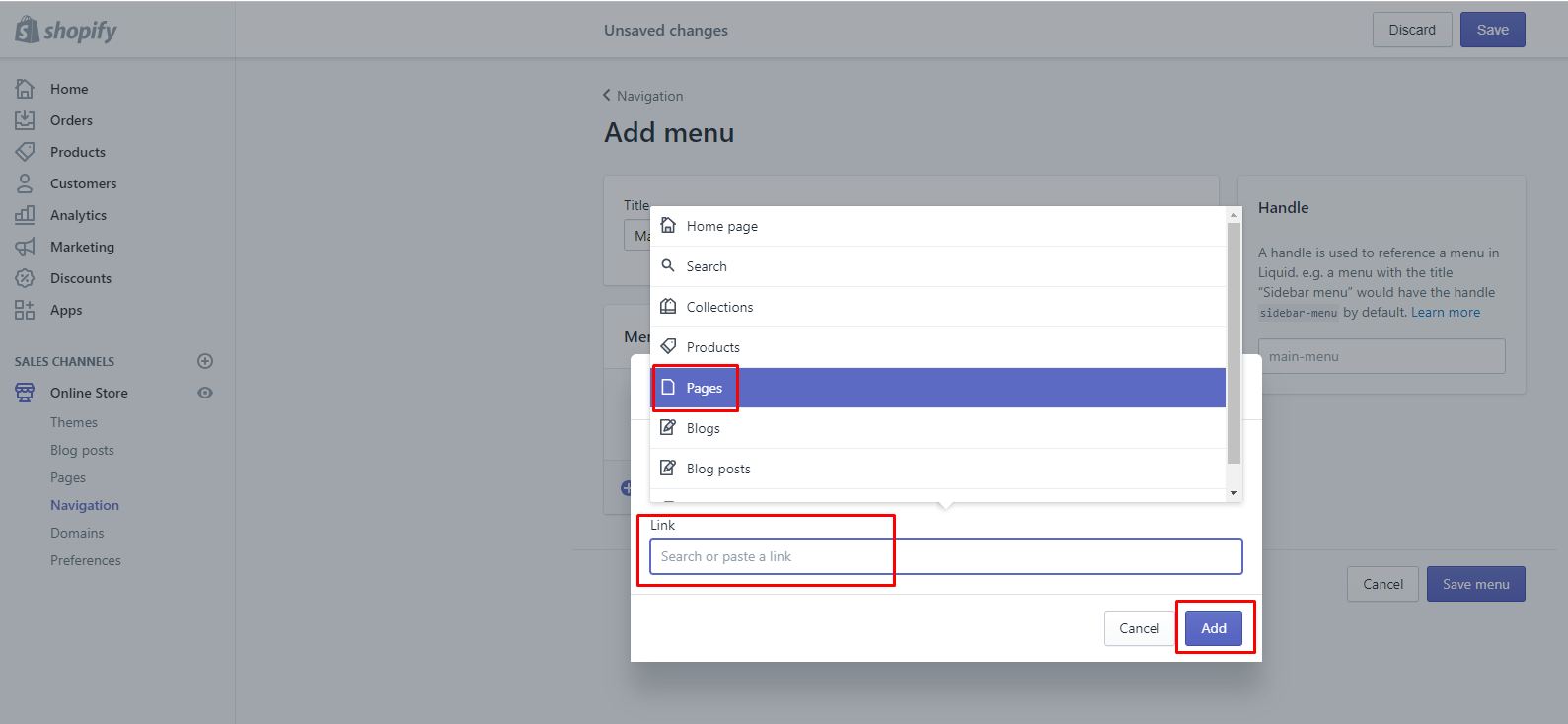 ---
2. Set up your domain
Although Shopify has provided you a domain in the form of Store-name.myshopify.com. However, customers will be reluctant to buy when they see a third-party branded domain name. For that reason, it's better to strongly switch to a personalized domain name which helps your store look more professional, and inspires confidence in your potential customers for more purchases.There are 2 ways to buy new domain:
Buy directly from Shopify
Buy from other domain suppliers: GoDaddy, NameCheap,…
To set up, go to  
"Online Store"
->
"Domain"
If you haven't bought any domain, we suggest that you should buy a new one directly from Shopify for more convenience.
Click on "Buy new domain"
Enter your domain name -> "Buy" -> Fill in your billing information to get your new domain.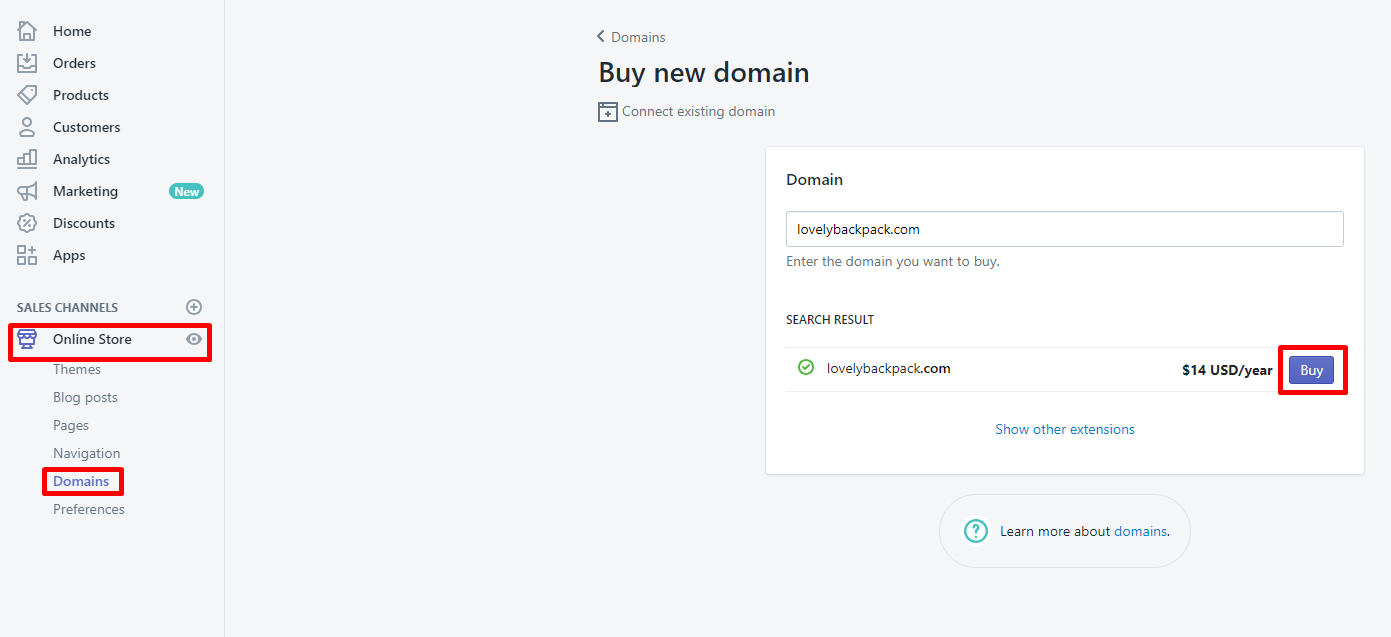 In case you've bought a domain from GoDaddy already, you can set up your domain automatically using GoDaddy Connect.Select
"Connect existing domain"
->
enter your domain name -> "Next"
->
"Connect automatically",
and done!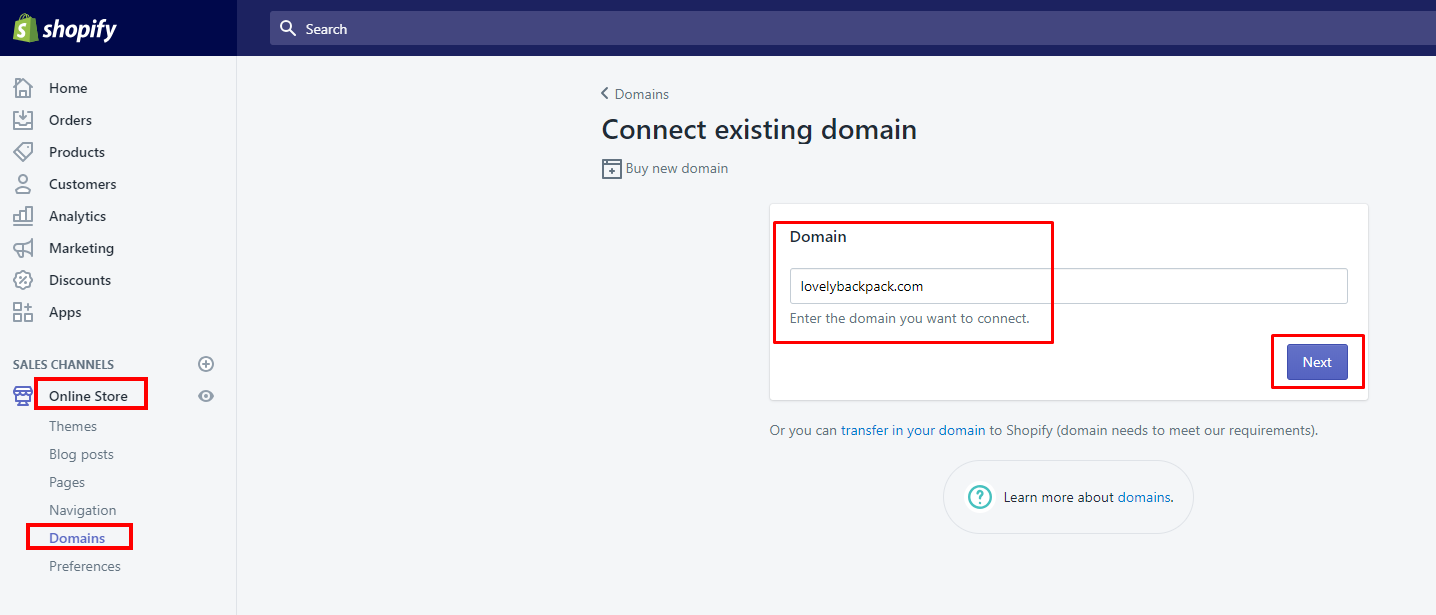 If you have domain from other suppliers, choose
"connect manually"
to access to domain management.
@ A Record (Host): Edit your A record to point to Shopify's IP address  23.227.38.32
CNAME www: Change your www CNAME record to point to store-name.myshopify.com domain
Come back to "Domain" section, select "Verify connection" to verify domain connection.
Your webite is now more professional and stand out with the personalized domain name.
---
3. Add logo and Favicon
Instead of showing your store name only, which obscures your customer view about your brand, create your own logo by your style to leave a deep impression on your customer mind. Let's follow these steps:
Select "Themes" -> "customize"
In the "Section" field -> choose "Header" -> upload your logo image, customize and save.

After that, add your website favicon to make it look more beautiful:Also in the
"Customize"
field  > choose
"themes setting"
tab ->
"Favicon"
-> upload your favicon image, customize and save.

Well done! Your website has converged enough factors to retain customers. However, you need a strong catalyst to motivate customers to place orders quickly:
Customer reviews.
---
4. Add customer reviews
"88% customers trust online reviews as much as personal recommendation.""72% customers will take action only after reading a positive review."
It's all your effort that leads potential customers to visit your website. You deserve the best result. Let's add reviews to your site and prompt them to make purchases without hesitancy. This is how you can get thousands of authentic reviews from Aliexpress directly to your Shopify store by using Ali Reviews app. It's very easy with some simple steps:
Install app Ali Reviews for free here -> "Add app" -> Enter your Shopify store URL to sign up.
At "Manage reviews" tab -> Click on "Import reviews" button at the product you want to get reviews.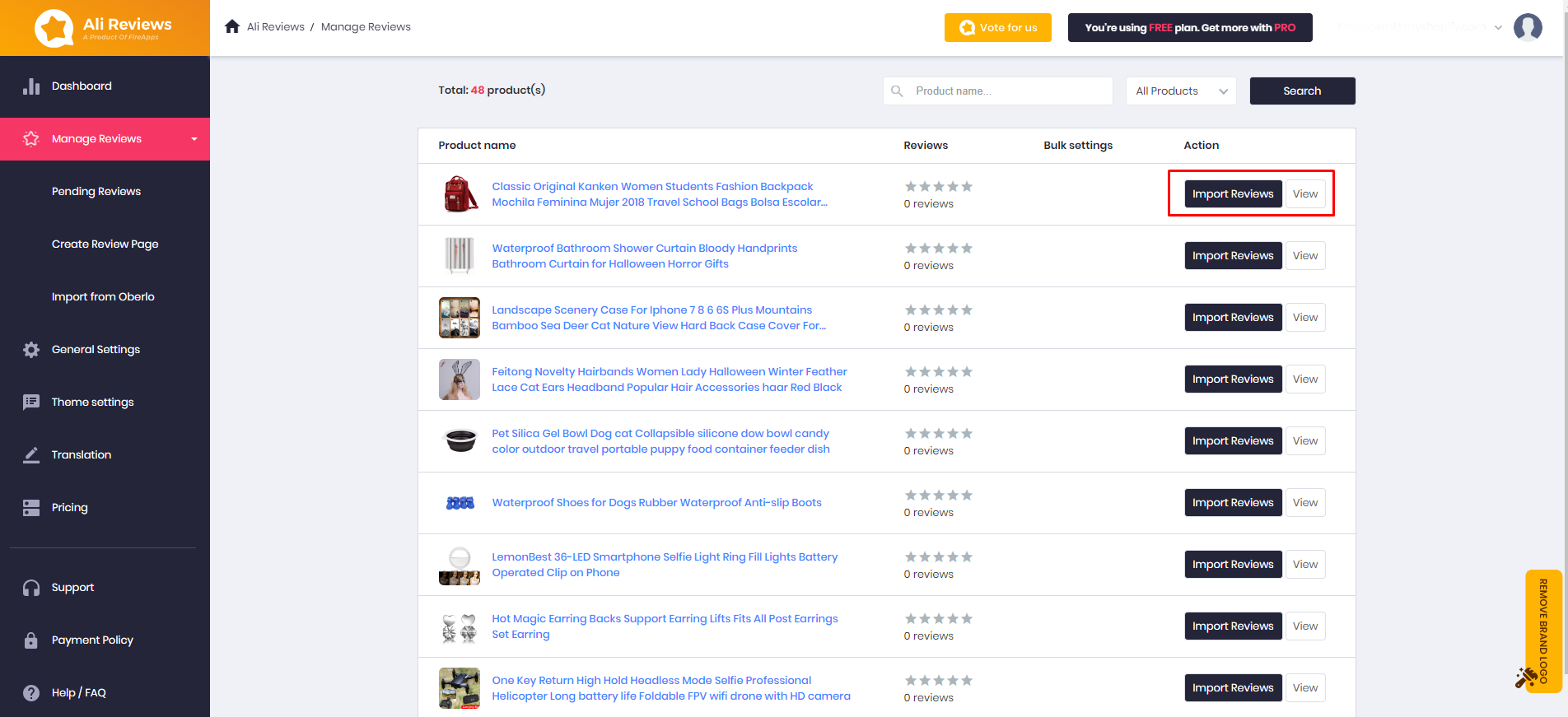 Paste AliExpress product URL -> Enter the number of reviews and choose the review options -> "Get reviews" and wait a second for the reviews to fly into your Shopify store.
See the result in your storefront. Your reviews will look like this: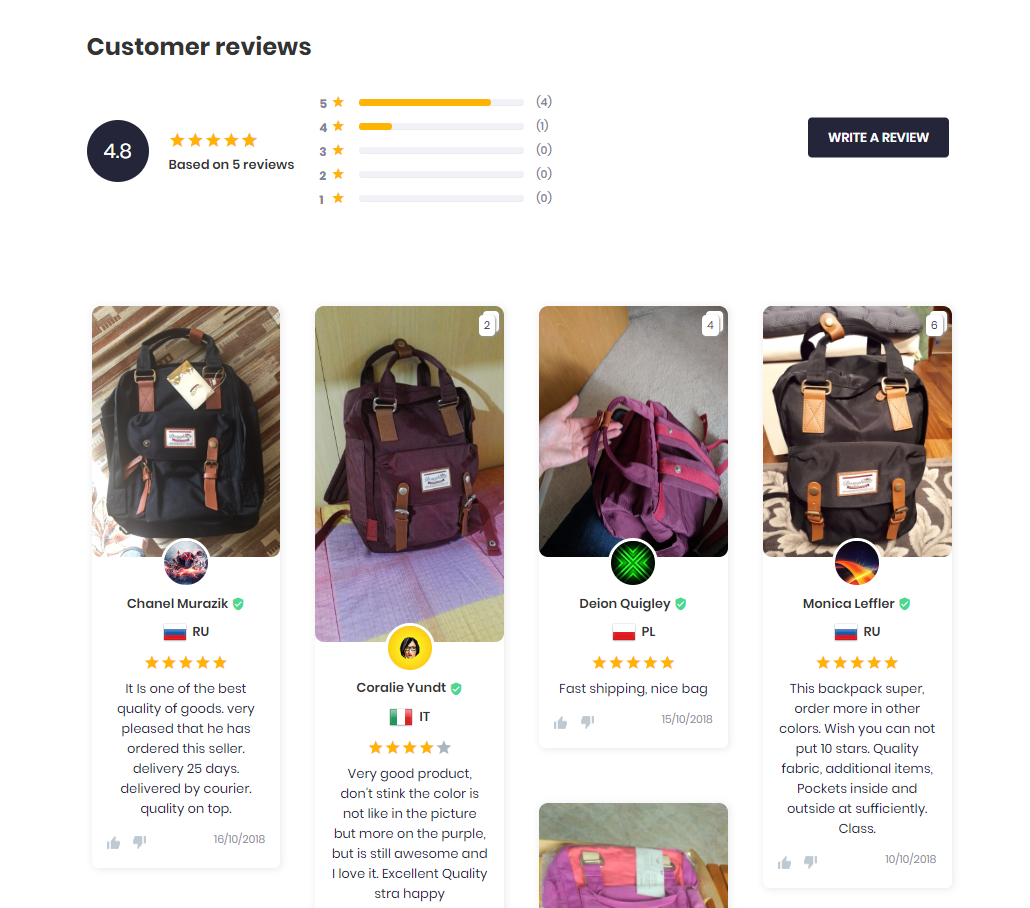 By following these steps, the capability of buying decision from your customers can be increased up to 30%. So, let's get ready for your upcoming first sales.
---
STEP 4: OPTIMIZATION
Your Shopify store is almost done! It's time to optimize your website to attract more potential customers and help them to search out your site on Google more easily.
1. Optimize website presence
The website title tag and description are two of the most important elements of on-page optimization, which makes it easier for search engines to better understand and index categories. It also helps encourage customers to click on your link on the search results.Select 
"Online store"
->
"Reference"
Homepage title: Edit website title
Meta Description: Fill in a briefly content that describes your website subject. Don't forget to include your essential keyword.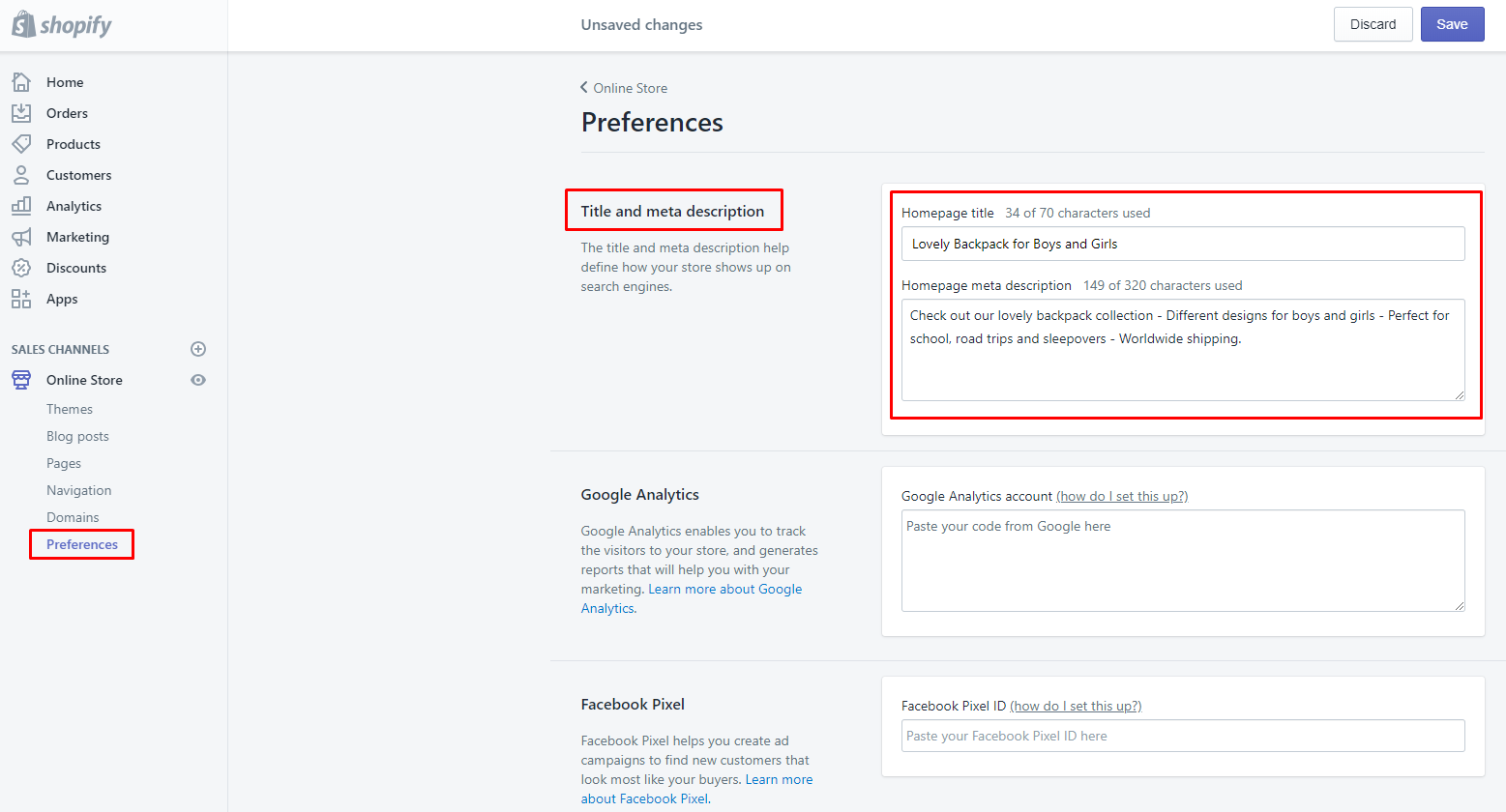 ---
2. Optimize blog post
Have you ever heard about "SEO"? This is a very effective and free way to optimized keywords on search engine. Shopify provides you a tool called Blog which can attract customers and generate more traffic to your site. The blog posts will direct customers to the website and allow them to discover the products on it. The topics can be tutorial post or news, etc. that contains keywords related to the product.Steps to create a blog post:
Select "Online store" -> "Blog post" -> "Add blog post"
Fill in blog title, description, images, add tag,…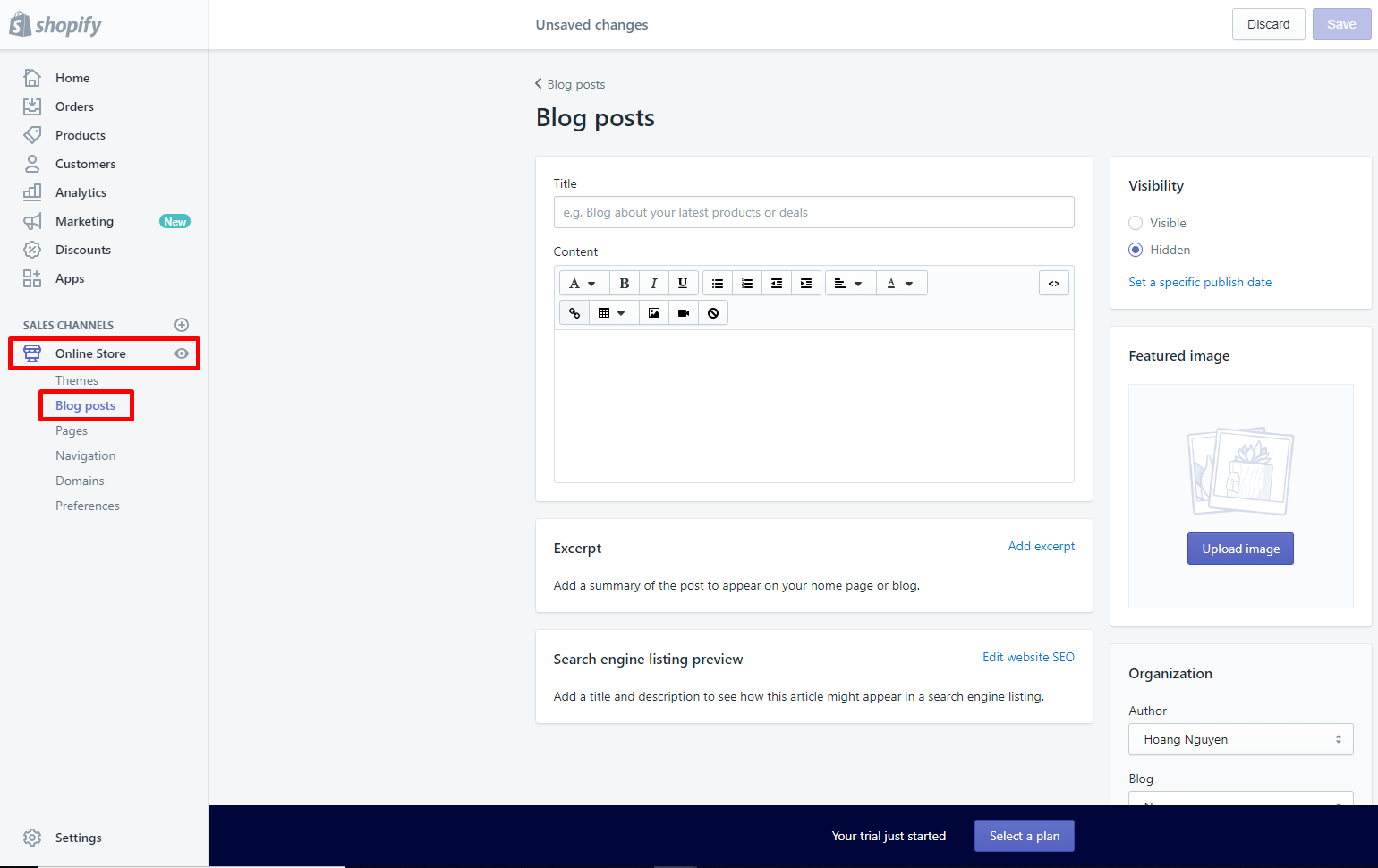 The
"Search engine listing preview"
field is where you can optimize your blog on Google search results:
Page title: Edit blog title
Meta description: Optimized snippet that briefly describes your blog content and includes the most important keywords.
URL and Handle: Edit or shorten the link of your blog.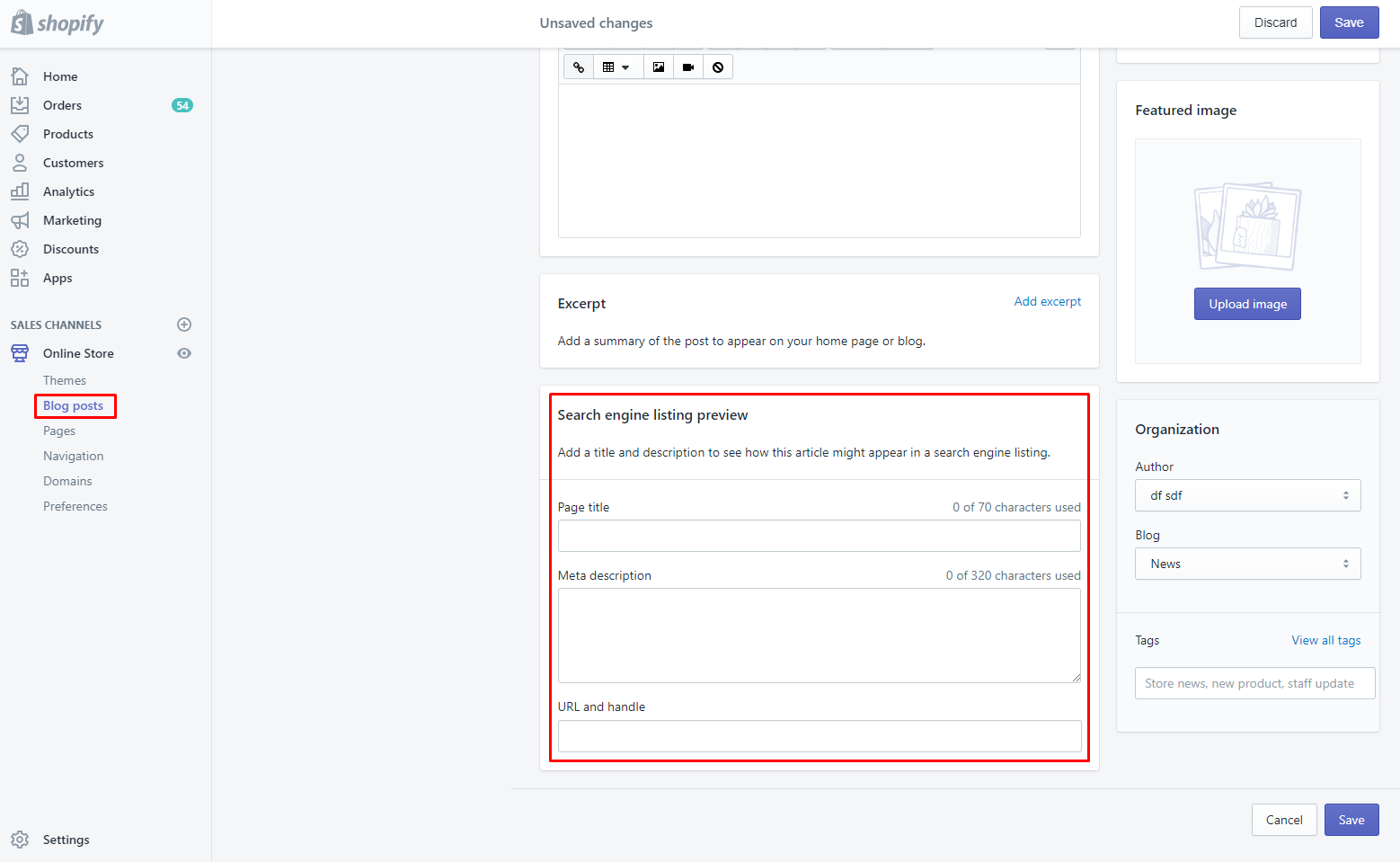 ---
That's it. All the optimization steps are done! Now you can press the "set live" button and start selling. Your main tasks from now on is focusing on marketing strategy to reach your potential customers and step ahead to your success.
STEP 5: SALES AND MARKETING SUPPORT
This step, we will show you how to expand your sales funnel and track your business performance.
1. Expand sales channel
Shopify allows you to connect with large sales channels such as Facebook, Instagram, Pinterest,… Which helps expand and increase your sales considerably, and make it easier to manage.Go to
"Setting"
->
"Sales Channel"
->
"Add sales channel"
->Choose your channel and click on
"Connect account"
to connect your Shopify store with it.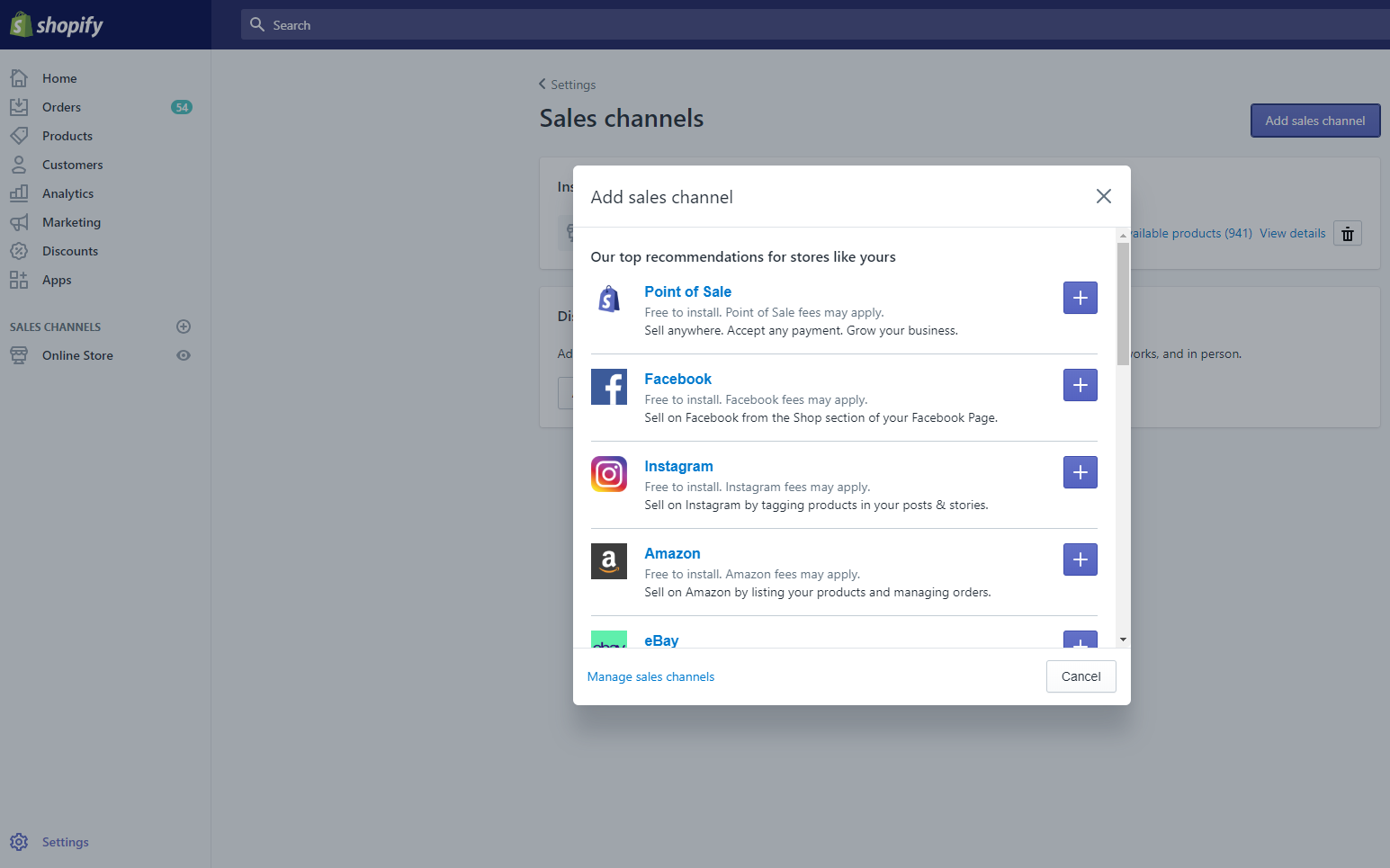 ---
2. Sales performance tracking
In order to approach your potential customers and achieve your sales goal, besides optimizing SEO, you need to pay attention to market your Shopify store on social channels like Facebook, Google, YouTube,… and monitor daily to make sure your business stays on track.Here Shopify provides you a very useful tool to track the performance of your strategy on Google and Facebook.Select "
Online Store"
->
"Reference"
Google Analytics: Paste the Google Analytics code here (Google Analytics enables you to track the visitors to your store, and generates reports that will help you with your marketing)
Facebook Pixel: Paste your ID of Facebook pixel here (Facebook Pixel helps you create ad campaigns to find new customers that look most like your buyers)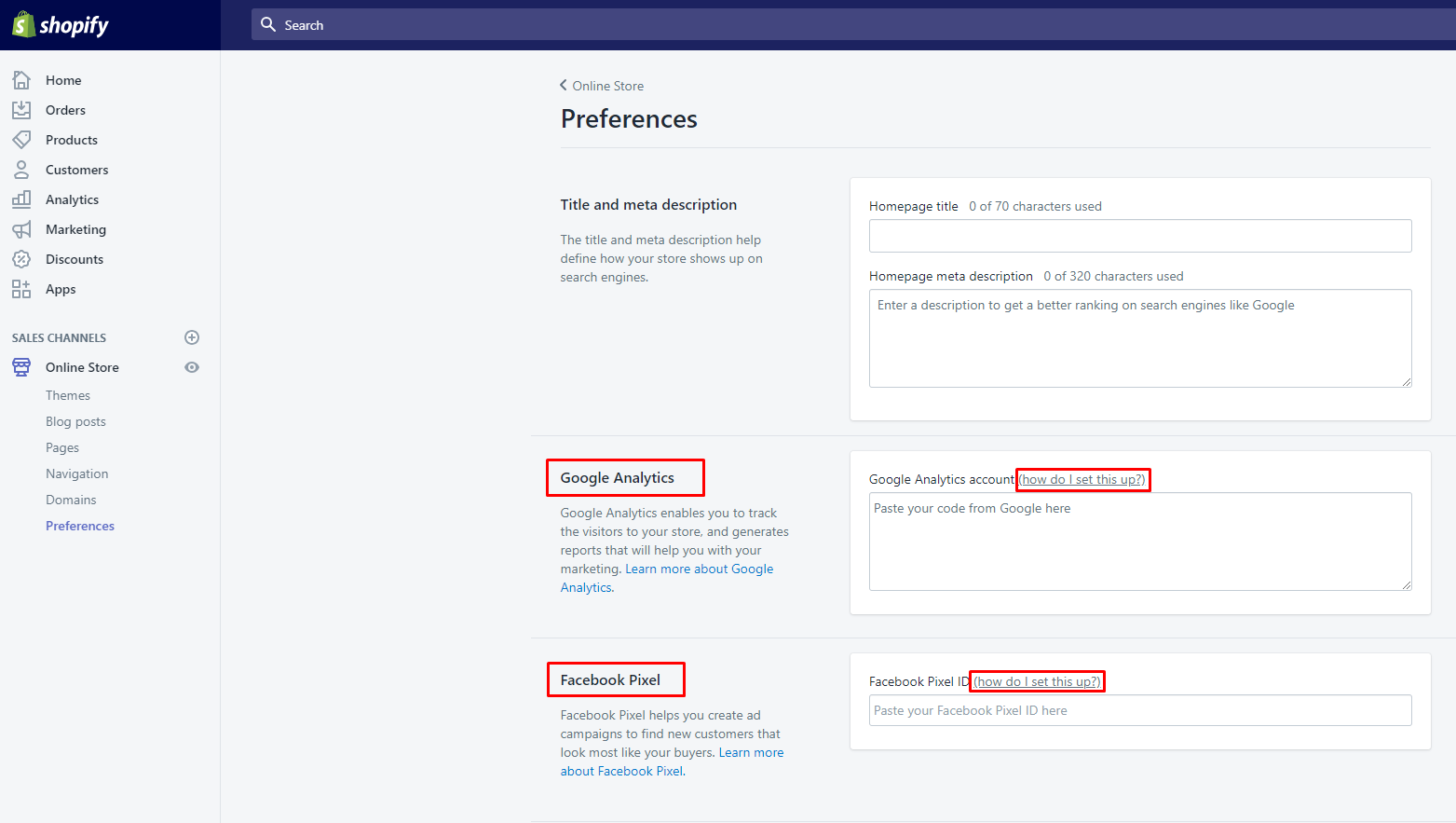 If you don't know how to get these codes, click on
"how do I set it up"
to read the detail instruction.
---
STEP 6: START TO SELL
During the free trial time, your website is automatically protected by a password that restricts visitors to access to your online store. This means you can freely set up your store, add new products, or prepare everything until it's perfect to start selling. People will see a notification page as bellow, and only customers with the password can access it. After your trial ends, you need to pick one of Shopify's paid plan to continue using your Shopify store as well as
remove the website password.
However, you can register to a paid plan within the trial period to start selling immediately if you want. Be assured that after registered, you're still in your free trial period and will only be charged after this period ends.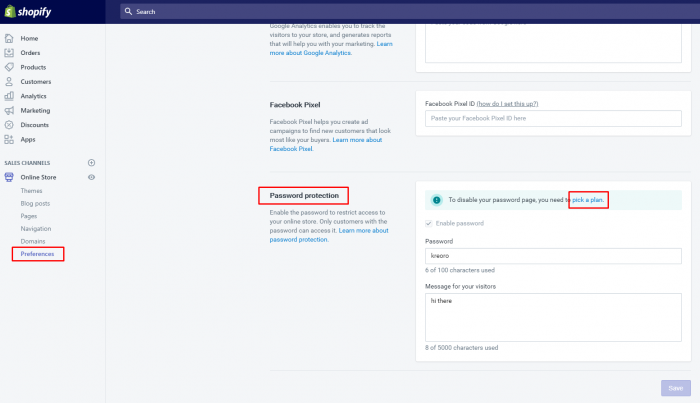 To register, in the
"Password protection"
-> Click on
"Pick a plan"
-> Choose your suitable plan (See all Shopify plan
here
) -> Enter the required information to complete payment.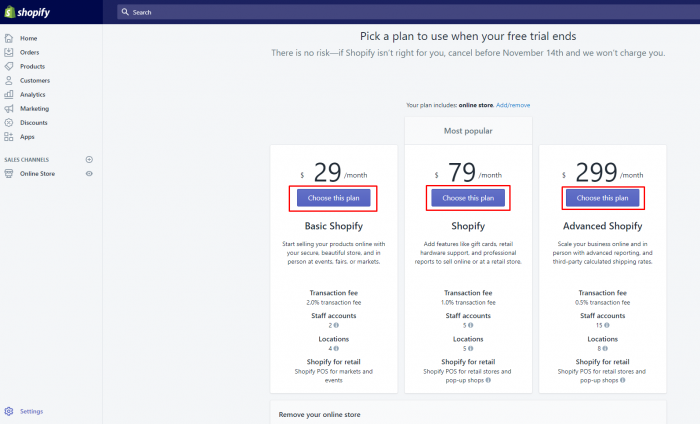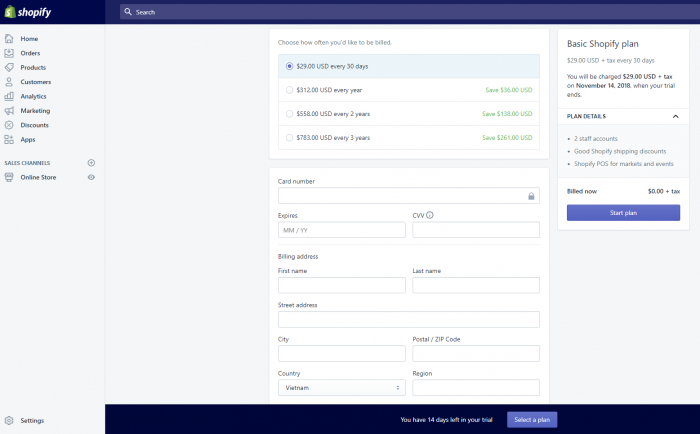 After registration completed, unstick the
"Enable password"
to set your website public and start selling.
---
At this point, you are well on your way to launching and running a successful Shopify store. To really get the most out of your business, let's pitch in marketing your products, optimize it for maximum conversions and sales. Stay strong to fight, it's time to earn extra thousands of dollars per month,
GET STARTED NOW.
 Good luck!Related article:
10 Trending Products for Dropshipping in The Last Half of 2018