To write good product descriptions is the art of selling but not selling. Even professional copywriters make mistakes sometimes: writing product descriptions that simply describe your products. Why is it wrong? Because product descriptions need to sell your products. While it's often considered the last resort for conversions, if properly written, the product description can… View Article
To write good product descriptions is the art of selling but not selling. Even professional copywriters make mistakes sometimes: writing product descriptions that simply describe your products.
Why is it wrong? Because product descriptions need to sell your products. While it's often considered the last resort for conversions, if properly written, the product description can be a powerful persuasion tool for boosting sales. Does your product copy entice readers to click "add to cart"?
Let's have a look at 8 simple ways to persuade your web visitors with product descriptions that sell.
1. Focus on Your Core Customers
When you write a product description with a huge crowd of buyers in mind, your descriptions become wishy-washy and you end up addressing no one at all.
The best product descriptions address your ideal buyer directly and personally. You ask and answer questions as if you're having a conversation with them. You choose the words your ideal buyer uses. You use the word you.
This is how Think Geek starts the product description:
When it comes to writing your own product descriptions, start by imagining your core customer. What kind of humor does he or she appreciate (if any)? Which words does he use? Which one does he hate? Is he okay with words like sucky and crappy? What questions does he ask that you should answer?
Consider how you would speak to your ideal customer if you were selling your product in the store, face-to-face. Now try and incorporate that language into your website so you can have a similar conversation online that resonates more deeply.
2. Attract with Benefits
When we sell our own products, we get excited about features and specifications. We live and breathe our company, our website, and our products. The problem is our potential buyers are not as interested in mundane features and specs – they want to know what's in it for them. That's why you need to highlight the benefits of each feature.
This is how Method Home describes one of their hand wash gels: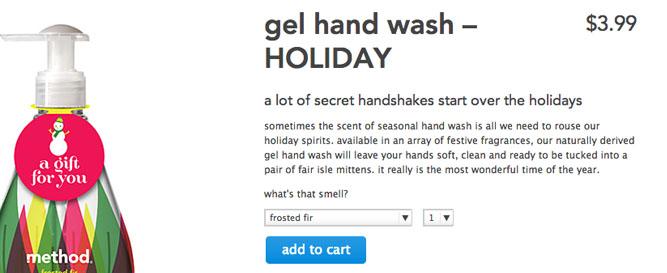 Method Home suggests that the benefit of their soap is not just that your hands become soft and clean, but that the soap actually rouses your holiday spirit making the holidays more festive and therefore more enjoyable.
Consider the benefit of each of your features. How does your product make your customers feel happier, healthier, or more productive? Which problems, glitches, and hassle does your product help solve?
Don't sell just a product, sell an experience.
3. Avoid superlatives and 'yeah, yeah' phrases
As a consumer, you've probably come across these a lot: "excellent product quality," "best-in-class customer service," "amazing results," "No. 1 in the industry." When a potential buyer reads these phrases, he or she will automatically think yeah, yeah, of course; that's what everyone says. Have you ever heard someone describe their product as average, only okay or even bad?
As a result, these bland and superlative words do not add anything to your description and will actually work against you. In order to avoid customers thinking yeah, yeah, be as specific as possible. Why is the product quality excellent? How can you prove it to your readers? Amazon does it the right way with their Kindle product description that proves why the Kindle Paperwhite delivers "the best reading experience":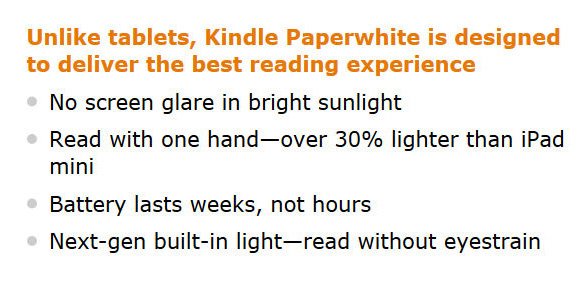 None of the bullet points above mention the quality of the product directly, but each point gives you an impression of quality. Each point also follows an easy pattern of highlighting a feature plus a benefit: genuine hand-sewn construction (feature) >> durable comfort (benefit)
Product details add credibility. Product details sell your product. You can never include too many technical details in your product descriptions. Be specific.
4. Entice with Your Readers' Imagination
Scientific research has proven that if people hold a product in their hands, their desire to own it increases.
You're selling online, so your web visitors can't hold your products. Large, crystal clear pictures or videos can help, but there's also a copywriting trick to increase desire: let your reader imagine what it would be like to own your product.
Here's how Think Geek stirs your imagination with a description of their USB Car Charger: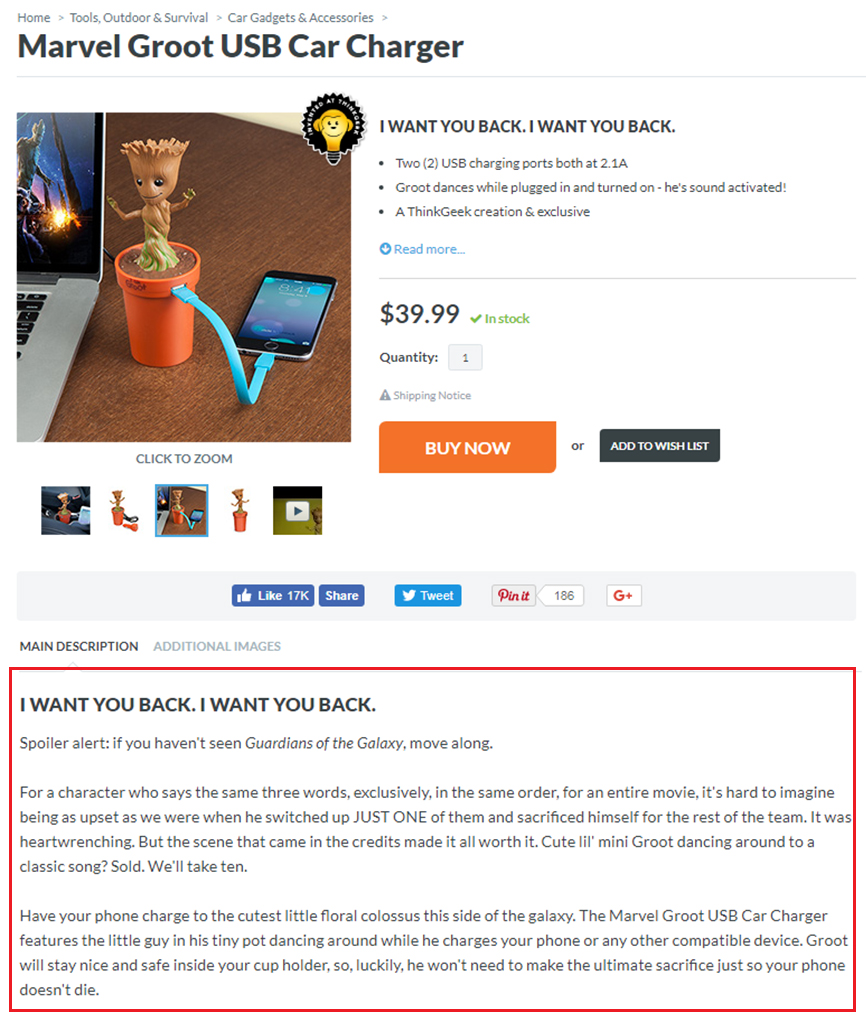 To practice, this copywriting technique starts a sentence with the word imagine, and finish your sentence (or paragraph) by explaining how your reader will feel when owning and using your product.
5. Cut Through Rational Barriers With Mini-Stories
Including mini-stories in your product descriptions lowers rational barriers against persuasion techniques. In other words, we forget we're being sold to.
Wine sellers like UK-based Laithwaites often include short stories about winemakers:
The Dauré family owns one of the Roussillon's top properties, the Château de Jau. Around the dinner table one Christmas, they agreed it was time to spread their wings and look to new wine horizons. The womenfolk (Las Niñas) fancied Chile and won out in the end, achieving their dream when they established an estate in the Apalta Valley of Colchagua. The terroir is excellent and close neighbors of the Chilean star Montes winery.
When it comes to telling a story about your products, ask yourself:
Who is making the product?
What inspired creating the product?
What obstacles did you need to overcome to develop the product?
How was the product tested?
6. Seduce with Sensory Words
Restaurants have known it for a long time: sensory words increase sales because they engage more brain processing power. Here's an example of chocolate maker Green and Black: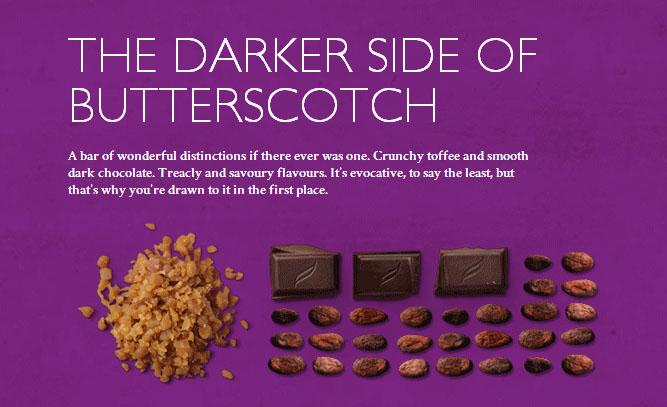 Green and Black's sensory adjectives don't just refer to taste, but also to sound and touch: crunchy and smooth.
Adjectives are tricky words. Often they don't add meaning to your sentences, and you're better off deleting them. However, sensory adjectives are power words because they make your reader experience your copy while reading.
Dazzle your readers with vivid product descriptions. Think about words like velvety, smooth, crisp, and bright.
7. Make Your Description in Highly Visual Format
Is your web design encouraging web visitors to read your product descriptions? According to research, people read only 16 percent of the words on an average web page. To entice people to buy your product, they will most likely need to read your copy. So, how do you get people to absorb your content when they will only be skimming the product listing? It might seem obvious, but you need to use an easy-to-scan and easy-to-read format. The subheadings should be in a bigger font than the body text, and you should use bullet points where clarity is needed, like Innocent Drinks.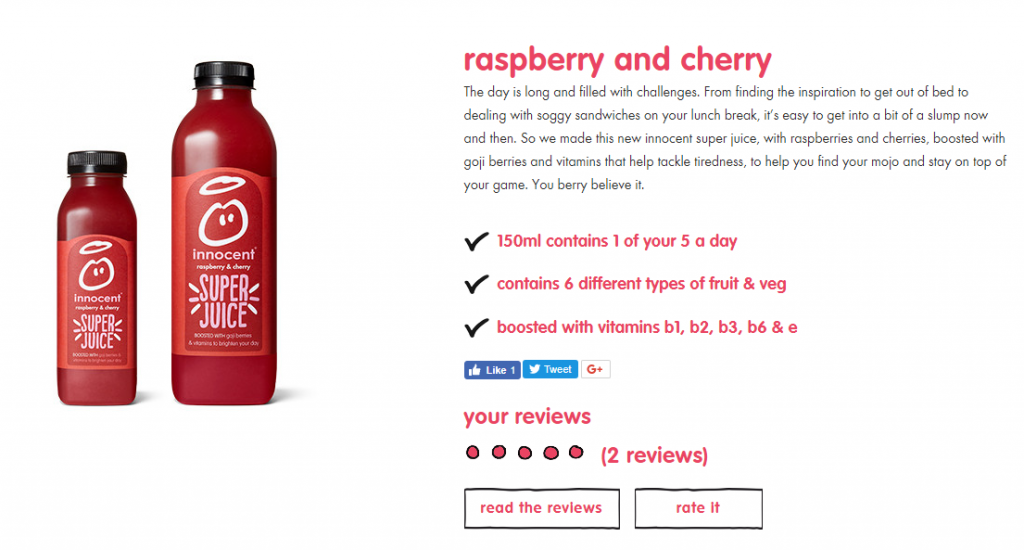 Here are some areas to focus on when designing yours:
– Entice your web visitor with headlines;
– Use easy-to-scan bullet points;
– Include plenty of white space;
– Increase your font size to promote readability;
8. Optimize for search engines
You want to make sure that your products are easily found by the people looking to buy it. Must note that "when you write for your buyer persona and use the phrases he/she uses, you're automatically optimizing your product descriptions for search engines, because these are the phrases he/she searches for on Google."
So you're probably on the right track, but make sure to take these tips into account:
Brainstorm about all the ways your ideal customer might want to find your product. For example, if you are selling a fluffy pink sweater, you want to make sure your customer can find it under words like fluffy, pink, zipper, warm, fall, winter, soft, cozy etc.
Make sure to incorporate these keywords into the headline, subheading, and body text.
Optimize your product images and videos by using the keywords in the file description and alt tag.
But do not use keyword stuffing, as this will instantly kill your persuasive copy.
Know your audience. Know your product. And then, show and tell with your online shop descriptions!
Share your knowledge about your product. Tell stories and explain even the tiniest details. Make an effort not to be boring and instead delight your web visitors with seductive descriptions. Most of all, write with enthusiasm because your passion for your products is contagious.