Sales Box – Best Way to Create Your Own Standout Offers
Super Tools
7 min read
Leave a comment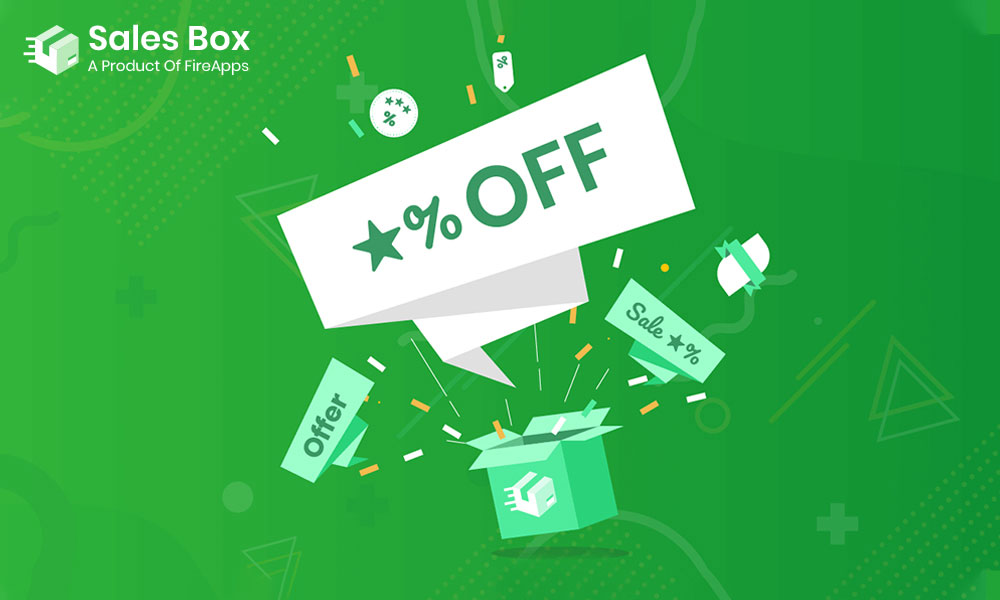 Sales Box makes it super easy for you to set up different offers on your Shopify store, which can decrease abandoned carts and increase sales. No coding requirement, just adding elements with some clicks of button. However, have you gotten the most benefit from our app?
In this article, we will step through several basic function of our app and show you the best way to create offers with Sales Box. Chances are you'll know many effective ways, or simply bounce some great ideas to create your most standout offer that attracts more sales. Keep on reading to find out.
Best ways to create offers with Sales Box
Set up your default offer
Let's start with "Default message", where you can build up a default offer message that will display in all your product pages. To set it up, go to "Default message" and choose your favorite layout. Sales Box has different type of icons that can be described as symbolic images of your offer message. Here you just simply add text and icons into the text box (you can add up to 10 lines) and customize all the elements in your style.
Beside the static text, there're dynamic texts that you can select to add to your offer widget. It's ideal to be used for setting shipping fee and time. They will display the current value of its respective location. When that location is updated, the dynamic text automatically updates. So here is how dynamic text actually works:
[location], [city], [country], [flag]: These static texts will display the name of the city, country and flag symbol of this country, where the shoppers access to your website, based on their IPs. 

For example, if you set: "Free shipping to [city], [country] [flag]" and your customer's IPs is from New York, United States then this is how it displays in your product page:
[Money]: It shows a sum of money like shipping fee. It can be auto converted into your shopper's currency based on their IPs. So If you set money at 3 USD, the shopper is from Viet Nam, then it will show:
[from_time], [to_time]: The period of time that from a number to a number, or from date to date. You need to set this time in the "Time" section first, then add the dynamic text to your text box. 

For example, if in the "Time" section you set it From 2 To 4 days, select number format, and you set the text box with: "Receive product within [from_time] – [to_time] business days". Here's how it displays in your product page:
[Today] : It shows the current date based on your customer's timezone. It can be used to create an urgent sense to prompt shoppers to buy fast. Here's an example:
Beside text and icons that are available in Sales Box, you are also be able to add icons from any other sources to the content box just by copy & paste. Excited right? Let's try to add some funny Facebook icons and see how beautiful they show up in your store.
More than a shipping offer, adding a discount code or any of your promotion messages can be very easy with Sales Box. Let's see some of our best examples below:
Showcase offer for a specific country
If you have different postage costs for multiple countries or regions, and want to set different shipping offers for them, then go to "Country Setting" -> "ADD NOW" -> set things up to get your job done.
"Add country": Select one or more countries that you want to create a unique offer for, add content and icons to create your offer as similar as in "Default message". Only shopper who has the IPs from the countries you chose can see this offer box in the product page. 
For example, you want to set different shipping costs: Free shipping to France, Canada & Germany, $2 shipping to Brazil, $3 shipping to other countries. Then in "Country setting", you can create 1 free shipping offer for France, Canada and Germany, 1 offer with 2$ shipping for Brazil, then set 3$ shipping offer in "Default message" (This message will be automatically applied for the rest).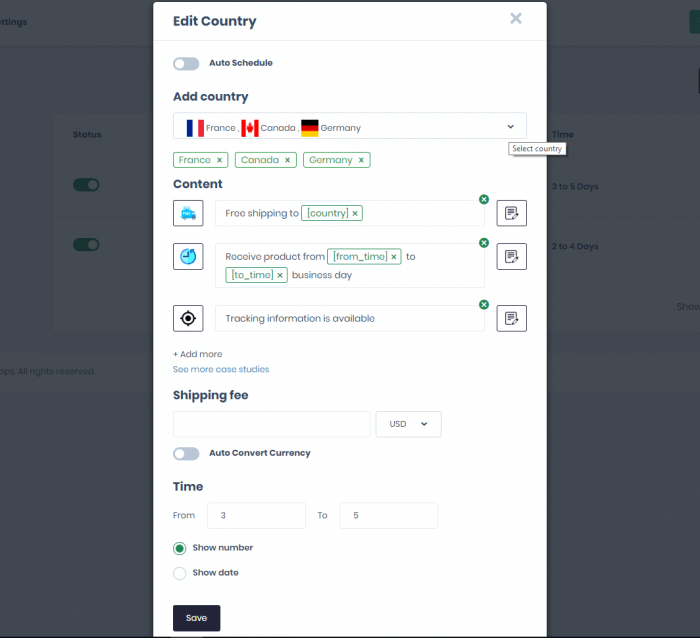 Beside shipping information, you can create offers with Sales Box by adding more promotion messages as you want and don't need to spend time updating for individual product to run a sale. Sales Box will automate the process with "Auto Schedule" feature (This feature is also available in "Product setting"). Enable the "Auto Schedule" button, then choose the start-day and the end-date for your offer. So If your offer shows: "10% discount on all orders from Nov 15, 2018 to Nov 18, 2018", you can schedule this offer to display on your product page only in this period of time.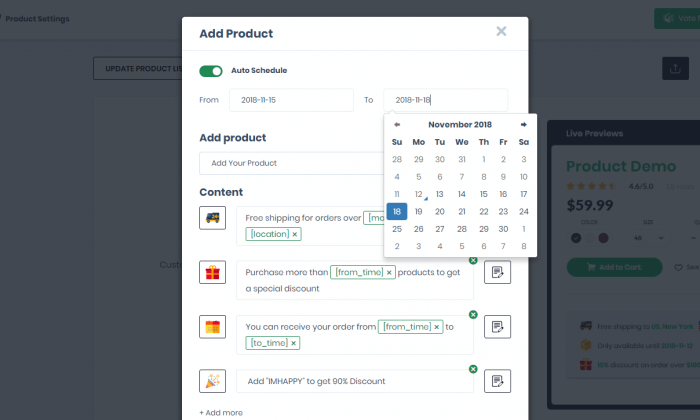 Showcase offer for a specific product
If you have some winning products and just want to create special offers only for them, "Product settings" will be a smart way to get more sales. Simply click "ADD OFFER" and select one or more products that you want to add offer to, then add offer message to the content box. The offer box will only show up in this product page. You can select one or some countries that you want to apply this offer only for. And don't forget to use Auto schedule to limit your promotion time.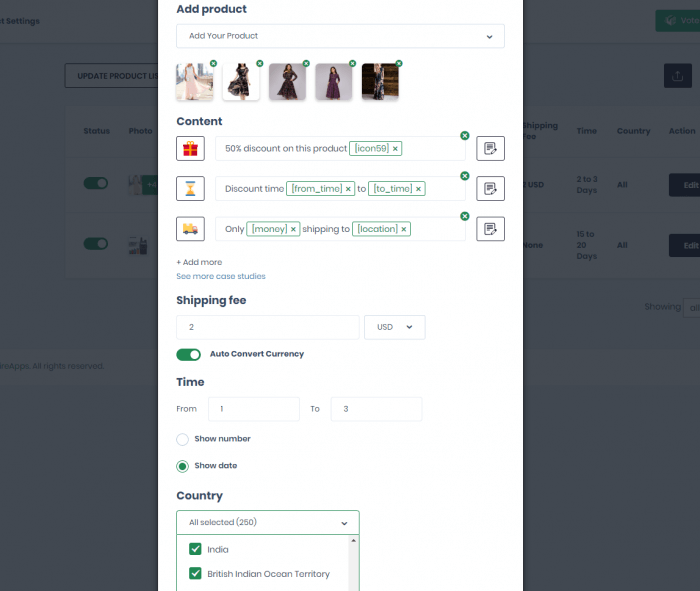 In case there's more than 1 offer that are created for a unique product in your Shopify store, be noted that the offer box of Product Settings will always be displayed on the product page prior to the Country settings and General settings. The display order priority will be as follow: Product settings => Country settings => default message.
Make it look great in your style
To create offers with Sales Box and make every of your offer box look the most attractive to your customer, you can freely to decorate your offer box in the style you love, or following season or holiday just by click.
Whether it's a holiday occasion or normal day, you can easily increase add-to-cart rate with a stunning widget which has the things your customers love most.  Just simply go to "Theme settings", customize static and dynamic text, background and border.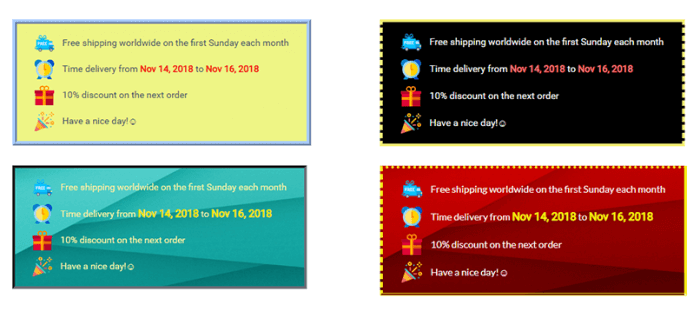 If you know about CSS, use "Advanced mode" to indulge customize the widget and make just about any changes you want, all designs will depend on your creativity.
It's your turn
Create offers with Sales Box or whatever your want just by clicks. Look at the ways of offer ideas above and come up with your own idea for new offers which could make your store become stricking and attractive. If Sales Box hasn't been in your app list, get it for free HERE and skyrocket your sales right away.
Related article: [Ali Reviews] – Increase your Click-Through Rate with Google Star Rating ')}