Ali Reviews: Your top social proof solution in 2020
Case Studies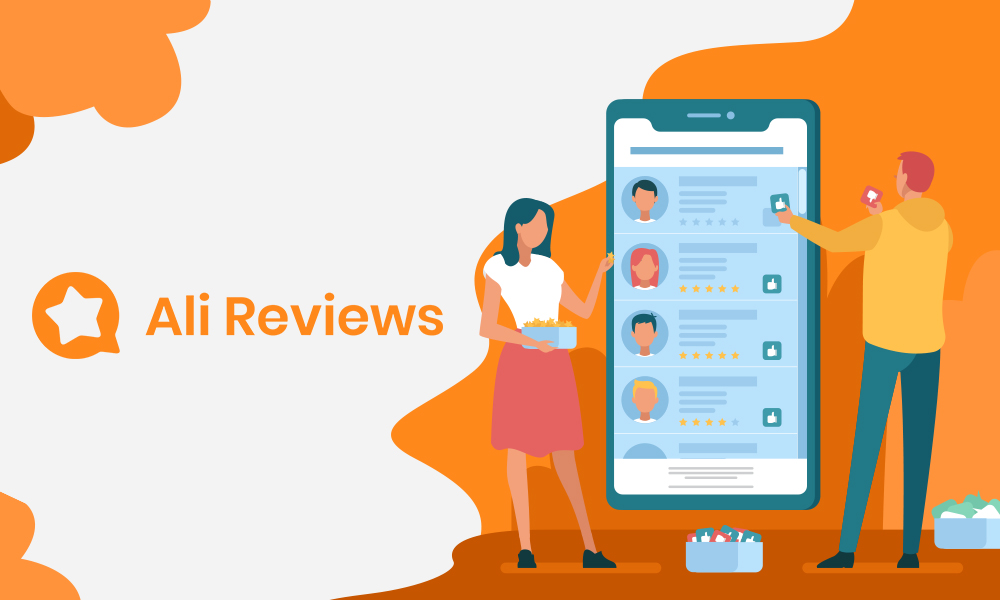 Ali Reviews is the social proof app for Shopify-platform store owners. It was first released in 2017. The app was called "the social proof solution" because its main benefit offer to users is to build credentials for stores and make it more trustworthy in customer's eyes.
That is what Ali Reviews is supposed to do but we will dig deeper into how did it get that job done.
What is social proof, and social proof solution then?
Social proof
Social proof is a term created by Robert Cialdini in his 1984 book, the "Influence". It describes a psychological and social phenomenon wherein people copy the actions of others in an attempt to undertake behavior in a given situation.
For this article, we get that term in the field of e-commerce and this will lead us to something very familiar to "business credential". However, the major difference between the two concepts is the source of trust.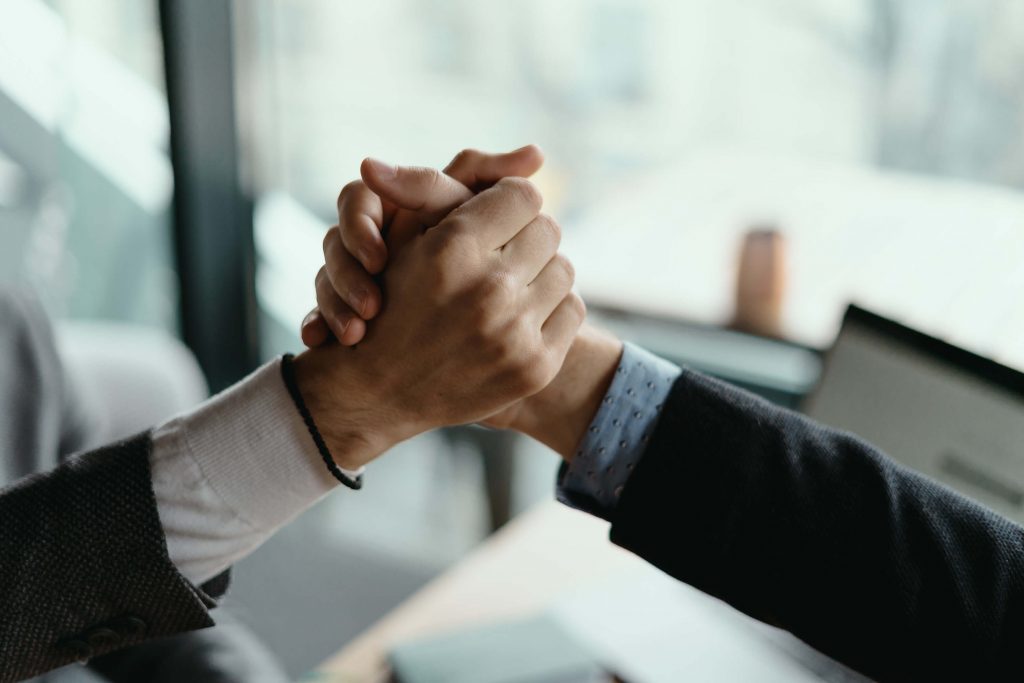 Credential is the kind of certificate given to a business by its actions and achievements. To build the credential for a business from a scratch is a truly big challenge. It requires you to gain a lot of achievements whereas the mistake tolerance corridor is quite narrow. You may see many big companies failed to gain societal approval because of only a single scandal. In short, credential comes from business, not customers.
Social proof is different. Its mechanism almost doesn't require business anything. Social proof is copying others' actions process. People will buy something that has been bought by the surrounding people. You can see this social proof effect as usual on the street. In the market, the busy vendor is always busy while the vacant one keeps its status. Social proof is the trust that comes from society.
Ali Reviews as the social proof solution
As mentioned before, social proof is based on society copying. That creates the waves of actions.
In e-commerce activities, there are many kinds of social proof. However, the most popular kind of it is customer reviews. The review itself can do two crucial things.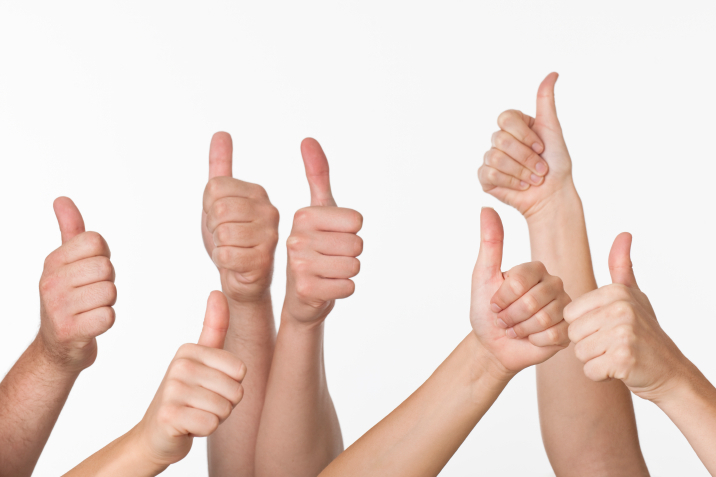 First, it suggests the idea that someone had got involved in that product. By reading a review, surely we think there must be someone who bought it, used it, or knew it. Whatever the situation is, that idea will never change.
Then, it can send more impact suggestions about that product. It could be the recommendation or the dissuader. Anyway, its effectiveness is huge and strong.
You will not be ready to buy something anymore, no matter how much you've liked it before, if you are hearing too many complaints and advice to avoid it, right? So the same story with e-commerce stores and their customers.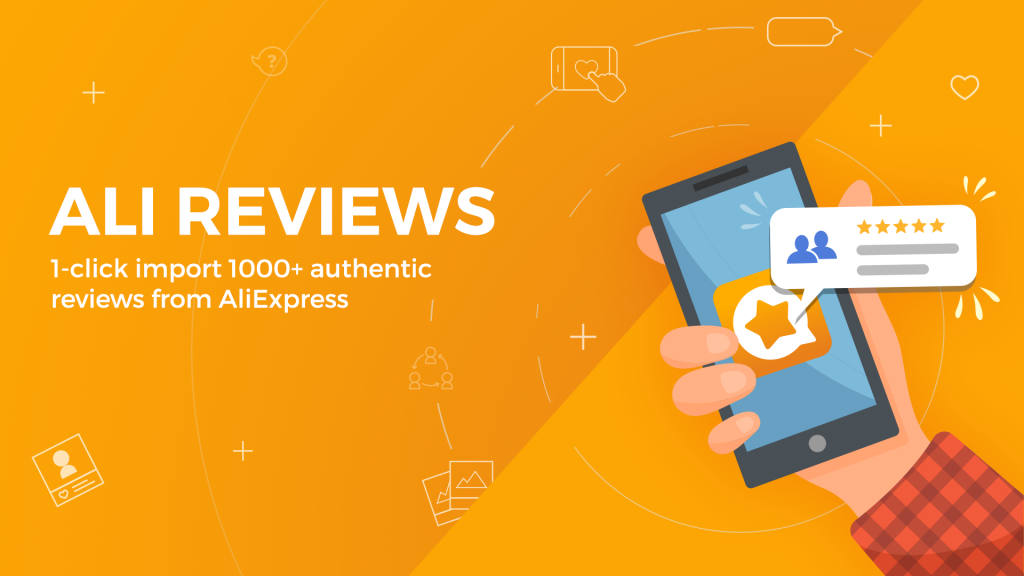 The store needs to show a lot of reviews so it can persuade visitors to buy products. But what happens if stuff is new and get almost no review. At this point, Ali Reviews is the ultimate solution to bring the review to the store.
Okay, and how did it do that?
Import Review
The most important mission for Ali Reviews is to make the store filled with reviews. For the new dropshipping store with a low number of orders, how can Ali Reviews pour the reviews into the store?
Of course, the app is not going to fake them, but it will import reviews from the other source. The other source here is AliExpress, the e-commerce dropshipping product sources.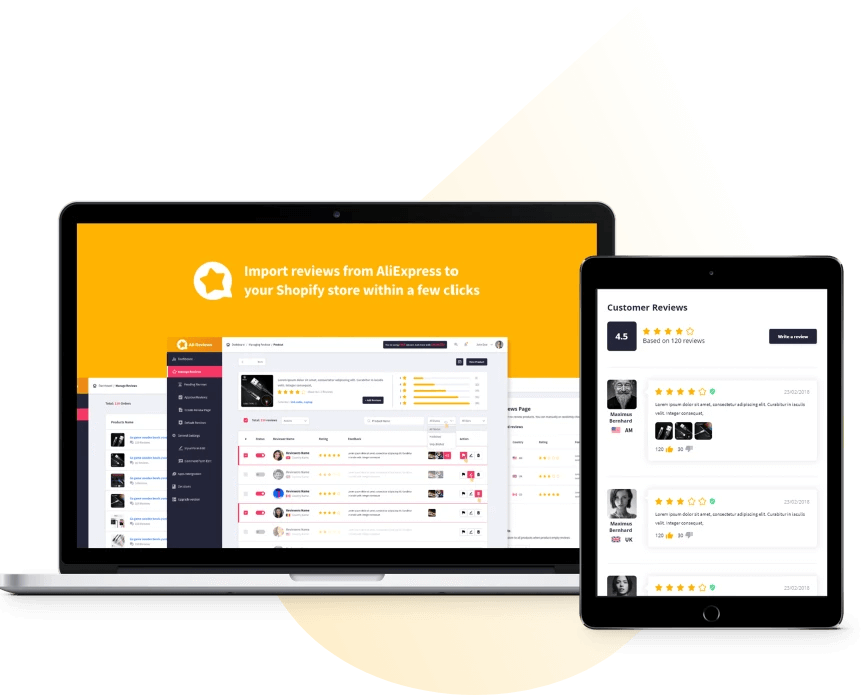 Every product on AliExpress has its reviews from who bought. What Ali Reviews does here is import the reviews from AliExpress to the store's site.
In case the product on AliExpress is too fresh and got no review, Ali Reviews can still solve it by CSV file. Store owners can collect reviews from other platforms into CSV files then Ali Reviews will show them up to the store.
Fully customizable review
When you have a ton of reviews, you will need to organize well to make them work effectively. This is what Ali Reviews helps store owners when importing reviews.
It allows users to sort out reviews by its characteristics (language, ranking, location, etc.). Therefore, the efficiency of showing reviews will be increased.
Users even can set their positive/negative ratio for the shown-up reviews. This will make the review page of the store more trustworthy. Everyone must agree that no product can satisfy all so the testimonial page needs the negative feedback, also.
Bulk import
By doing it in bulk action, Ali Reviews can save you a lot of time. It's not necessary to import every single review for one particular product.
With Ali Reviews, after a few clicks to sort out the review from the source and select the product, merchants can have hundreds of reviews below their products. This function is very easy to use and it can help users to save tons of time. Compare to what you have to do when using the traditional way to import review, it's almost the miracle.
In order to use this function, you need to have Ali Orders or Oberlo. You will need a more detailed tutorial to master this amazing function.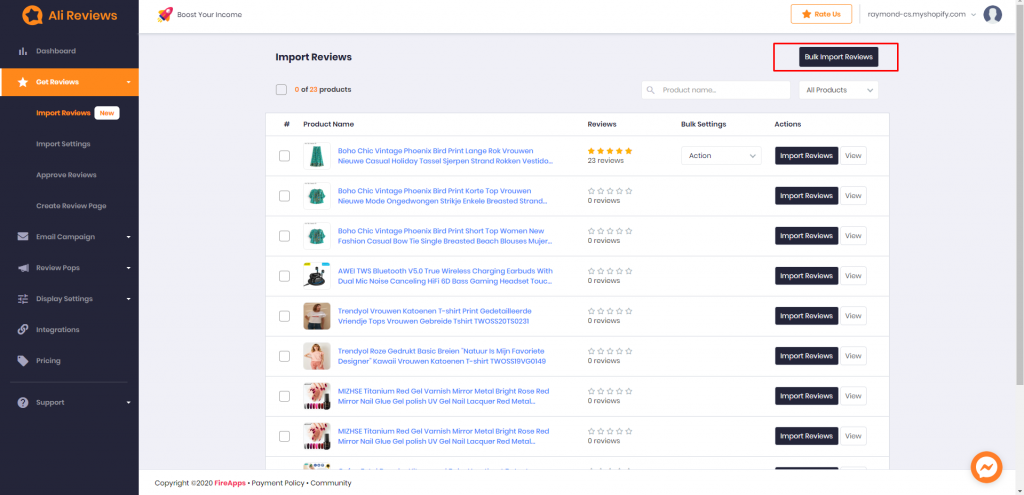 Auto-update review
This function was invented to keep merchants' store up-to-date. While the dropshipping platform is getting new reviews, it seems to be impossible for merchants to get reviews updated all the time without checking every day manually.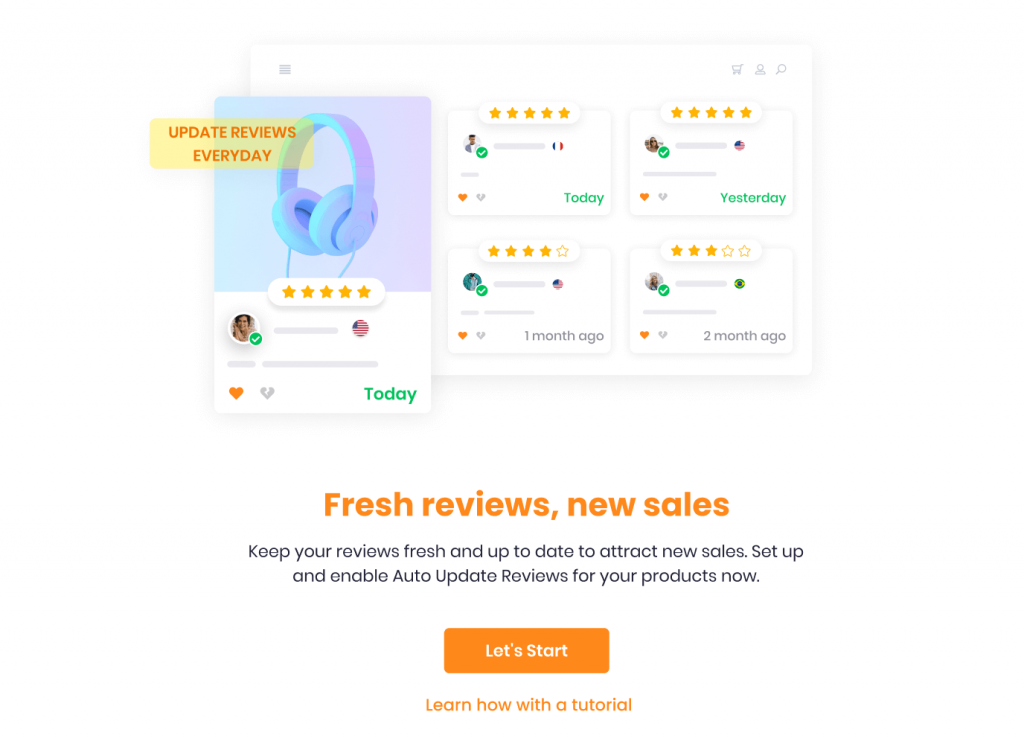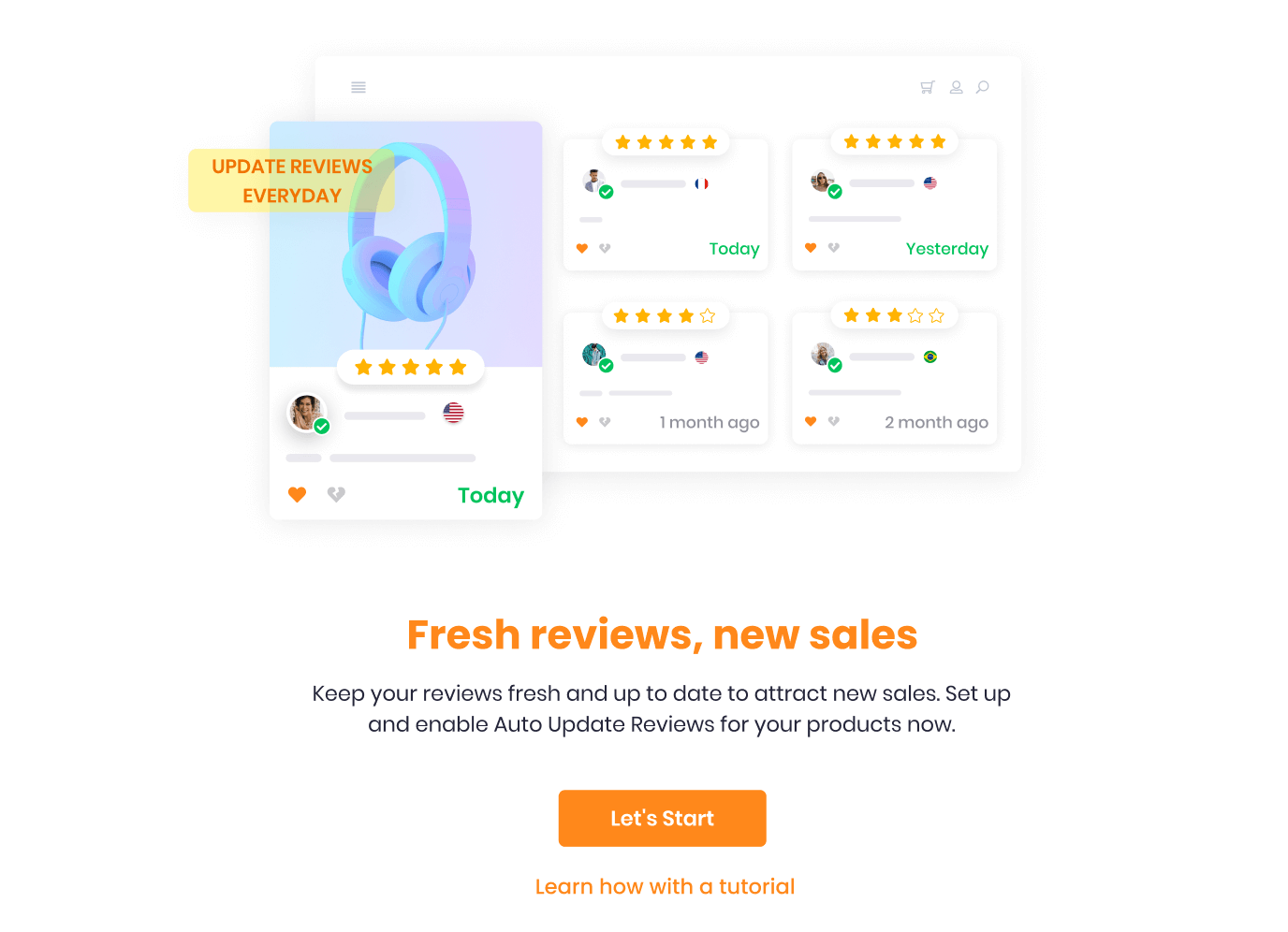 Once users have activated Auto Update function in their apps, Ali Reviews will automatically check and import new reviews from the source according to the given filter settings.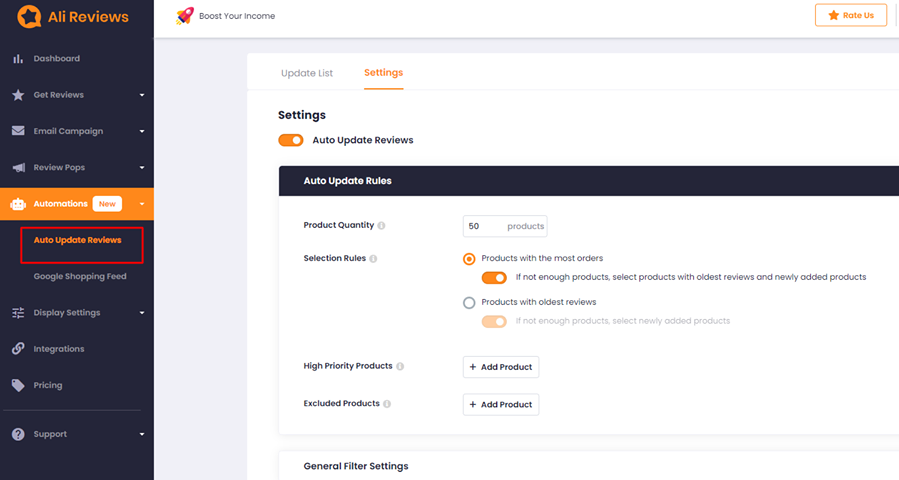 This function of Ali Reviews is the most unique function for a social proof application so far. That means it is an experience you can't compare to something else.
Automate Review Request Emails
Ali Reviews even push the store's social proof building to the next further goal. That is nurturing the organic social proof. That means Ali Reviews can help store owners to collect reviews from their customers by sending them Automate Review Request Emails.
Customers usually forget to leave reviews after they bought and used products. However, their reviews are very important for merchants so you will never want to miss that source of reviews.
Therefore, Ali Reviews states that it can help store owners to build their unique social proof by following and persuade the customer to drop reviews.
Review Pop
Last but not least, Review Pop creates social proof through the visitors' experiences. This function gives merchants the ability to pop up testimonial contents on the store.
By doing it, the reviews have will more likely to be seen than showing them only on the product page.
Of course, users can customize the pop up to decide what review to be shown, how many showing times, where to show, etc.
The side effect of Review Pop is increasing the cross-sale rate as you can set the review pop on the paying page that suggest customers to add it in their cart.
Google Shopping Integration
Google Shopping is now one of the leading channels for online sellers to promote their products. To better optimize Shopping ads, ratings and reviews are crucial to make products more appealing to shoppers.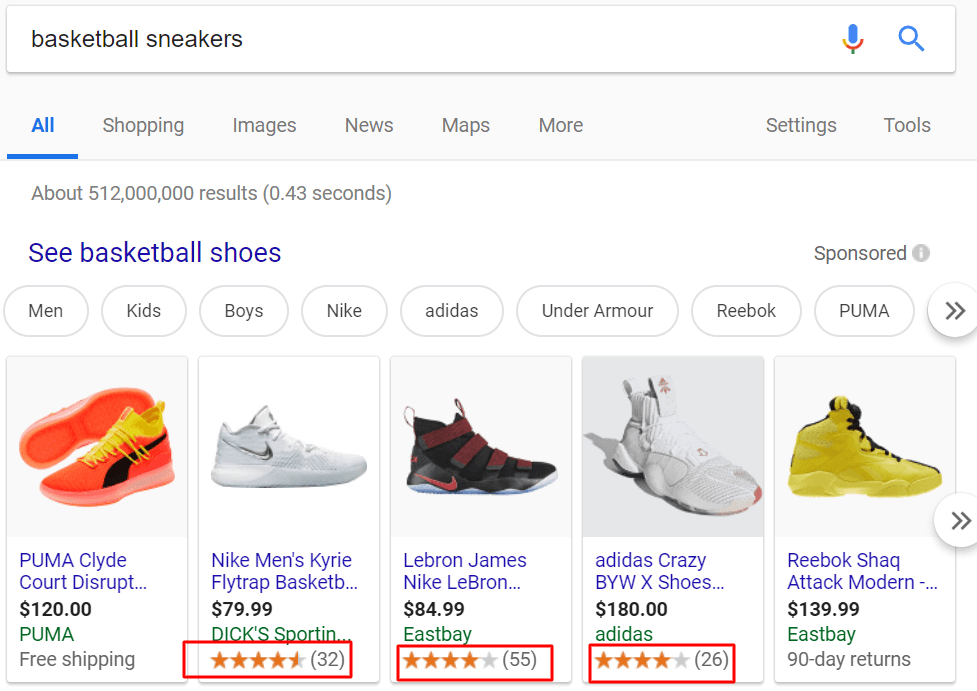 This Google Shopping integration will simplify the process of adding product reviews to Shopping ads. With reviews displayed on Google Shopping Feed, you can gain trust, stand out from others, and make more sales.
Wrap it up
Well, those above are some basic pieces of information about Ali Reviews and social proof that you will need to know.
Of course, there will be more Ali Reviews tutorials, tips, and supports for you.
Let's make a review-wonderland impressive with Ali Reviews
You can't wait to put previews on your store? Don't miss out this app!
Import reviews in seconds & collect reviews through multiple sources
Showcase reviews beautifully with 9+ styles & layouts
Fully moderate & manage review contents