GemPages – Excellent Drag And Drop Website Builder
Case Studies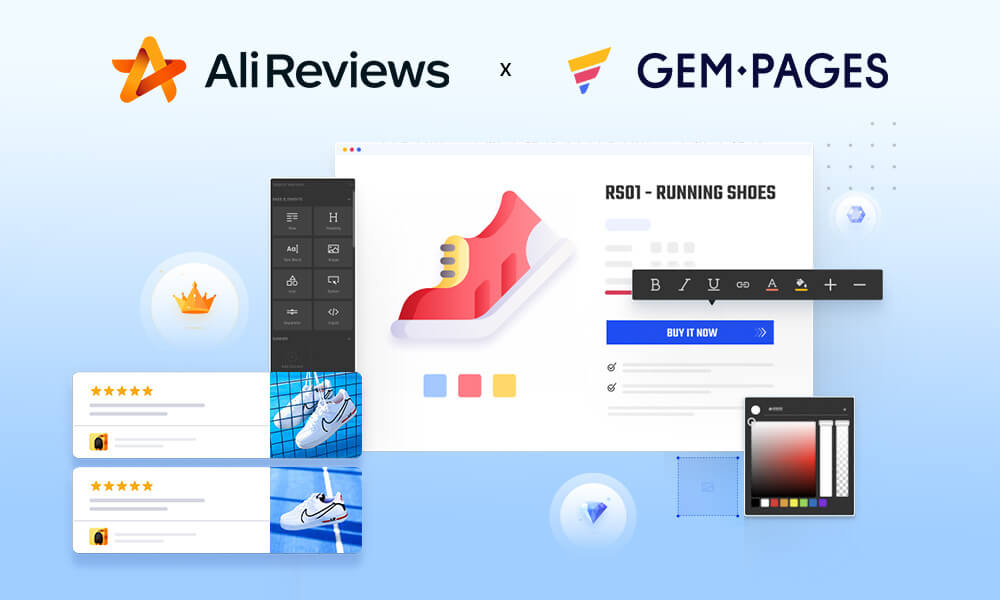 We are excited to announce that Ali Reviews now integrates with GemPages. With this two-way integration, you can easily display tons of great reviews on any page without coding. It helps you grab customer's attention, gain trust and increase conversion.
I. About Gempages: How it works and highlight features
GemPages is a top page builder inShopify apps. With GemPages, you can do things effortlessly without the need to touch a single line of code. GemPages allows you to edit and customize elements to create a stunning Shopify store design.
GemPages is automatically responsive and optimized for all devices, ensuring your store always looks great. You can also choose tools that suit your store from elements in GemPages' library.
Start your Shopify 14-day trial with FireApps
Did you know Shopify is now accounting for 20% of the e-commerce business.
Over 2200 merchants open their Shopify store everyday and 50% of them have a repeat purchase. Join them today!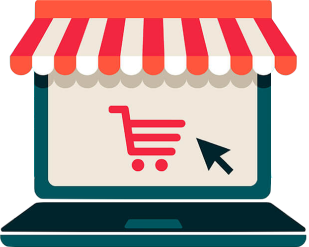 Highlight features:
Drag & drop customization: Text, images, buttons, and even widgets such as countdown timers all snap into place with ease. GemPages is compatible with the majority of themes, so it is simple to create your page without coding.
Well-designed templates: GemPages has 100+ predesigned templates for you to find the best match for your store in an instant. With these templates, you can start immediately and have a page up in a snap.
No coding skill required: Customize, clone, and publish your pages just by clicking and typing. Edit and see the changes in real-time.
Responsive web design: GemPages has been developed to optimize for specific device widths. Your website will dynamically respond to the visitor's screen size and displays the layout most appropriate to laptops, mobile devices, or tablets.
Designed for conversion: GemPages' templates are designed based on marketing tactics to motivate customers to take action. Moreover, GemPages also works with Facebook, Google Analytics, Ali Reviews, and other apps to boost conversion rate.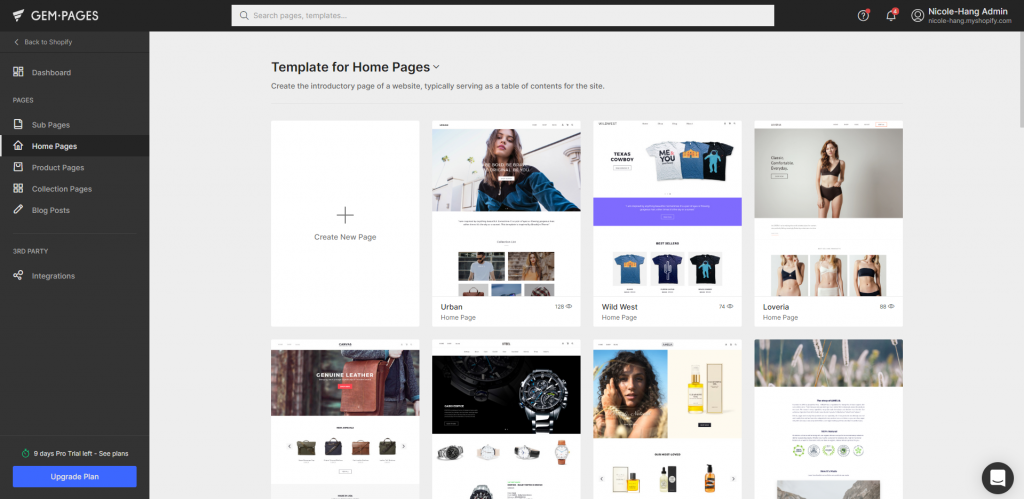 II. Other perks
Pricing
GemPages offers a 10-day free trial. It is available for Shopify across three pricing plans.
Starter plan ($ 15 / month) offers core features for small businesses. If you want to scale your business, you should go with the Professional plan ($ 29 / month) with superior features such as design product pages, design collection pages, design blog posts, custom code editor, or pre-built templates. The Advanced plan ($ 59 / month) is a perfect option for multiple-store owners.
Whenever you feel like you are ready to create a Shopify store, give GemPages a chance with all its amazingness.
24/7 Live Chat Support
GemPages has a professional customer support team with a worldwide staff. They will assist you any time, any day to fix any problems.
III. Benefits of this integration
According to the survey, users take about 0.05 seconds to form an opinion about an online store that decides whether they will stay or leave. That means you have about 0.05 seconds to make a good first impression with your website.
With this integration, you can create a great website and display valuable reviews that achieve a great visual and win visitors even from the first look.
1. Catch impression & Build trust from the scratch
We all understand that web design is not simple. With the innovation of GemPages, you can design the website from scratch or use pre-made templates to upgrade the look and feel in a couple of minutes. It comes with many selections to add to your website, including clever recommendations that increase conversion.
However, that is not enough to convince customers to trust. On the home page or any pages, you can set beautiful product reviews for social proof. The GemPages drag-and-drop tool enables you to place Ali Reviews widgets on pages smoothly and efficiently.
2. Skyrocket your sales
GemPages allow you to generate new sales and increase repeat sales by featuring best-selling products or collections. This section gives customers an idea of ​​what to buy and encourages them to purchase as you would like to attract them.
Growth in sales will occur if you combine the above approach with showing relevant reviews based on customer behavior.
With GemPages, you can also set Videos as the background to grab the attention of online users. Videos run in the background without being interfering and give site visitors more reason to engage.
IV. How to integrate GemPages with Ali Reviews
Step 1: Add review widget in Ali Reviews
Go to Ali Reviews app –> Show –> Widget –> Choose the page you want and Add the widget.
Change the widget settings ( for e.g. Look and Feel, Product Options, Reviews Options…).
More information can be found here.
Step 2: Enable Ali Reviews elements on Gempage:
Select a page type you want to create, for example, Product Pages.
Click on the Create New Template button, select a template, and Start Editing.
Scroll to Other Elements, click on Add Elements, find Ali Reviews, and click on the Add Element button.
Drag and drop Ali Reviews to anywhere on the page.
Add rating stars: Choose Widget Settings and select the Star badge (for Product page) or Star badge in Collection (for Homepage and Collection page).
Add Review box/ Carousel Slider: Drag another Ali Reviews Elements –> Choose Pick a section and select the corresponding Widget that you added on Ali reviews from step 1.
Changing the Alignment of the widget –> Save –> Publish.
Follow the same steps above to add reviews for other pages (Home page, collection page, etc.)
In case your review has not been shown yet, please contact the GemPages support team for further support.
If you need some more help, please feel free to contact us via live chat or email us at support@fireapps.io.
On the whole
With GemPages and Ali Reviews, stores can effortlessly customize widget reviews seamlessly, increase store appeal, and dramatically improve conversion rates. Users can add any review widget styles to any GemPages page with zero code knowledge.
Let's find out more about the world of e-commerce here https://fireapps.io/