Ali Reviews – Increase your Click-Through Rate with Google Star Rating
Case Studies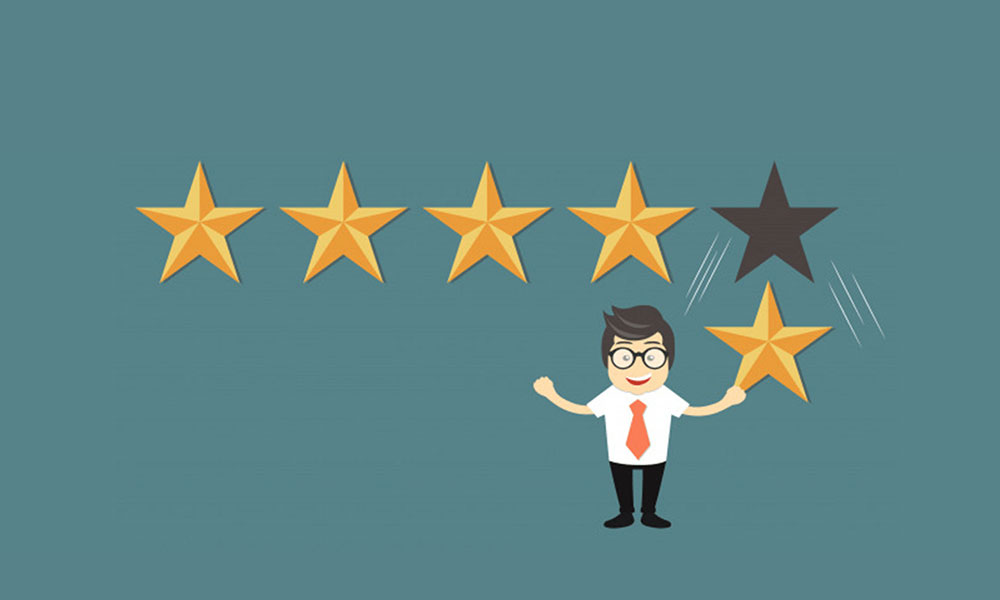 Getting reviews from your customers has always been a significant way to build credibility for your store. And now, in Ali Reviews 4.0 version, you can even catch more your customer's attention by showing Google star rating at your site on the search result.
When dropshipping, there is one really big concern that a dropshipped product can be sold by many sellers like you. If customers search for a product on Google, and there are a lot of related results, then the chance they click on your site is just a little.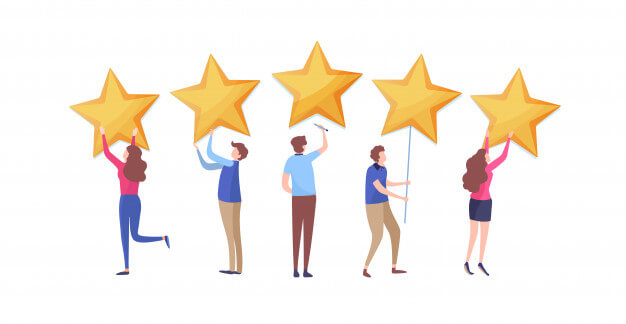 However, if among the online stores, your site is likely showing: "This store offers a consistently great shopping experience with exactly the thing you need", buyers then have no more hesitate to click on your site, and will flock there instead of going elsewhere to get what they need. So, what can help? It's Google star rating.
1-click to add Google Star Rating to your site
If your store has most of 4 – 5 stars reviews then it's a pride to show them off in the place that people are searching everything on it: Google. Positive reviews that you got from AliExpress is not only to help build trust for customer to buy more when they visit your store, but also attract more customers to your site when searching by keywords across the internet. This is the best way to highlight and mark your store as a trustworthy brand among the competitions and catch your customer's attention when they don't know which is the best choice.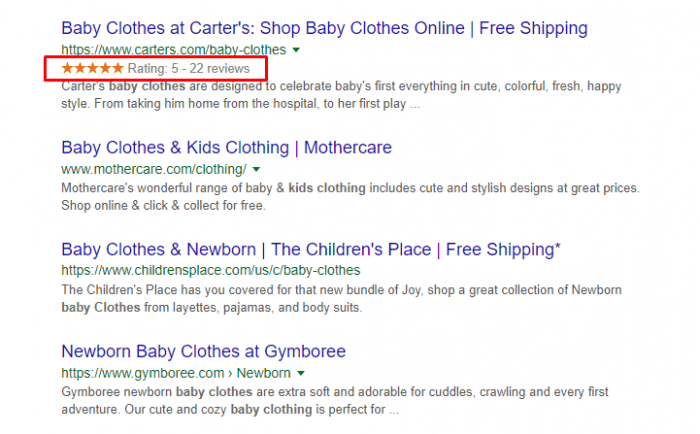 Ali Reviews allows you to show Google star rating and reviews count at your site in the Google search result as a certification to build your store's credibility and boost sales quickly. These star ratings are part of Google's rich snippets which enhance search results with additional, useful information to help customers click on the best results for them. By just 1 click, you can add Google star rating for each product which had reviews already, and show them on Google search result anytime. Your store's credibility can be stronger than ever.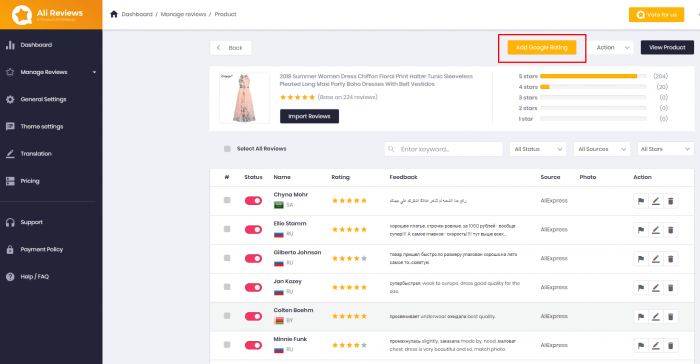 Related articles: The Power of Customer Testimonial Pages On Your Website
More trust, higher click-through rate
By Local Consumer Review Study, overall stars rating is the #1 factor that consumers pay most attention to when evaluating an online store on the internet.
"56% of consumers select a business if it has positive ratings/reviews displayed in Google search result."
Gain consumer trust for higher click-through rate: Having good star ratings and reviews can help you move up the search results on Google. People heavily rely on online reviews when they're choosing whether or not to do business with you. If people haven't know anything about your store when they see it on Google search result, then they are more likely to click to your site because of the high Google star rating and the reviews count. As a result, higher click-through rate will move you up the listings over time.
"If a site is showing up as 4 or 5-star, it's going to get more clicks than sites with no stars at all"

In this chart, you can see the variance in click-through rates for different star ratings and having no stars at all. You can see the impact that higher star ratings have on click-through and negative ratings.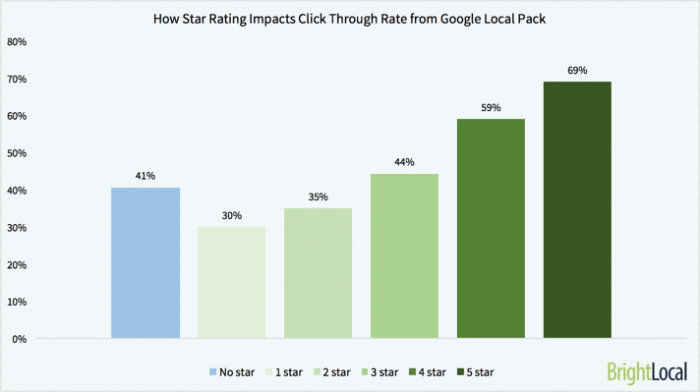 It's the further evidence of the impact that online reviews and ratings have in convincing consumers to select an online store. A positive reputation can boost the visibility and make an online store stand out in search results and encourage more consumers to contact them. Beyond search, reputation helps build trust consumers have in a business which impacts conversion both on site and through other marketing channels that you promote.
How to add Google star rating to your product page with Ali Reviews?
When you finish installing Ali Reviews, Google star rating for imported reviews/ratings to your store will be integrated automatically.
You can test to check if everything is working properly on your store by using Google's Structured Data Testing Tool.
In case after your testing, you do not see rating stars show for a product, you can simply follow the following steps for that product to fix it:
Go to Get Reviews > Import Reviews
Click on the product that you want to get Google rating
Click on "Add Google rating" button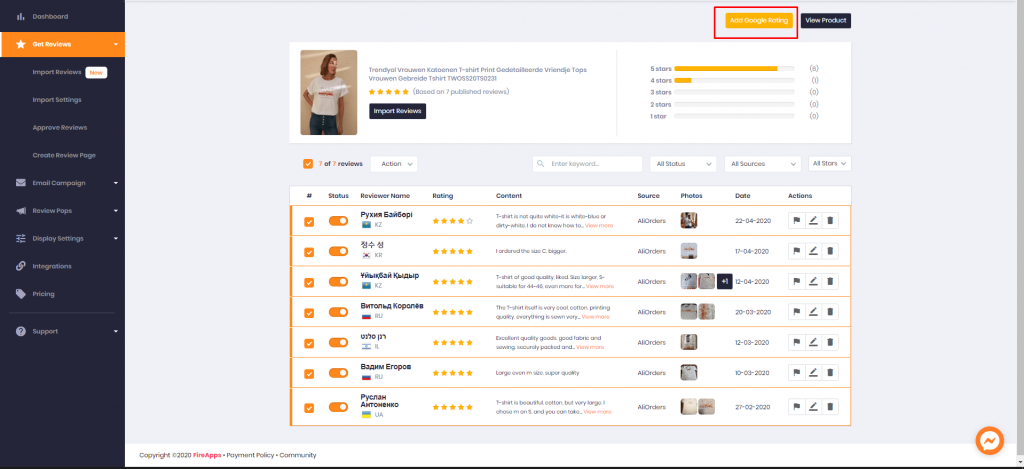 Adding Google star rating to your pages can bring you massive results. Ali Reviews always brings the best to help build trust and hit your sales goals. If you haven't got the app, install and experience with free trial HERE.
You can learn more about Ali Reviews here.
Let's make a review-wonderland impressive with Ali Reviews
You can't wait to put previews on your store? Don't miss out this app!
Import reviews in seconds & collect reviews through multiple sources
Showcase reviews beautifully with 9+ styles & layouts
Fully moderate & manage review contents