Top 10 best print-on-demand companies and sites in 2021
Case Studies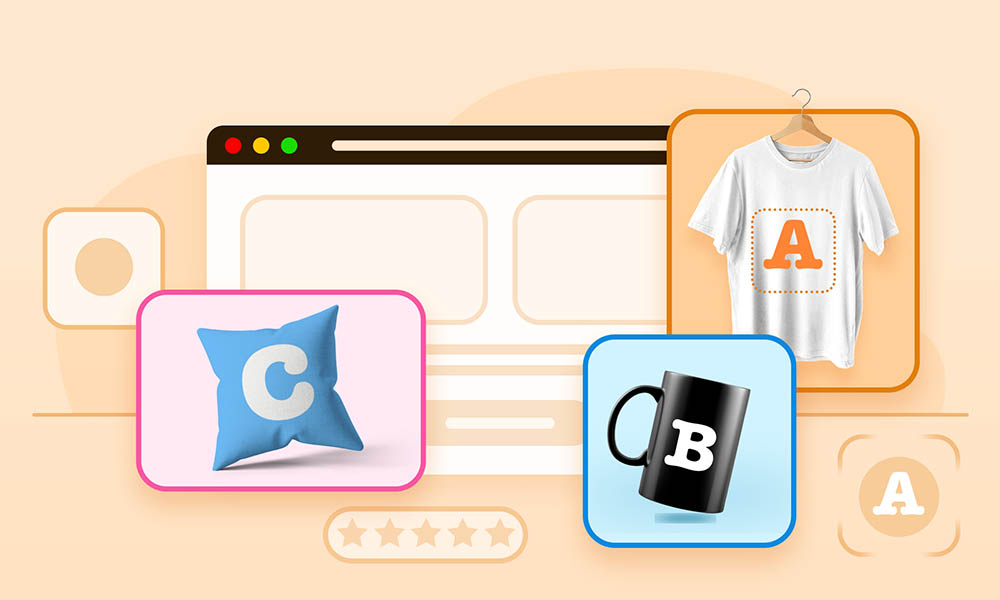 Are you looking for a site or company that provides quality print-on-demand services? We know that it is time-consuming and requires a lot of research when picking competent print-on-demand companies and sites for cooperating.
Therefore, to help you narrow down the options, we've analyzed and compiled a list of the 10 best print-on-demand companies and sites for you to start.
What are print-on-demand companies?
Print-on-demand companies and sites are businesses that fulfill orders to print-on-demand merchants. These companies source and store printing products and packaging, then deliver orders to your customers.
Start your Shopify 14-day trial with FireApps
Did you know Shopify is now accounting for 20% of the e-commerce business.
Over 2200 merchants open their Shopify store everyday and 50% of them have a repeat purchase. Join them today!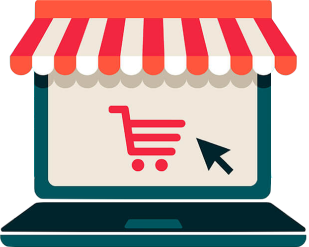 Print-on-demand is a form of dropshipping. All you need is to come up with eye-catching designs and sell them on your online store. The print-on-demand company will take care of the rest.
The 10 popular print-on-demand companies and sites
1. Printful
Being the beginning on the list tells you a lot. The Printful is one of the most popular print-on-demand companies. You can do a lot with Printful because it offers over 220 different products and a wide range of printing options, such as embroidery or cutting and sewing. The Printful catalog has everything you need, whether you want to sell clothes, prints, or home décor.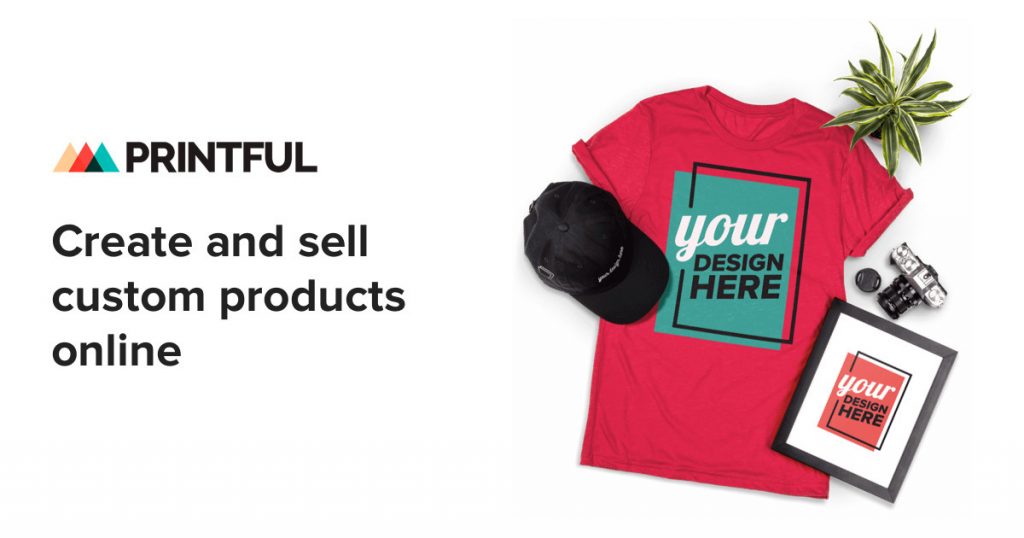 Moreover, Printful also provides branding services on products and packages. It's necessary for you in branding, advertising, and encouraging repeat purchases.
Shipping: Products are delivered within two to five business days from the United States, Mexico, or Europe. Standard shipping to the US starts at $3.99. Shipping costs also depend on the product.
Product options: Printful allows you to create a wide range of products from adult clothing to kid clothing, hats, accessories, and household items. You also have many printing options to pick, such as direct-to-garment, embroidery, or sublimation printing. You can also add tags to products, insert or attach brand labels into the packaging at an additional cost.
Unique features: Multiple integrations to enable customers to start to sell in minutes. They also offer 20% off sample orders.
Redbubble is a big player in the print-on-demand services market. This platform has been around for 15 years. The site connects more than 700,000 artists and designers across the world with millions of enthusiastic fans.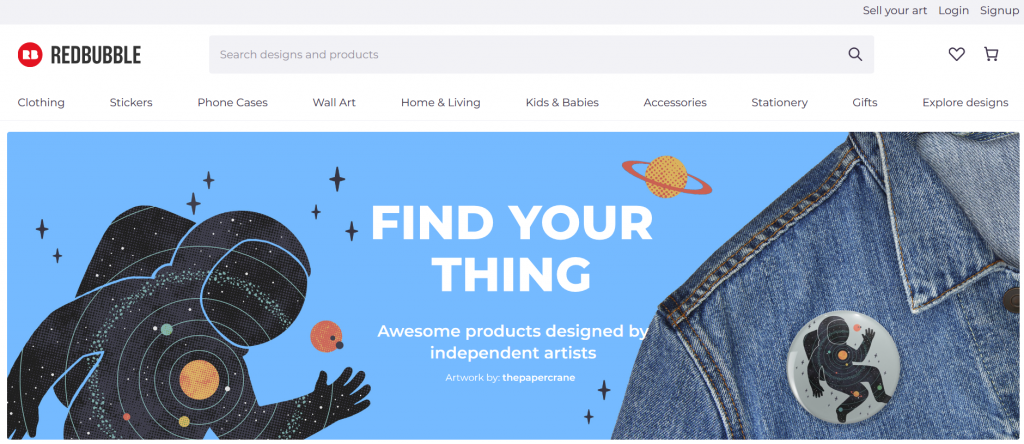 Shop owners on Redbubble's online store can sell 60 different products. Furthermore, to give users more knowledge about the Redbubble platform, they produced a binge video series called RBTV.
Shipping: Redbubble provides to the globe, so they ship orders to almost every country. And like Printful, they do not deliver to Iran, Cuba, Sudan, North Korea, or Syria. Their shipping time depends on the location, shipping method, and product type. Domestic orders are delivered within two working days, while other orders take three working days or more.
Product options: Sublimation printing, direct-to-garment printing, and more. With Redbubble, you can upload your created designs to your account and edit designs across multiple products at once. As a result, you can save time and reduce stress.
Unique features: Redbubble does not provide third-party integrations because it is a full-featured online marketplace. Besides, your Redbubble store cannot be connected to e-commerce systems such as WooCommerce or Shopify.
Printiful is a terrific print-on-demand company because it gives you access to a vast network of printing partners distributed over 90 locations globally. That means you can pick the best provider in your country for fast and cost-effective shipping.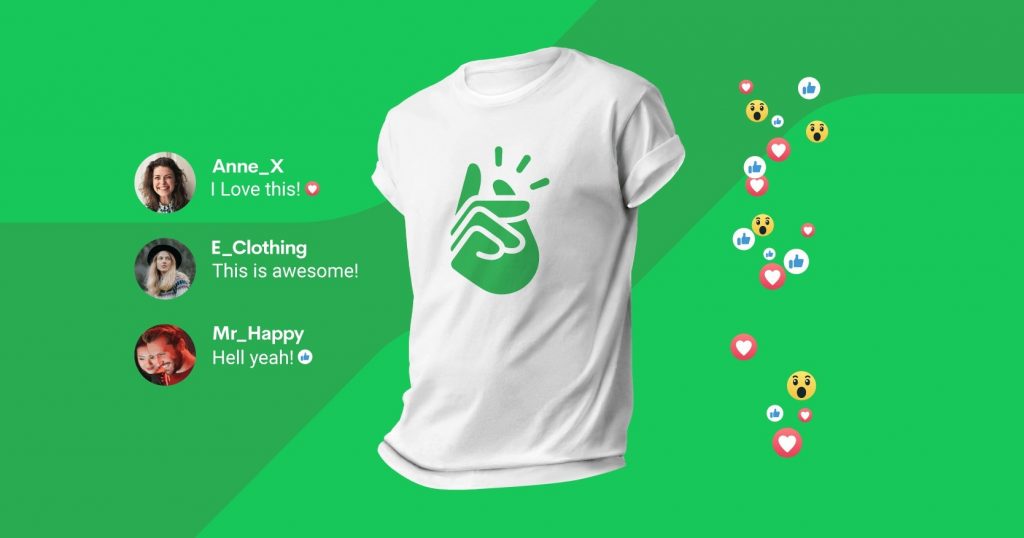 Printify takes care of the production, printing, billing, and shipping duties so merchants can focus on branding and advertising their stores.
Shipping: Printify is a vendor network. When you select your print-on-demand service, the shipping cost, production time, and packaging will depend on that print provider.
Product options: More than 300 products, including embroidery, sublimation, direct-to-garment printing, and more.
Unique features: With Printiful, you can design perfect product previews with the free Mockup generator.
Society6 is different from other print-on-demand companies in that it defines itself as a home to a community of independent artists throughout the world. It makes Society6 unique.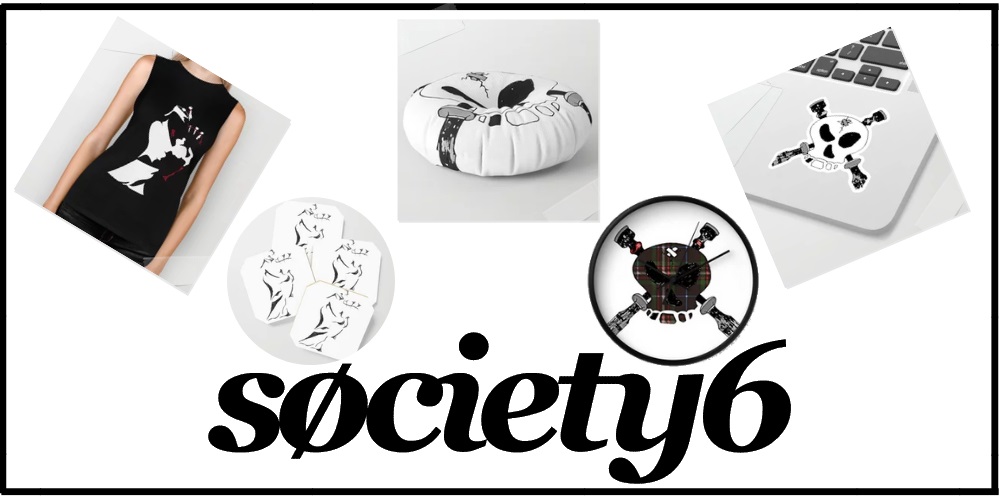 Society6 focuses on art prints. At Society6, the product price is pre-determined by the website. Merchants can earn 10% on each sale. However, art prints will be priced by the artist.
Shipping: Society6 has announced a significant reduction in international shipping costs. Shipment times and prices also depend on the product and location. The usual delivery time is from two to three business days.
Product options: In addition to products like apparel and gifts, you can also create designs on furniture, art prints, and stretch canvas.
Unique features: Society6 created the Society6 Affiliate program to help users earn money by sharing links of their favorite products or designs with friends, family, and followers. Learn more here.
With SPOD, you can be confident that your products will be delivered to your customers as quickly as possible because SPOD's factories are located in the USA and Europe. They offer rapid production in 48 hours or less. 50% of orders are shipped within 24 hours. Impressive!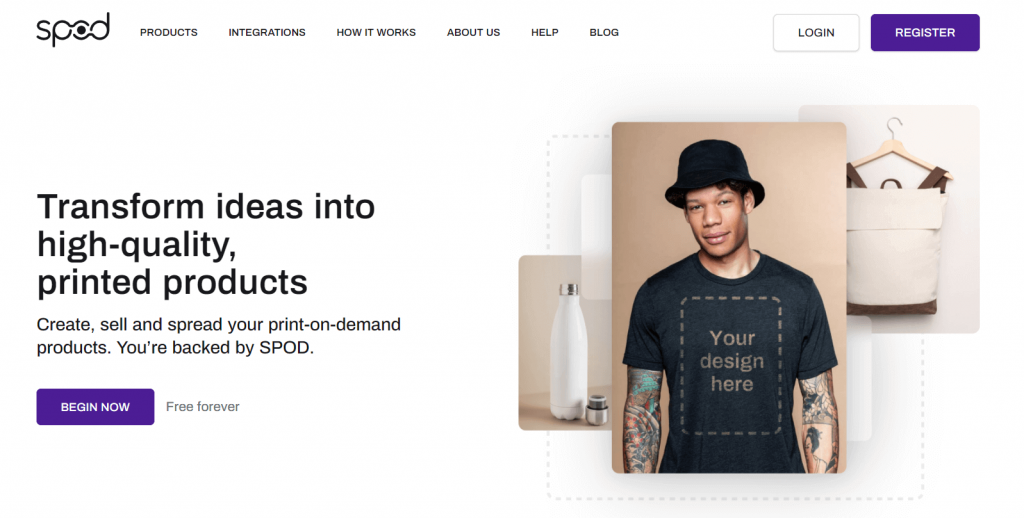 The award-winning Customizer Tool is one of SPOD's most valuable assets. Customers can choose from over 130 different products to be creative. The price of SPOD is competitive and attractive for designers.
Shipping: Shipping prices start at $3.57 and ship within 48 hours in the US. Shipping cost based on total order value.
Product options: Digital direct, sublimation, special flex, digital transfer, and laser transfer.
Unique features: SPOD's customization tool allows customers to personalize their designs. Over 50K free designs are also available for you. SPOD's order return rate is less than 1%. So you can be assured in their products and print quality.
Nearly 30 million visitors visit the Zazzle platform every month. At Zazzle, you can customize and sell over 1300 products.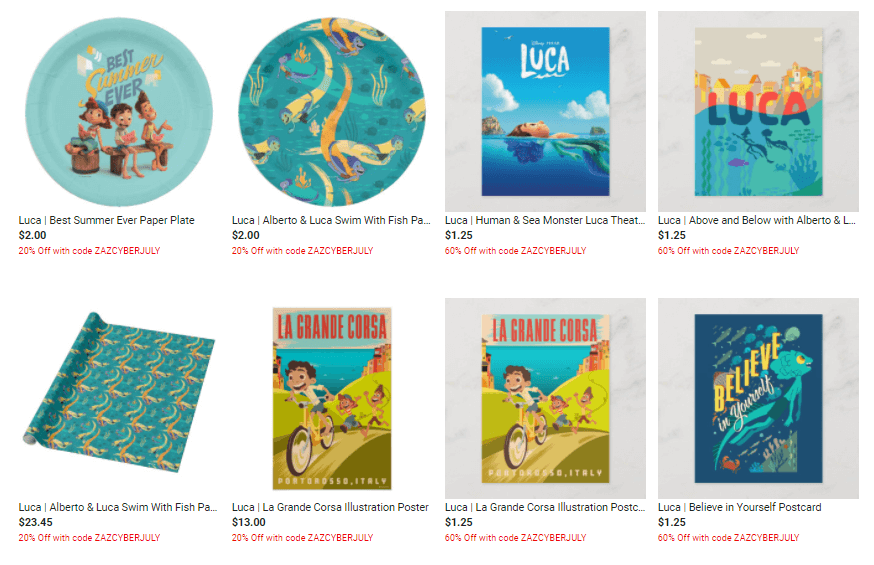 The great thing about this online marketplace is the investment in their creative team to grow creative content and images to interest millennials. Of course, their merchants also benefit from here.
Shipping: The same as the print-on-demand companies above, Zazzle offers international shipping and allows you to track your orders. Standard (ships within four to seven business days), Premium (ships within two to three business days), and Express (ships within one business day) are the three available options. However, shipping costs and times also depend on the type and quality of the product.
Product options: You can find anything from apparel, stationery to electronic art. Zazzle stores millions of products in its website catalog. Alternatively, you can also order return address labels and rubber stamps from Zazzle.
Unique features: Zazzle has released a mobile app with the same name that allows you to create designs on the go. You can use this app to update promotions, check the progress of orders, and peek into your sales.
Although less well-known than the above print-on-demand companies, Gooten is one of the print-on-demand companies with a good product catalog and affordable prices.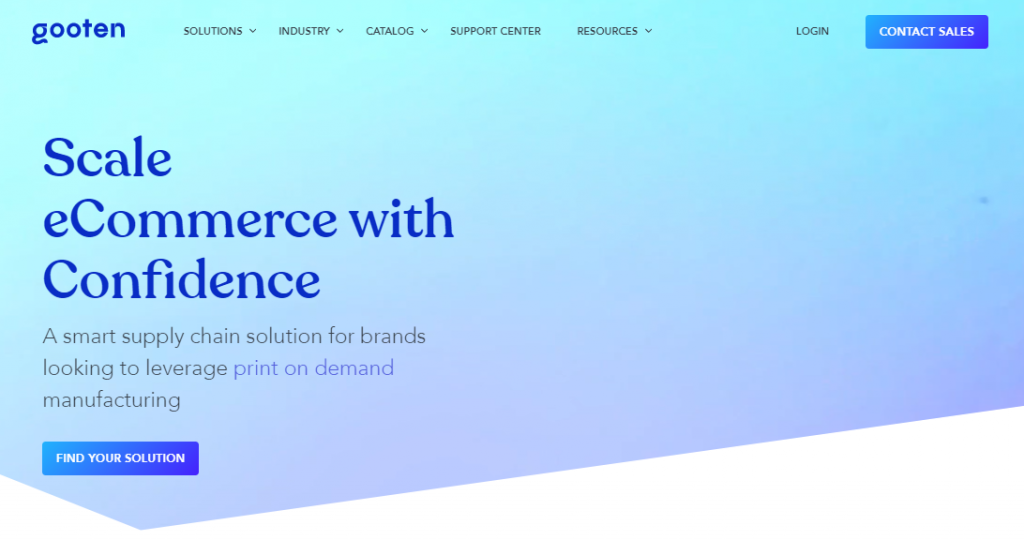 Gooten offers printing, inventory storage, and delivery services, as well as other print-related services. What will make you feel advantageous is their automated delivery system and a dashboard that allows you to track your order wherever you are.
Shipping: Gooten breaks down shipping costs by type, delivery time, labeling information, and allows you to choose a flat shipping cost. Delivery to the United States can take up to twelve business days and up to twenty-one business days if you are shipping internationally.
Product options: Gooten has over 140 products available, including accessories, home & living, prints, wall art, and even pets.
Unique features: They provide an automated delivery system and a dashboard for order tracking.
8. CustomCat
If you're looking for a print-on-demand service with a simple design tool, then CustomCat might be best for you. CustomCat is one of the large print-on-demand companies based in the US. Their product list has more than 550 items and continues to grow.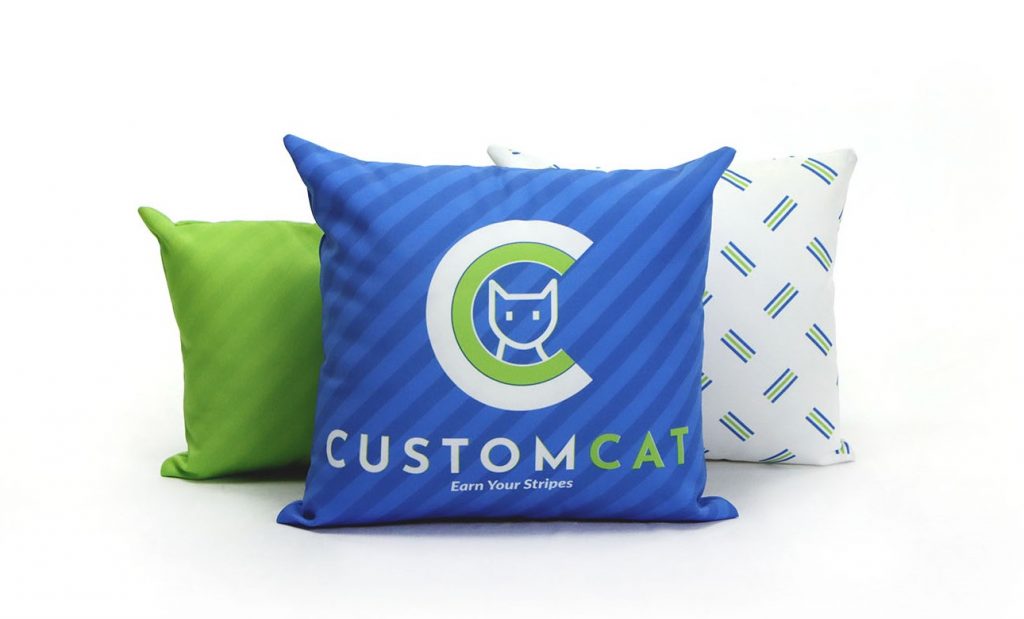 The price offered by CustomCat is competitive, and the product completion time is fast. You might consider purchasing CustomCat's $30-a-month plan for discounts on its entire product catalog.
Shipping: For domestic orders, delivery usually takes about seven business days, and shipping costs about $4.99. And it takes about 15 days for international orders.
Product options: With CustomCat, you can create a 3D dye infusion on the product. You have more than 300 products to customize, such as apparel, home devices, or accessories.
Unique features: CustomCat's plan price is $30 per month, which is the lowest price in the industry.
It cannot be undervalued Teelaunch's production performance. They can produce more than 23 products per second. This print-on-demand company also makes it easy for users to earn more by working with this app on both Shopify and Etsy.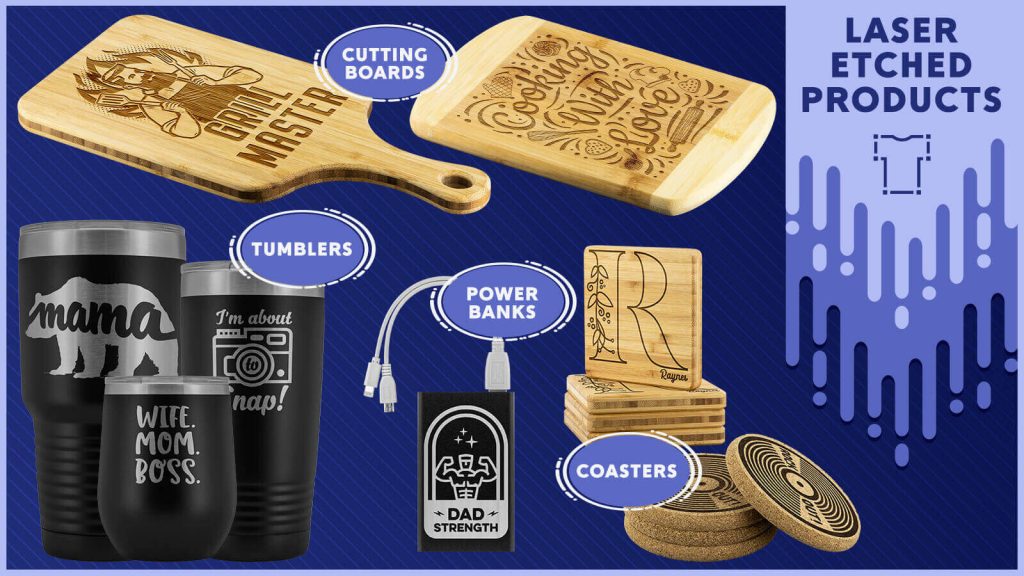 Shipping: Production fulfillment takes three to six business days. Shipping costs will be priced based on product and location. Check out Teelaunch's product cost.
Product options: Interestingly, they offer laser engraving for cooking boards. They have a long catalog of products you can design, including accessories, apparel, tableware, electronics, and more.
Unique features: Teelaunch allows you to add your brand name and upload your photo to the product.
To conclude this lengthy list, I would like to recommend a print-on-demand company that I'm confident you'll find of interest to. That's Fine Art America, an online marketplace where over 500,000 artists from all around the world sell their work.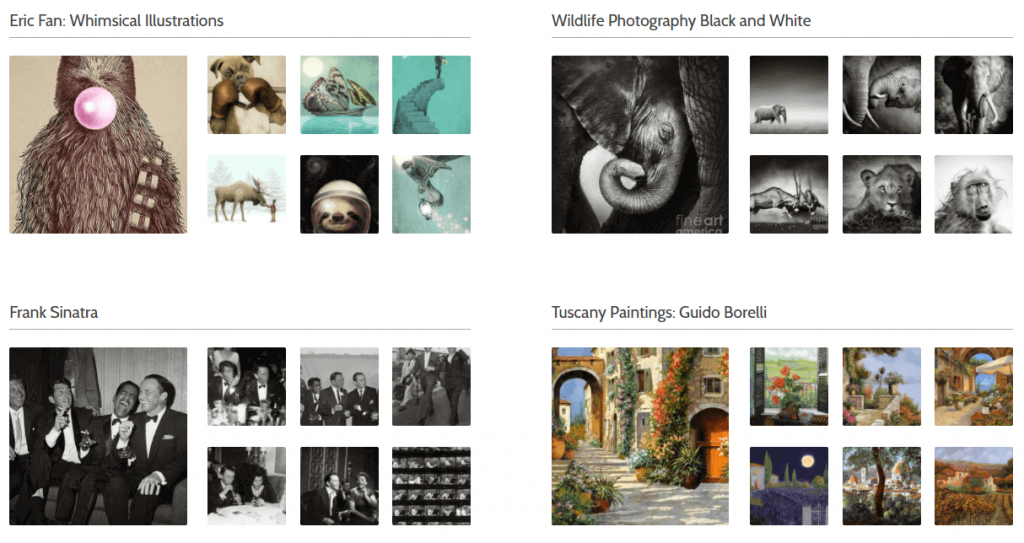 Fine Art America places a strong emphasis on the creative element. So if you are a true artist, this is the place for you.
Shipping: Fine Art America is the largest print-on-demand network with 16 production facilities spread across 5 nations. They have three different ways to estimate shipping charges, including Weight-based rules, Pixels calculated rates, and Advanced shipping rules for their advanced users.
Product options: With Fine Art America, you have hundreds of products to choose from for designing, such as wall art, decorations, furniture, apparel, stickers, phone cases, face masks, and more.
Unique features: Fine Art America created an app called Pixels to serve merchants on Shopify.
Conclusion
That is a list of 10 of the top print-on-demand companies and sites on the market. If you are interested in starting a print-on-demand business, we hope this information is beneficial to you.
Shopify is the fittest place to start if you want to build a professional store. In exchange for paying a modest amount each month, Shopify provides you with a gorgeous online store. They also offer almost all the apps your business needs, from print-on-demand to sales and marketing.
Also, Redbubble or Zazzle are good choices if you only want to create and get creative, make money without operating a store.
No matter what you pick, we wish you the best of luck.
Let's find out more about the world of e-commerce here https://fireapps.io/