7 Best Shopify Product Review Apps to Boost Online Business
Shopify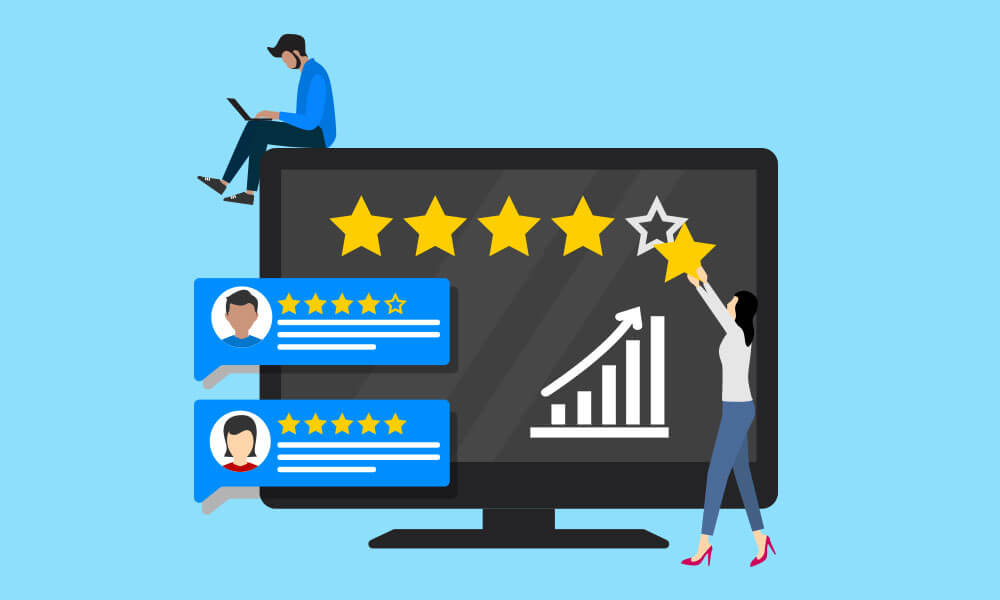 Showcasing customer reviews is one of the most effective techniques to build trust with your customers. More than 80% of customers trust online reviews as much as a personal recommendations. All customers value customer reviews. Customer reviews play a big role in influencing online purchasing decisions. Thus, we've aided you in compiling the top Shopify product review apps to help you get more reviews and use them to increase sales.
Shopify product review apps can help you collect reviews fast, encourage customers to leave reviews efficiently, and display them engagingly. No coding knowledge is required during the implementation.
You'll be amazed and excited by the power of these product review apps once you discover their potential. You can customize the review elements to match your brand. If you're a beginner, don't worry, these apps make your business appear professional from the start.
It's easy to have ideal review sections on pages with little investment. The apps listed below have all received high ratings from Shopify customers.
Let's dive in.
Best Shopify product review apps
1. Ali Reviews – 4.9 stars (7,100+ reviews)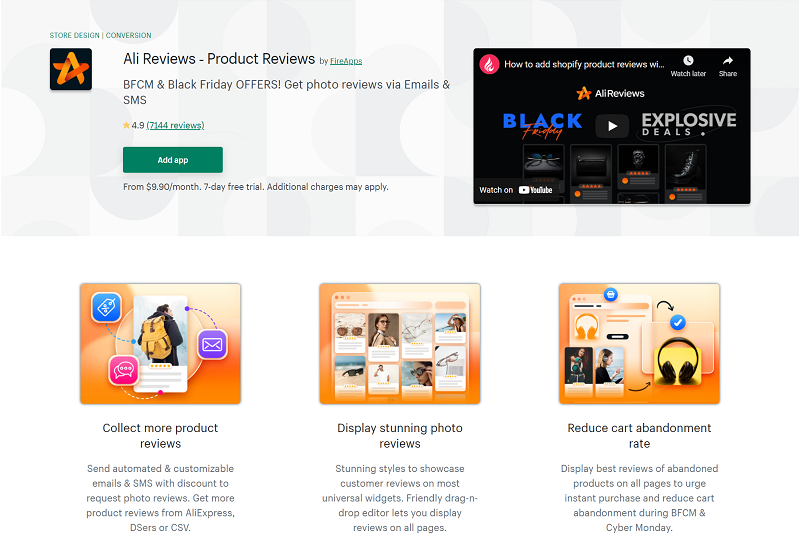 When it comes to Shopify product review apps, one of the most popular ones is Ali Reviews. It has an average rating of 4.9 stars from more than 7,100 customers.
Many merchants use and like it since it has powerful, helpful, and easy-to-use tools and features to boost the visibility of customer reviews on your store's website. For successful review collection, a wide range of methods are stuffed in Ali Reviews. For instance, you can send review requests to customers via both emails and SMS. Or encourage customers to write raving reviews by offering a discount for their photo review.
With Ali Reviews, you'll be able to display customer reviews in various attractive styles across all of your pages. Ali Reviews has the richest review widget styles on the market. When you use Ali Reviews, you have complete control over the look and feel of your review widgets. Furthermore, the app lets you personalize customer reviews based on consumer information (location/AOV/total expenditure) and on-site behavior (products in the cart, viewed products). This app is suitable for any business model, small or large, and its pricing plans are reasonable for you to choose based on the size of your store.
One of the characteristics that make Ali Reviews stand out from others is their stellar customer support! They provide 24/7 dedicated support from the beginning of your app journey. Scroll through the reviews section on their Shopify App Store and see what customers are saying about them.
Key features:
Collect reviews by sending customizable and automated review request emails and SMS.
Reward customers with discounts for photo reviews, increase retention and repeat purchases.
Diverse widget styles: Review box (Grid, List, Carousel), Review popup (Horizontal/vertical), and 4 styles of Carousel slider.
Feature reviews on Homepage Carousel, Cart page, or any page to boost product discovery and encourage buyers.
Looks great on any theme, is mobile-friendly & fully responsive.
Bulk edit country, move and copy reviews.
Display personalized reviews based on customer info (location/ AOV/ total spending), on-site behavior (products in the cart, viewed products).
Display reviews of key products to upsell/cross-sell and increase Average Order Value.
Migrate reviews from other Shopify product review apps like Loox, Yotpo, Stamped, Judge.me.
Let's make a review-wonderland impressive with Ali Reviews
You can't wait to put previews on your store? Don't miss out this app!
Import reviews in seconds & collect reviews through multiple sources
Showcase reviews beautifully with 9+ styles & layouts
Fully moderate & manage review contents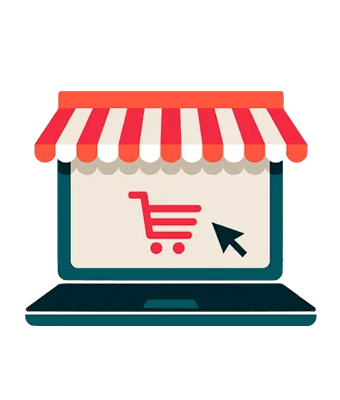 Pricing: 7-day free trial
Starter: $9.90/month. Free $0.3 SMS credits
Essential: $19.90/month. Free $5 SMS credits
Premium: $49.90/month. Free $15 SMS credits
Enterprise: $99.90/month. Free $35 SMS credits
Even though Ali Reviews doesn't come with a free plan, it still has 100% free 7-day trial without prior charge approval. That means you can switch to higher plan and explore all app functions during trial period. Cool right?
2. Judge.me – 5.0 stars (6,400+ reviews)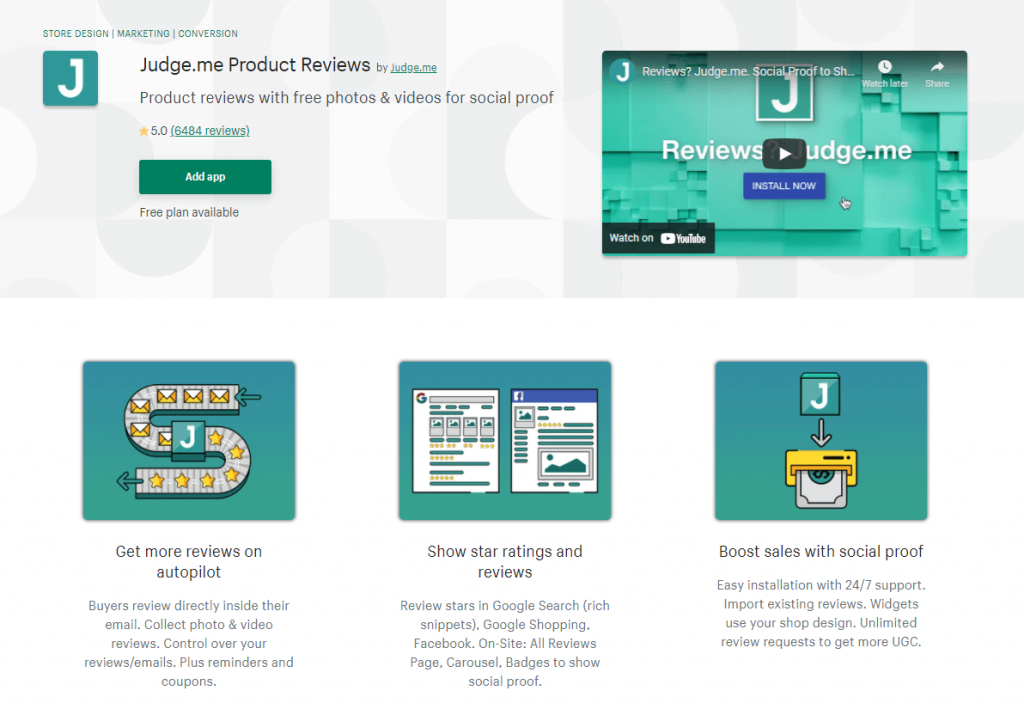 Judge.me is a terrific Shopify app for collecting and displaying customer reviews and star ratings. The app has a perfect 5 stars rating from over 6,400 users. Judge.me includes all of the features you'll need to create an impressive review section. Starting off and on a tight budget? This Shopify product reviews app could be the most suitable option for you! The app has a free plan with helpful features.
Judge.me lets you share customer reviews on social networks such as Facebook and Twitter to drive more traffic to your online store. Using the app's pre-designed review widgets, you can quickly and attractively display your customer reviews. Of course, you can also customize review widgets to suit match the theme and branding of your store.
It just takes 2 minutes to migrate your reviews from other product review apps to Judge.me. The app supports you in moving from over 20 other product review apps.
Key features:
Social proof from photo reviews and videos to boost sales.
Unlimited review requests, orders, and imports.
Review Carousel: 6 free themes to show your best ratings.
Share on Facebook, Twitter, Pintrest & Tumblr.
Automatic social push to Facebook and Twitter.
Product reviews in Google Shopping to improve your conversion rates and CTR.
Incentivize reviews with coupons, work with Loyalty Lion, Smile.io and Gameball if you need more control.
Pricing:
Forever free: Free
Awesome: $15/month
3. Stamped.io – 4.9 stars (5,400+ reviews)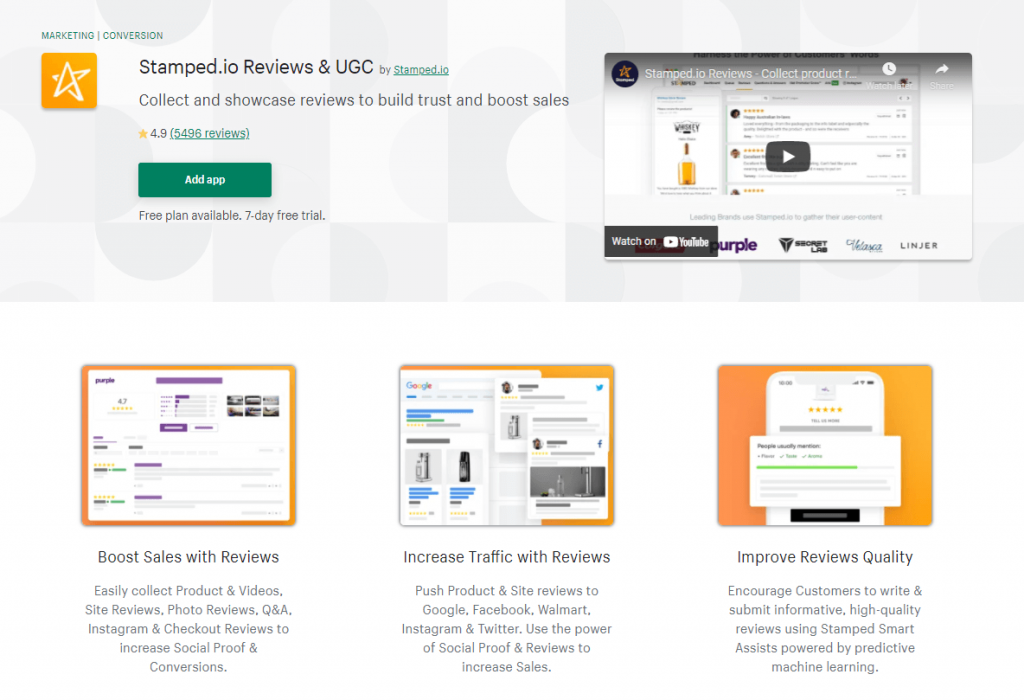 This top product reviews app for Shopify is used by a wide range of people, including well-known businesses like HBO and Colgate, as well as merchants wishing to increase their customer reviews. Stamped.io is a feature-rich app.
Stamped.io allows you to collect and save customer reviews in various methods, then utilize them to boost your store without exerting too much effort. You can effortlessly improve the presence of your customer review thanks to built-in templates and completely customizable options.
The AI-powered features of Stamped.io enable you to create meaningful connections with your customers by keeping them engaged and rewarding them for spending in your store. For example, you can improve the accuracy of your reviews by analyzing post topics and sentiments in content.
Key features:
Collect reviews via Review request email, Facebook Messenger bot, and SMS review request.
Incentivize photo and video reviews by offering coupons to reviewers.
Create Facebook & Instagram ads with reviews.
Truly mobile-optimized responsive works with any theme.
Multiple on-site display widgets: Carousel, Side Drawer, All Reviews page, Instagram Feed, Checkout Comments, and more.
Great analytic tool powered by AI.
Allow Q&A on the product page.
Pricing: 7-day free trial
Lite: Free
Basic: $23/month
Premium: $49/month
Business: $119/month
4. Loox – 4.9 stars (7,600+ reviews)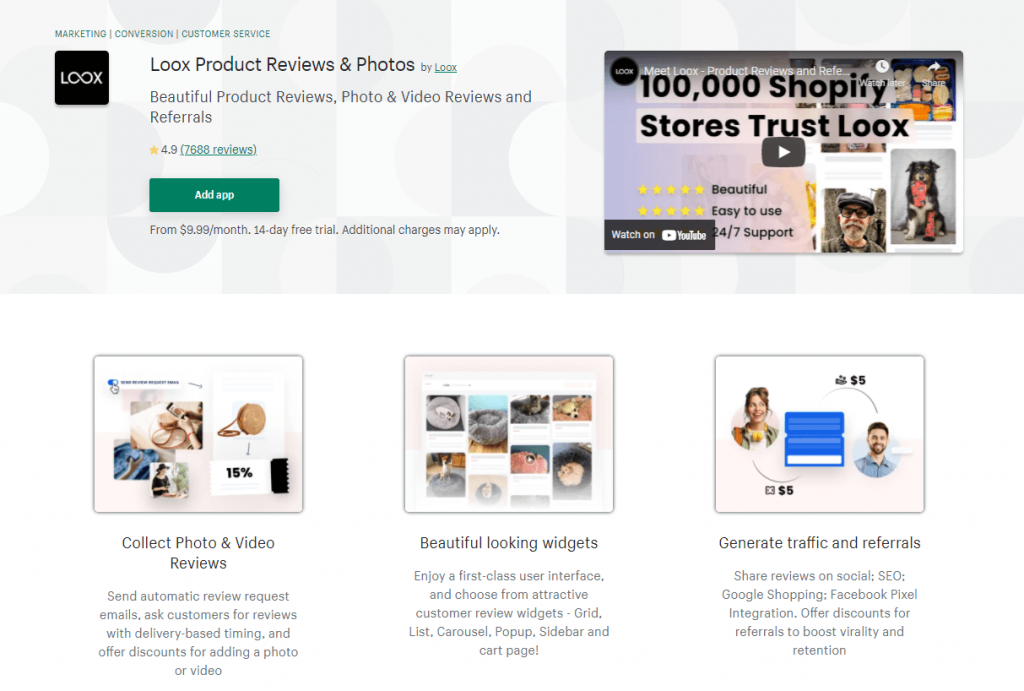 You can expect to turn your customers into the best marketers with Loox because it provides a great customer referrals program to encourage happy customers to promote your brand.
Business owners can make use of Loox features to generate appealing customer reviews for their websites. Loox comes with features such as collecting customer reviews automatically and allowing you to offer discounts for video or photo reviews. Let's take a closer look at the incredible advantages of this senior Shopify product reviews app.
Key features:
Collect videos and photos of customers via email, web push notifications, and Facebook messenger.
A range of compelling display options for a single customer review: Galleries in list/grid layout, product review carousels, review popups, and a reviews sidebar.
Offer a discount for photo/video review.
Show off your customers with easy native sharing and Facebook Business integration.
Build effective Facebook audiences based on your positive reviewers.
Display product reviews & ratings on search results with Rich Snippets
A CDN (content delivery network) to serve all scripts and photos in milliseconds.
Automatically share reviews between similar or identical products.
Pricing: 14-day free trial
Beginner: $9.99/month
Premium: $29.99/month
Business: $34.99/month
Professional: $599.99/month
5. Yotpo – 4.9 stars (3,900+ reviews)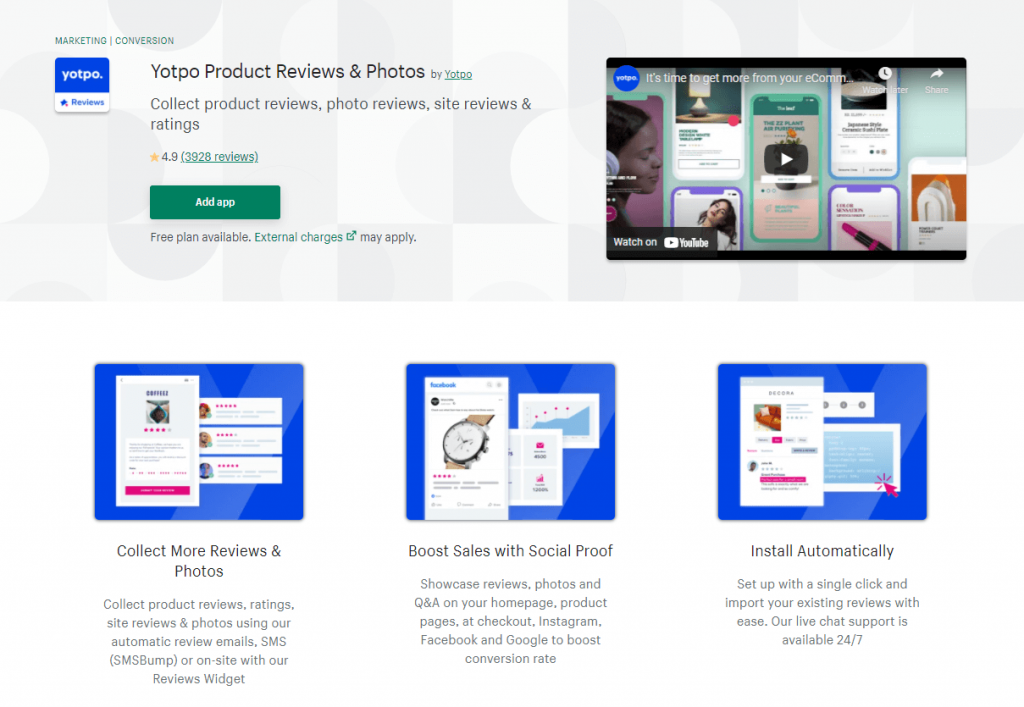 It's no longer tough to generate high revenues by displaying satisfied customers reviews. The availability of optimized features and powerful integrations with many apps makes it a piece of cake to improve customer reviews that boost conversions. Yotpo is one of the most prominent Shopify product review apps. The app allows you to enhance review visibility to stay ahead of the competition.
Yotpo's frictionless in-mail technology helps to collect more site and product reviews, ratings, and Q&A with artificially intelligent requests. You can quickly design stunning, on-brand displays with customizable review widget settings.
Nothing can get in your way since everything you can manage is within your grasp. Instead of guessing what your customers think based on their reviews, Yotpo offers AI-powered analytics to aid you in quickly identifying topics related to your business and products, as well as their sentiment.
Key features:
Collect

product reviews

, ratings, site reviews & photos using our automatic review emails, SMS (SMSBump), or on-site with our Reviews Widget.
Showcase reviews, photos, and Q&A on your homepage, product pages, at checkout, Instagram, Facebook, and Google to boost conversion rate.
Leverage our official partnership with Google to boost brand discovery through search.
Publish reviews, share them on Facebook & Instagram, and comment to engage with customers.
Assign a score to each review and flag negative reviews using AI-powered moderation technology.
Coupons to incentivize users to leave a review.
Pricing:
Free: Free
Growth 50: $19/month
Growth 100: $29/month
6. Vitals – 5.0 stars (3,100+ reviews)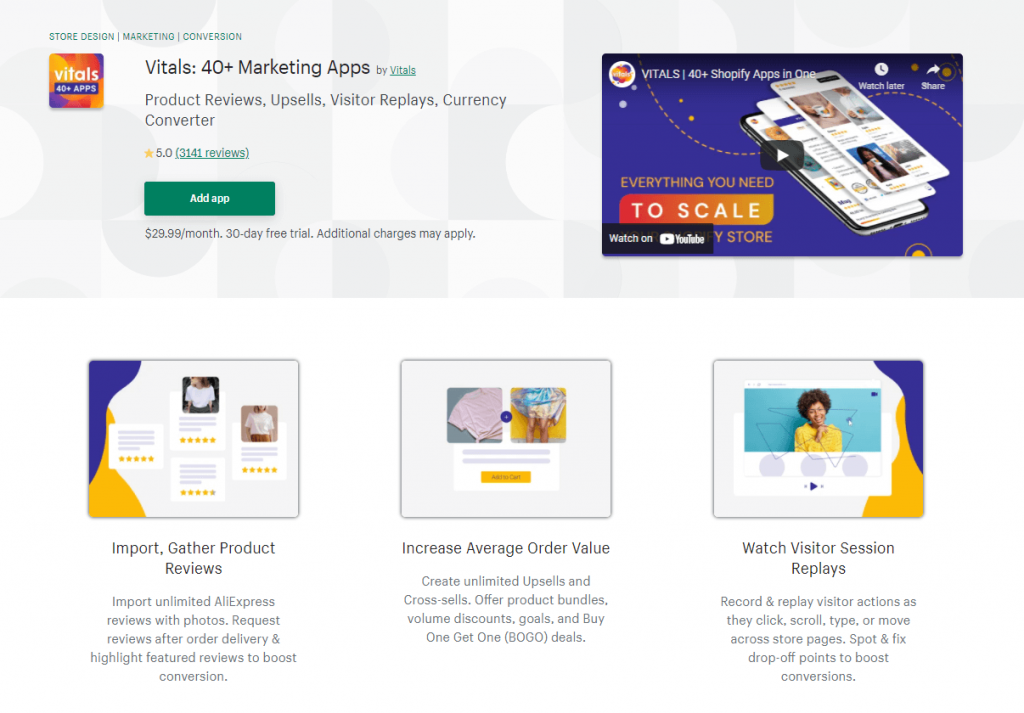 Are you ready to start using the Vitals app? And if you're asking, "Ready for what?" we're introducing the Vitals app, not only one of the Shopify product review apps, it also combines 40 different in one purchase. Vitals is the most interesting since it stuffs over 40 Shopify apps without slowing down your store. From a single panel, you can swiftly turn apps on and off.
Like other apps, Vitals allows you to collect, import, and display customer reviews with images on your store, product, and collection pages, as well as increase conversion rates through social proof.
The possibilities are endless with Vitals, from providing social proof by tagging products in Instagram posts and showing the gallery on your store to creating urgency by employing a countdown timer for all of your discounted products. Vitals can do it all. Isn't that impressive? Though it may seem overwhelming at first, you should spend some time exploring to see how fascinating it is.
Key features:
Request photo reviews via email after order delivery.
Display product reviews widget on home, product, and collection pages.
Create unlimited Upsells and Cross-sells. Offer product bundles, volume discounts, goals, and Buy One Get One (BOGO) deals.
Import unlimited product reviews from AliExpress, Loox, Stamped, or Yotpo.
Auto-convert prices to 160+ local currencies.
Redirect visitors to the local version of your store based on geolocation.
Skip the cart, get customers to checkout faster with Accelerated Checkouts.
Improve SEO by auto-adding ALT tags to your images.
Pricing: 30-day free trial
7. Growave – 4.9 stars (1,400+ reviews)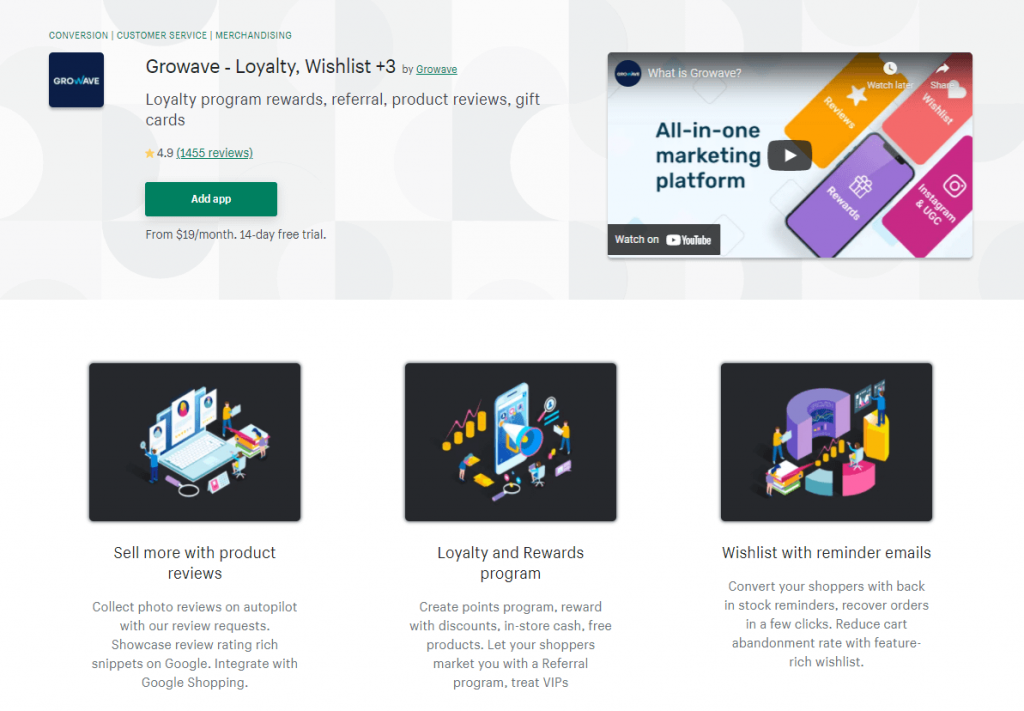 Increasing the visibility of your reviews online doesn't have to be complicated; Growave offers a simple experience that achieves good results. One of the most noticeable features of this app is utilizing a rewards program, a wishlist, and gift cards to aggressively influence user decisions.
Growave app allows you to improve the online shopping experience by customizing and displaying photo reviews anywhere in your Shopify store design. You can also make it simple for customers to raise questions and receive quick and reliable answers from verified shoppers and your team.
Key features:
Collect photo reviews on autopilot with review request emails.
Create a points program, reward with discounts, in-store cash, free products.
Use the referral program to encourage your customers to help grow your brand community.
Embed shoppable galleries on your homepage, product, and dedicated pages, or anywhere else you'd like.
Embed wishlist anywhere and let shoppers save items right from product pages, collections, and homepage.
Thank your loyal customers with the VIP tiers.
Showcase stunning shoppable Instagram & UGC galleries across your site to increase product discovery, drive inspiration, and boost sales.
Showcase review rating rich snippets on Google.
Pricing: 14-day free trial
Starter: $19/month
Small: $29/month
Medium: $49/month
Growth: $99/month
Conclusion
Have you discovered an app that meets all of your needs so far? We hope this list will assist you in narrowing down your search for the best Shopify product review app for your online business.
You can also generate a list of the factors you're seeking, as well as an estimate of the cost to help you make the right choice. The most popular free and paid apps have been compiled, along with some of their most outstanding features. Let us know in the comments which Shopify product reviews app you prefer or use for your store!
Search FireApps for more related articles here: https://fireapps.io/blog