How to Optimize Your Shopify Landing Page to Increase Conversions
Shopify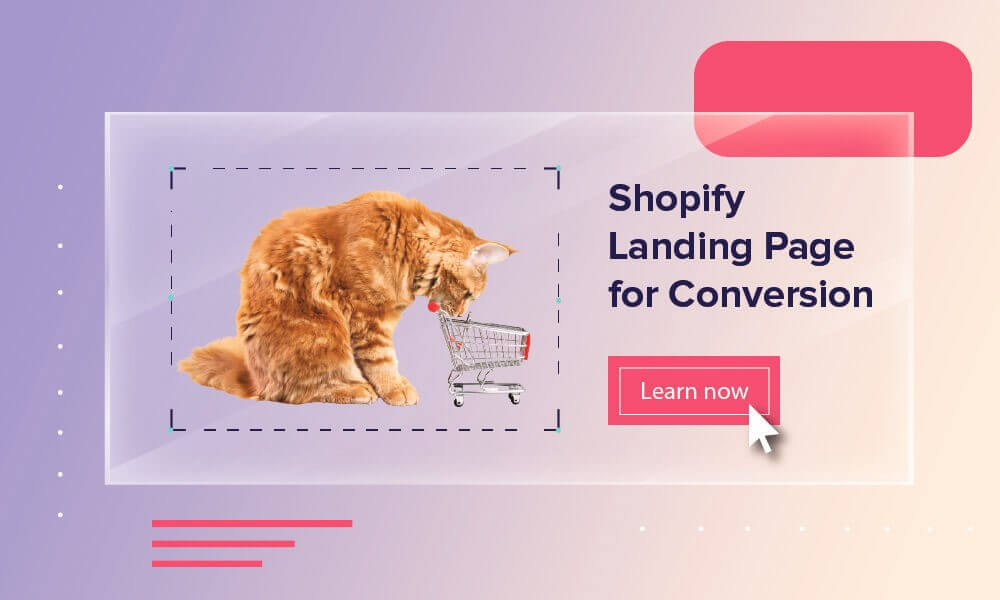 According to Hubspot, companies with 30+ landing pages drive 7x more conversions than those with less than five.
That's bizarre!
It shows how much landing pages can improve sales. Thus, if you have not seriously optimized your Shopify landing page yet, it's time to dig this gold mine.
Start your Shopify 14-day trial with FireApps
Did you know Shopify is now accounting for 20% of the e-commerce business.
Over 2200 merchants open their Shopify store everyday and 50% of them have a repeat purchase. Join them today!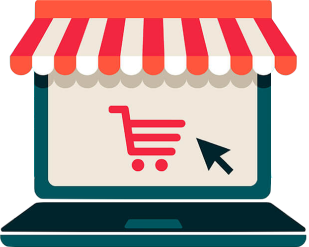 Don't know where to start? Don't worry, this article will guide you through the best practices to optimize ones.
But first, make sure you understand:
What is a Shopify landing page?
To explain word by word, a landing page is a page on your store where online customers land and make certain actions such as purchasing or entering subscriptions.
So, is it just like homepages and product pages?
Technically it is. Homepage and product page can be considered landing pages. However, there are some differences to note.
Homepages and product pages often serve various purposes and are aimed at many target audiences. For example, a homepage needs to introduce your brands & your products, highlight promotions, and navigate customers to other web pages.
Landing pages, on the other hand, are made for one goal only. (e.g. marketing a specific product, promoting your holiday sales, collecting emails, etc.)
Depending on your objectives, you can optimize each landing page for the best results.
Since landing pages are highly goal-driven and customer-oriented, unsurprisingly, the more landing pages you have, the higher chance for conversions is.
Best practices to optimize Shopify landing page for conversion
1. Set your objective & target audiences
What do you want your landing page to do? Your Shopify landing page should be a part of your overall marketing strategy and work toward a specific goal.
For example:
You want to offer a BFCM promotion to all target audiences
You want to promote your new fall collections
You want to attract more sign-ups for a social event
Then, it's important to clarify if you are targeting a specific customer group or all of your customers generally. Understanding who will be reading lets you know what copywriting and visual content works best.
2. Create a benefit-driven hero banner & headline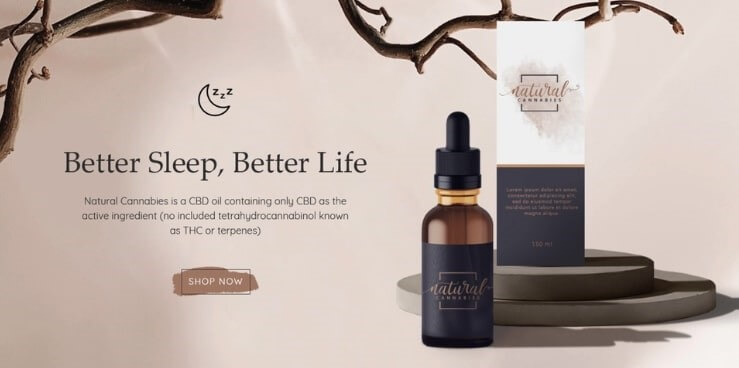 In this fast-living world, you have 3 seconds to captivate your audience's attention before they decide to bounce. As the first things your customers see after entering your site, the hero banner and title are the top important factors.
It's common to write what you sell directly on the hero banner. (e.g. CBD oil, farm eco products, etc). This way straightforwardly tells customers your offer in milliseconds, but is it enough to impress them?
Instead of "what you sell", tell customers about "what they earn". Highlighting how their life can change thanks to your product is a better way to keep them stay on the page.
In fact, according to GoodUI, a benefit-driven headline can improve conversion by 4.3 percent.
3. Write readable & compelling content
After successfully catching your customers' attention in 3 seconds, you will have about 30 seconds to convince them to take action.
If they are pleased with your offer, they may spend more time researching your products, exploring more pages, or even making a purchase right away. If they don't, they will exit and forget everything immediately.
Therefore, it's essential to make sure they get every line easily while thinking "this is what I am looking for". A clear page architecture with sub-headings is a must. Also, the landing page content should answer your customers' questions:
How can this offer benefit me?
Can I trust this brand?
Are there any other sub-benefits? (e.g. freeship, money-back guarantee, return policy)
Thinking of your audiences and your brands helps you craft suitable content strategies.
For example, if you sell low-price products and aim at impulse buying, copywriting can be short and sweet so that customers can make a purchase as soon as possible. Including many stunning photos, "best-selling" & "low-in-stock" labels may work in this case too.
However, if you are selling high-end products, make sure you explain well the product detail, and how reliable it is to purchase from you.
4. Add meaningful CTAs
It may take a while for customers to consider your product, a strong CTA push them to buy faster (or take any other actions you desire).
A great CTA, first and foremost, must be easy to spot. The button does not need to look complex, but its color should be contrasted with its background.

Moreover, like other parts, an attractive CTA is the one that speaks out benefits. Instead of constantly urging your visitors to "Buy Now" or "Shop Now", you should tell them what they will get. E.g. "Add to cart and get 20% off", "free download" or "get weekly newsletter".
Also, for the landing pages, it's recommended to stick to one CTA. This lets customers enjoy your content without any distractions.
5. Show off your social proof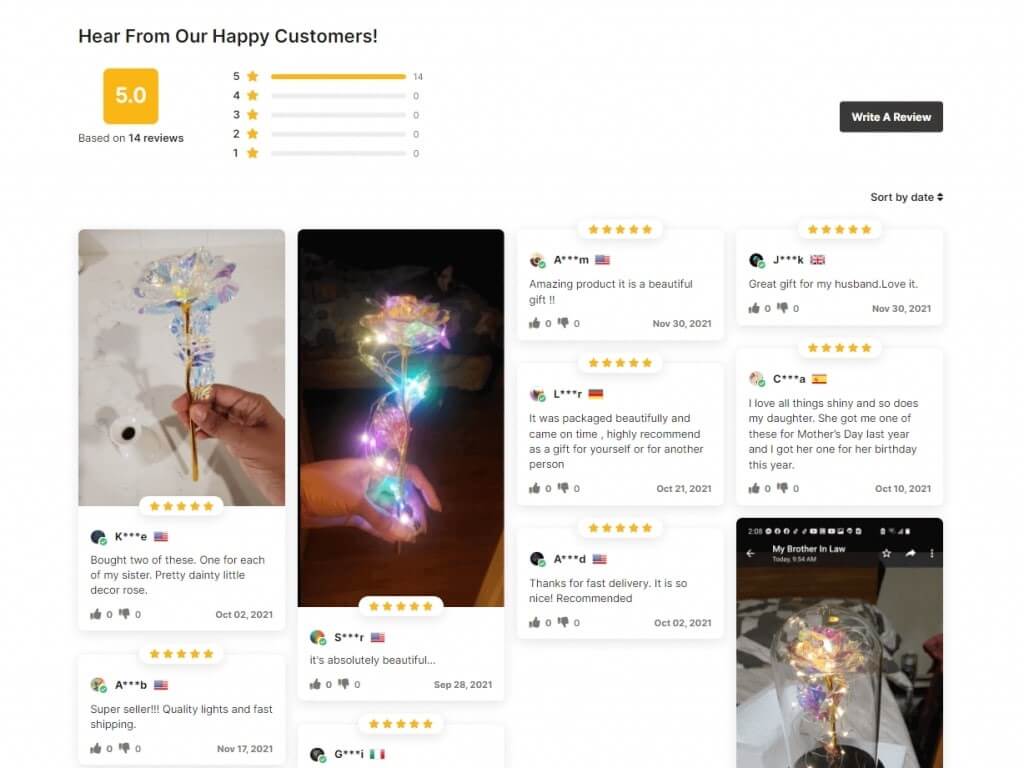 The majority of customers will more or less cast some doubts about your brand's reliability when they enter your site the first time. Showing how people are positively reacting to your products & services is a way to boost their buying confidence.
On the other hand, entering a new site with no reviews or testimonials can make an enthusiastic buyer feel reluctant to buy. After all, only a few people are courageous enough to take a path that may have unknown hassles ahead.
6. Optimize mobile conversion
After examining high-converting landing pages, Nifty Marketing has found that 86% of them are mobile-friendly. This makes sense since the majority of customers shop with their phones nowadays.
Thus, it's such a waste to optimize other factors perfectly and then forget about a small yet crucial factor: mobile experience.
Although most landing page themes for Shopify are mobile responsive, take a look at your landing page on mobile. You may find some flaws (e.g. CTA is too small to click or the visually important part of your banner is cropped).
Using a page builder tool like Tapita, which allows you to adjust desktop and mobile pages specifically, helps the optimization easier.
Also, review the page's speed. Landing pages that load in less than 2 seconds tend to convert best.
7. Track your performance
There's no one-size-fits-all solution for Shopify landing pages. Also, a page that works now does not mean it will work forever.
For great results, you have to constantly test and adjust.
This includes closely monitoring your landing page using a website-tracking tool like Google Analytics or an ads tool like Facebook Ads. Understanding which landing pages drive the most conversions or how long people spend reading your content gives you better optimization ideas.
Moreover, you can create two variations of a landing page design and use A/B testing to see which one works best for your customers.
Also, you may consider trying a heatmap tool like Hotjar to learn in detail how people engage with your pages.
It's all about customer experience
It's understandable to be so passionate about your products and missions but to win conversions, you should always put your customers' perspective first. From showing your benefits in a friendly way to creating a smooth buying flow, at the end of the day, all Shopify landing page optimizations boil down to customer experience.
We hope you all find everything you need and are ready to create great Shopify landing pages now.