Ali Hunter – The best product research extension for dropshippers
Shopify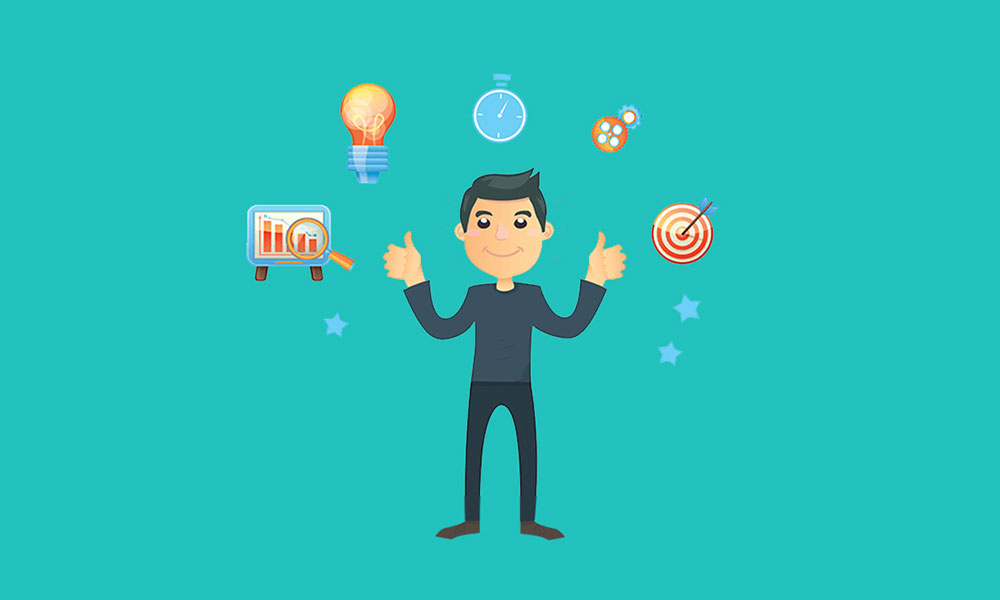 As a dropshipper, have you ever wonder how do some stores come up with 6 figures but your store doesn't? The answer is, they do have their own winning products that generate tons of sales. Yes, winning product is a key. However, with thousands of different suppliers and millions of products available, how do you find ones that are marketable, trending, and high quality? Fortunately, Ali Hunter can help you find winning products on AliExpress in just seconds. In this article, we'll show you how.
What is Ali Hunter?
Ali Hunter is a Chrome extension that helps you find out your top performing dropship products from AliExpress and other Shopify store faster and easier. It brings you good conversion sales and you will rock in the market with these potential products.

---
Hunt winning products on AliExpress
Between thousands of AliExpress products, how could you know which one will be profitable and how to choose the most reliable supplier to work with? Ali Hunter helps you with the best choice. Just choose a product on AliExpress that related to your niche, go to its product page then Ali Hunter will help you determine your winning one.
Start your Shopify 14-day trial with FireApps
Did you know Shopify is now accounting for 20% of the e-commerce business.
Over 2200 merchants open their Shopify store everyday and 50% of them have a repeat purchase. Join them today!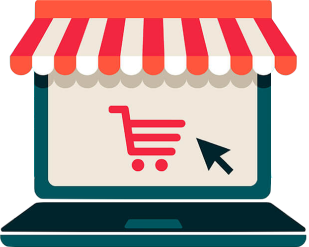 Understand the product you intend to sell
With Ali Hunter, you will have a quick overview of the products like price, total orders, total reviews, number of add-to-wishlist and rating. You can take a closer look at the product you intend to sell/buy by the real photos that Ali Hunter has already collected from customer feedback. Take a comparison, then take your decision. Thus, with just seconds, you'll identify the right product to invest your time, money and effort in.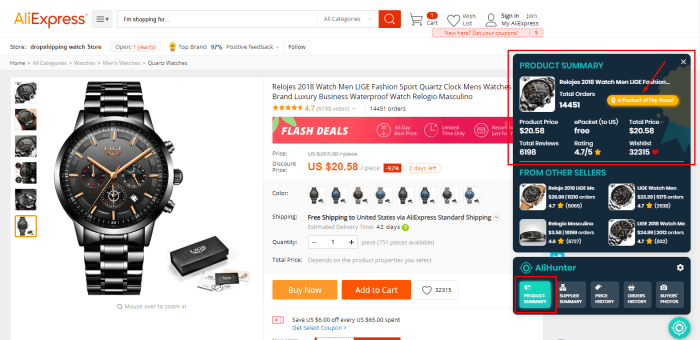 Determine if this product is profitable
To know if this is a surefire product or about to be trending, there's no way better than look into its sales performance. Ali Hunter summarizes the orders history of the last 3 months and displays it by the chart. The line lets you know the best selling time point with maximum orders. And if the line moves forward at the end, this product can be your next winner.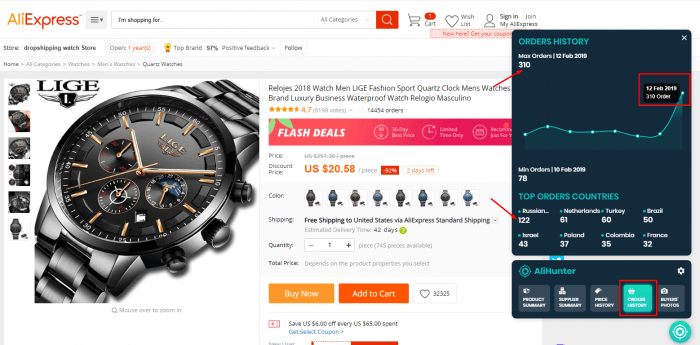 Also, Ali Hunter shows you the top countries that most of orders came from. Look at these data, you can determine where is a good potential area to focus on selling to, and and which country should you push more on marketing/ads. This helps reduce the ads expense of testing new product considerably.
Check on the price
Ali Hunter shows you the changing price presented by the chart over the last 3 months with max and min price value. With Ali Hunter, you never be worried about the fake discount, and know exactly which and when the price point is perfect to sell for maximizing profits.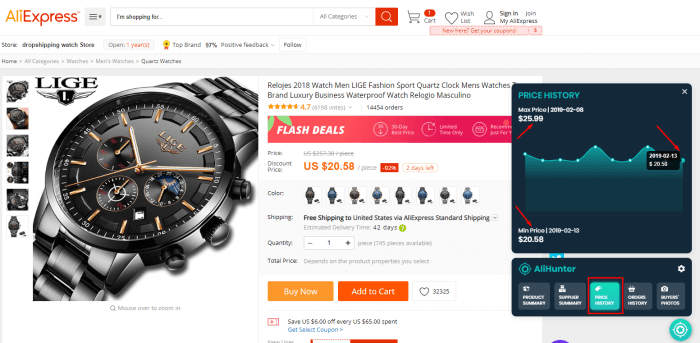 Identify the reliable supplier
Shaving a few cents off the total cost of a product is no help if the quality is below standard and the component or material does not arrive when you need it. So it is more important to look for the long term value of your partnership with this supplier.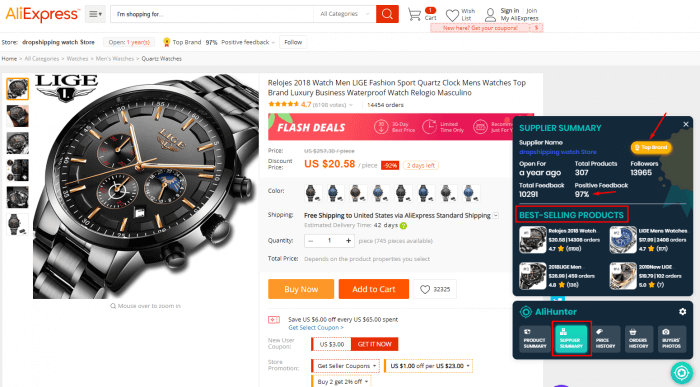 Ali Hunter helps you identify the reliable supplier. Just a quick look, you'll get all information about the vendors you're tracking: The operating time, total rating, followers, total products best selling product,… If a seller has Top-Brand icon, it means that suppliers were very trusty and worthy for you to buy from. Then when everything looks good, go ahead to corporate with them.
---
Hunt winning products on Shopify store
Normally, we get winning products right after series of testing of products in a row by using the Facebook and Instagram Ads, and wasting lots of money and time too while doing this. But with the support of Ali Hunter, you can find some innovative ideas from successful Shopify store in your niche without any effort.
To start, head over to https://www.google.com/ and search "myshopify.com + niche"
Spy the best-selling product of a Shopify store
Visit a random Shopify store and Ali Hunter shows you all the information about this store. You can simply check which theme they are using, the amount of products which are selling. You'll love the function that you can see exactly which item is the best-selling one in this Shopify store. If this product has the same niche to yours, why don't you try to sell it?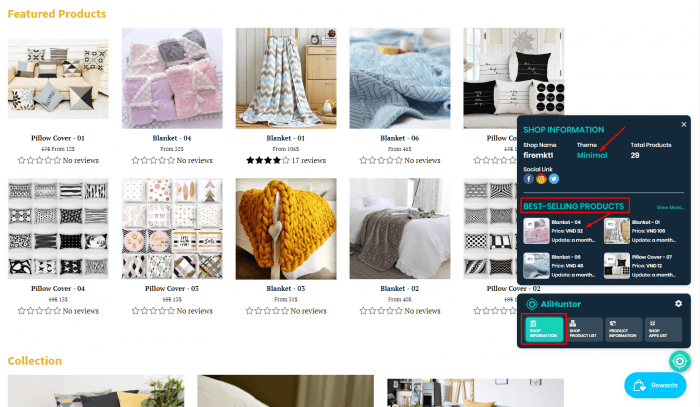 Find the right seller on AliExpress
Once you want to sell this best-selling product in your own Shopify store, Ali Hunter helps you find out the supplier that is selling this product on AliExpress with just a click using "Find seller on AliExpress" button . Then look at the data Ali Hunter providing to choose the best supplier for your own.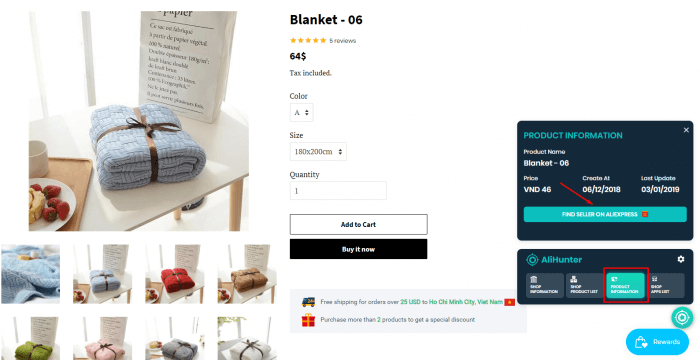 Know the used apps in store
If you wonder which apps assist these owners manage their store effectively, Ali Hunter allows you to see which app they are using and follow up to build up your Shopify store as same as them. It will be linked with 250+ apps front end which is the most popular, and obviously, there will be a link for your to get the app easily.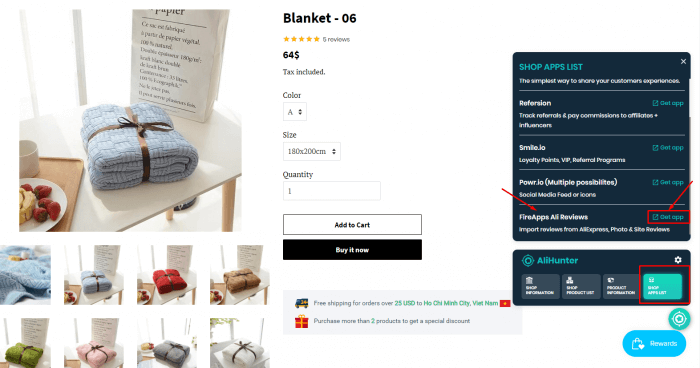 Export product data
Ali Hunter shows you the short summarization of all the products in a Shopify store. In case you see some interesting products which is the same niche to yours and want to sell them, you can export all the product data into a CSV file, then edit or add any information if needed. After that, go to your Shopify admin and upload this CSV file. What a time-saving way to get and sell the products you want.
---
Let's start hunting winning products!
Ali Hunter is the best solution for you to find winning products. No more wasting time and money on fighting over thousands of products and suppliers on AliExpress. Once you find out your winners, don't forget to always try your strategies for making sales along with always looking for great winning products that bring huge sales.
Let's get the most out of Ali Hunter and don't miss the chance to use Ali Hunter Premium plan free for lifetime without any extra cost
Related Article: What is niche product? How to find your niche in 2020?
Launch your Shopify store now: https://www.shopify.com/