Ali Hunter: The ultimate spy tool to find winning products
Shopify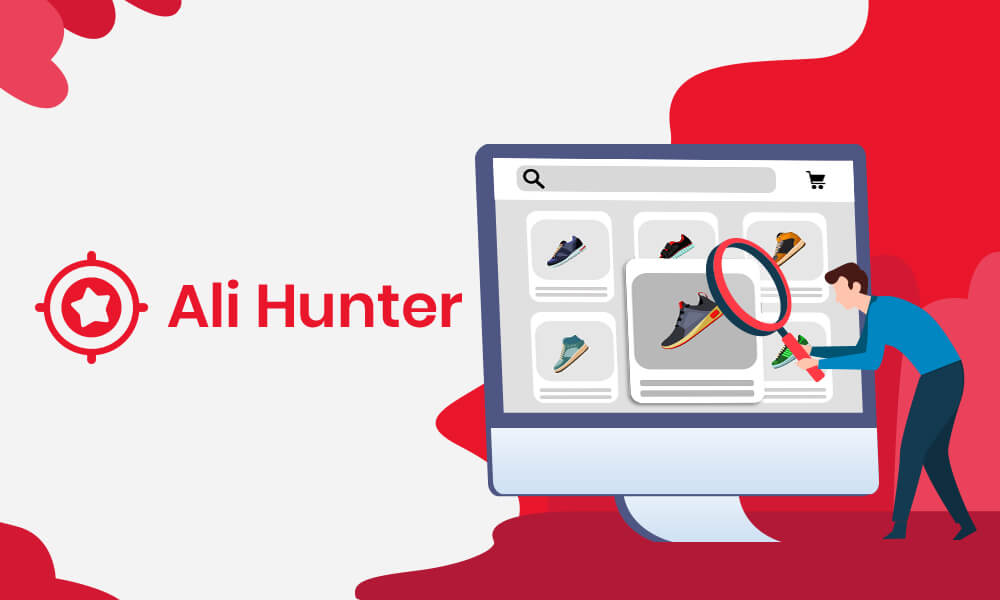 What to sell online? Why do some stores can make 6 to 7 figures while you're still struggling to make first sales? Those are the biggest questions you'll be asking yourself when building an e-commerce store.
Well, the key comes down to winning products. Finding winning products is one of the hardest hurdles especially if you're new. So in this article, I'm going to help you solve the question " How to find a winning product?" with a powerful product research tool called Ali Hunter. Ding dong, jump on board and start making big bucks!
What makes a winning product?
Before we jump into details, to find successful products for your business, I advise you to consider the following points in your search for the winner:
Start your Shopify 14-day trial with FireApps
Did you know Shopify is now accounting for 20% of the e-commerce business.
Over 2200 merchants open their Shopify store everyday and 50% of them have a repeat purchase. Join them today!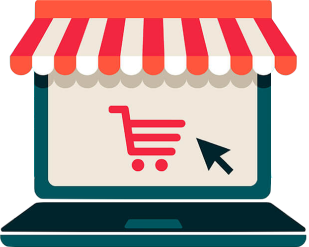 Useful product: it will be much easier and smarter for you to sell products that meet consumers' needs.
Wow quality: when shoppers see your products, they have to tell themselves that they absolutely need it, the new innovations are very necessary if you want to show what your store has to offer.
Careful competitor analysis: track and follow how your competitors are doing with a particular product, then consider if you can stand a chance with them.
Reliable suppliers: you must also check the seriousness of your suppliers to ensure delivery deadlines are met, pricing, quality,…
Why do you need a product research tool?
Take one example: You suddenly have a new idea of dropshipping cooking utensils since many of your friends are fond of them. With a powerful research tool, you can evaluate your idea and see if there is an actual need for it and what your potential customers are looking for.
The best dropshipping product research tools not only help you find new product ideas, but they also give you an understanding of what customers want and need on the market.
You can change your prices, customize your products' designs, set faster shipping time, find target groups of customers, make interesting marketing campaigns or ads, etc. And the best dropshipping research tool helps you know how to stand out on the market.
By the way, why Ali Hunter?
Ali Hunter is the trusted #1 Product Spy Tool or Dropship Spy Tool available on Shopify. Ali Hunter offers a 7-day free trial and has some excellent features you can't find on other tools.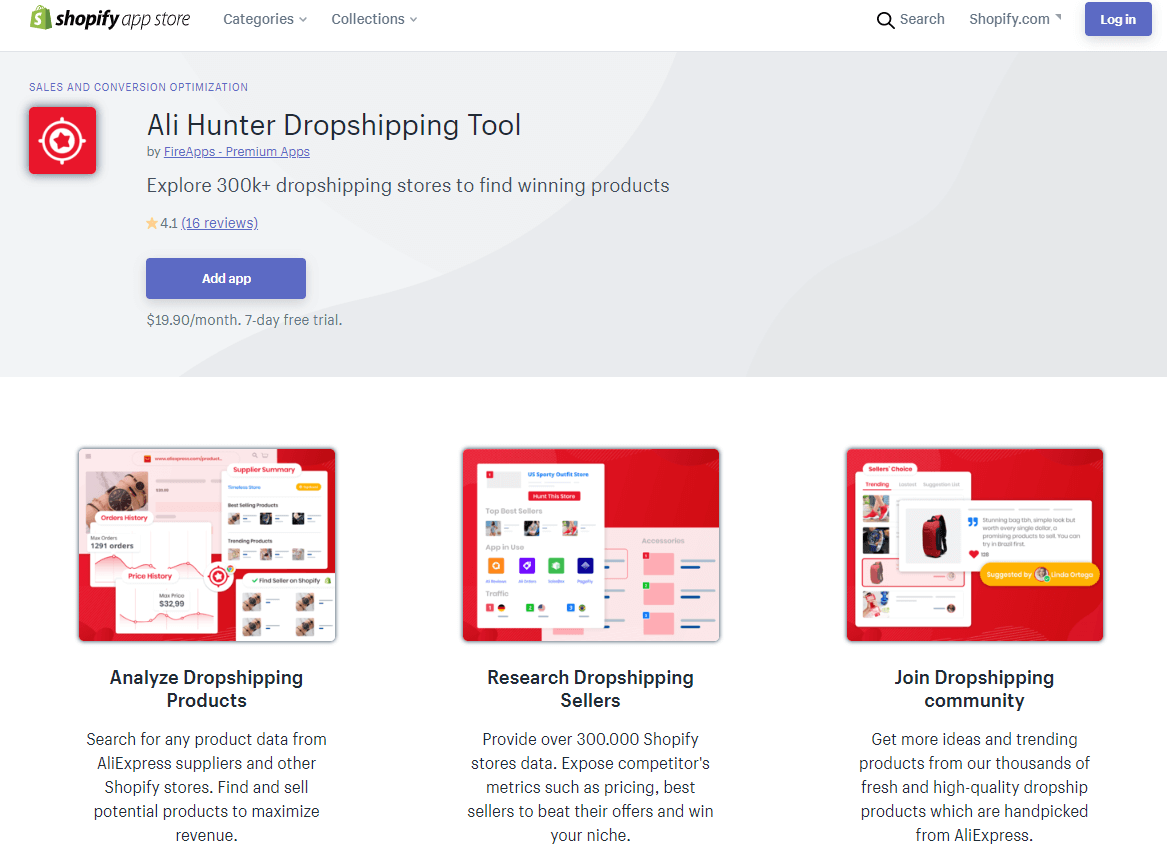 It allows you to easily hunt winning products and at the same time spy on other Shopify stores to check out their hot products, sales metrics, price, top countries,…
Ali Hunter will save your time and effort in finding the rocking products that are currently selling in the market and it will also help you in making sales immediately.
Discover top stores in any niche
The Competitor Hunt Feed gives you the ability to surf over the highest-ranking stores in each niche, inspect every piece of information and determine which businesses are leading in one particular niche. This can surely give some ideas on what products you want to add to your store.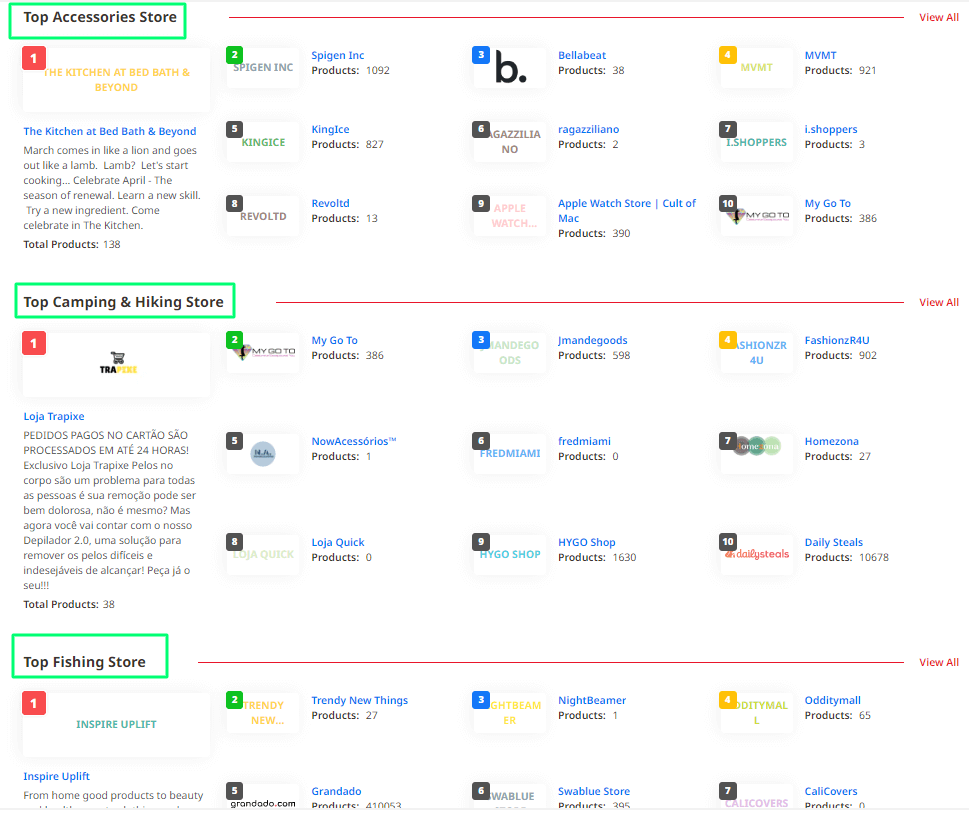 You can also analyze their sales and marketing metrics such as best-selling products, new products, apps in use, traffic insights, social media channels, etc. These are the key factors that you need to pay attention to when launching sales campaigns for any product.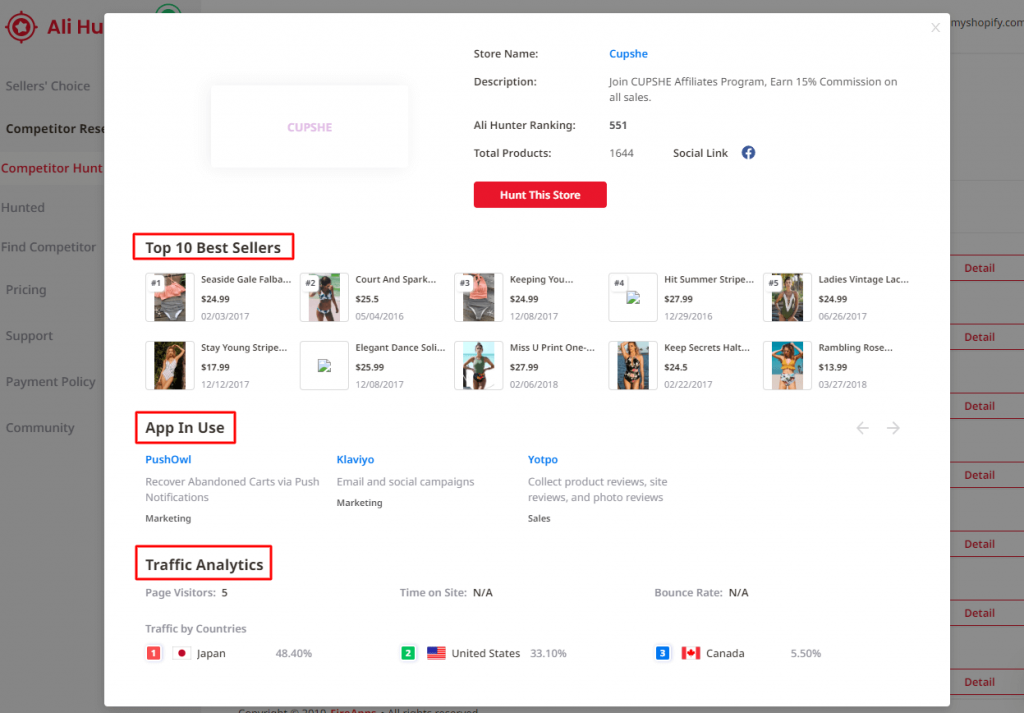 Research products by keyword
You're unsure the niche or products you're going to sell? Simply type any keyword that suggests a product or trend you're interested in and the results will give you a full list of Shopify stores who are selling that item.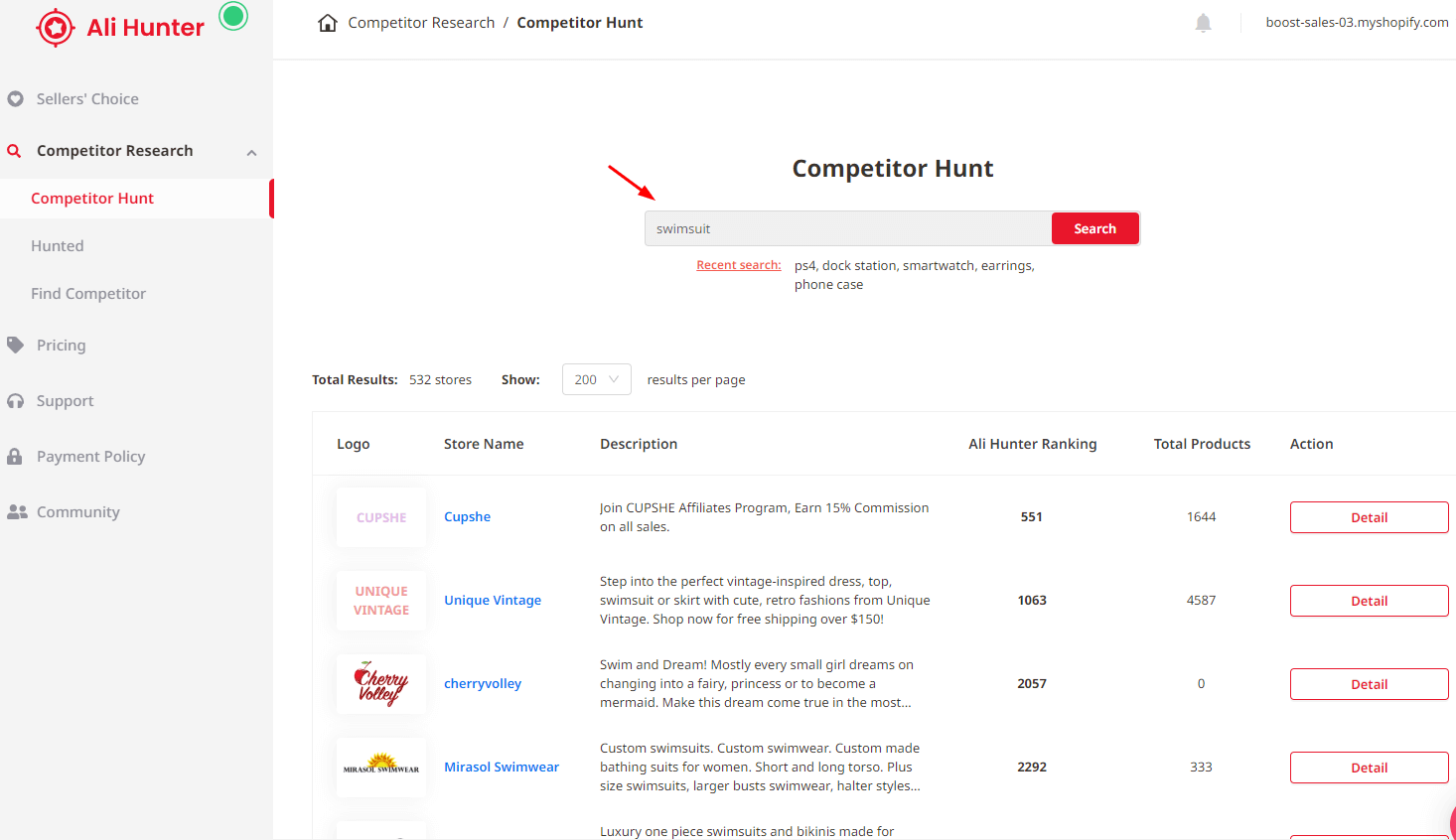 Ali Hunter also shows you store summary and insightful analytics. These detailed reports will give you knowledge of the current market and strategies that other stores are following.
Hunt and keep track of Shopify stores
You found some stores that have interesting metrics that you want to keep a close eye on? Hunt those stores onto your list!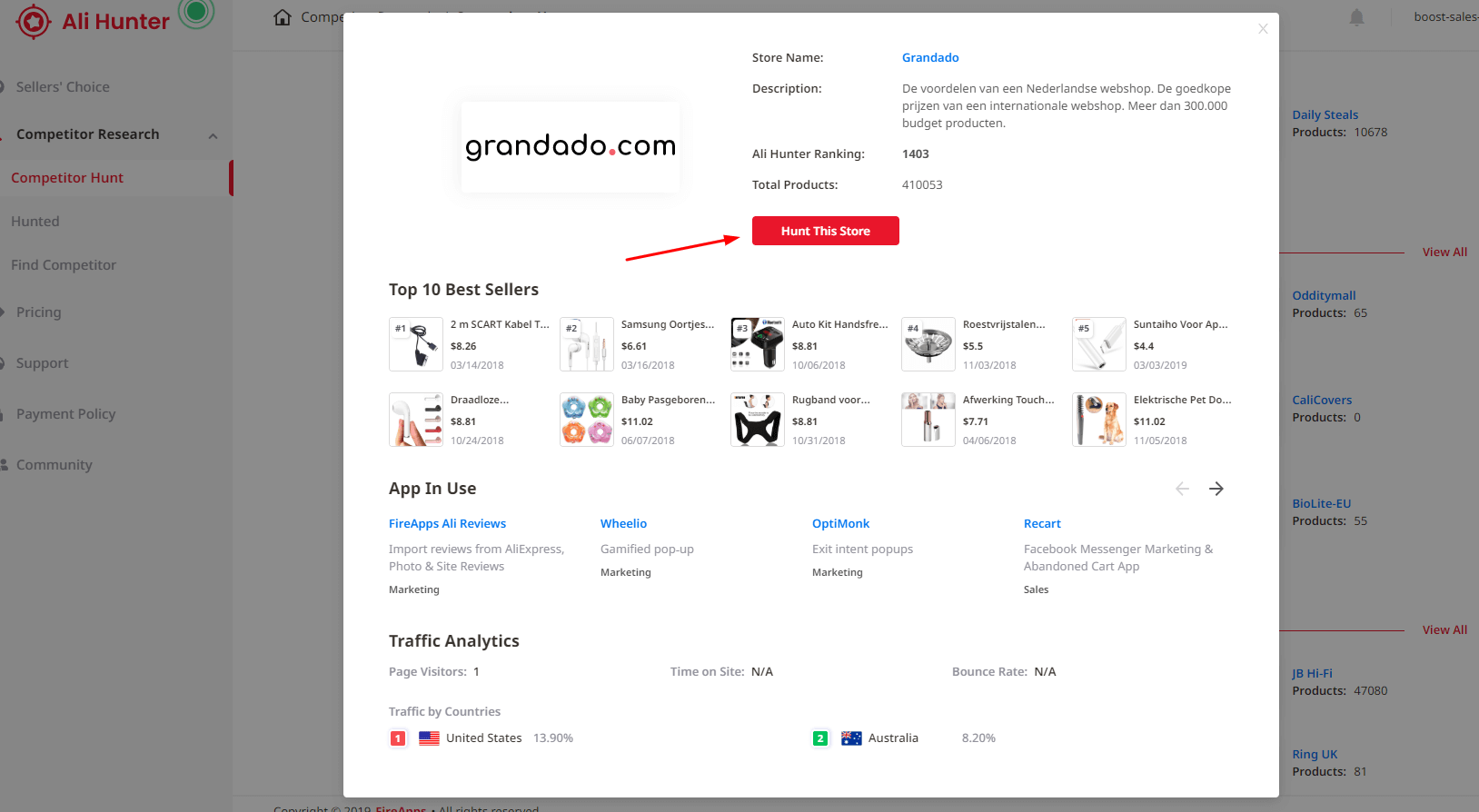 Instead of checking a long list of competitors every day, now you can follow & get updates on them and receive notifications every time there are changes.
Find your competitors
In case you are already selling some products or have found desired items and you want to know who are selling the same products as you are: you're on target with this function. With just 1 click, Ali Hunter will detect all competitors' stores with their shop links provided.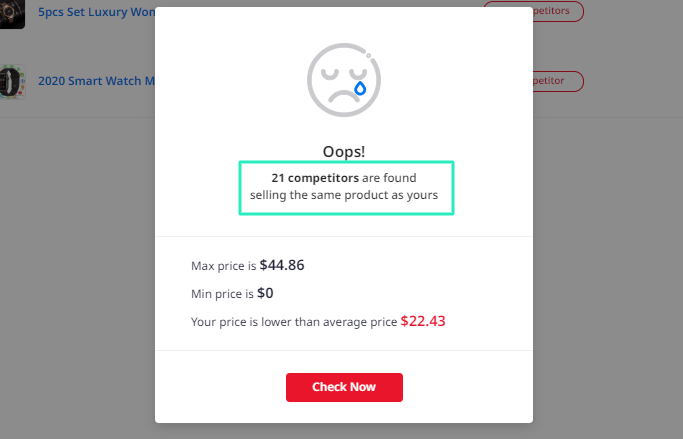 Sellers' Choice
Sellers' Choice is like a social channel, an interactive community where you can connect with other influential dropshippers, share your opinions as well as get product ideas from them. It's a nice research trick that points out potential products that could actually be a winner.
The coolest part about Sellers' Choice is you can easily stay on top of currently trending products among sellers' community with the Trending tab. In this section, products which have the most vote from users will top the chart. The votes will also be updated constantly for you to keep up with.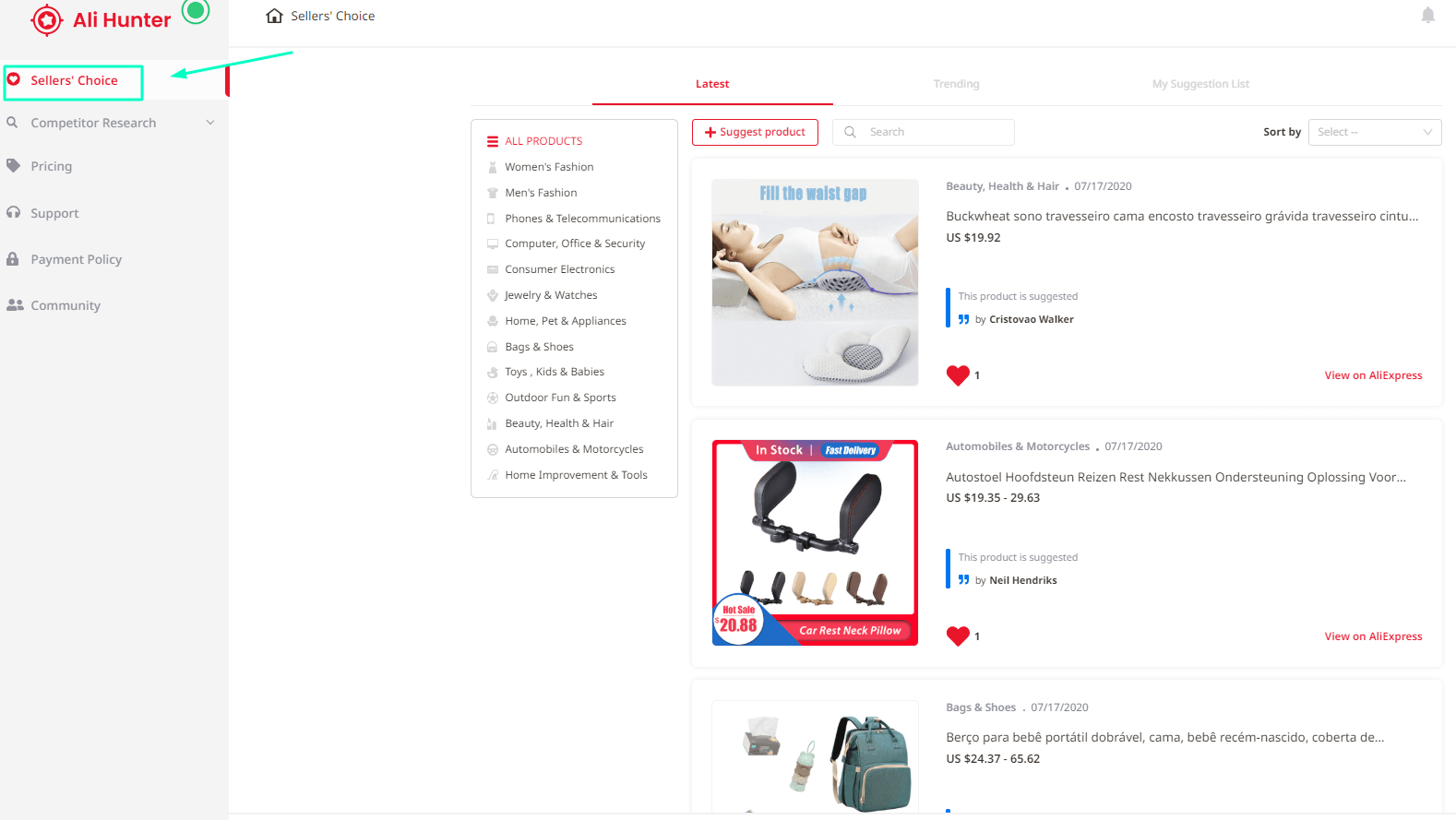 Also, you can make your own product suggestions, tell people about your thoughts and why they could be the next potential selling ideas. This feature is all about freedom, so don't care about sales, orders or any analytics. Feel free to create your own trend!
Ali Hunter Extension – The most helpful assistant
Besides Ali Hunter app, Ali Hunter Chrome extension is also a great assistant if you also want to spy AliExpress products. AliExpress is a well-known e-commerce platform with tons of high-potential products, so it's also a reliable resource where you can find products and suppliers to dropship from.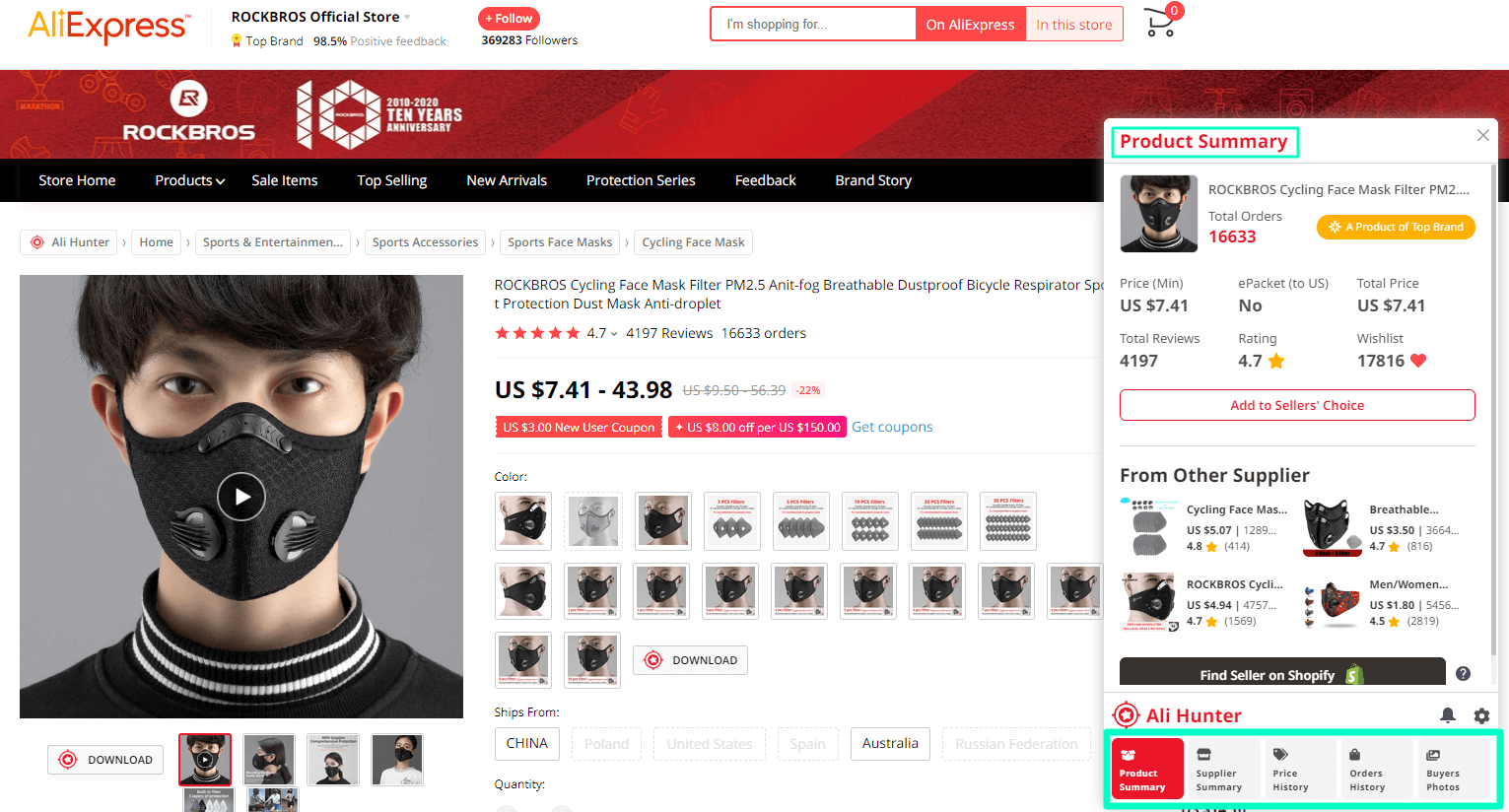 Research & track more information on AliExpress product page
Product summary: check the price, reviews rating, ePacket shipping fee & find exact sellers on Shopify for you
Supplier summary: show information about suppliers (followers, positive feedback, best-selling products & trending products)
Price history: display the price fluctuation & let you know the perfect price and time points to start selling to maximize profits.
Order history: predict trends on orders history, tap into winning products & top-profitable countries to sell.
Buyers' photos: see your customer feedback by photo.
Discover & track competitors' stores
Shop info: check your competitors' shop name, theme name, best-selling products
Shop products list: display & export products list from their stores
Product information: find product suppliers on AliExpress
Shop apps list: reveal all front-end Shopify apps that competitors have installed
Go for Ali Hunter!
Wanna be a successful store owner? Go ahead with Ali Hunter now and get access to our package of handy features and to find the real winners for your online business!
Leave your thoughts in the comment section if you have any opinions. And as always, best of luck on your eCommerce journey!
Launch your Shopify store now! https://www.shopify.com/