Ali Orders 2.1 – Reveal New Awesome Features Coming to You
Shopify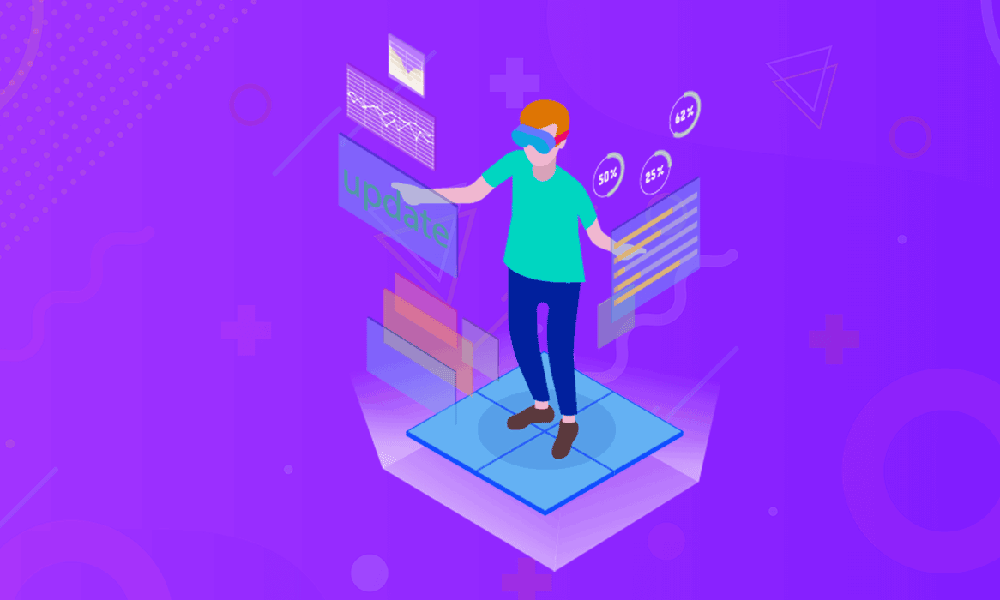 After 3 months in-house development, a bulk of new wonderful features of Ali Orders 2.1 have came out. Yes, we're always here to help automate your business and boost your sales to the next level. With this updates, we save you time and money like 3 times than before so you can focus more on growing your business. Let's go, check them out in this article.

Great stuffs created just for you
1. Auto AliExpress captcha solving
As you may know, AliExpress captcha causes inconvenience to us when we're processing auto-fulfill bulk orders. Applying captcha will take you considerable time, and there was time that you get trouble with mistakes.
But now, Auto captcha solving feature – new feature in Ali Orders 2.1 – will shorten 50% your time on processing orders. It's such a great function that you only find from Ali Orders 2.1, not from other dropshipping apps, even the big one as Oberlo. Time is money, what saves you time will save you money also so you can focus on tasks that help grow your business.
Start your Shopify 14-day trial with FireApps
Did you know Shopify is now accounting for 20% of the e-commerce business.
Over 2200 merchants open their Shopify store everyday and 50% of them have a repeat purchase. Join them today!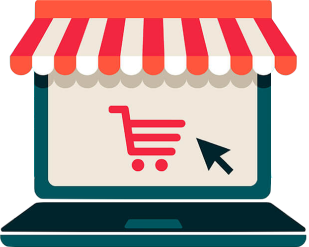 Just simply enable this function in Ali Orders dashboard and let it solve captcha for you.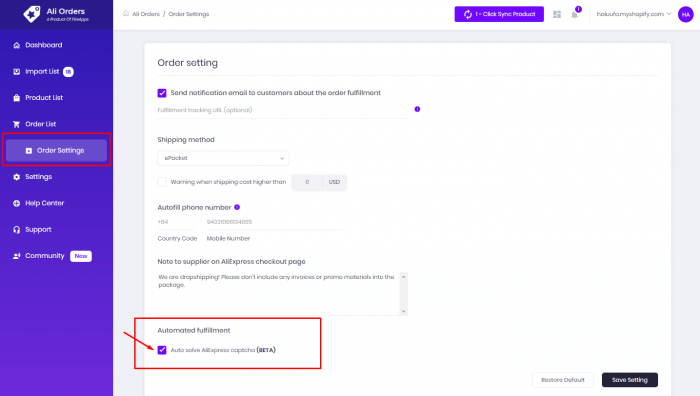 Auto captcha solving can be the premise of 1-click to completely auto fulfill orders (auto payment fulfillment) that we'll bring it to the next update version. A vision of nearly future, you can take a nap or do whatever you like while Ali Orders is processing all orders for you.
2. Add Variant to existing Product
Want to add up five AliExpress products into one? Sound crazy but yes, we can do it in this new version. You can add more variants of products from other AliExpress sellers into one specific product in your Shopify store, no need to create a whole new product as usual.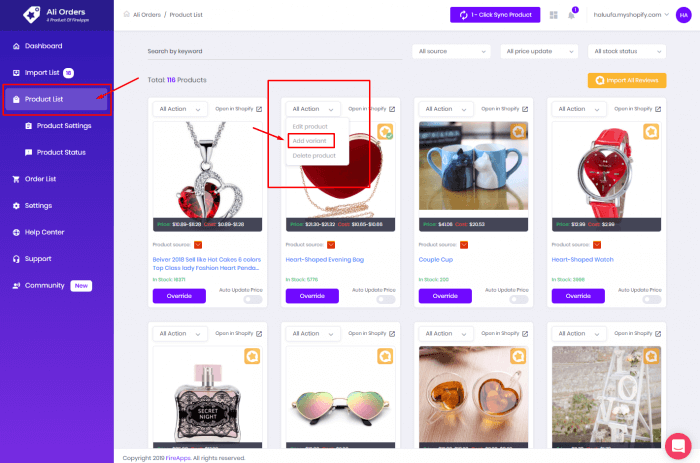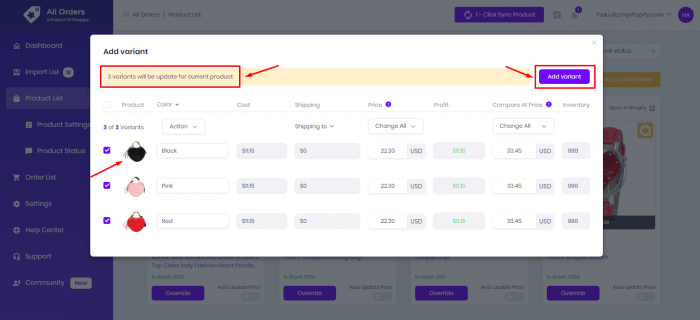 If you're running an ads and a customer has asked for a larger size which you didn't import first off, you can find a same AliExpress product which has this size, and add this variant to your current product so you can keep your ads link works thoroughly.
And think that, instead of invest in five different ads, now you can invest in just one. For example, if you sell jewelry, you can gather related products like ring, necklace, bracelet, earrings as a collection in 1 product, then advertise this products. It saves you thousands of dollars while still helps you achieve your sales goal.
3. Quickly transfer from Oberlo to Ali Orders
Ali Orders 2.1 has all features like Oberlo, and has developed more useful features that Oberlo doesn't have. Now we make it even easier for you to move all the data in Oberlo to our app with new setup wizard, which helps move the products list with corresponding AliExpress links, all orders with Ali Orders No and tracking code to Ali Orders right after installed our app. You can enjoy all its awesome features for free without worried about loosing your data.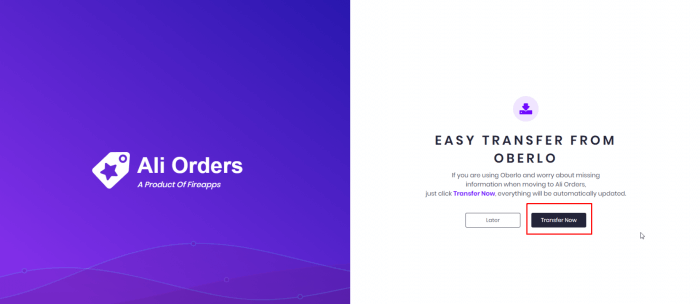 In case you miss this setup, don't worry, you can use the "1-click sync AliExpress link" button in Ali Orders dashboard to transfer data from Oberlo to Ali Orders.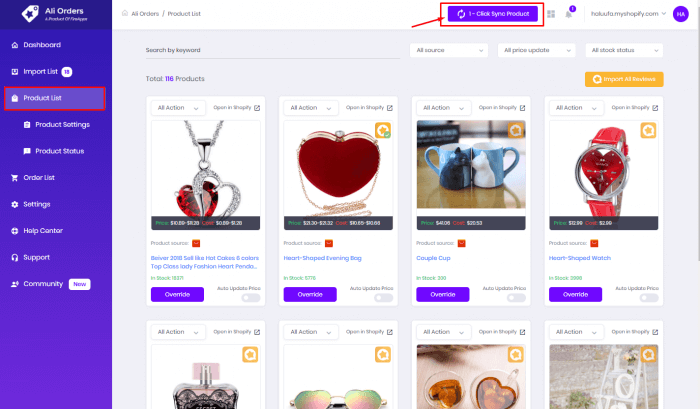 4. Split a product into individual products
If a product in your Import List has a lot of variants, then you can split each variant into an individual product with Ali Orders 2.1. It will be very fast and easy to focus selling on products with only variants you want.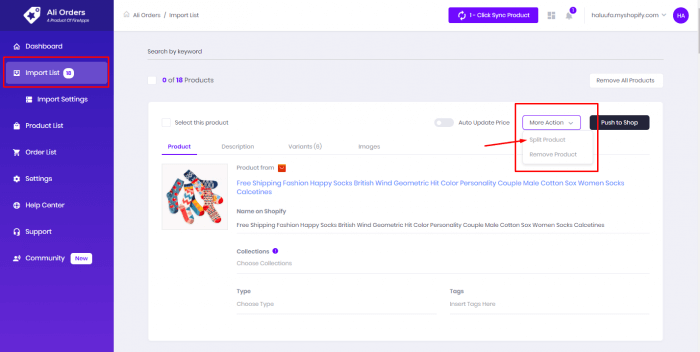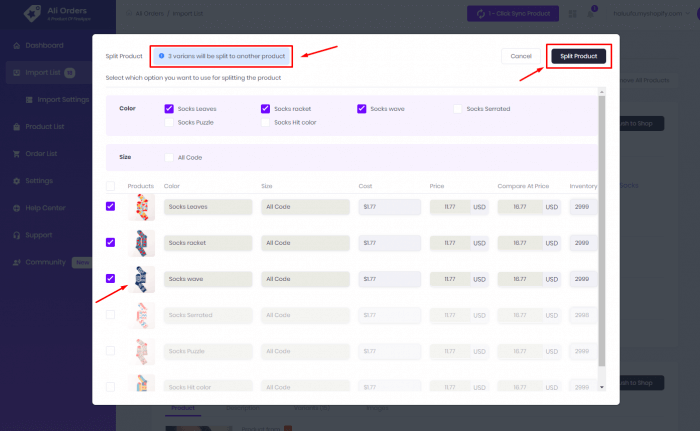 With this awesome features, it's easy for you to manage products and make your store more orderly, which helps enhance considerably your customer's shopping experience.
For example, if you sell iPhone cases and the product you want to import has scrapped variants like cases for iphone 6, 7, 8, but you have set your store with individual collection for each type of iPhone, you can import this product to Ali Orders dashboard, convert 3 different variants into 3 products and put it in the right collection in your store.
And more awesome features
1. Mass apply new pricing rules
At the previous version, you can only apply the pricing rule for new imported products, but now you can apply the new pricing rules for all the current product in the Import List. This is a useful and sustainable way to enrich your pricing strategy and help you easy to manage your profit margins.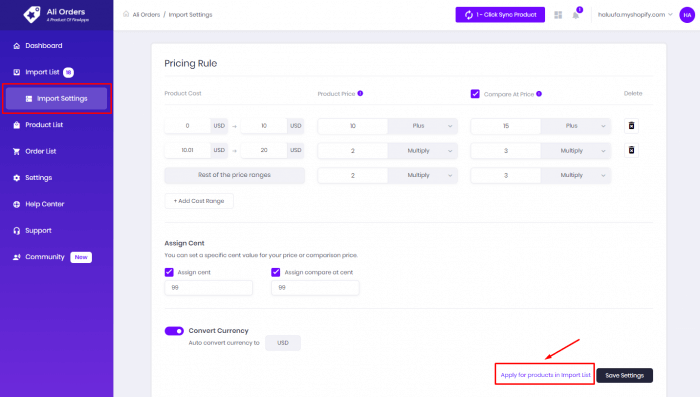 2. Auto edit assign cents
Known as "charm prices," prices ending in ,99 or ,95 make items appear cheaper than they really are. Since people read from left to right, they are more likely to register the first number and make an immediate conclusion as to whether the price is reasonable.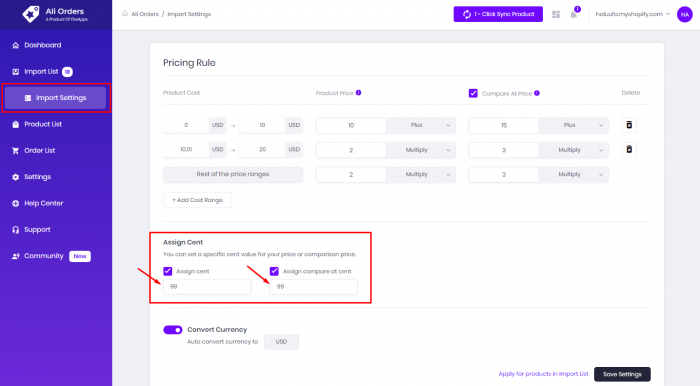 That's reason why we develop the auto assign cent feature for this version. You can set a specific value for the product price or compare at price. For example, if you set the Assign cents fields as 99, then choose "Save Settings", all the new imported products will have the price with ,99 at the end, so the product price will be $X,99.
3. Mass apply edit
If you're going with a store that has a lot of same products in collection, type, tag, and even description. You can edit a product and apply this changes for all selected products in the Import List. It removes manually edit and copy&paste mistakes considerably. What a very time-saving feature!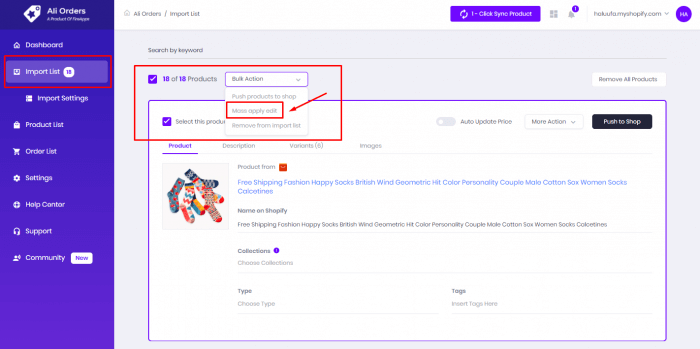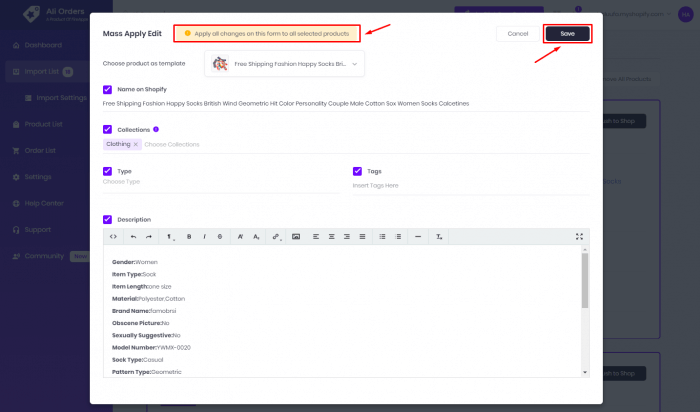 4. Quickly switch store
There are many distinct benefits to having multiple Shopify stores. As before, you have to log out your current account then sign up to another to use our app. But luckily, now you can link all your Shopify stores with Ali Orders 2.1, so it's just 1 click to switch from this store to another whenever you need. It's an easy way to manage your store list and a much more scalable solution for every dropshippers.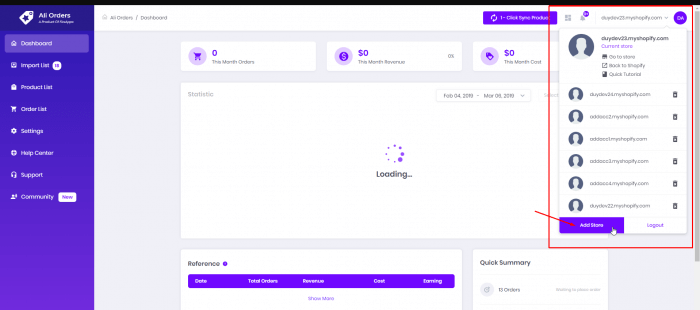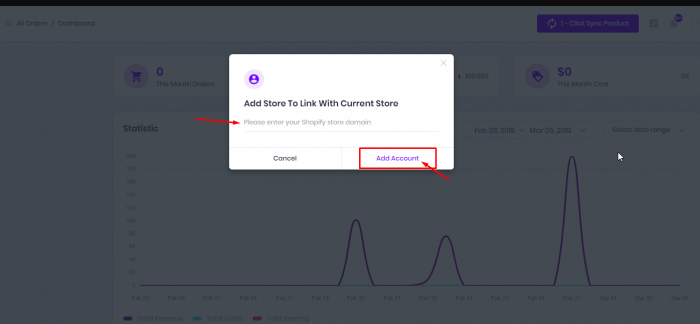 5. Filter free shipping products
This new feature allows you to filter products have free shipping method only, or choose the suitable shipping fee range of the product you want to sell. This is a faster way for you to import products and ensure your desired profit margin.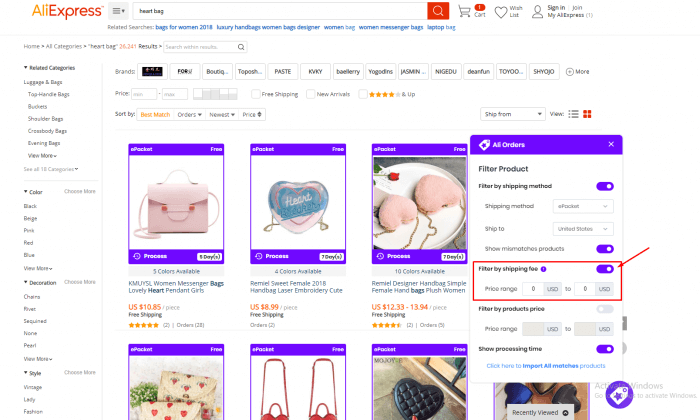 Chance is yours
That's it. All the brand new features come with their benefits we made just for you. They are really a game-changer which helps you skyrocket sales and feel less stressed, also save you time and money for things that matter. So, there's no reason to hold it back. Give Ali Orders 2.1 a shot and let us know how much you'll be achieving in the comments.
Important Note:
From June 1st, 2021 onward, we offer only ONE plan now is Premium plan with 7 days trial for all new users, Free plan is not available anymore.
More details in this article https://support.fireapps.io/en/article/which-plans-are-ali-orders-offering-is-there-any-free-trial-day-1a2yju5/