Best UpSell and Cross-Sell Shopify Apps in 2021
Shopify
Businesses are shifting to e-commerce, splashing the cash on ads to drive as much traffic to their websites as possible and praying that they will convert to sales. Let's face the fact, 97% of your website traffic will not become your paid customers.
Besides, stores rely on ads to sell their products more than ever. This is both costly and risky as the ads CPA are rocketing and soon it will become ineffective.
Now let's face the fact:
Start your Shopify 14-day trial with FireApps
Did you know Shopify is now accounting for 20% of the e-commerce business.
Over 2200 merchants open their Shopify store everyday and 50% of them have a repeat purchase. Join them today!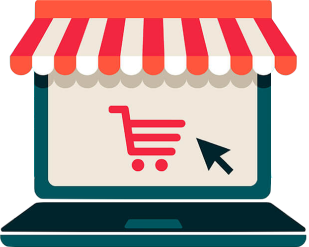 It costs up to 7x to acquire a new customer than to retain an existing one.
The probability of selling to an existing customer is 60-70%, while it's only 5% to 20% for a new prospect.
65% of a company's revenue comes from existing customers.
Take Shopify merchants as an example, while 89% believe that customer experience is the most important factor to retain customers. A large portion of them believe having a smart Up-selling and Cross-Selling strategy would help increase both customer loyalty and value too.
The difference between Up-sell & Cross-sell
Here I think many of us are often confused. So what is actually the difference between upselling and cross-selling?
Up-selling is an act of selling a higher priced item to a customer instead of the customer's original selected item. For example, if your customer chooses a 4GB ram laptop and you persuade her or him to buy a 8GB ram laptop, you just make an up-sell.
Cross-Selling is an act of selling additional items in addition to the items that the customers already purchased. Think of a customer who purchases a big Mac and you sell them a bundle / combo of Big Mac, coke, french fries and soup.
To save your time, I will review the best up-sell and cross-sell Shopify apps in this article.
Hopefully it will provide you useful information to decide your next Shopify best upsell apps.
1. Reconvert Upsell and Cross-sell
Developer: Stilo Apps
Rating: 5.0 (2400+ reviews)
Pricing: Free Plan Available| Pro plan: $7.9
ReConvert is a simple yet powerful app for thank you page optimization. It allows you to customize your thank you page fully & easily with a drag & drop interface.
Integrate with some of the most powerful apps on the platform, so that you can get the best of ALL worlds- use ReConvert's amazing built-in widgets, to create the perfect converting thank you page & recharge customers.
With 5/5 rating and over 2000 reviews, ReConvert deserves to be top of the list of the best upsell apps for Shopify.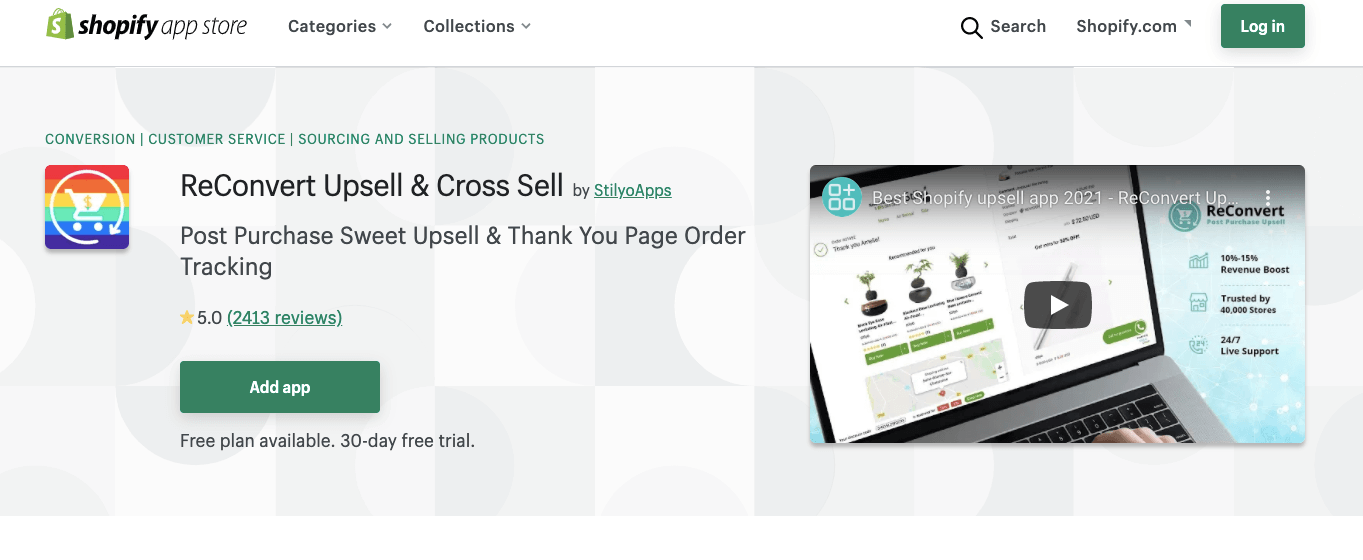 Features
Discount popup with countdown timer (for up-selling)
Birthday collector
Product recommendations up-sell
Post-purchase surveys
Order tracking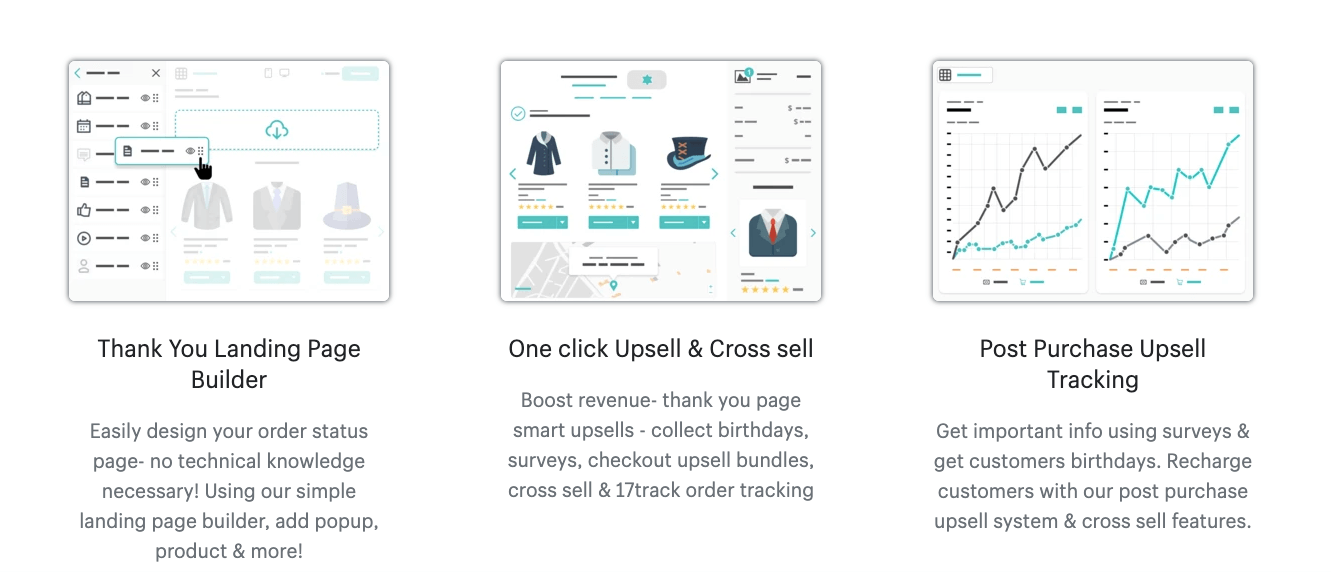 2. Frequently Bought Together
Developer: Code Black Belt
Rating: 4.9 (1700+ reviews)
Pricing: Pro plan: $9.99 |Free Plan Available
Frequently Bought Together provides Amazon-like product recommendations, upsell bundles and discounts for your Shopify store.
The app makes it easy for customers to add highly related products to shopping carts with just one-click. Frequently Bought Together analyzes customers' data and establishes a memory graph with product recommendations.
When customers visit a product page, they will see a bundle of related products that they can add to their shopping carts with just a single click.

Features
Uses an Amazon-like approach to cross-selling, with a "frequently bought together" widget that generates product ideas
Utilize AI to analyze previous purchases data and display automatic recommended product bundles.
Set specific numbers of recommended products
Allow you to customize the position of the upsell grid on your store's pages.
Create discounts in percentage value.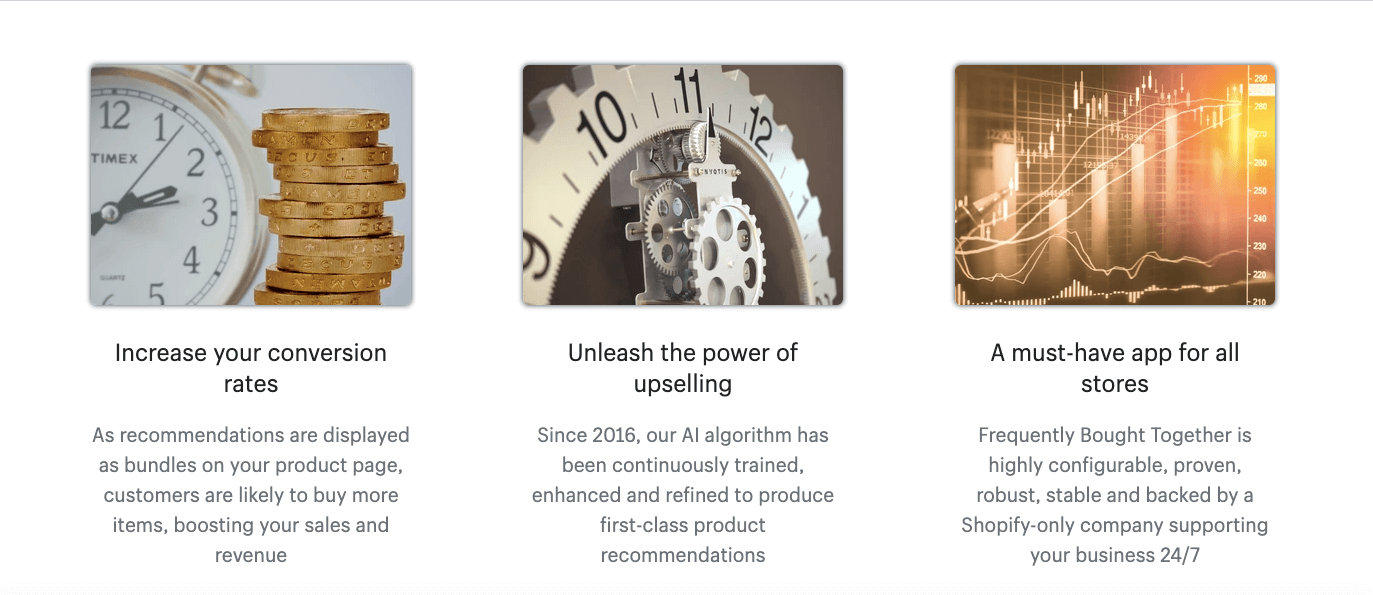 Developer: PickyStory
Rating: 4.9 (84 reviews)
Pricing: Starts from $19.5 | Free 14-days trial
PickyStroy is an upselling & cross-selling app for Shopify that enables merchants to generate more revenue from every customer by adding deals anywhere in their store.
PickyStory comes with a whole host of benefits and seemingly endless upselling potential. One of this app's best features is its diverse range of upsell bundles and other deals that can be displayed on any page in your store.
PickyStory's Combo Product feature gives merchants the power to create an aggregate of products to sell as one, while the Bundle Builder deal allows customers to pick and choose their own products in a mix-and-match format.
What's more, PickyStory auto-syncs your inventory at SKU level (yes, even for bundle deals), and all deals can be created with clicks (no coding knowledge required). Their customer support team is second-to-none and offers above-and-beyond assistance whenever it's needed.

Features
Create and display deals on any page in your store
Auto-sync your inventory at SKU level for all deals
Add optional discounts to any deal
Customize your deals to integrate seamlessly into your store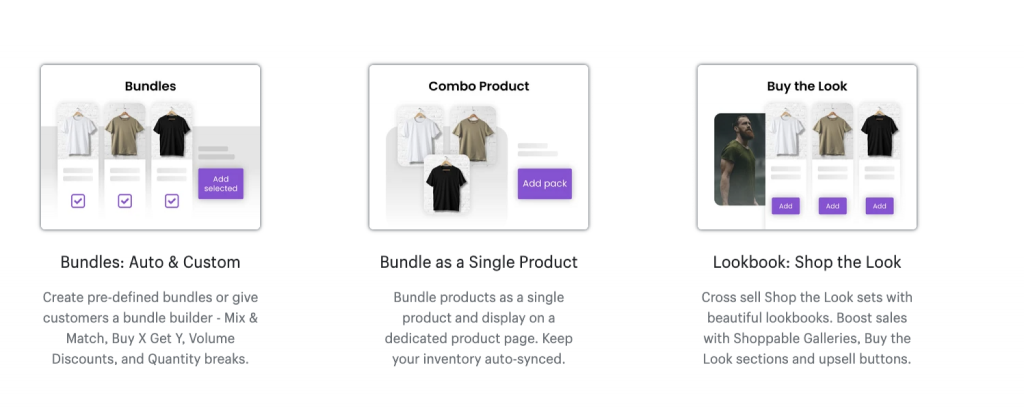 4. Klaviyo Email Marketing
Developer: Klaviyo
Rating: 4.2 (1300+ reviews)
Pricing: Free
Klaviyo email marketing offers a wide range of useful tools for your email marketing effort, from signup forms, robust segmentation to marketing automation across various channels and one of the best upsell apps for Shopify store.
Klaviyo provides comprehensive analysis about the marketing campaigns' efficiency, as well as evaluating the tendency of customers' purchase behavior. The app also helps you in designing email templates that match well with your website's images and messages.

Features
Re-convert lost sales with pre-built email flows, including abandoned cart and winback campaigns.
Combine data from Shopify and other apps to segment your audience and send personalized, highly-targeted email campaigns.
Provide 100+ pre-built integrations ranging from shipping solutions to rewards programs.
Offer in-depth reporting and analytics
Seamlessly sync customer segmented lists to Facebook and Instagram. This helps you target the right audience thus increasing your conversion rate.
Send timely text messages to customers who prefer receiving texts.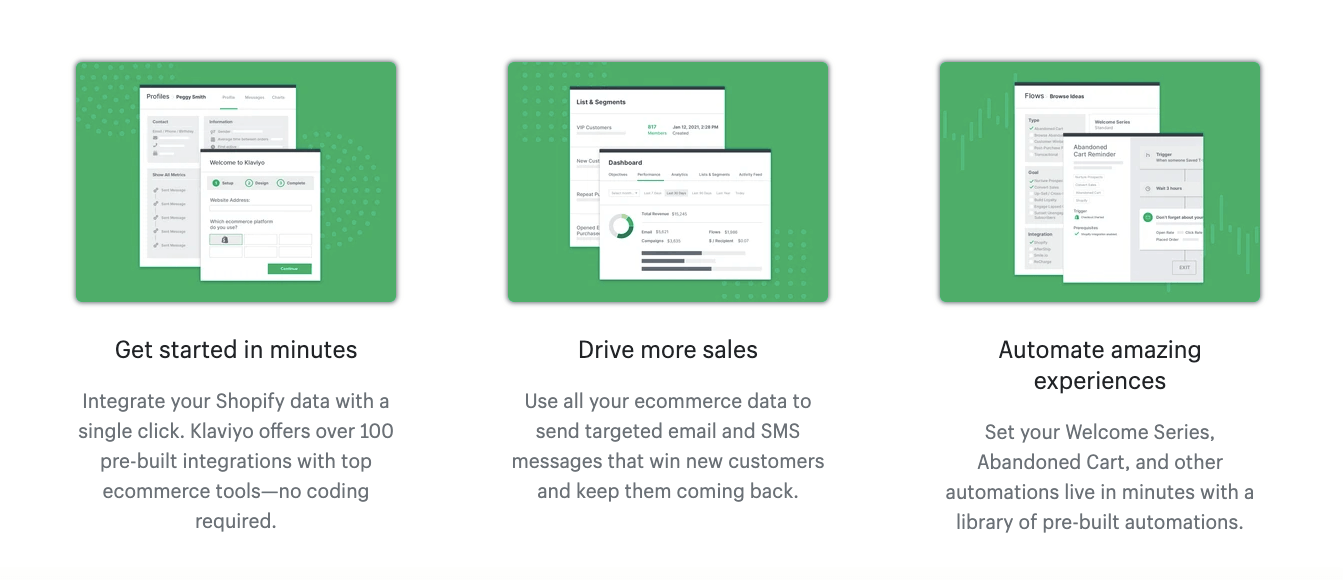 5. Personalizer
Developer: Limespot
Rating: 4.8 (1400+ reviews)
Pricing: Basic plan: $19
LimeSpot is an AI-powered personalization platform that empowers marketers and ecommerce professionals to deliver 1:1 personalized shopping experiences across web, mobile, emails, and ads. LimeSpot increases conversion rates, transaction size, and customer engagement.

Features
Real-time Audience Segmentation
Content Personalization
Dynamic Curated Collections
Intelligent products recommendation
Email personalization
Multiple websites coverage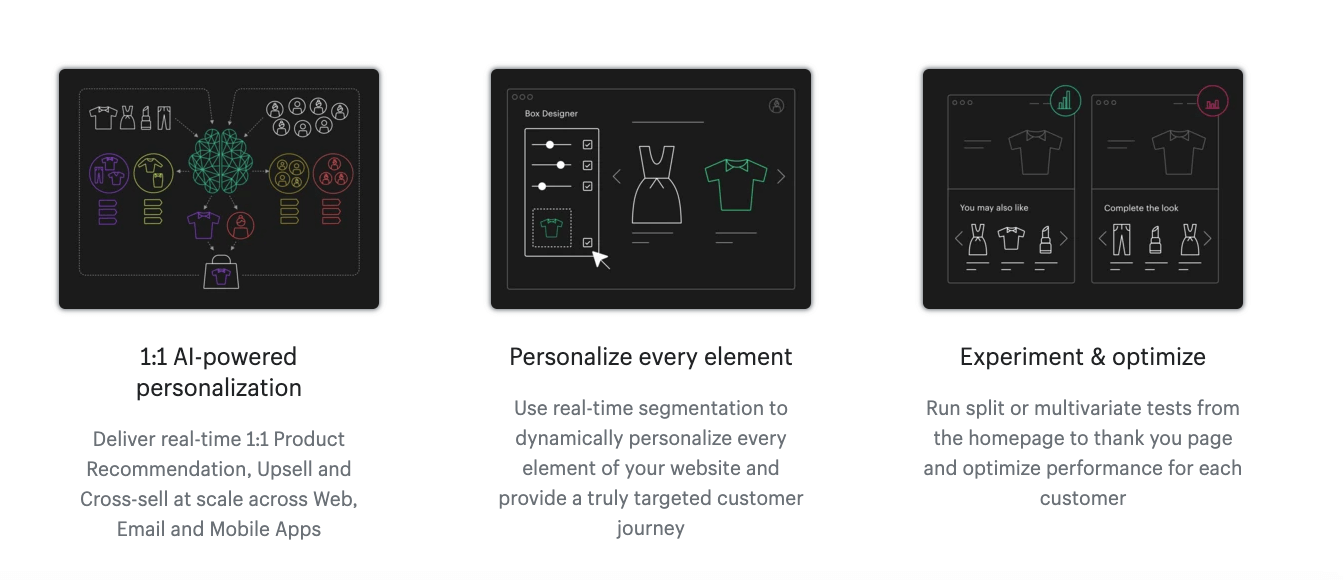 6. Discounted Upsells
Developer: Booster apps
Rating: 4.3 (1400+ reviews)
Pricing: Basic plan: $19.99
If you have customers ordering from your store we 100% recommend installing the app – the vast majority of Shopify stores see real results within their free trial.
Easily set up different discount upsells and start making more sales today! The app is fully customizable and takes less than a minute to get set up with some upsell offers.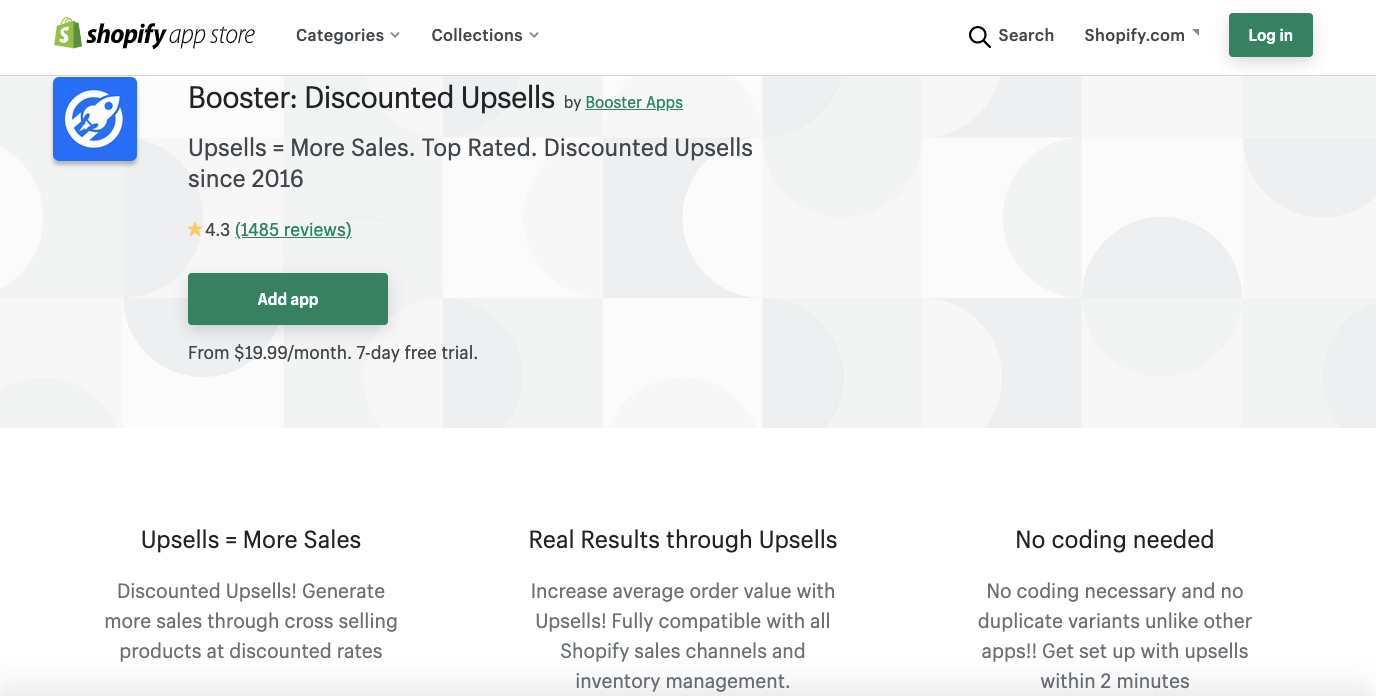 Features:
Offer customers upsell products and enable replacing a product with an upgraded version.
Upsell from a single product to a product bundle or kit.
Cross-sell related or complementary products.
AI friendly bot can calculate your perfect upsell offer based upon your order history.
Developer: FireApps
Rating: 4.9 (6300+ reviews)
Pricing: Starter plan: $9.9
Many of you would be asking why adding a reviews app on the list of upsell and cross-sell apps. The answer is simple, do you buy a product that has no customer review? No, right? So before you are working on any upsell or cross-sell strategies you need to make sure to add reviews to your products.
Ali Reviews is the top-rated social proof solution for all business models including Print-on-demand, DTC to increase sales with customer reviews.

Features:
Collect reviews by sending fully customizable and automated review request emails
Schedule emails by order status and add Country Timing to make sure emails reach customers at perfect timing
Launch follow-up emails to promote new products and boost sales
Display personalized reviews based on customer info (location/ AOV/ total spending) or on-site behavior (products in cart, viewed products)
Proactively display reviews of key products to upsell/cross-sell and increase Average Order Value
Far from just a boring review solution, Ali Reviews helps you leverage reviews intelligently to optimize conversion rate
Migrate reviews from other review apps like Loox, Yotpo, Stamped, Judge.me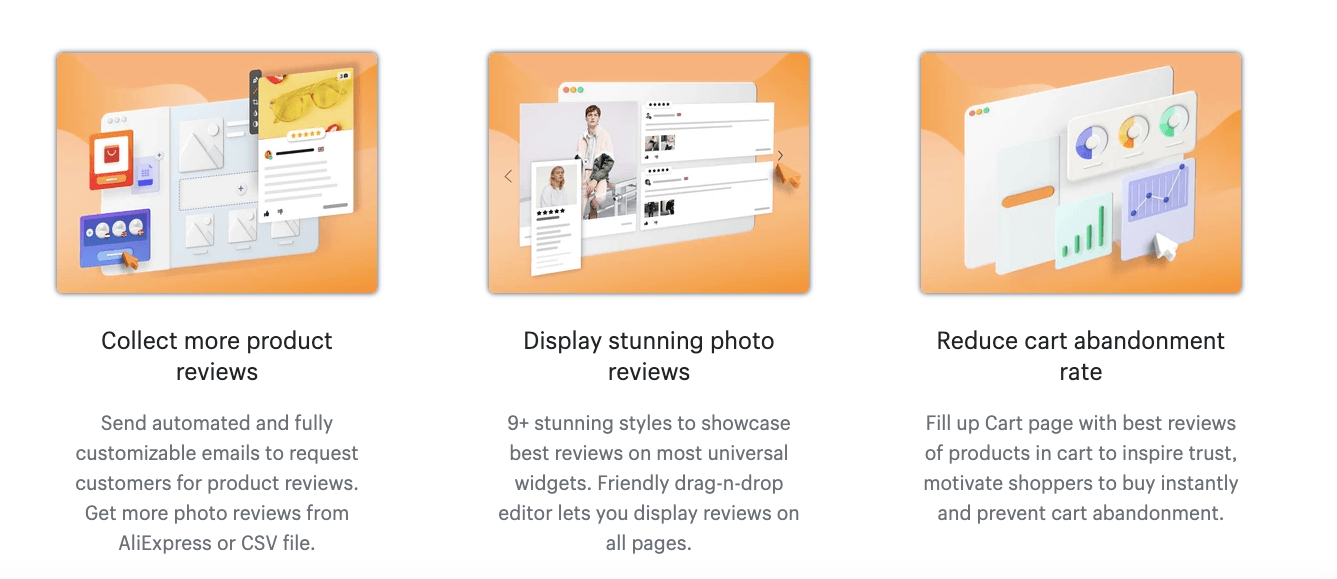 Developer: Shipway
Rating: 4.8 (34 reviews)
Pricing: From $9.99/month. 14-day free trial.
Buy Now Upsell Popup ‑ Trtle, a Shopify app is overtaken by Shipway. The app is adding value to the  "Super App", as it is a platform to help D2C merchants to boost their sales by setting up cross-selling, upselling, and bundling opportunities on their eCommerce websites and increasing their AOV.
The tool allows you to set a popup that will recommend similar products to your customers to what they have added to their cart, and the pop will appear as soon as they click on the "Add to Cart" button. The app is developed with an easy-to-use interface, in which you will not require any coding. Moreover, you can anytime add the upsell pop-up between the product page and the cart, also can you customize these pop-ups as per your brand theme to maintain the brands' visibility.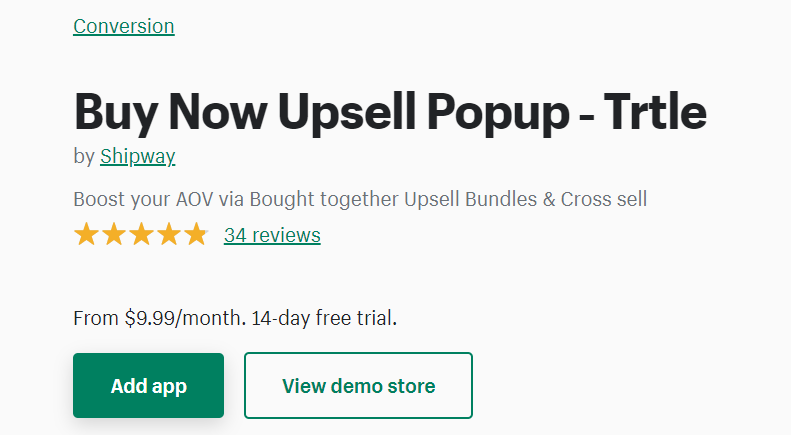 Here are some of the other additional features of the app include:
Add an upsell popup between the product page and the cart.
Instantly turn the app on or off.
Pre-populate your upsell with digital products.
Customize the upsell pop-up to suit your brand.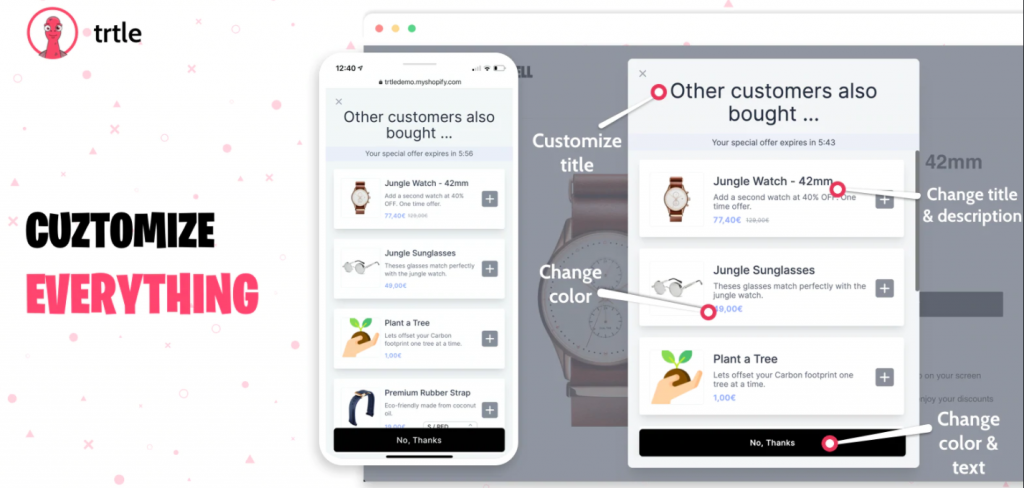 Before you go
Whether you just started out on Shopify or an established business those apps above will meet your needs. Before deciding to go with any apps, you have to make sure it fits well with your business objectives.
Selling to existing customers is always easier, more cost effective than to acquire a new one. So instead of focusing all your resources on acquisition which has proved to be very ineffective in the long run, spending more time to retain existing customers. Cross-selling and up-selling should be part of every e-commerce business sales strategy.
Let's find out more about the world of e-commerce here https://fireapps.io/