Top 9 Shopify themes to fancy up your store in holiday season
Shopify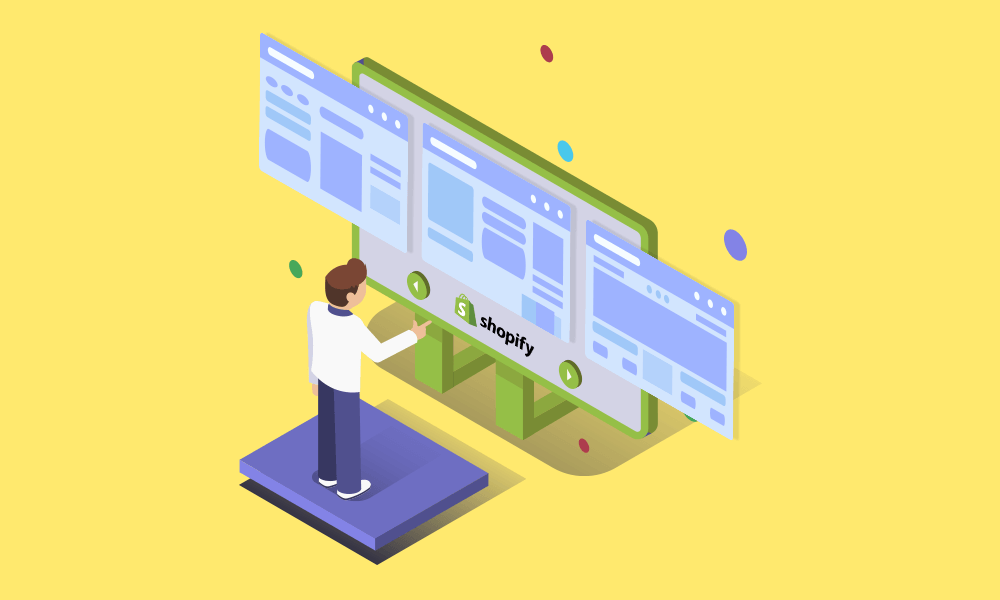 The look and experience of your online storefront matters in order to attract audiences, particularly nowadays when 38% of people will leave a website if they find the layout dull or difficult to navigate!
Shopify has been created to be as hassle-free as possible for merchants, so it's relatively easy to set up an e-commerce store and get it running in no time. However, due to the vast choice of themes, this decision can be overwhelming.
The end-of-year holiday season is nearing so let's take a look at important facets when choosing Shopify themes for your store and find out your best-fit theme.
Start your Shopify 14-day trial with FireApps
Did you know Shopify is now accounting for 20% of the e-commerce business.
Over 2200 merchants open their Shopify store everyday and 50% of them have a repeat purchase. Join them today!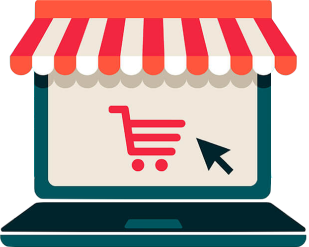 The importance of a perfect theme
So you might be wondering why it matters that your theme needs to be on point. Do people really care about the look on your website?
The fact here is, the overall theme and layout of your online store is what envelopes your brand. It's a visual representation of your business and how you position your online store.
Plus, it can have a remarkable effect on the performance of your online store in terms of conversion rates, credibility, and more.
Choosing Your Shopify Store Theme
Themes should include
There are some critical attributes that you should consider before jumping into choosing a perfect theme:
Search engine optimization
Built-in customizable settings
Desktop and mobile-optimized
Themes that have great reviews from other merchants
Theme support
Search themes by collection or industry
When you're browsing themes on the Shopify Theme Store, you can roll the top bar drop-down menus to find themes by collection or industry.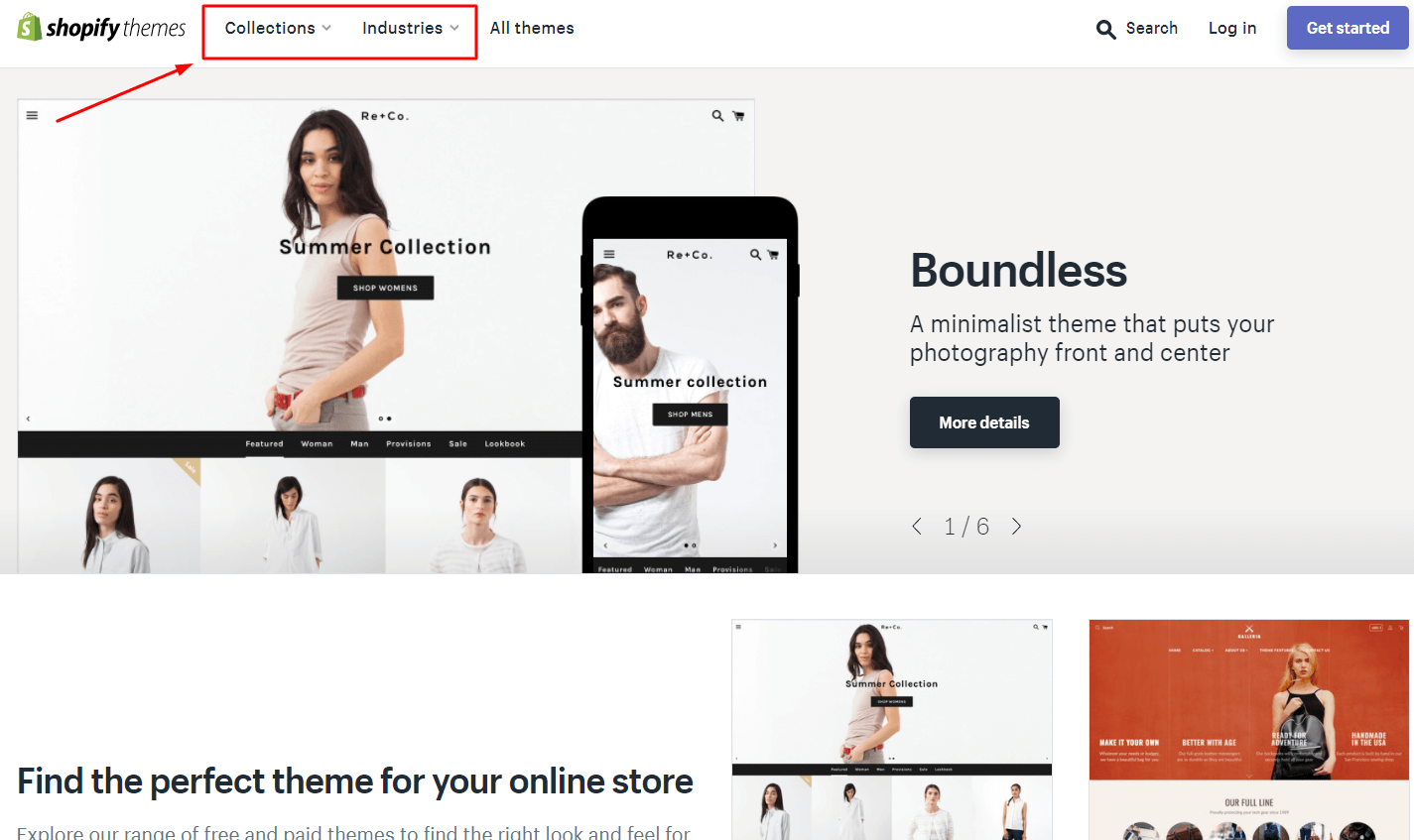 You can sort by collection to see themes with a certain style, layout, or business purpose. You can sort by industry to see themes that have been designed especially for an industry. However, themes are not restricted to only one industry. For example, a jewelry store could use a theme that is listed under "Clothing & Fashion" category.
While it might be fast to choose a theme for your site straight away, it's essential to think about customer experience first. These are some of the characteristics you need to pay attention to:
The customer experience you want to offer
You need to figure out the type of experience you want your customers to have when they visit your store. For instance, if you sell jewelry and accessories, maybe you want people to feel delightful and exquisite. If your store design is doing a great job, it should make your target audience feel comfortable, keep the focus on your products, and make it easy for the customers to purchase.
The features you'll need to use
Maybe you're prioritizing customer reviews or need to sell a large inventory. Whatever you decide, avoid trying to do too much stuff all at once. When starting out, keep it simple enough. After all, your objective is to create a cohesive, organized, and intuitive layout.
Looks great and is highly customizable
Choosing free Shopify themes doesn't mean you need to settle with original design. Customizing them will align the design of your eCommerce store with your business goals and should lead to increased sales.
Fast loading speed on both mobile and desktop
On mobile, 53% of visits are likely to be abandoned if pages take longer than three seconds to load, according to Google Think. Taking loading speed into consideration when choosing a theme will contribute to a reduced rate of cart abandonment rate.
It matches your brand
t's not just adapting your theme to match customer experience; a suitable theme also needs to represent your brand. That's why a great theme should be fully customizable and consistent, from your logo or fonts, layout to color schemes.
List down main features you want in a theme
Once you start browsing themes and dig down the features they can offer, make a list of the main features you like about listed themes. When you think of features you want for your store (layout, video, cart drawer, etc) go look for a theme that has most of those features and also fits well with your brand.
You want your theme to have most of the main features you are looking for so you can cut down on development costs in the future. If you see a theme with one feature you really like but doesn't have 5 other features then don't pick it. Instead, go with the theme that has more of the features you wanted. When looking for the features of a theme, the main ones are listed right under the preview page.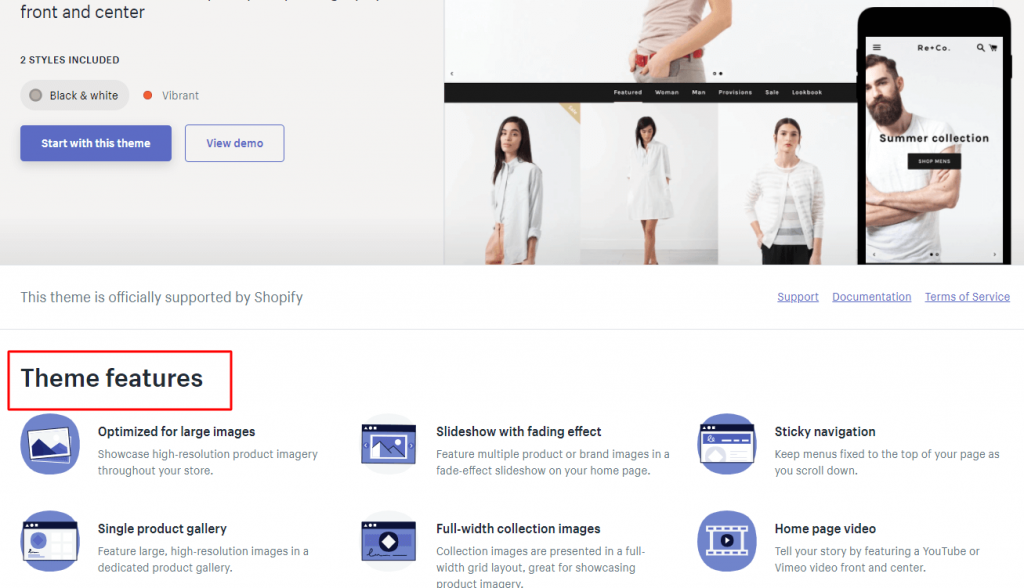 9 Best Shopify themes for your store in 2020
We've narrowed down to a shortlist of Shopify themes based on all criteria mentioned above. These are themes that are intuitive, easy to use, customizable, and are many other merchants' favorites.
Designed to beautifully showcase your brand and products. Debut your store with the ideal Shopify theme for a carefully curated selection of products. Don't let the simple design fool you, as there's a ton of power under the hood, including built-in customer testimonials, predictive search, and an optional banner for promotion purposes.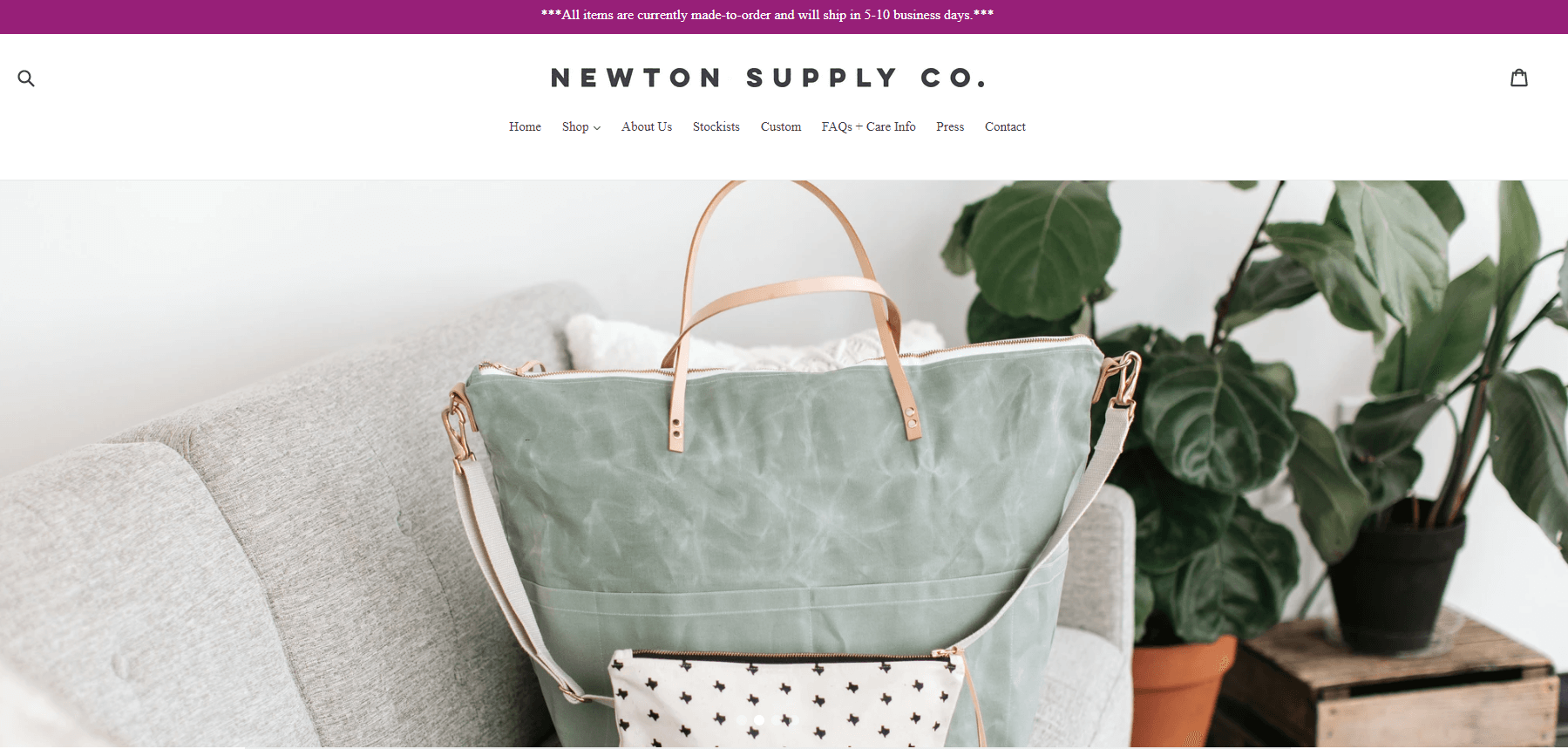 Debutify is a superb option if you're looking for a solid alternative to Shopify-distributed themes. The theme doesn't require any coding and it also presents a fast page loading speed, which is an important advantage to improve shopping experience and reduce store abandonment.
Debutify offers many advanced and immense options for you to customize, such as an option to add an editable footer or product testimonials, as well as product filters and a featured image slider.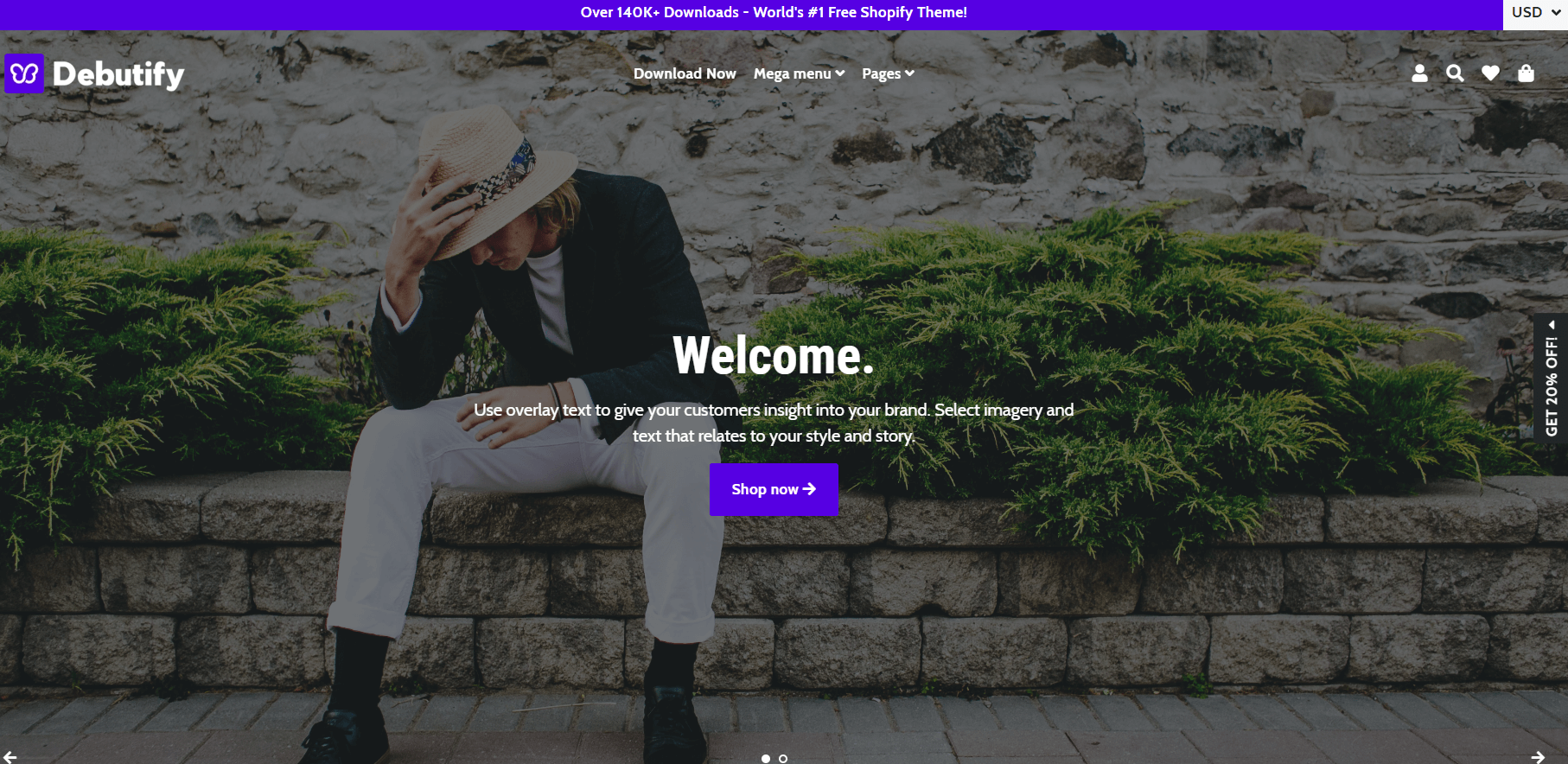 ?Holiday gift: As holiday season is nearing and we all know it's an important time for your business to hit more sales, we offer a 10% discount code when you download Debutify theme. Just enter ALIREVIEWS10 and you'll get the gift!
The Brooklyn Shopify theme offers two separate styles. The first style, called Classic, is super ideal for modern apparel stores or any type of clothing line. The Playful style presents a more niche version of the theme, with bright colors, which would look great for dreamy brand vibes such as cupcakes or kids' clothing shops. The header slideshow is one of its best features since it lets you showcase various products on the top of your homepage. You also get to have a dynamic product grid that acts as a gallery for your most popular products.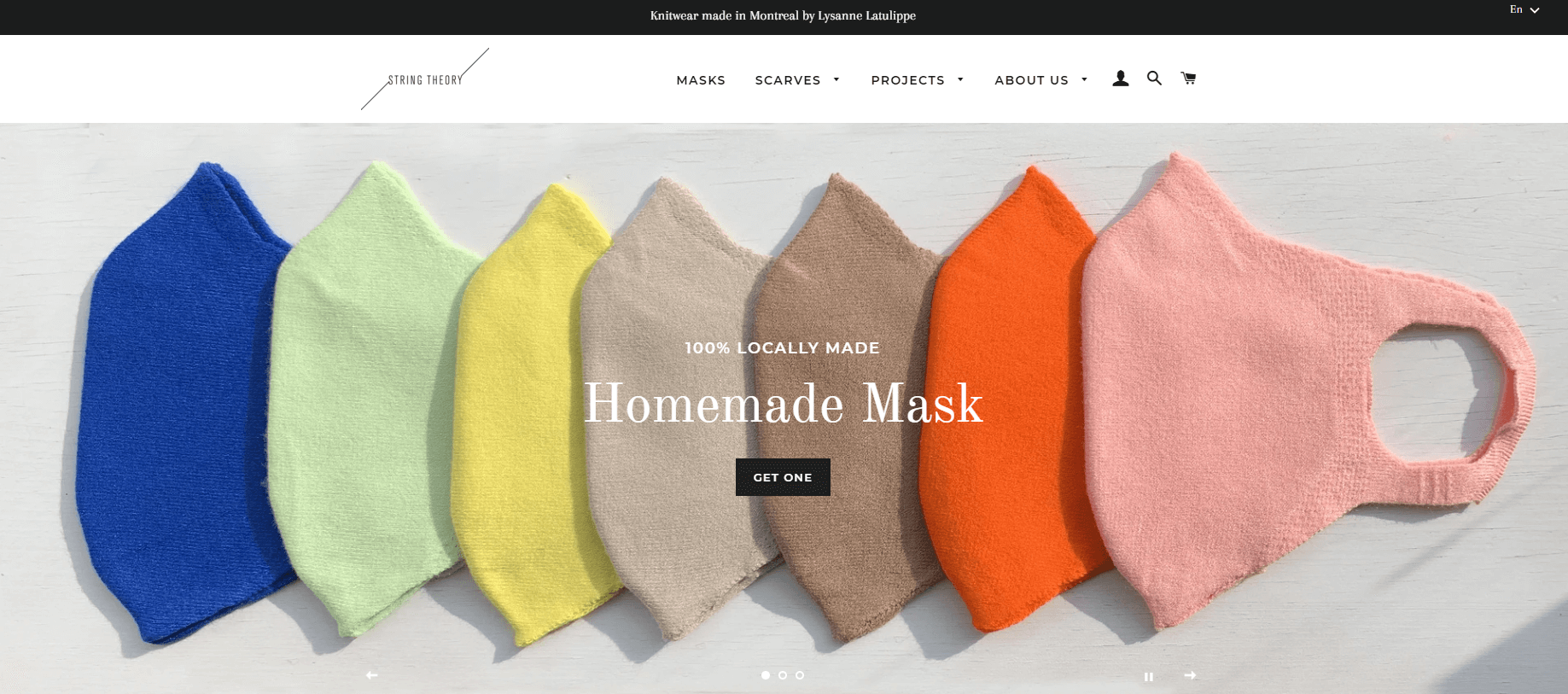 You may have known that the slide-out cart improves the shopping experience for a number of reasons. First, it doesn't make your customers go through numerous clicks to get to their shopping cart. Besides, they are reminded of the products left in their shopping cart. So, this bodes well for the merchants as well, since you could potentially get more conversions. Also, a homepage video is available in the Brooklyn theme. It starts playing once a visitor arrives, helping you explain your brand or talk about a new product release.
Narrative is a free Shopify theme that offers multiple styles with different color styles. The main reason you'd choose this theme is if you plan on having a small inventory and collection. So, it's ideal for smaller companies or startups just getting the ball rolling. It's also a nice solution for those selling one or two products. The hero video features an autoplay, along with a fullscreen button for those who want a better view. Essentially, the Narrative theme works best for visual storytelling. You can freely customize everything from section quotes to images, guiding customers through the story of your brand.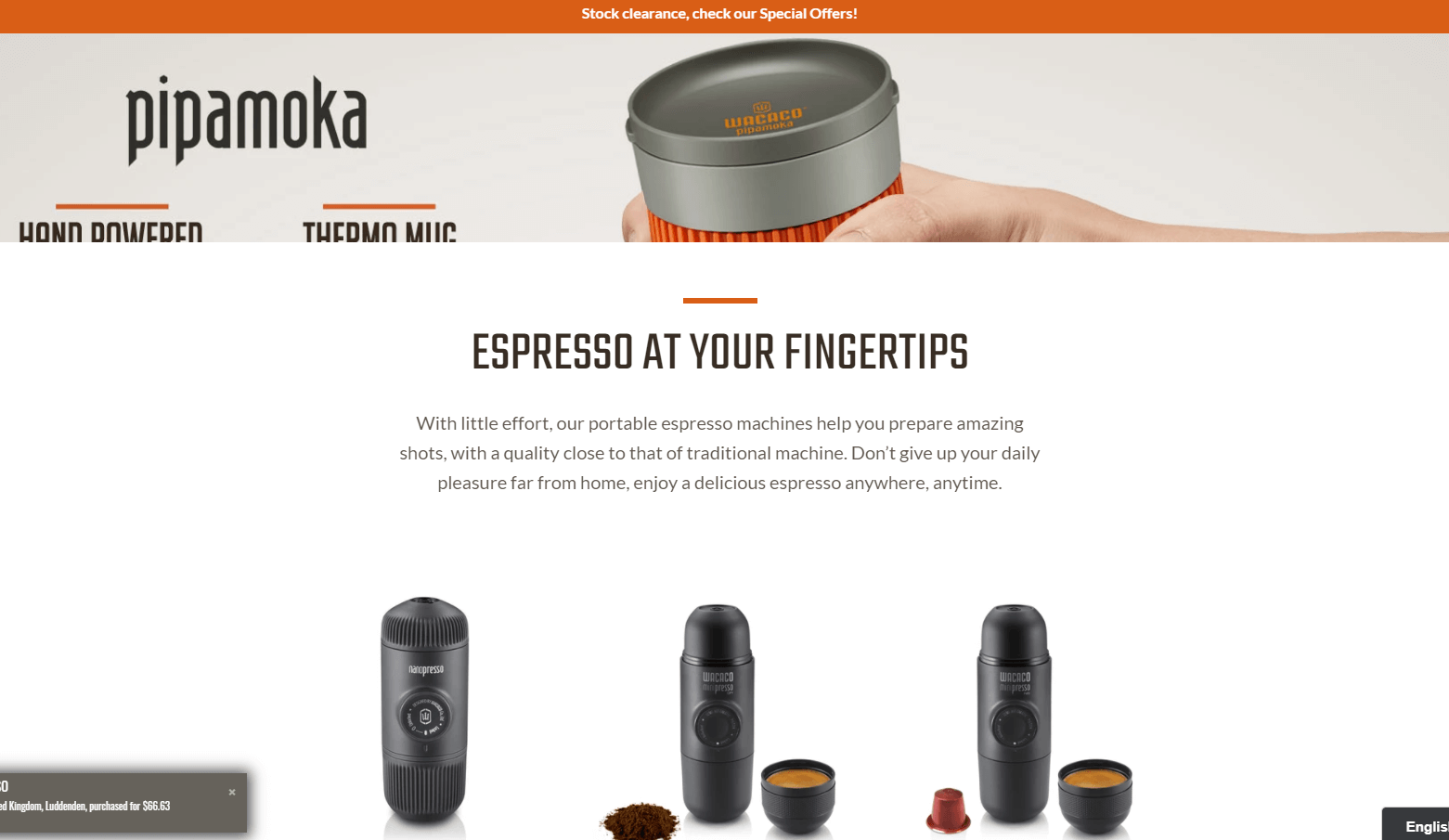 The navigation gives a better browsing experience for customers. The menu pops up when someone scrolls around your page, therefore leading them to the right buttons when they need to go somewhere else. There's also a vertical slideshow for showcasing your products, blog or other images. Along with a wide layout version and interesting features, you should definitely consider Narrative when trying to sell just a few products.
Supply is a free Shopify theme with an indeed simple and clean design. It's suitable for stores of all sizes but aimed at those with large product catalogs.
There are two styles you can choose from: Blue and Light. Blue uses a white-and-blue color scheme which fits electronics/technology stores, while Light harnesses neutral colors to achieve a different look that might be more suited for retailers in the fashion industry.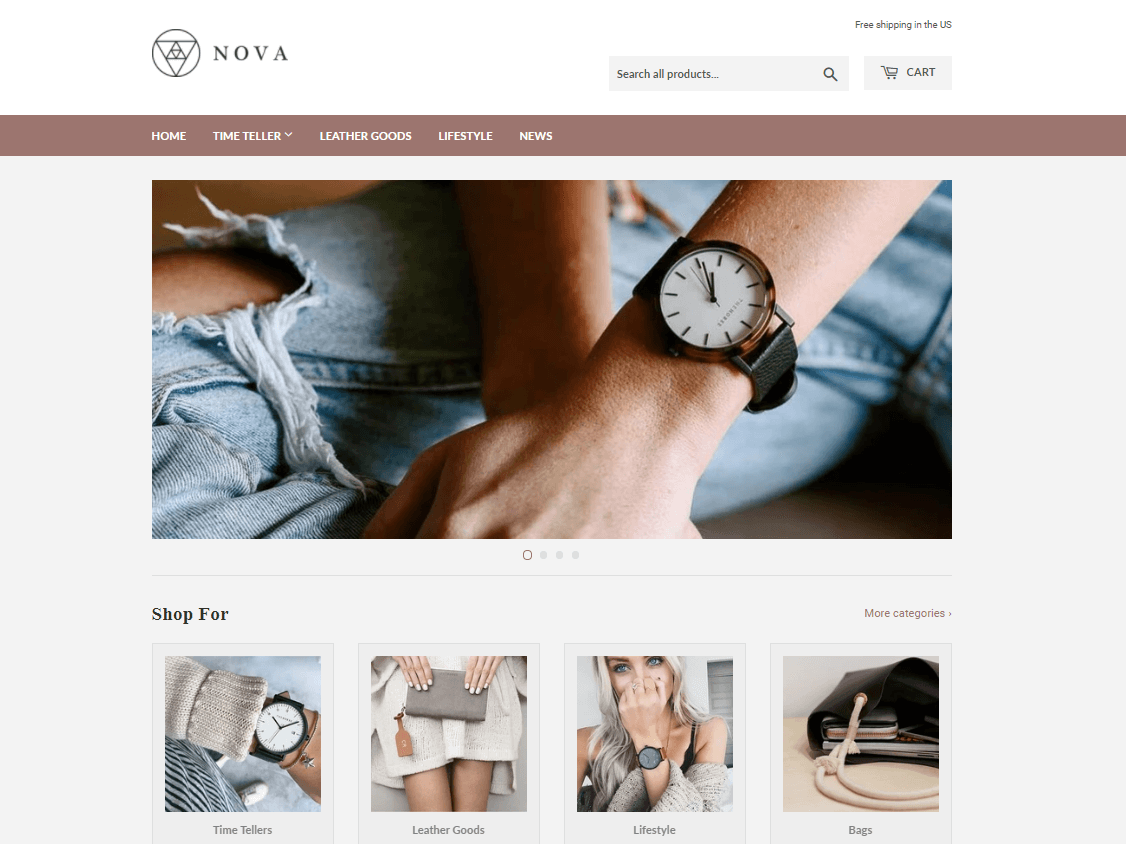 Supply presents a homepage slideshow and a sticky navigation menu. It also comes with advanced product filtering and sorting capabilities that allow shoppers to have easier searching for the products they need.
Minimalist themes are ideal because you can use them for many different categories. However, maybe you'll want something that looks and feels unique. Venture is a free Shopify theme that has a clear outdoorsy vibe, so it's a primary solution if your product targets the sports and adventure categories.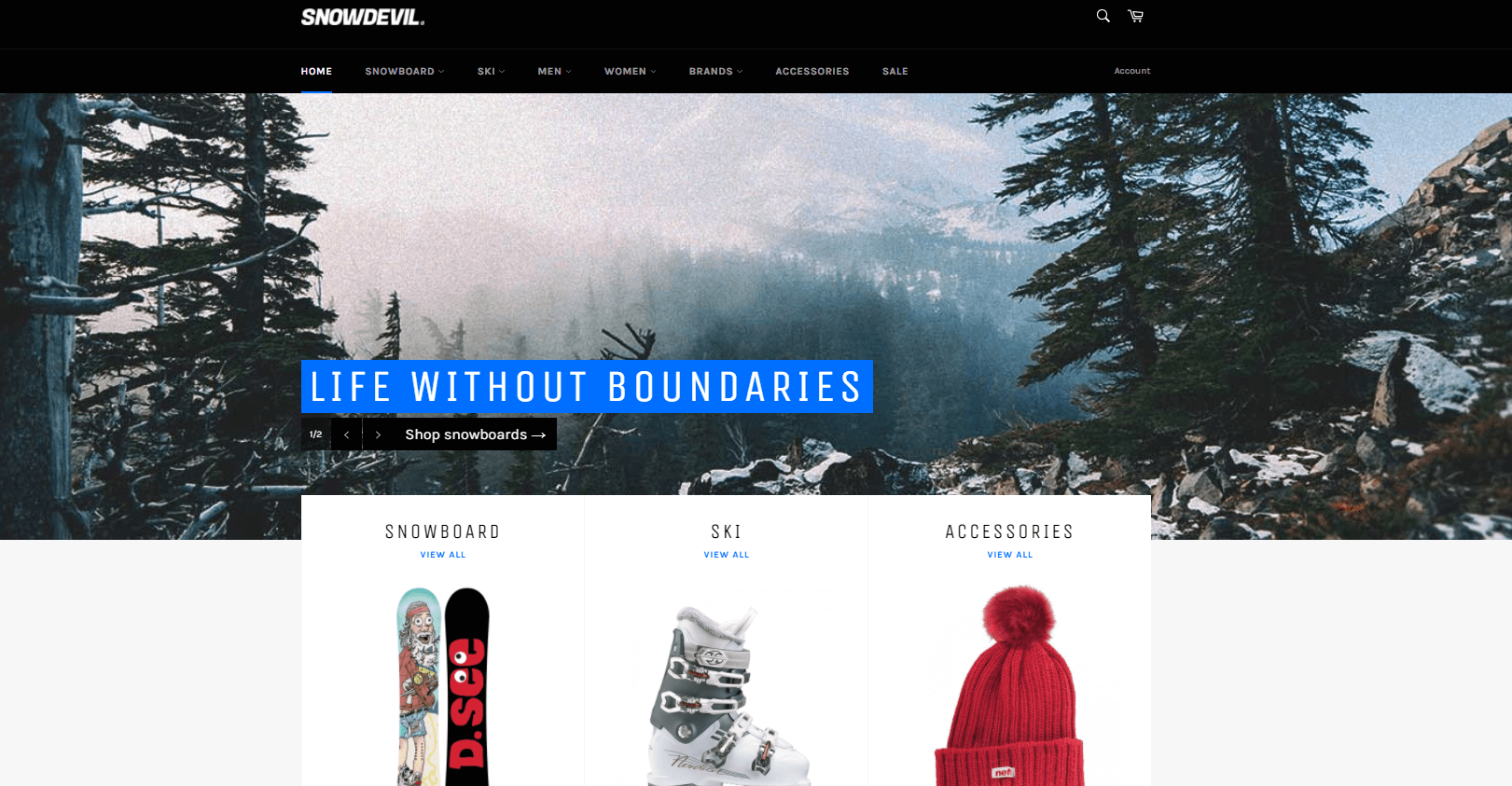 You should keep in mind that this theme is for Shopify dropshipping stores with many products, so if you own just a few products it may not be the best option.
EcomSolid includes pre-made highly convertible templates targeted for general niche and dropshipping stores. EcomSolid allows you to create your own customized sections so you can re-use them on other EcomSolid stores without recreating them from scratch.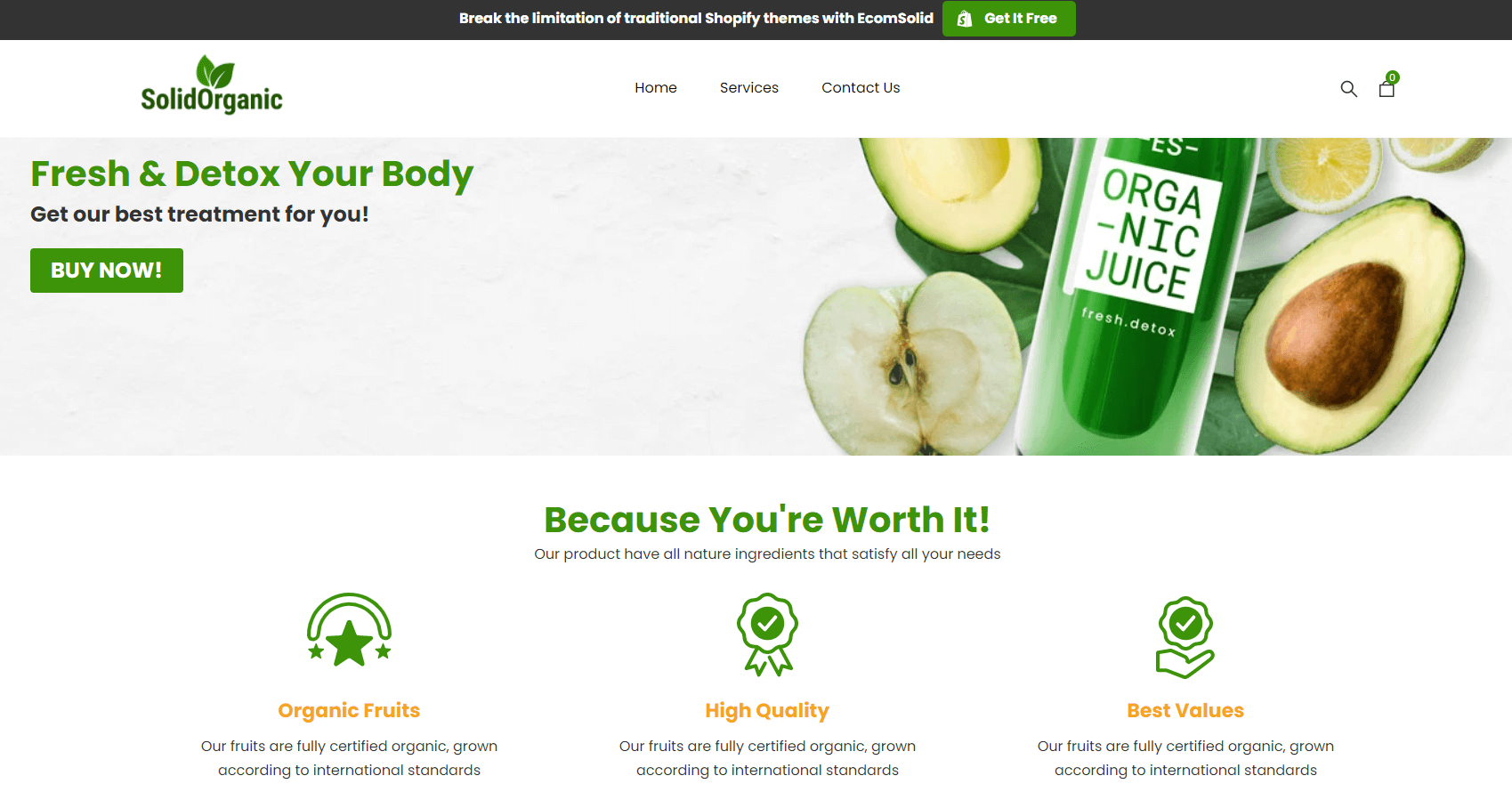 Mobile experience and page loading time are also optimized for EcomSolid themes to help boost your Shopify store's conversion rate.
With EcomSolid, you have complete freedom in designing your store layout. This is an advantage if you wish to design your storefront for specific occasions such as BFCM or holiday seasons. With Forever Free plan available, you can try all features to build your store concretely.
Molla is known as a modern and niche eCommerce template gallery that is ideal for your eCommerce business. Molla offers 20 niche demos, multiple variations for various industries, category, and product detail pages. All themes are updated constantly with more features for your functioning.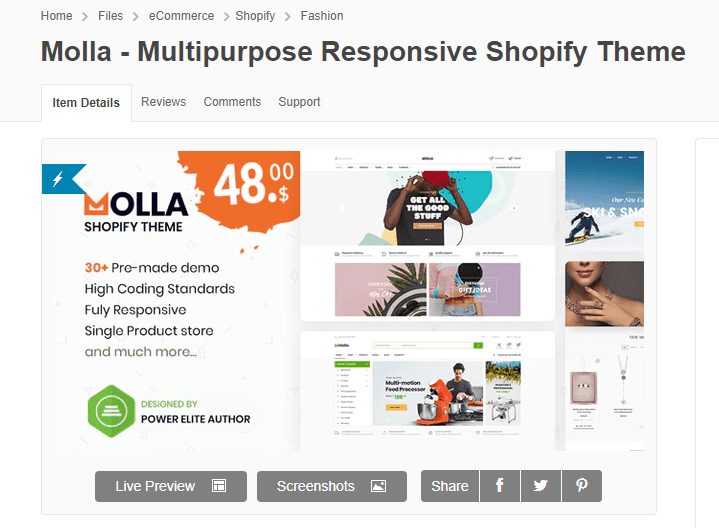 Shella works to boost your store performance, and whilst performance is impacted by what you, the user upload to modify on your online store, this Shopify theme gives you an amazing head start. It includes many features such as advanced filters, a banner builder, and a MegaMenu builder and regularly sees new skins added when it's updated. If you want suitable and fully customized Shopify templates, this is definitely a great option to consider.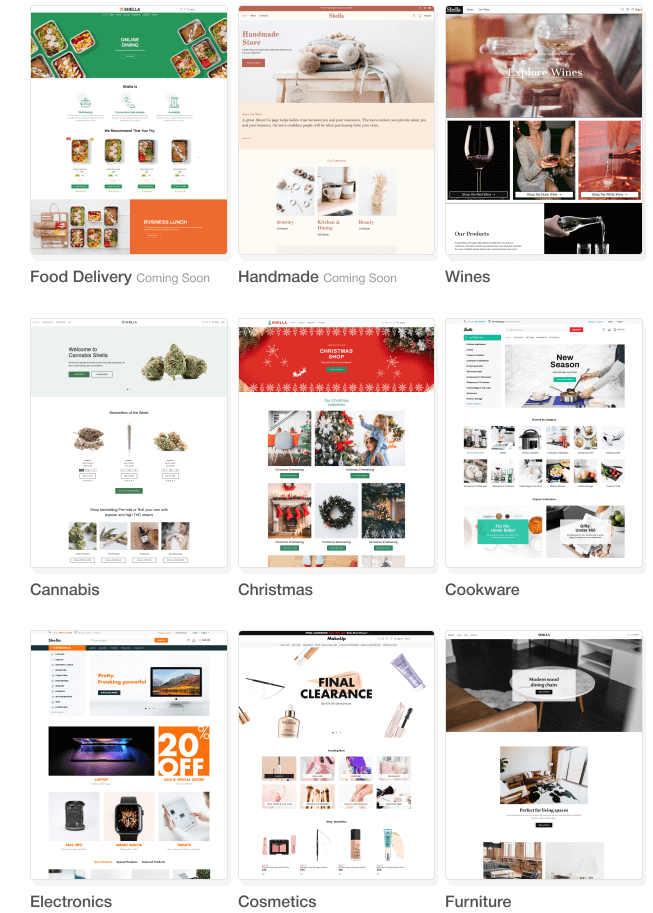 Let's pick "the one" for your Shopify store!
Narrowing down and picking the perfect Shopify theme for your online store might seem like a daunting task but when you see the effort, time and resources that you have put into the process are paid off and get a return on your investment through high customer conversion rates, it will all be worth it.
Are there any specific traits that you like to focus on when selecting a Shopify theme? Any tips that you have learned from past experience? We hope this article has helped simplify the Shopify theme selection process for you so that you can focus your energy and resources on other parts of your business and let your business fly!
Launch your Shopify store now! https://www.shopify.com/
Popular post: