Transcy vs Weglot: Choose the best Shopify translation app in 2021?
Shopify
With 25% of the world's population now shopping online, the global online e – commerce industry is more enormous.
Looking ahead to 2021, the international e-commerce industry is expected to deposit funds for a whopping 17.5% of global retail sales.
Shoppers are increasingly interested in purchasing goods from countries other than their own, with 57% making an overseas purchase in the second half of 2018. Indeed, by 2021, the cross-border ecommerce industry will be worth €881 billion ($994 billion USD).
We previously discussed the top 5 Shopify translation apps, and Weglot has many users in the industry now, but if you're looking for the right one with many conditions and high-powered features to meet your business's needs, Transcy is also precisely chosen to increase their share in the international market.
More information can be found in the general comparison table of Weglot and Transcy below.
Transcy

Weglot

Best for
Adapt to all size businesses site for displaying translated store content & currency converter
Enterprises with multi-language translation
Pricing
$17.9/month, up to 100,000 words
$19/month, 50,000 words
Pros
– Support 100+ languages
– Use Shopify & Google API for quality translation
– Navigate UI/UX
– Easy to use
– Customize languages switcher
– Add-on currency converter without costs
– Dedicated customer support and so on….
– Support 150+ languages
– Easy to use
– SEO friendly, hreflang tags, metadata
– Simple & Intuitive
– Customize languages switcher
Cons
– Not multilingual SEO optimized metadata, Hreflang tags, metadata
– Many essential features are not supported: Third-party app translation, Auto-update language translation,…
– Pricing plan is expensive
Now, we hope you have a clear picture of both translation tools and can select the best one for your business website. So let's get this party started.
Overview: Transcy vs Weglot
1. Transcy
Transcy is a fantastic tool for creating a multilingual version of a website or store in a matter of minutes for businesses of all sizes. Furthermore, it aids in the conversion of over 160 currencies in order to localize your customers' shopping experiences.

Despite the fact that Transcy was only released a few months ago, it has already achieved and left an indelible mark in the e-commerce industry.
Transcy handles everything for you if you need to sell across borders. In terms of features, speed, and customer support, it outperforms all other tools.
Transcy - The ideal localization solution for all size businesses
Transcy is the most efficient way to assist you in multilingually translating your whole Shopify store content and converting your local currencies in order to provide localized experiences, increase sales, and scale globally.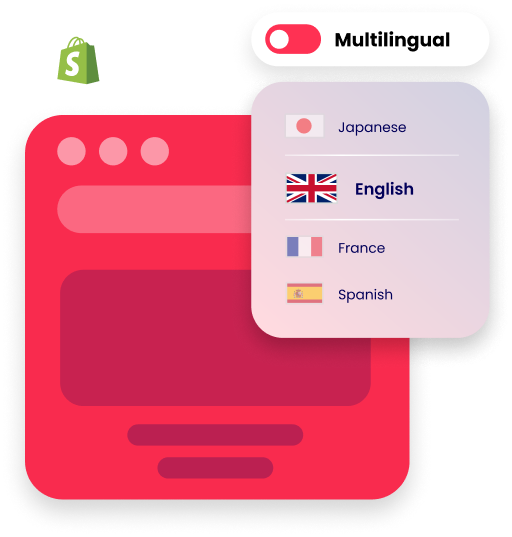 2. Weglot
Weglot is a simple way to create a multilingual website and translate it into multiple languages. It is one of the best translation tools available and has received numerous positive customer reviews.

It is compatible with any CMS and can be integrated with them in a matter of minutes.
The tool translates the pages using the best machine learning providers' automatic and human translation. The tool assists you in serving the pages in the language of your audience's choice based on their browser settings.
1.1. Features
Understanding the key differences between the two tools is critical. Don't worry, I'll give you a rundown of the features that each tool has to offer.
The following is a list of Transcy's features:
Edit content manually and manage content in single place
Use Shopify APIs & Google APIs for the highest translation quality
Third-party app features to translate content in front-end apps like Product Reviews, Sales Pop-up, Information Box, Widgets,… for smarter and faster translations
The media replacement feature allows you to add a specific image for every translation, translates the homepage banner, product images, e.g to give your store the best look possible
Auto-update language translation to up-to-date new content for your products and collections to save you time, effort, and money.
Customize language switcher to fit your store themes and have great website looks
Moreover, Transcy gives the Currency converter with no costs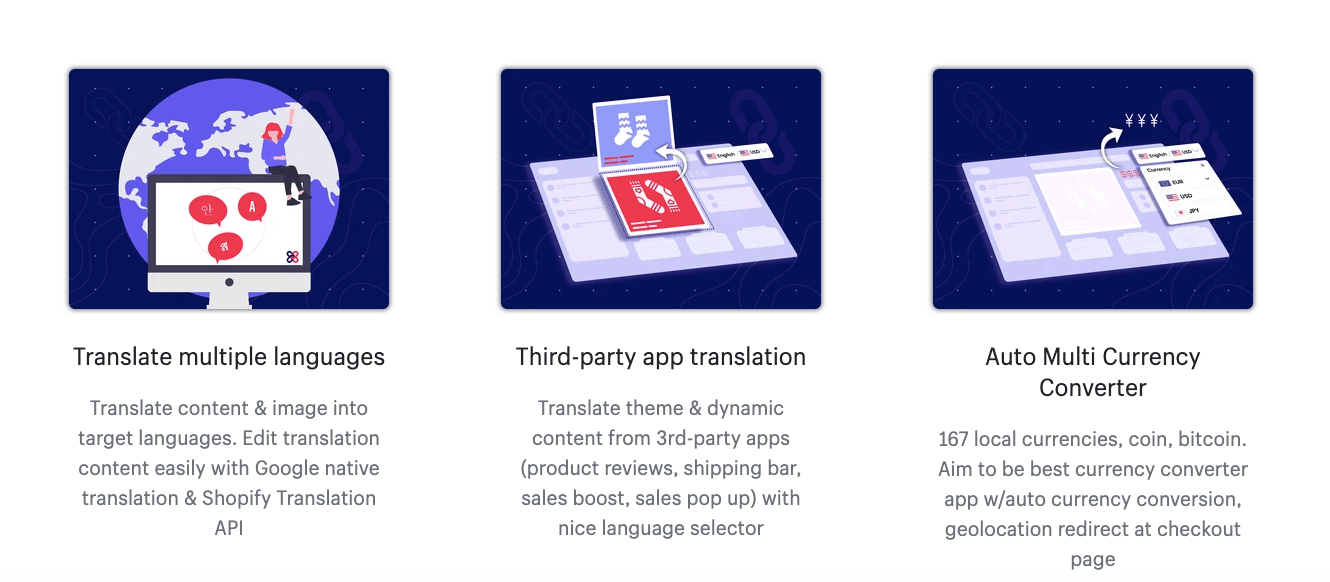 Weglot
The following is a list of Weglot's features:
Automatically detects content for translation
Allows you to collaborate with your team members
Manage all translations from a single location
Uses automatic and human translation from the best machine learning providers
SEO-optimized translated pages with automatic indexing
Auto-redirection based on browser settings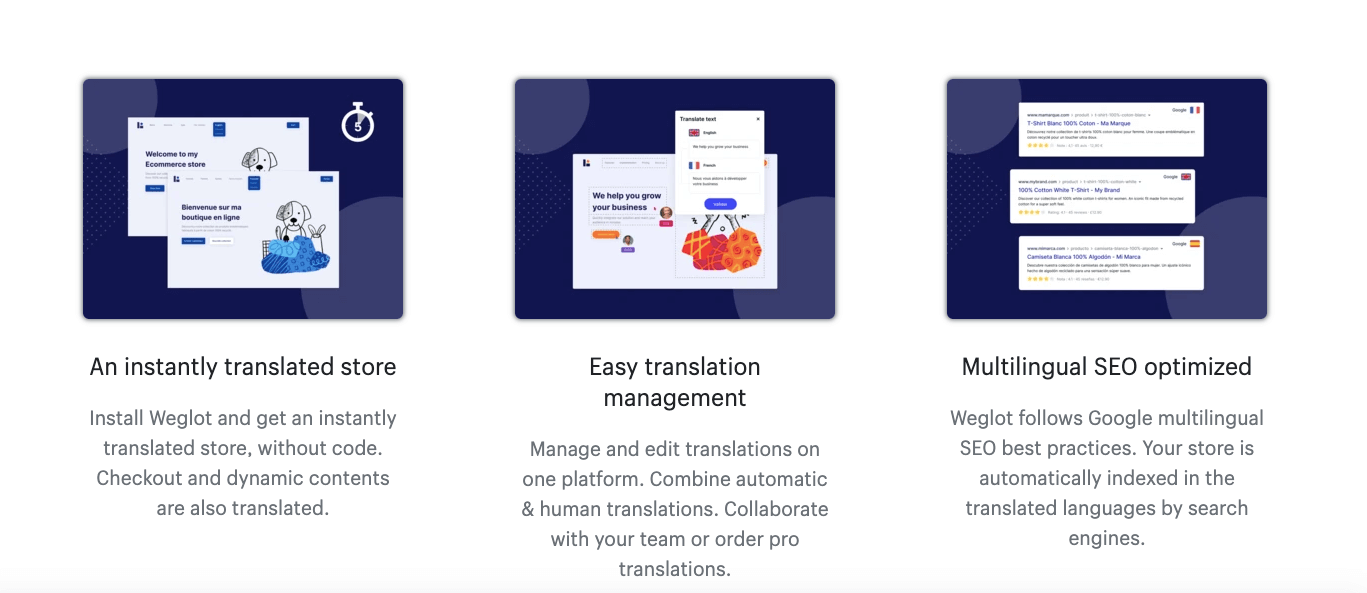 1.2. Pricing
Pricing is an important consideration, and we must exercise extreme caution in this regard. Checking if the price of a product is worth paying is one wise way to go about it.
When it comes to pricing, however, the two tools have completely different pricing models. Allow us to walk you through the pricing of the two Shopify translation apps so you can choose the best one for you.
Transcy
Free: 2000 words, 1 translated word, 167 currencies
Starter: $17.9/month, 100,000 words, 5 translated words, 167 currencies
Essential: $39.9/month, 250,000 words plus 50,000 free words/month, 5 translated words, 167 currencies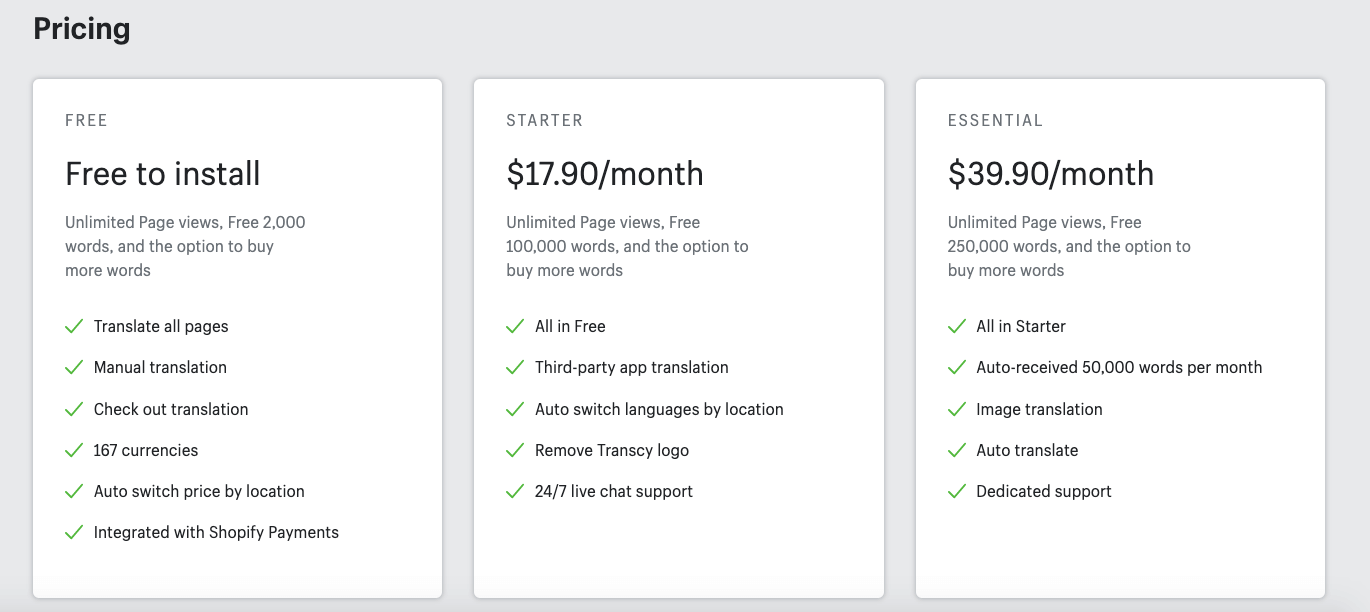 Transcy provides you with more options based on the size and needs of your business. It's convenient and saves money on currency conversion fees.
Weglot
Free: 2000 words, 1 translated language
Starter: £99 per year, 10,000 words, 1 translated language
Business:£190 per year, 50,000 words, 3 translated languages
Pro: £490 per year, 200,000 words, 5 translated languages
Advanced: £1990 per year, 1,000,000, 10 translated languages
Weglot also allows you to create a personalized plan based on your usage.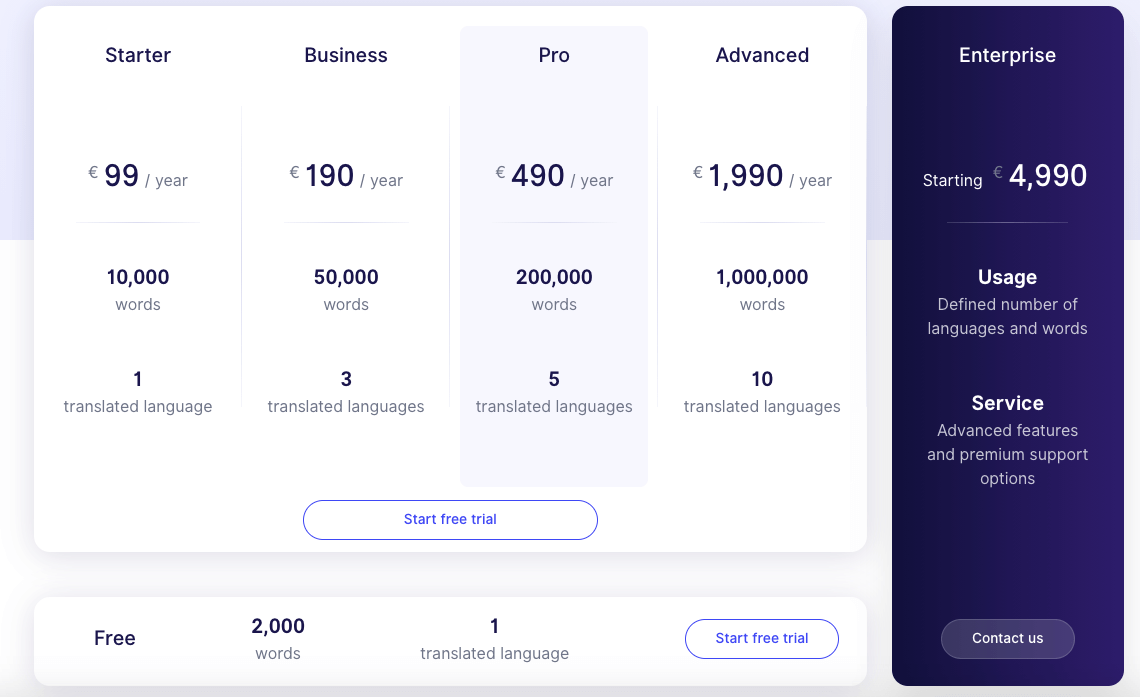 As previously stated, Transcy is less expensive than Weglot. Transcy also allows you to spend more money by using a currency converter.
1.3. Easy to use
Despite the fact that both Shopify translation apps claim to be very user-friendly, it is never a good idea to take their word for it without conducting an in-depth analysis of the factor.
Transcy
Very easy to use
Easy to translate content
User-friendly installation
Navigate with UI/UX
Weglot
Easy set-up
Easy to integrate with other marketing tools
Easy to translate content
1.4. Customer Support
Support is another important factor to consider when choosing an online tool because you never know when you will run into technical difficulties. At times like these, having fantastic customer support service can be a huge relief.
Transcy's dedicated support team is always ready to solve your business problems, providing assistance via chat and email 24 hours a day, seven days a week.
Weglot also provides excellent support, which includes documentation, API status, and email.
So, which one do you choose?
After comparing both Weglot and Transcy platforms and noting a few similarities and differences, as well as a few pros and cons, and so on.
As a result, before deciding which platform to use for their website, users must thoroughly investigate both options. I would recommend that you try out the free version for the specified number of days before deciding whether or not to use that platform for an extended period of time. I hope you found this article useful.
Let's find out more about the world of e-commerce here https://fireapps.io/