Ali Reviews new pricing released
Over the last year, the team of Ali Reviews has worked hard at work developing, improving, and innovating the product review features and related functions to help our merchants reach their business goals.
Today we're excited to share with you Ali Reviews new pricing that will better reflect the needs of our customers while also allowing us to keep growing Ali Reviews to suit any business model.
Our new pricing WILL NOT affect current paying customers who have purchased plans before July 12th, 2021. As thanks saying for being our valued customer, we give them a Customer Appreciation Plan (CAP). The CAP supports them to upgrade to a higher plan at their old price plans.
As our pricing changes, we wanted to make sure that the change is as fair as possible. You also can understand what we are doing and what it means for you.
New Pricing
Starting July 12th, 2021, the pricing of Ali Reviews will be updated. We will still offer a 7-day trial for new customers. Every customer receives 24/7 live chat support and valuable newsletters.
To learn the new pricing plan details, please view our full new pricing.
How pricing changes affect?
This new pricing plan will apply to:
Users who are NOT paid users before the new pricing released.
Users who install the app after the new pricing released.
As already mentioned, our CAP will benefit all customers paying before July 12th, 2021. It helps automatically update their account to a higher plan while maintaining the pricing of their old plan. Take a look in detail.
*Note: The pricing plan will be reset to the new pricing if paid customers uninstall the Ali Reviews app.
What improvements in this release:
1. Dynamic Review from Abandoned Cart
On average, 7 out of 10 online shoppers rush away at the last minute to complete their transactions. We understand your challenge, so we developed the most unique function in the market, named Dynamic Review.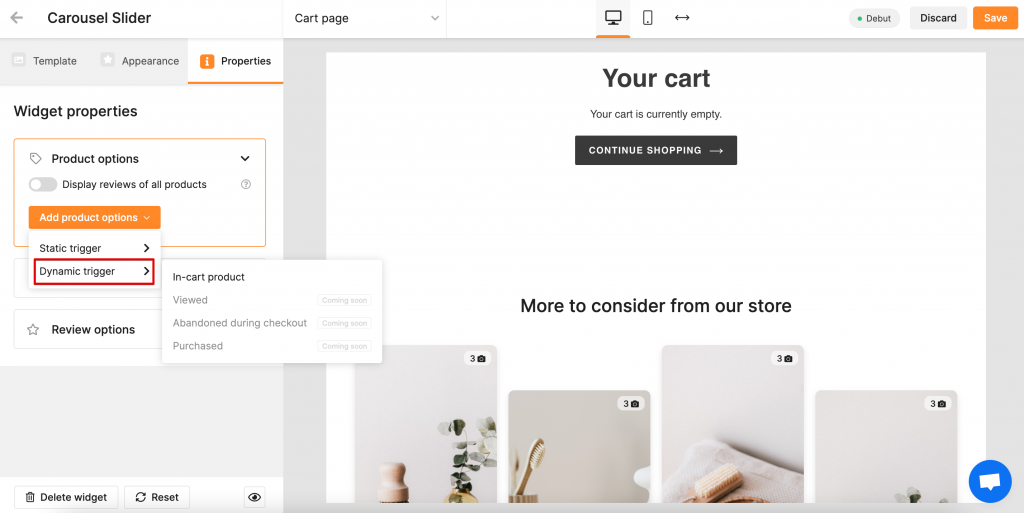 When a customer adds products to their shopping cart but does not complete the checkout procedure, Dynamic reviews will appear as reviews of products added to the shopping cart and show them on all pages. From there helps you drastically cut the cart abandonment rates. Dynamic review works perfectly on all pages.
2. UI in-app improvement
In this update, we've made some improvements to the UI based on our users' feedback and behaviors. This UI makes it easier for users to possess an appropriate workflow and quickly achieves the aimed results.
If you're already a user of Ali Reviews, log into the app to see what's new. Or if you haven't used Ali Reviews yet, get the app now.
Thank you for using Ali Reviews throughout the year. Stay tuned for more information!