Get Transcy's new pricing plans to empower your Shopify store
On Dec 28, 2021, Transcy released a new version to improve the app interface and add on more features to help you use it better and conveniently. Let's talk about some changes about Transcy this ver 3.12.
1. Language
In the Manage Content section, Transcy will limit the translation string's length to the corresponding Shopify limit, so that translations pushed to Shopify do not fail due to Shopify's length limit.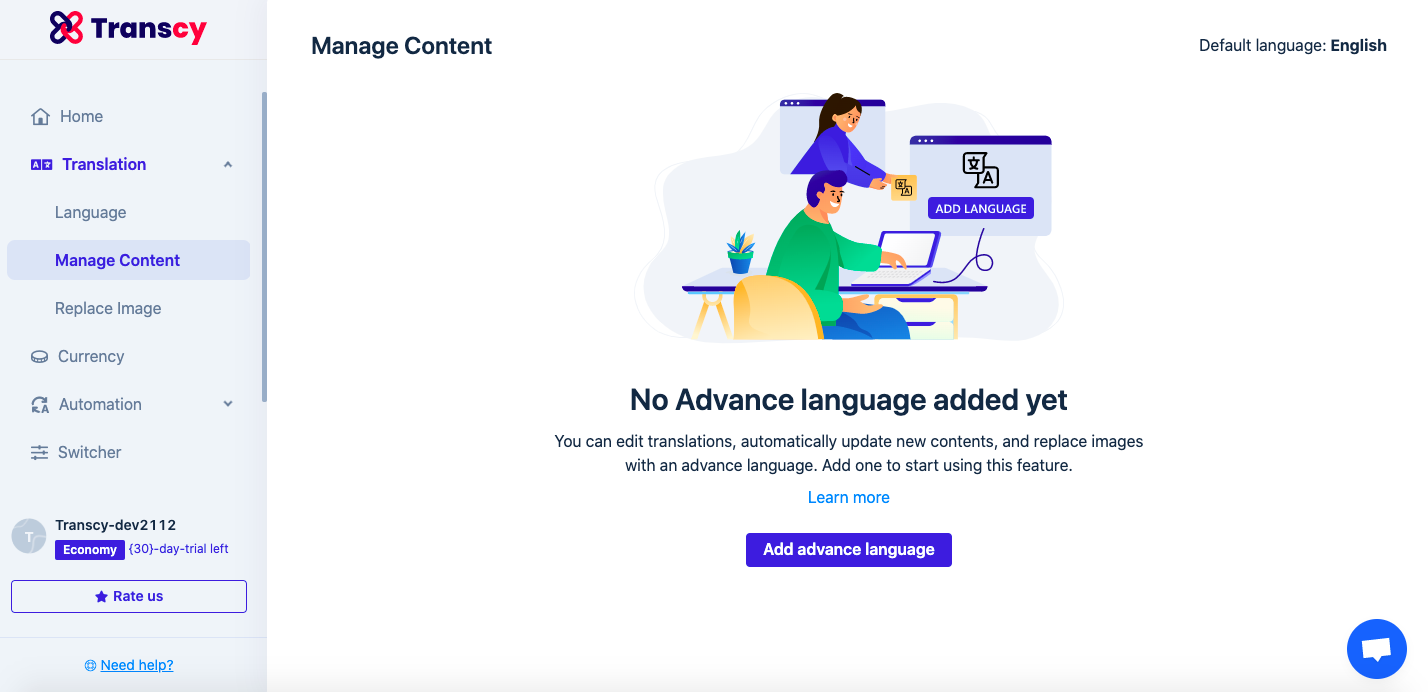 And from now, new STARTER plan users can enable/disable the Daily sync button. When you enable the Daily sync button on any specific page in the Manual synced resource, our system will automatically scan and detect data on that page every day. If the page has any changes or new content/section, the app will auto-sync/update all changes/new contents to that page.
All information is updated here: https://support.fireapps.io/en/article/what-should-i-do-some-pages-missing-in-transcy-app-sync-with-shopify-1901ax3/
In this new version, we've also synchronized the app interface and elements in other page lists, such as Navigation, store themes, Blog, and so on, that we missed in the previous version.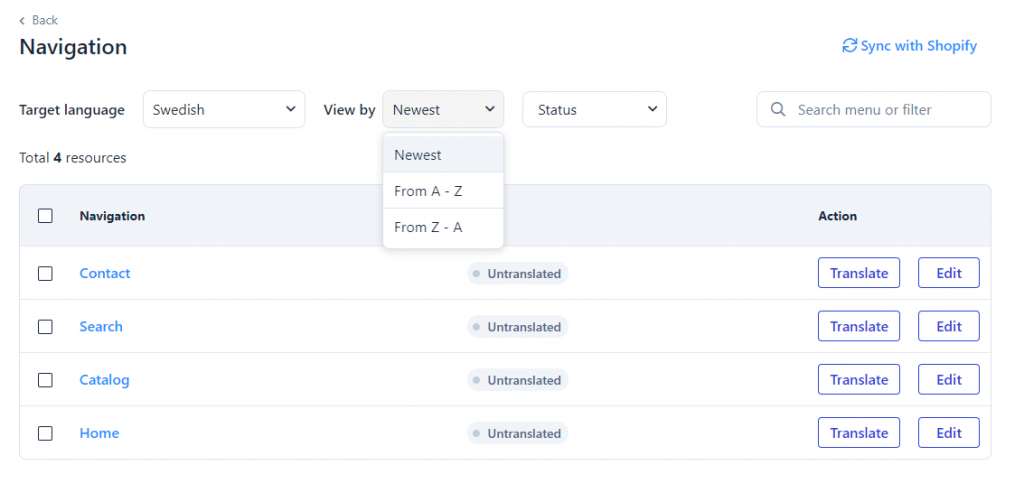 2. New Menu integration
In this new version, we've added a new "Integration list menu" to help your store use other services better and better.
We have 2 types of app integration:
Basic Integration: for 3rd-party apps, we can only help with automatically translating content and cannot manage or edit the translation manually in-app.
Advance Integration: for 3rd-party apps, we can assist in automatically translating content as well as manually managing/editing the translation in-app.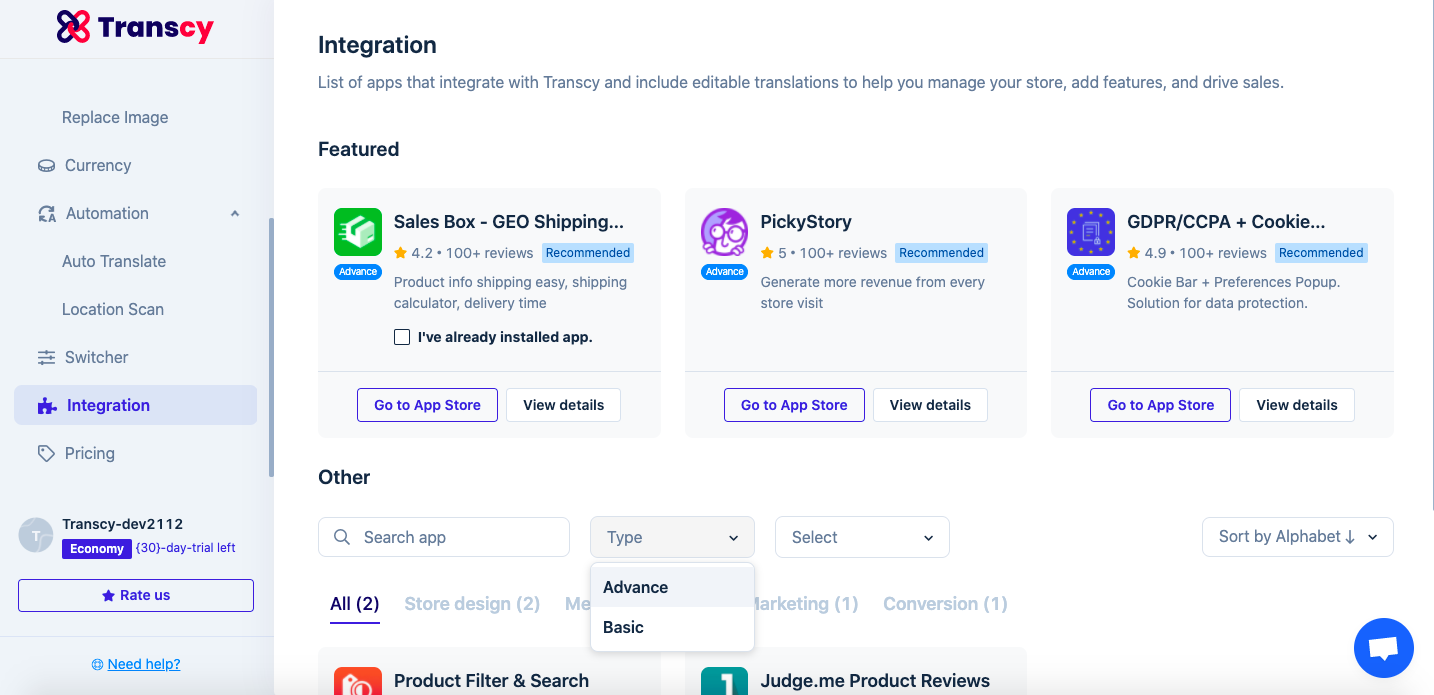 Filters in the Integration list menu can be used to sort and locate appropriate integrated apps with your store.
More information about it can be found here: https://support.fireapps.io/en/article/what-is-the-third-party-app-resource-in-transcy-4c7vms/
3. New pricing plan
We're thrilled to offer you a free 14-day trial based on Shopify's trial flow, as well as a 30-day money-back guarantee for the most recent billing.
Our new merchants will be able to test out all outstanding features from Economy to Essential for free in this new trial flow. This is a completely new trial, as opposed to our previous 7-day trial.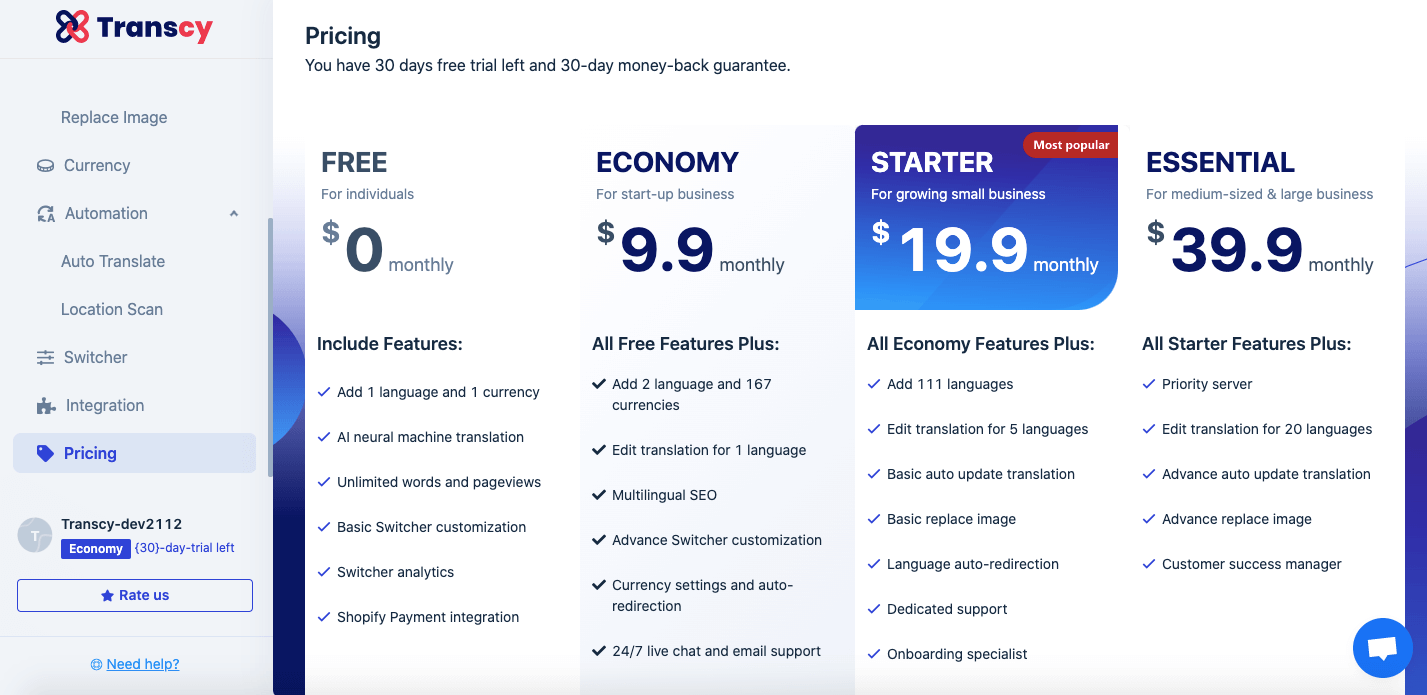 Before the trial
You click "add app" and install Transcy on Shopify app store successfully, redirecting the user to the app. Then, you first see and select a paid plan to start a trial in 30 days. During the Trial, the user can switch to another paid plan and continue the Trial with the remaining trial days.
After the trial
After 30 days, Transcy will send data to Shopify based on the user's current plan, including the price of the plan selected with Trial. Shopify will check and process the charge automatically. According to the Shopify system, users begin using the app with their chosen plan and are charged a monthly app fee.
You can check it out now: https://support.fireapps.io/en/article/whats-new-trial-of-14-days-in-transcy-186sxba/
With the new pricing plans, we've adjusted the number of product and collection pages, as well as image resources, and limited some features between the Starter and Essential plans. More information can be found here: https://support.fireapps.io/en/article/what-is-auto-update-translation-function-and-how-to-set-up-this-function-in-transcy-9v53i3/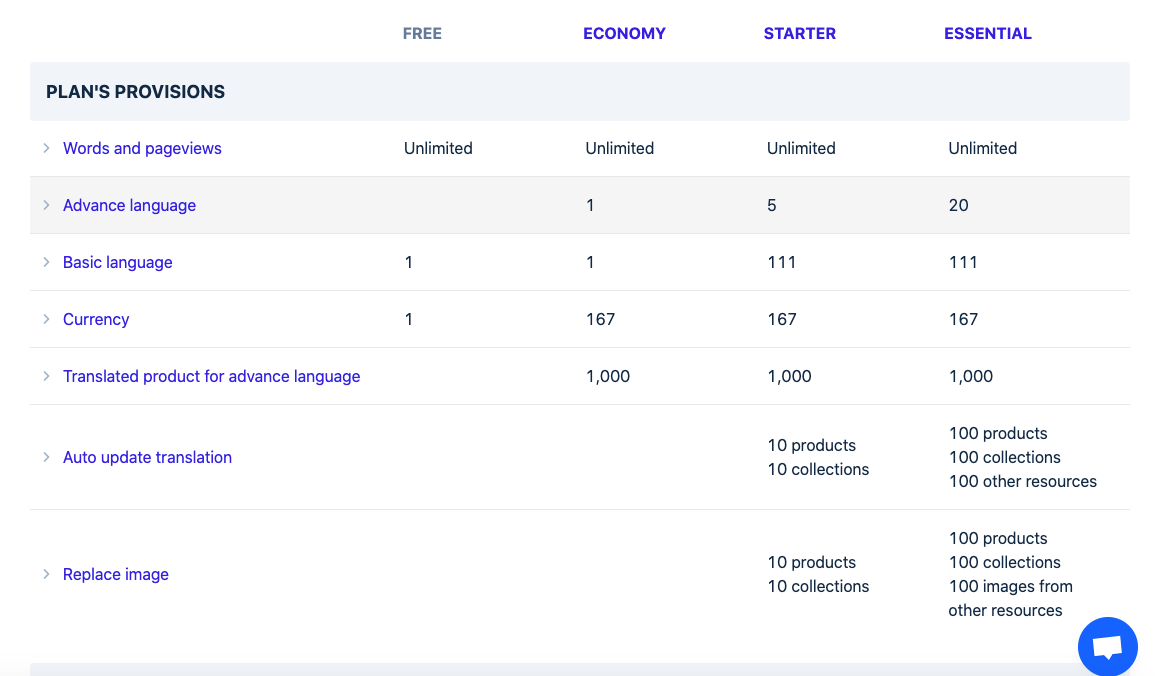 Old Free users who used the Free plan prior to August 18, 2021, will be upgraded to the Economy plan with many unblocked functions as a free gift to all loyal free users. All current functions and settings are still saved.
Here are some new updates for old merchants: https://support.fireapps.io/en/article/which-plans-are-we-offering-in-newest-transcy-version-ufcc1f/
Keep an eye out for an update on the next version!