This week, we're proud to introduce Glossary, a brand new feature of the Transcy app. This will help you to obtain higher-quality translations while saving time on manual editing.
Why you need to refine machine translation
Automatic machine translation is amazing. It saves you tons of time and effort.
Machine translation, however, has downsides. Sometimes the translations can be weird and confusing, or even incorrect.
For example, the English word "Home" on a website navigation, which means "Homepage" (the front page of a website) in the context of an online store, can be mistranslated into "Domicile" in French, which means "house".
Sounds weird, right?
That's why we usually need a second layer of manual review and making edits for machine translation where necessary. Transcy has made it way easier and faster with Glossary – a new effective tool that helps your translation be more accurate and natural.
What is a Glossary
A Glossary is a set of custom translation rules. It describes exactly when and how to translate a specific word or phrase.
By using Glossary, you can condition a specific word or phrase to be always translated in a particular way in each target language, or exclude them to be never translated.
To add a new rule, go to the Translation menu >> Glossary, then click "Add new rule".
Transcy allows you to set up advanced rules with detailed setting options. You can decide the translation type for each rule, as well as which language and resource type this rule applies to.
For example, the sample problem we mentioned above can be resolved by including a new Glossary rule like follows: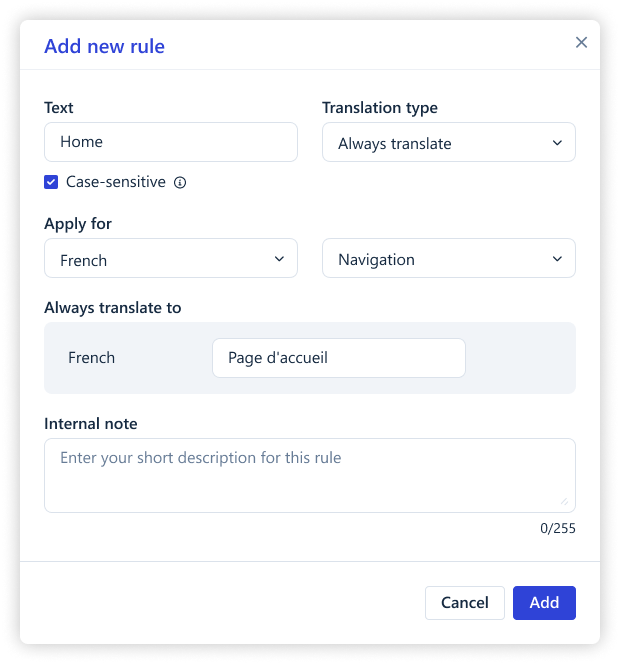 For the step-by-step instruction, visit our article at https://support.fireapps.io/en/article/how-to-use-glossary-feature-in-transcy-51d5ei/
When to use Glossary
You might use Glossary for the following use cases:
Product names
Multi-meaning words
Etc.
*Glossary rules only apply for Advanced languages.
*The Glossary feature is only available for Growth and Premium plans. Learn more about Transcy's plans here.
You can go to Shopify admin / Apps / Transcy / Pricing and upgrade to Growth or Premium to use this tool.
If you have questions or concerns, please reach out to support via live chat or email support@fireapps.io.