Transcy's new updates on Shopify Markets and embedded Switcher for better global expansion
On Apr 13, 2022, Transcy released a new version with a view to working in harmony with Shopify Markets, a brand-new feature in which you can create tailored online shopping experiences for different buyer segments. This version also provides updates relating to the latest Shopify themes for embedded Switcher. We'll walk you through some recent news.
Transcy is now working with Shopify Markets
The immense opportunity for Shopify e-commerce merchants to grow online sales has always been expansive. It is an indisputable fact that one of the best ways to keep your business fiercely competitive over direct competitors is to go global.
However, selling internationally results in a series of challenges such as currency, language barriers, logistics, etc. Shopify Markets comes in handy with a bunch of solutions to those challenges and Transcy has updated the latest version in accordance with Shopify Markets to make selling to international customers a whole lot easier for our users.
Why should you activate Shopify Markets and Transcy?
Reach brand-new markets and customers within a few setup steps
Grow sales with highly customized shopping experiences for each market
Speedily scale your business and easily optimize across different markets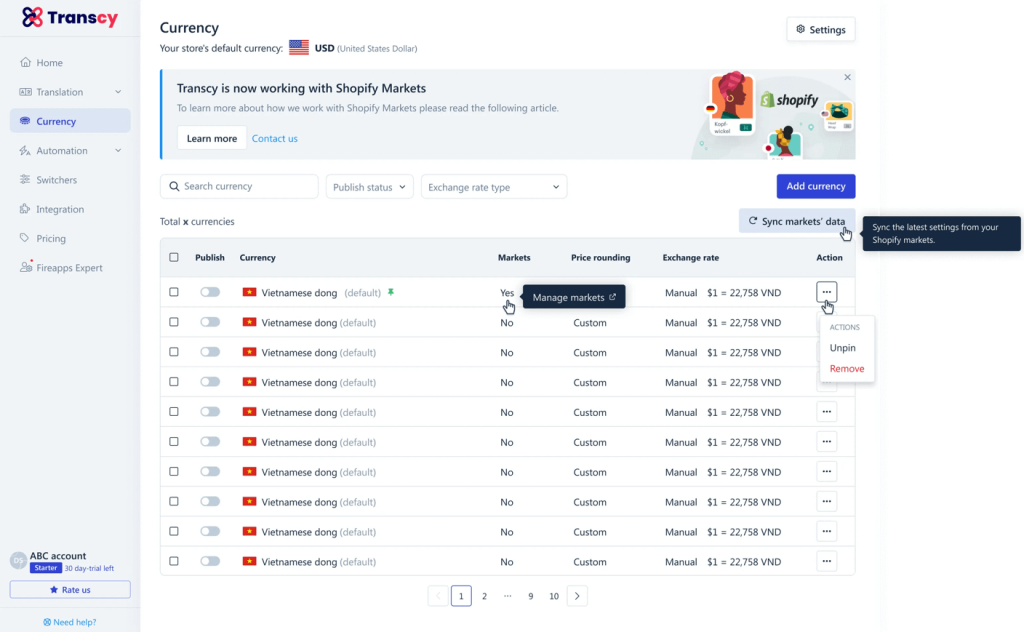 To learn more about Shopify Markets and how to make Markets compatible with Transcy, please visit this article.
Updates relating to the latest Shopify themes for embedded Switcher
In this version of Transcy, new Shopify themes have been added to our current theme list which supports embedded Switcher. Here are our newly updated themes:
Taste
Studio
Craft
Crave
Sense
Other minor improvements are included in this version
Transcy has made some changes in order to improve our app's performance and fix minor bugs to enhance the user experience.
That's it for this updated version! Please look forward to the next version in the near future.