5 Shopify Dropshipping Apps To Scale Your Business
eCommerce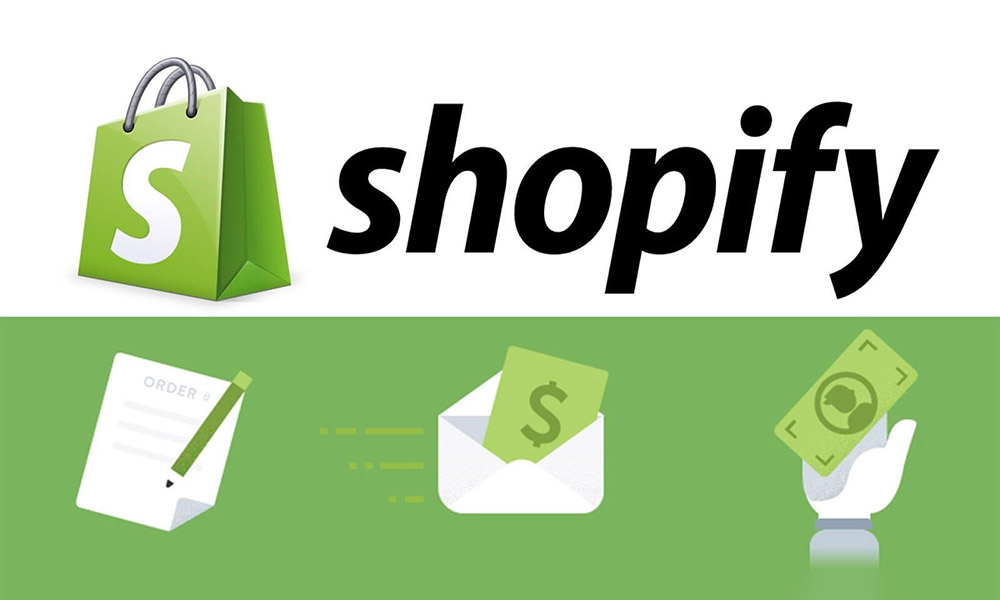 With thousands of apps available in the Shopify App Store, us Shopify dropshippers get a massive selection of tools to help extend the functionality of our Shopify dropshipping stores.
Whether it be an app for publishing products, adding customer reviews, improving email marketing, or getting in-depth analytics, there's an app for practically anything.
Since we know that your revenue can't grow without the right tools, we've done a ton of research to find your must-have Shopify apps to increase sales.
Start your Shopify 14-day trial with FireApps
Did you know Shopify is now accounting for 20% of the e-commerce business.
Over 2200 merchants open their Shopify store everyday and 50% of them have a repeat purchase. Join them today!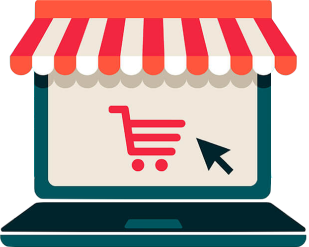 So, if you're looking for the top 5 Shopify Dropshipping apps that will boost your store's growth and take your business to the next level, keep reading.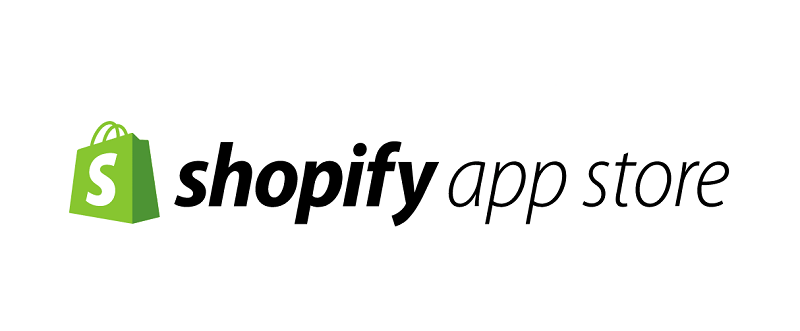 AutoDS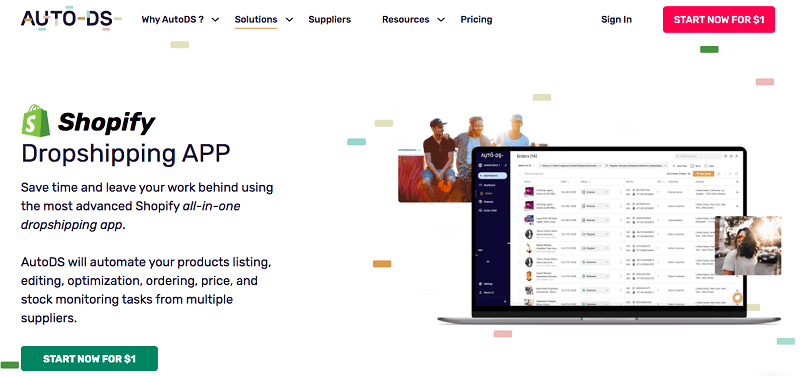 Starting with AutoDS, we have an all-in-one Shopify dropshipping app for managing and automating your dropshipping business.
What makes AutoDS the best choice for a dropshipping automation app is the range of tasks it helps conquer.
Product Research System – Saves you hours on product search and testing by providing all the hottest dropshipping products from Amazon and AliExpress all in one place. Products divide into categories such as 'Popular Products' or 'Holiday Products' with multiple filter options like price, shipping, reviews, and ratings to help you find best-sellers in a flash.
Product Importing – AutoDS' platform simplifies and automates product importing by providing multiple importing solutions. Single product imports, bulk imports, and even scheduled imports. Before publishing to your store, you can even edit and optimize using their built in tools.
Price & Stock Monitoring – After importing products, AutoDS scans on all of your products from any supported supplier. If any price or stock changes are detected, they automatically update in your store. This not only keeps your store safe, but gives you peace of mind.
Order Automation – To truly take your business to the next level, AutoDS offers multiple order automation solutions. Semi-automated orders process through the Helper extension. Then there is the Automatic Orders system, and for automatic orders and returns, The Fulfilled by AutoDS service.
Additionally, besides the general time-saving features , AutoDS offers over 25 suppliers, provides multiple store management support, multiple game-changing integrations, and so much more.
Furthermore, the AutoDS business dashboard will give you a full overview of your stats and track your progress as your store grows. Lastly, by taking advantage of the AutoDS Customer Service system, you can manage all customer interactions from multiple stores on one page.
Ali Reviews ‑ Product Reviews

Second on our list is the best Shopify app for product reviews – Ali Reviews. With the help of Ali Reviews, we can increase sales and profits by displaying reviews and ratings for our products.
Second on our list is the best Shopify app for product reviews – Ali Reviews. With the help of Ali Reviews, we can increase sales and profits by displaying reviews and ratings for our products.
Additional features include:
Review Widgets – Display reviews in the style of grids, lists, or carousel sliders.
Automatic Review Requests – Send out automated SMS or email promotions to request reviews from your customers.
Share Reviews On Social Media – Share your reviews on social media (Facebook, Twitter, Pinterest, SEO, Google Shopping), and drive in more sales!
And so much more! If you're looking for the best review importer and collector, look no further than the Ali Reviews Shopify app.
DSers
DSers offers a leading Shopify app that helps online sellers streamline their sales processes and improve overall efficiency. The app was developed specifically for sellers who are looking to optimize their AliExpress dropshipping business, expand their product offerings and take their business to the next level. The DSers app provides a range of features that are tailored to meet the unique needs of AliExpress sellers, including product management, order fulfillment automation, and advanced mapping.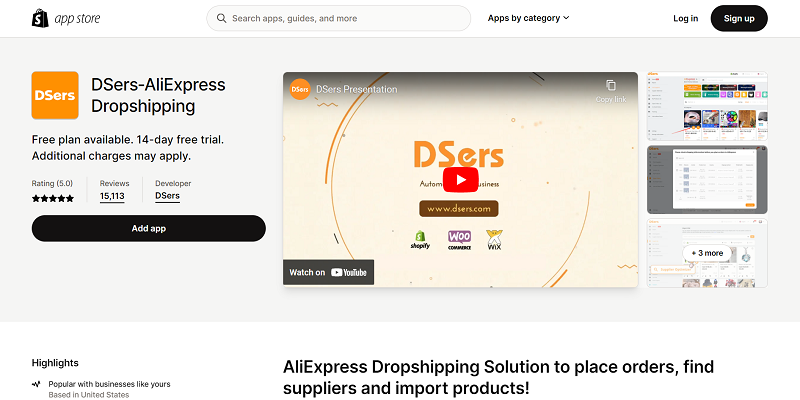 Order Processing: DSers automates the order fulfillment process for online sellers. When an order is received, DSers automatically generates a purchase order and sends it directly to the supplier, eliminating the need for manual order entry and reducing the risk of errors and delays. This feature helps sellers to process orders quickly and efficiently, providing a better experience for their customers.
Product Management: DSers helps sellers add and manage products across multiple AliExpress suppliers easily. Also, with DSers, sellers can track their inventory status, and monitor product performance allowing sellers to optimize their product offerings and ensure that they are always in stock.
Advanced Mapping: With the feature, DSers allows sellers to easily manage their product variants. When mapping an AliExpress product to an online store product, sellers can choose which variants to include, such as size or color options. This helps to ensure that the product offerings across all e-commerce platforms are consistent and accurate.
Supplier Optimizer: DSers Supplier Optimizer enables online sellers to optimize their supplier selection based on various criteria, such as price, shipping time, and product quality. This helps sellers to find the best suppliers for their products, ensuring that they are able to offer high-quality products at competitive prices while minimizing shipping times and costs.
In addition to these time-saving and money-saving features, DSers offers 24/7 support and an intuitive interface, which provides a better user experience compared to other similar apps in this industry.
Ultimate Sales Boost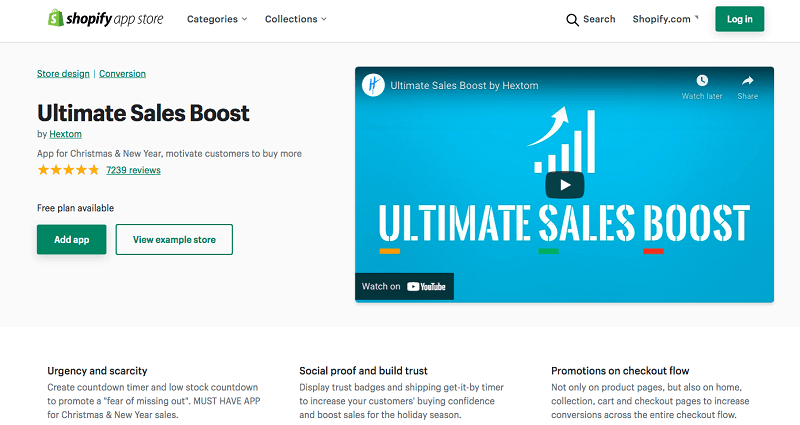 Nex up is Ultimate Sales Boost. As an eCommerce seller, selling hot products and marketing your store well isn't always enough to get sales.
Oftentimes, we need to build trust, and sometimes creating urgency will help boost sales. The Ultimate Sales Boost app helps dropshippers do exactly that.
By using Ultimate Sales Boost, you can display trust badges in your store, as well as shipping timers to appeal more to buyers.
Additionally, you can promote products and push more sales by implementing their countdown timers and low stock countdowns.
With features and widgets to use on your Shopify store's home page, collection page, product pages, and even your cart page, this tool can help you upgrade your business to skyrocket your conversions and drive more sales than ever.
Automizely Emails & Popups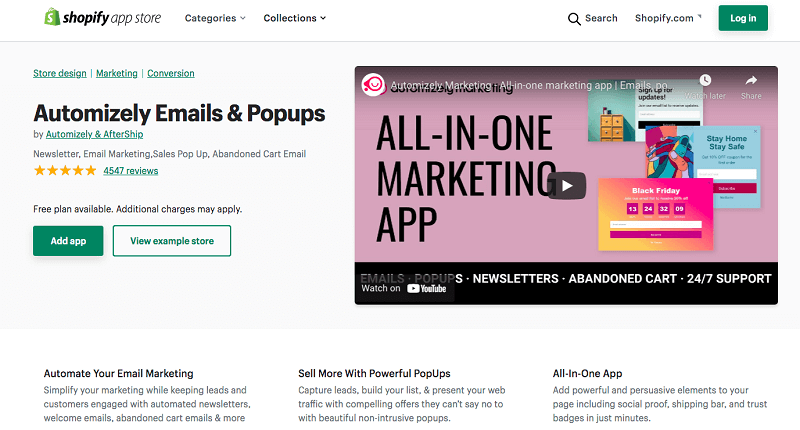 Fourth on our list of the top Shopify apps we have Automizely Emails & Popups. If you're looking to improve and automate your Shopify marketing strategies, then this is the app for you.
Automizely is packed with 30+ features to increase sales all in one place. You can easily drive more conversions and make more profit by providing tools for everything you need to generate leads and automate email marketing
Let's go over the highlights.
Up Your Pop-Up Game with:
Sales Pop-Up Campaign Builder – Create popup strategies with a fully customizable popup campaign builder.
Email Capture Pop-Ups – Easily grow your mailing list with hot leads using the email capture pop-up campaign builder with custom forms.
Reduce Cart Abandonment – Get branded exit opt-in popups with coupons.
Cart Recovery – Decrease your store's cart abandonment rates with a no-code popup builder. Offer coupons to encourage customers to complete their purchase.
Perfect the Art of Email Marketing with:
Welcome Emails – Attract customers with professionally designed coupons. They will be automatically sent to your customers when they sign up.
Abandoned Cart Emails – Get returning traffic and less lost sales with abandoned cart emails that help your customers make their way back to your site and finalize their purchases.
Follow-Up Emails – Create post-sales engagement and increase returning buyers with automatic follow-up emails.
ReConvert Upsell & Cross Sell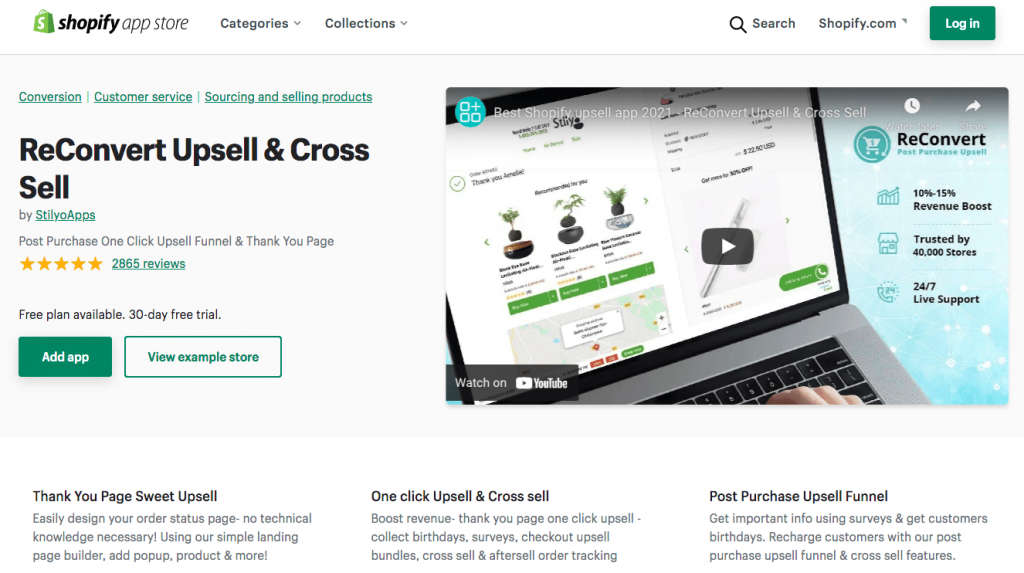 Last on our list, we finish off with another sales booster. By developing an app with mainly upsells in mind, Reconvert takes a slightly different approach when it comes to generating dropshipping sales.
eCommerce sellers, including dropshippers, often focus all their energy on getting traffic and conversions. That means the main focus goes to new buyers.
Reaching new customers is fantastic, but a lot of money can be made from existing customers, and more specifically, buyers that just finished their purchase.
This is where Reconvert's upsell widgets come in. By implementing them in your Shopify dropshipping store, you can shift your strategy and tap into your already existing audience.
In other words, re-engage customers and encourage more sales to scare additional profits without any new traffic.
Reconverts Upsell Boosting Widgets include:
Discount popup with countdown timer
Product recommendations
One click post purchase upsell
Birthday collector
Reorder button
Social sharing
Post purchase surveys
Order tracking with 17track
Birthday SMS & Email marketing
And more!
At the end of the day, these are not new sales techniques. Not only can upselling and cross-selling to customers be an excellent opportunity for you, but it also works to help your customers build and maintain their trust.
This can significantly increase the value of your customers and is a fantastic way to meet your revenue goals in a way that profits your business the most.
Conclusion
Now that we're familiar with some of the best Shopify dropshipping apps to help grow our business, all that's left to do is select and implement them in our dropshipping stores.
Whether you just opened your Shopify store and need help finding products, want to save time and automate your orders, or already have sold thousands and want to optimize your marketing methods, these Shopify dropshipping apps will help you reach your goals.
We hope that our comprehensive list of apps will help narrow down your search and possibly help find the best matches to help grow your business.
Let's find out more about the world of e-commerce: https://fireapps.io/