5 Tips to Build Instagram Marketing Strategy
eCommerce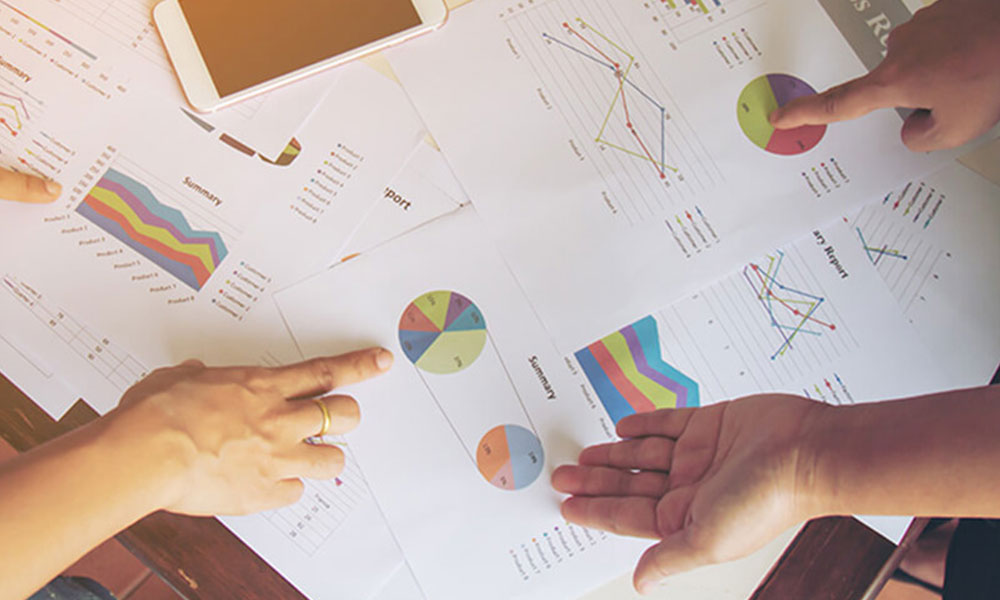 Now we have learned that sale on Instagram is not simple like Facebook. In this article, you'll read about five important aspects of creating a superb Instagram marketing strategy.
1. Understand your niche and target audience
Before you do anything, start with some research. The best marketing strategies, for Instagram or any other platform, are based on what your target audience wants to see. So, who are these people? Figure out their gender proportion, their age distribution, and their physical locations if you can too. You want to find out when they are mostly online or how they like to use Instagram. What are their general social media habits like? You can't have an Instagram marketing strategy without knowing these details about your audience.
Sprout Social has insight into the average Instagram user data. It should be a good jumping off point. To learn more details about your specific audience reach out to a few of your customers. Conduct a survey. Use Instagram analytics tools like Quintly, Iconosqaure, or ScheduGram. These will give you concrete data on your current followers to see what and when gets them to engage with your content the most. Understanding your target audience shouldn't be a secret, but it's too often overlooked. You can't possible target everyone and anyone, it's a big waste of effort.
Start your Shopify 14-day trial with FireApps
Did you know Shopify is now accounting for 20% of the e-commerce business.
Over 2200 merchants open their Shopify store everyday and 50% of them have a repeat purchase. Join them today!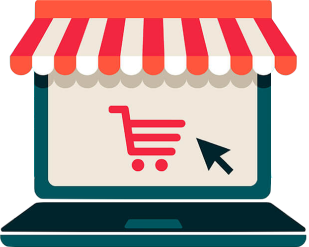 2. Have a clear goal
You can't have a successful Instagram marketing strategy without identifying your goals first. It should be something simple like gaining 100 followers in two weeks. You don't want to set yourself up for failure with something unobtainable. The best Instagram marketing strategy goal will have one larger long-term goal and many small benchmarks along the way.
Say you want to gain 1000 followers in 3 months. Give yourself smaller benchmarks within the three months as short-term goals to achieve. To be on track, you'd have to gain 165 followers every other week.
Your goals don't have to be restricted to gaining followers. You can aim to increase your sales by 10% through your Instagram marketing strategy. Or, a general and generous increase in traffic to your website. You can try to increase the use of your company's hashtag. Set your goal to match your business goals.
3. Remind customers of your brand
Keeping a regular schedule will ensure greater engagement than posting sporadically and that will make your brand stay in customer's mind. No Instagram marketing strategy would be complete without a thorough calendar. Posting regularly is a sure way to let your followers expect content regularly. While posting often makes sure that your audience is likely to see your content.
Posting once a day is not enough. Using an analytics tool will help you figure out when to post. But, my recommendation is to post 4 to 8 times a day, every few hours to start. It will give your analytics tool something to analyze. Use a tool like Later or Buffer to help you create a calendar so that you're at least a few days ahead of what you're supposed to be posting.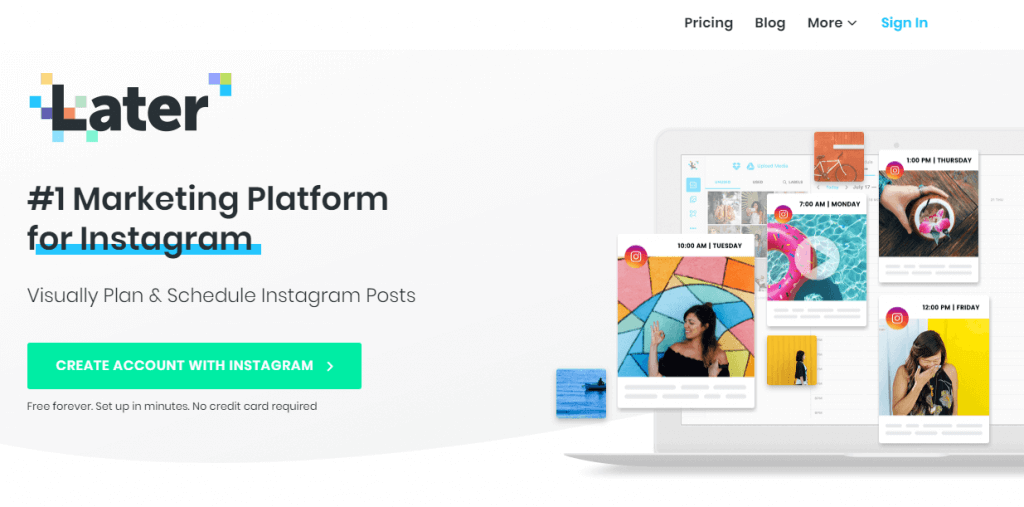 4. Create your own photography style
Figuring out your Instagram photography style will inevitably affect your other social media posts. That's a good thing. You want to be consistent across the various platforms. It's an indirect benefit of following a solid Instagram marketing strategy. A great pro tip is to keep your images on Facebook, Twitter or Pinterest in the same style as Instagram. It will help people recognize your company. It's also a sign of a mature business that knows what it's doing.
Think about it, Instagram accounts that are inconsistent are not something anyone like to follow. The same goes for companies that seem to post odd things across platforms. Don't be one of them. Figure out your style and use it to your advantage anywhere you can.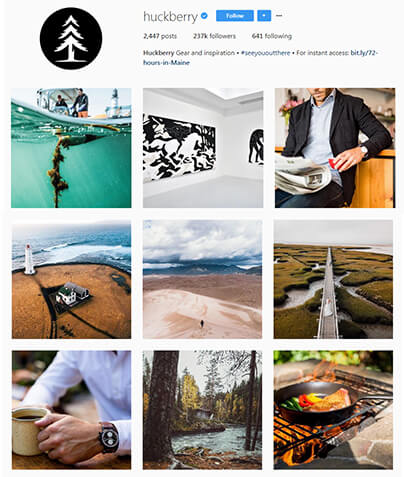 5. Using creative image layout
What would an Instagram article be without mentioning the foodie culture? If you scroll past all of the badly photographed food and duck-face selfies, you'll see creative uses of the album layout.
To model this campaign in your own marketing, the most important aspect to remember is that you need to provide quality content that informs your audience.
When you shoot your large-scale image, carefully place each product into space you can easily crop into a square. Then load your square image set (one after the other in order) to create the illusion of a seamless, large-scale image on your Instagram profile page.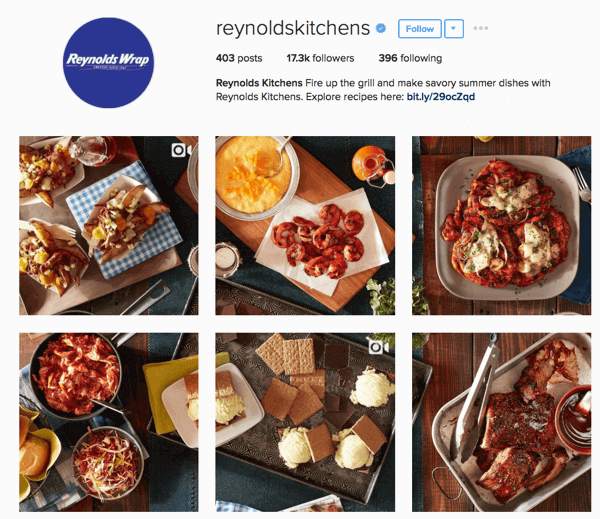 Finally, add a description to each image that explores its value and shares some insight that will prompt viewers to visit your Bio section and click the link that redirects them to your website for the full story.
6. Connect with Instagram influencers
A McKinsey study found out that word-of-mouth advertising has a 37 percent higher retention rate. Additionally, 75% of customers are influenced by social media to make their purchases. Those are fantastic statistics for any social media marketing strategy. However, for Instagram, it means you should invest some cash and reach out to influencers. Make them an offer for sharing your products in their Instagram posts. Make sure they tag you or mention what it is what they are showing off. You can find influencers in your niche through tools like Revfluence, BrandSnob or Klear.
You can partner with influencers in a few different ways. Usually, they'd either give your items away. Or alternatively, they'd post a photo wearing or using your products. Most of the Instagram posts don't explicitly say "Buy this product now". It's mostly a casual mention of the influencer loving the product. And it works wonders. 90% of people respect and trust the opinion of their peers. Don't underestimate the power of social media influence.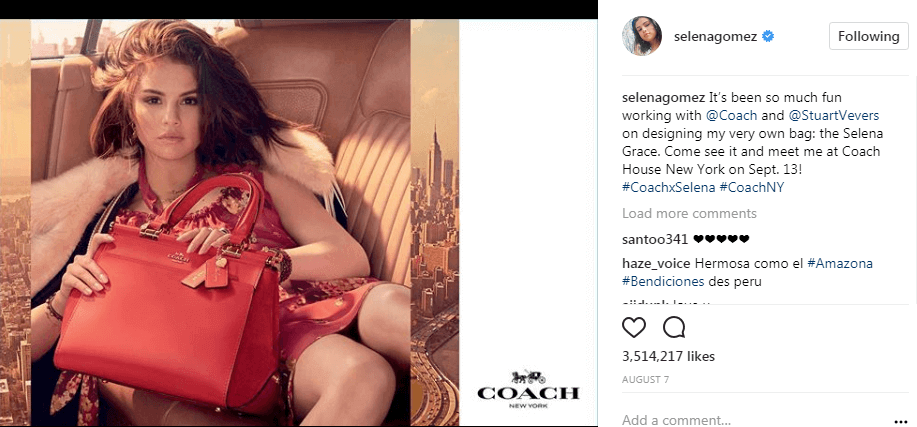 Creating a winning Instagram marketing strategy is not as hard as it might seem. It's all about being smart and strategic. It's called a strategy after all. I'm sure you'll find these tips helpful in improving your Instagram game, you can improve your instagram followers at SNSplus.
Launch your Shopify store now: https://www.shopify.com/
Via Paula Borowska