6 Ways to Boost Holiday Sales with Popups
eCommerce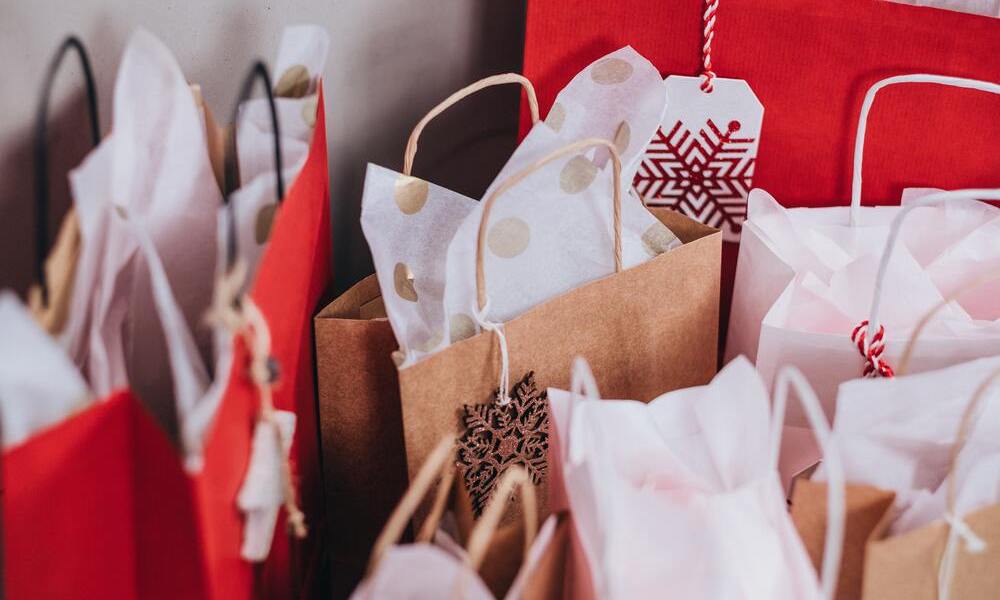 December is just around the corner, and you know what that means. 'Tis the season for sales.
There's no better time to engage with your customers and get them excited about your Black Friday, Christmas, and end-of-year sales. One of the best ways to reach shoppers is with an optimized popup campaign.
In this article, we're going to show you which popups are great for increasing your sales this holiday season.
Start your Shopify 14-day trial with FireApps
Did you know Shopify is now accounting for 20% of the e-commerce business.
Over 2200 merchants open their Shopify store everyday and 50% of them have a repeat purchase. Join them today!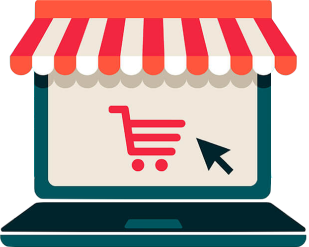 But first, let's look at why popups are an essential part of any good sales and marketing strategy.
What's a popup and why do you need it?
Popups are onsite messages that appear as an overlay on your webpage. The newest popups are more sophisticated than the clunky ones from the last decade that spammed visitors with every new browser window.
Popups are great for increasing conversions on your website. You can use them to:
Grow your mailing and SMS lists.
Remind visitors of your upcoming sales and events.
Increase sales and recover abandoned carts.
Adding an optimized popup to your website can double your conversion rates and increase your revenue by nearly 40%.
But what's the difference between an optimized popup and one that's not? Glad you asked.
Read on to find out.
6 ways you can use popups to optimize your holiday sales campaigns
Want to know the secret to making an awesome popup that converts? Personalization.
An optimized popup targets specific segments of your visitors with relevant information (i.e., things they're interested in).
An unoptimized popup delivers the same generic message to everyone on your site.
Did you know nearly 75% of customers get frustrated when they see impersonal content on ecommerce sites?
The big question: How do you keep visitors from leaving your site without being frustrated?
We've got 6 popup ideas to keep your visitors engaged. That way, they get messages they're interested in—while you increase your sales and conversions this holiday season.
1. Run limited-time sales
Limited-time deals are great because they create a sense of urgency among your visitors. Customers are more likely to make a purchase when they know you're running a limited-time sale.
Why? Because of FOMO—the Fear Of Missing Out.
They'll miss out on your special offer if they don't act quickly. And most shoppers don't want to lose out on an incredible offer.
You can increase urgency by adding a countdown timer to your popup, just like Kerotin did below.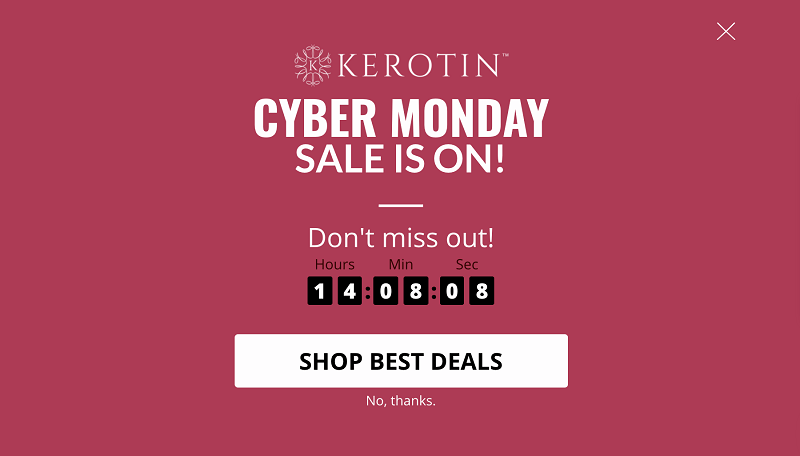 You could send this flash sale message to everyone who visits your site.
But you should optimize this popup to target your on-the-fence shoppers with an additional special deal or discount. Here's how:
Change the countdown timer to something more urgent, like 10 or 15 minutes.
Make the popup appear on exit-intent. That's when visitors only see your message as they try to leave your site.
Target people who've already browsed your category or product pages but didn't add to their cart.
Some of your visitors will revisit your site and buy something from you at a later date. This strategy will motivate many of them to finish their purchase, so they can get the discount
2. Guide visitors down the sales journey
The holiday season is one of the busiest times of the year for most retailers-and for good reason. Not only are customers shopping for Christmas gifts-many are also shopping for great Black Friday and Cyber Monday deals.
They can feel overwhelmed during their search for the perfect presents.
You can reduce their confusion by guiding them down the sales journey with a conversational popup like this one: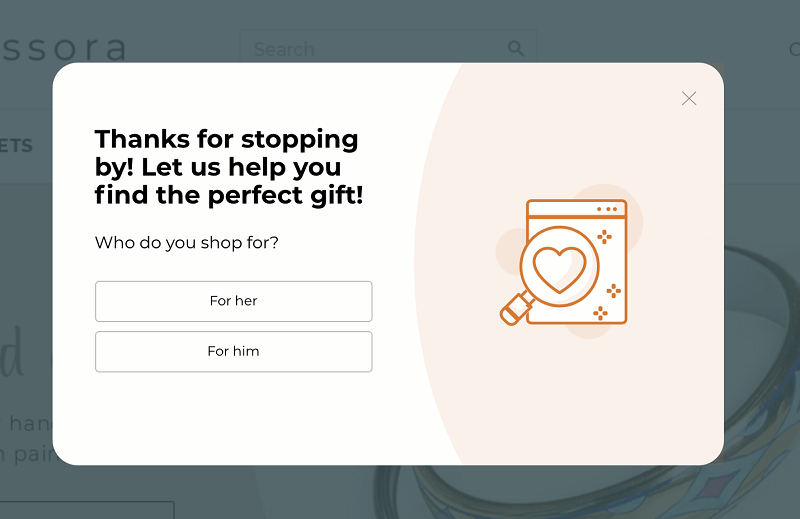 These popups give visitors a short survey, then recommend relevant products based on how they answered your questions.
This type of popup simulates a chat you'd have with an in-store sales associate.
They're great for reducing decision fatigue and helping visitors find the perfect gifts for friends and family.
You can make their customer journey more comfortable, and they're less likely to leave empty-handed.
3. Use an email popup to promote your holiday sale
Got an upcoming Black Friday, Christmas, or New Year's sale? Draw more attention to it with a pre-event popup.
This popup acts as a teaser to get visitors excited about your upcoming event.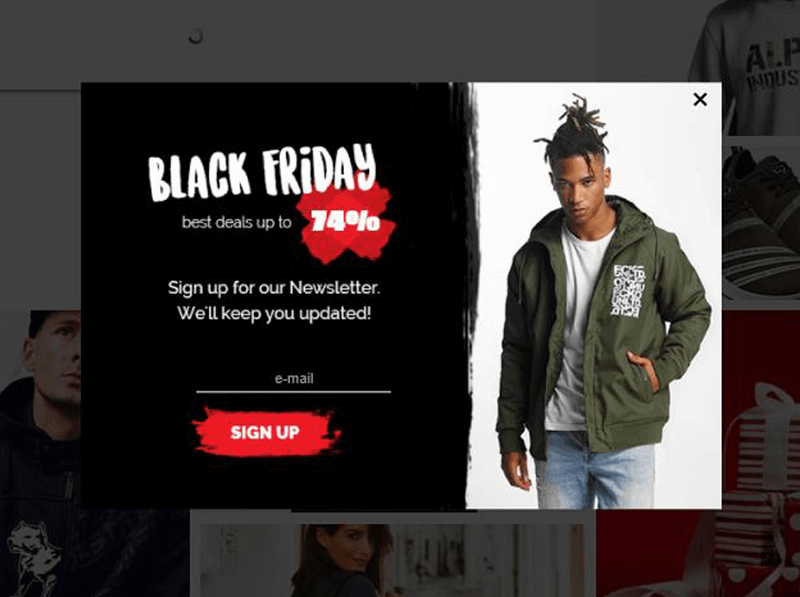 Launch this popup 2-4 weeks before your sale goes live, so you can collect subscribers that are interested in your event. Then, you can keep them engaged with emails promoting your upcoming sales.
That way, by the time your event launches—your subscribers will already know all about your deals and discounts—and what they want to buy.
4. Gamify your messages
Use a gamified popup to add a little bit of excitement to your event campaign. Gamifying your popup means that you turn regular popups into mini games your visitors can play.
People love gamified content because they have the chance to win different prizes. One person might win free shipping, and another could hit the jackpot and score 30% off their next purchase.
But how effective are gamified popups?
The Body Shop launched a lucky wheel popup for their Christmas campaign and watched their conversion rates skyrocket to 67%.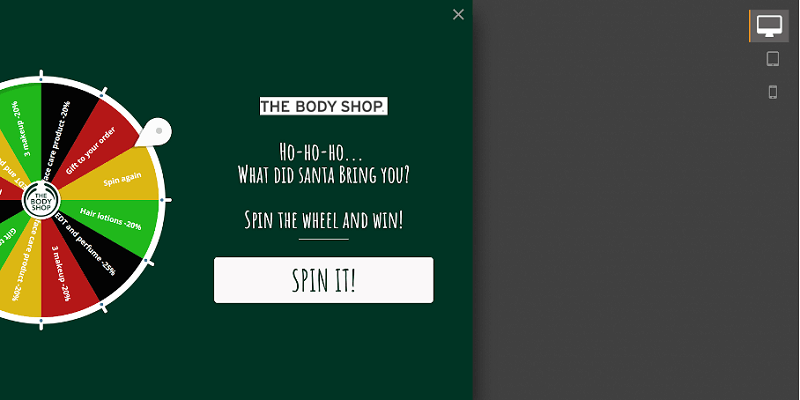 Use a gamified popup this holiday season to capture new visitors and convert them into customers. When they play the game, you can collect their email addresses. Then you can keep them engaged by sending them a newsletter with deals and offers.
5. Recover your cart abandoners
Most ecommerce companies will agree that cart abandonment is one of their biggest pain points.
Just how big of a problem is it? Approximately 88% of online orders were abandoned in March of 2020. That's a huge financial loss.
You might not stop cart abandonment completely, but you can lower your rates with a good exit-intent popup.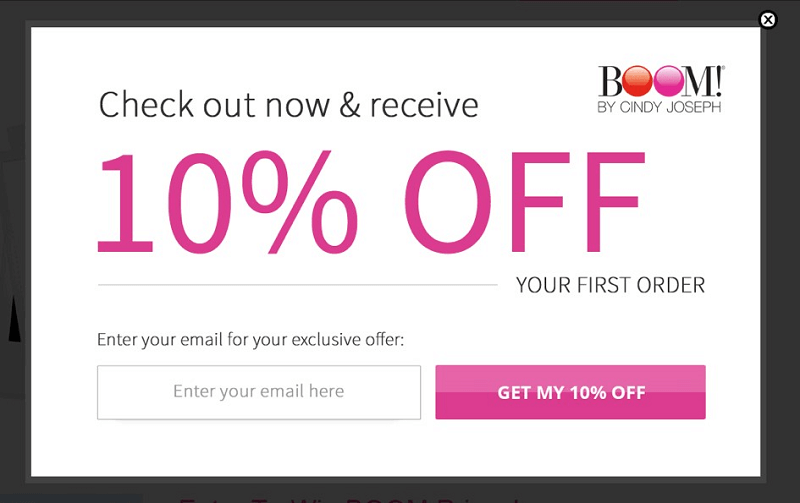 BOOM! by Cindy Joseph added a cart abandonment popup to their website. This increased their revenue by 18%. Here's how you can achieve similar results:
Use an exit-intent popup to target visitors who browse your product pages and leave without making a purchase.
Give your abandoning visitor a deal or discount to motivate them to complete the purchase.
If you don't want to offer excessive discounts on your products, try giving free shipping.
Shipping cost is another reason why shoppers abandon their carts. Around 55% of cart abandonments are caused by extra costs like shipping, taxes, and other fees. Free shipping is an excellent way to recover those carts.
6. Try out different offers
There's no denying that offering discounts and free shipping are a great way to drive sales. But if you want to stand out this holiday season, you should give visitors something unique.
Customers are used to deals like 10% off. Why? Because it's an offer they get from most ecommerce stores.
Giving a different type of deal or discount will make your campaign stand out from the others.
Here's an example of a popup with a different kind of offer—a free product.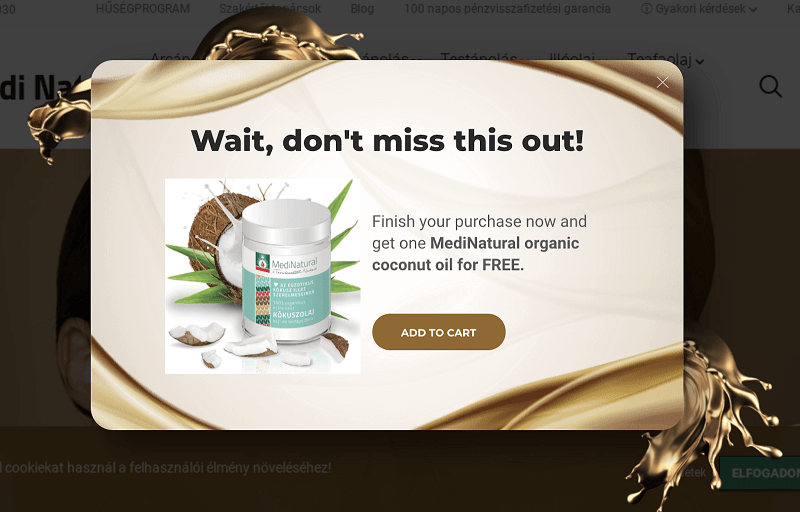 Check out these ideas you can use for your next deal:
Free items or free product samples.
Bundle deals. If the customer buys one type of product, they can receive another one at a discount.
Buy one, get one free—also known as BOGO offers.
Extended warranties and guarantees on high-ticket items.
You don't need to give a major discount like 50% off to get people to convert. Just offer visitors something different than the usual 10% off and free shipping. Feel free to get creative!
Make your upcoming holiday campaign a success
Want to know the secret to running a successful popup campaign? Target the right visitor at the right time.
And a good popup tool makes it easy by segmenting visitors based on their customer awareness stages. You can create…
Newsletter popups to collect email addresses from first-time visitors.
Product recommendation popups that target visitors who are on your category pages.
Cart abandonment popups for people who leave your site without completing their order.
That way, you can make sure you're targeting visitors with information that they're actually interested in. And that's how you create an incredible customer journey that makes people want to buy from you. Not just once, but repeatedly.
Want to learn more about creating high-converting popups? Check out this guide on Customer Value Optimization.
You'll learn how to create an onsite journey that truly speaks to your customers' needs and interests. In other words, we'll show you how to design popups that increase revenue during your holiday campaigns and for your year-round sales.
Let's find out more about the world of e-commerce here: https://fireapps.io/