Ali Reviews 4.5 – New Review Interface. More Powerful than Ever!
Product Update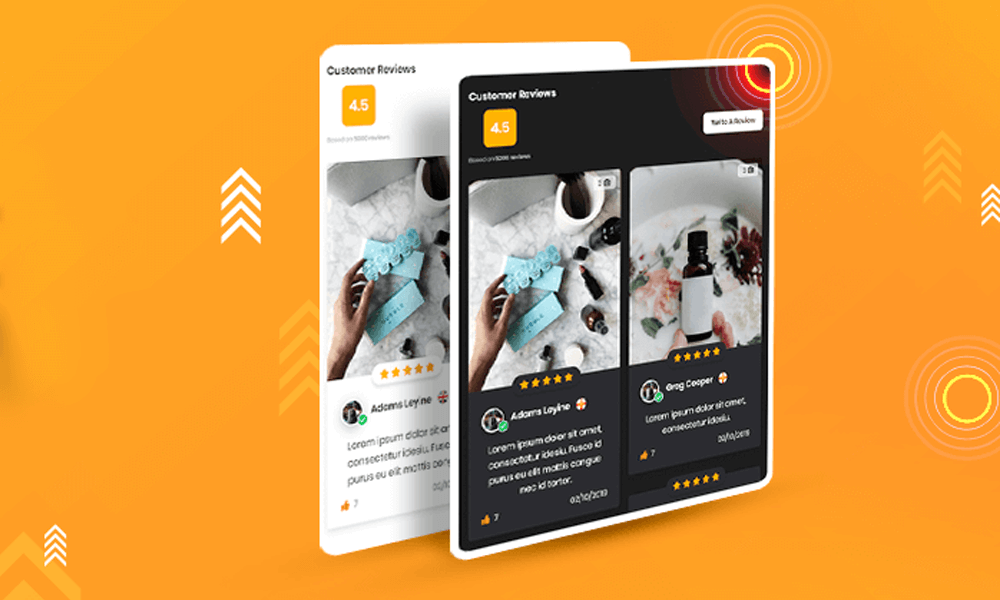 15 seconds is the time you have to capture a visitor's attention. If failed, you may lose a customer. Thus, many store owners are trying to improve User Interface on their own store, and the Customer Reviews section is also counted in.
Listened to your feedback, we did lots of research and those efforts have resulted in the upgraded Review User Interface in this new release!
Let's walk you through some updates!
Powerful UI tools, at your fingertips!

1. Optimize Master Layout

Carousel Layout
Guess what? Now you can finally pick up Carousel Layout for your customer reviews section beside Grid and List!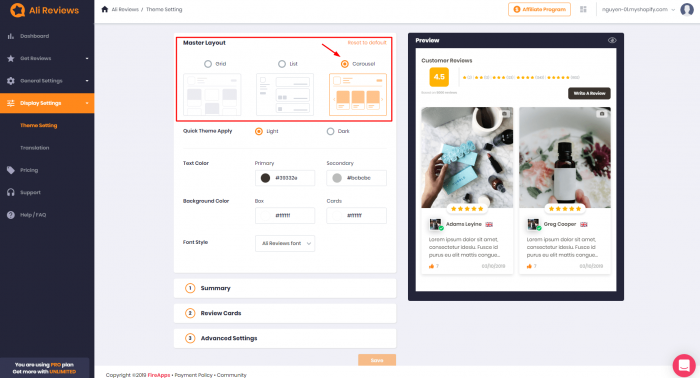 Simply choose the Carousel option and see a preview or check directly on your store after saving changes!
The main benefit of the carousel layout is that your visitors can view photo reviews simultaneously by clicking back and forth in a very captivating order.
Dark mode activation
'Dark mode' is recently one of the most requested features, and we add this option so it can be easier on eyes, better for nighttime browsing, and in some cases, fitter for your Shopify theme.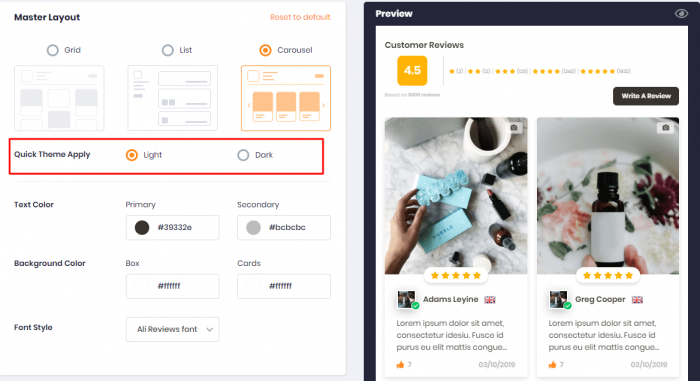 Hooray! Now you can quickly apply Dark mode in Master Layout to experience another option of theme variation for reviews!
Modify Background & Text Color
The new color palette for background and text will improve visuality and readability for your customers. Make them relevant to your store theme to produce the best results!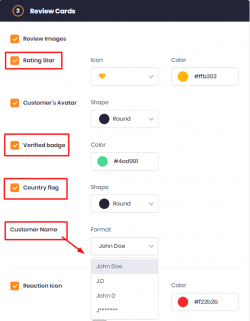 2. Customize the Summary Tab
Star Arrangement
In the Summary tab, you can now choose to display Star Arrangement following 2 options: Vertical and Horizontal.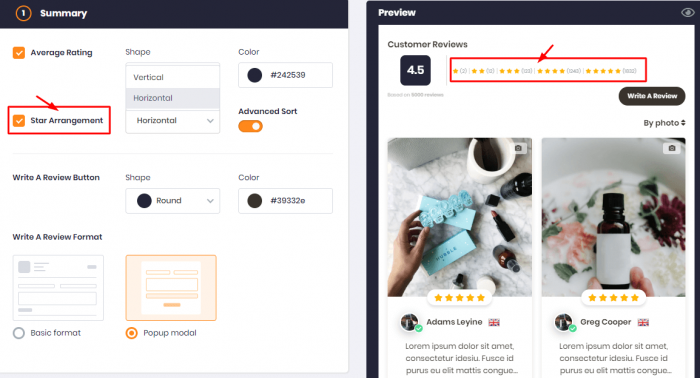 Write a Review
We believe that this custom will satisfy you because now you can totally emerge a pop-up box right on your product page when users clicking on "Write A Review". Take a look!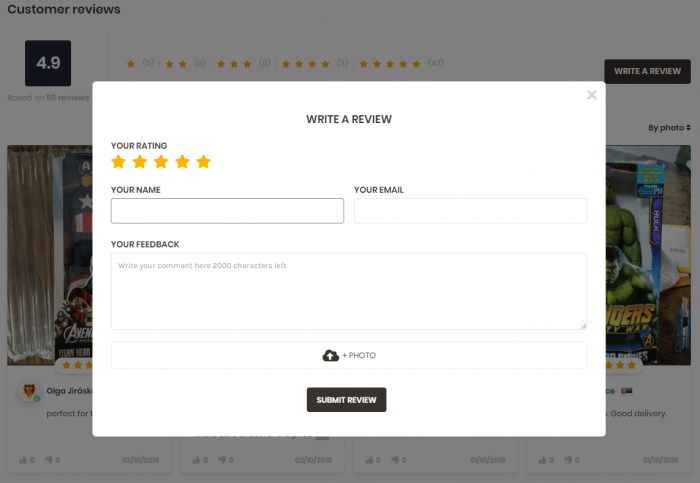 3. Review Cards: customize small elements
These new styles are not only pleasing to the eyes but they are also designed to personalize your own store and make it more user-friendly.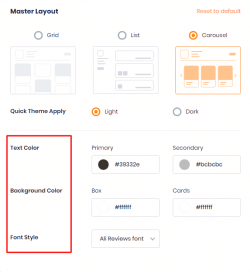 Rating star: feel free to turn On/Off this element or change icon style
Verify badge: turn it On if you need credible proof or switch Off when you feel it's totally not necessary for your store
Country flag: if you feel your box is a little bit packed then choose to or not to display country flag
Customer Name: this setting allows you to display the reviewer's name in different ways, depending on your preferences.
Do magic with Reaction Icon
Freshen up your store with these reaction icons!
Just pick up a style and color it in your own way to attract more engagement and make your store look livelier!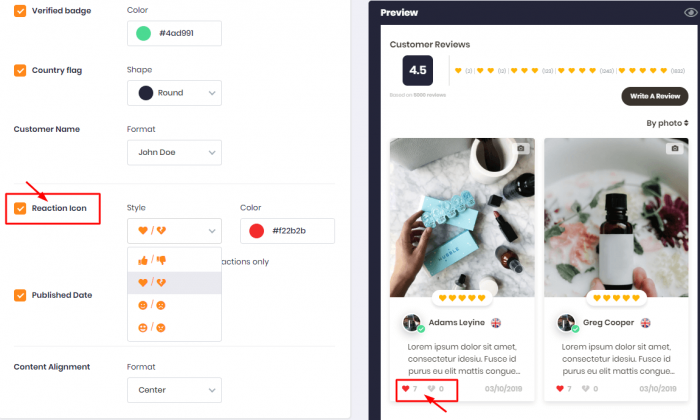 4. Enhance User Experience with updated Advanced Settings
Leaving no stone untouched, we wanted to ensure that your customers had a smooth and joyful experience on the shopping journey as well!
Load more reviews mode
Enable reviews loading in 3 options: infinite scroll, show more button and pagination
See a sneak preview: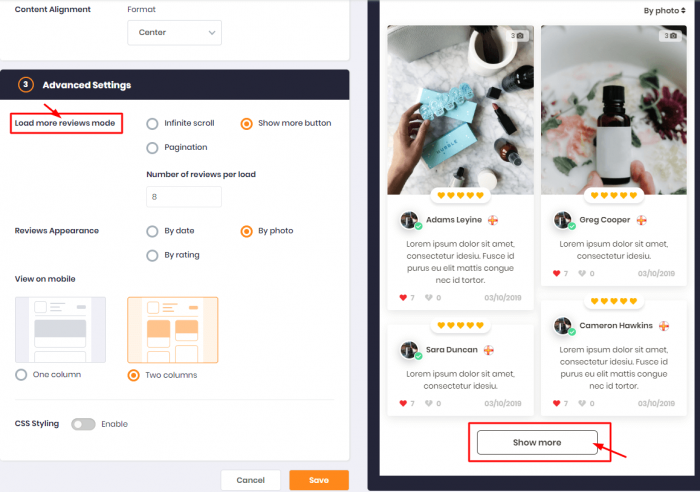 View on mobile
Shopping on mobile devices is an action that every shop owner should pay more attention to. And in response to your feedback, we are making progress gradually to improve the shopping experience on mobile.
The new Review User Interface is presented after collecting feedback from our dear users. This is just the starting phase of our UI upgrade so keep yourself updated for the upcoming!
Feel free to send your sincere comments to us because your feedback helps us serve you better! Now it's time to Upgrade Review User Interface!
Let's make a review-wonderland impressive with Ali Reviews
You can't wait to put previews on your store? Don't miss out this app!
Import reviews in seconds & collect reviews through multiple sources
Showcase reviews beautifully with 9+ styles & layouts
Fully moderate & manage review contents