Google Shopping Integration: Display product reviews and ratings on shopping ads
Print On Demand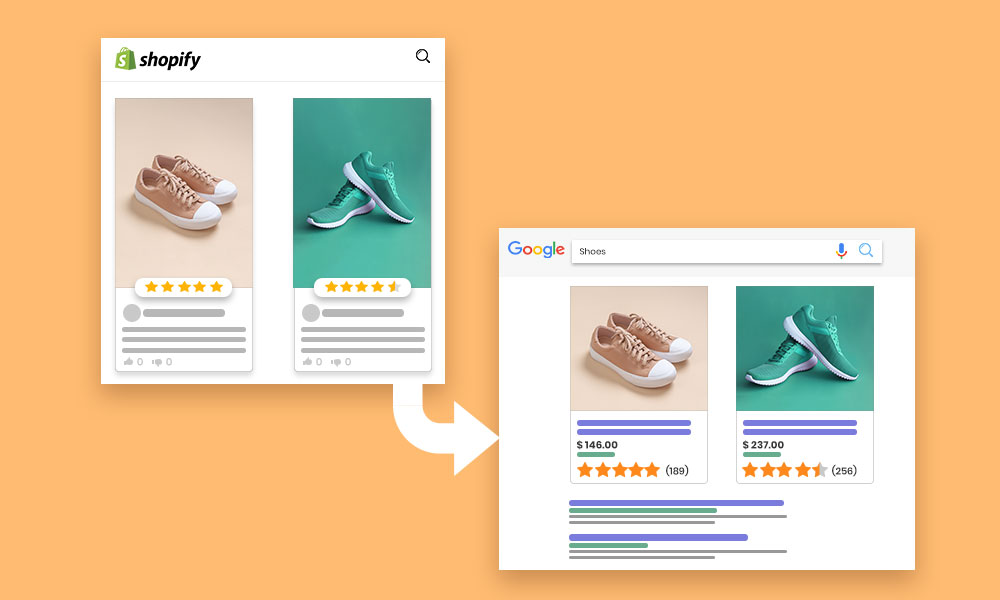 Product ratings appear on products listed in Google Shopping, and they are featured prominently. Listings without them look incomplete and less compelling when displayed beside listings with a rating.
Take a closer look at our article and get through this maze with us! With this integration, Google Product Ratings will no longer be a puzzle for you.
The rise of Google Shopping Ads
I'm sure you've definitely seen Google Shopping Ads, and you may have even used the services without realizing it.
Start your Shopify 14-day trial with FireApps
Did you know Shopify is now accounting for 20% of the e-commerce business.
Over 2200 merchants open their Shopify store everyday and 50% of them have a repeat purchase. Join them today!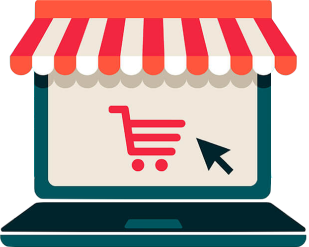 Google Shopping Ads (also known as Product Listing Ads or PLAs for short) are used by e-commerce brands to promote products, boost site traffic, and generate qualified leads. Google Shopping is currently supported in over 40 countries. It's not the only comparison shopping engine but by far the most popular one.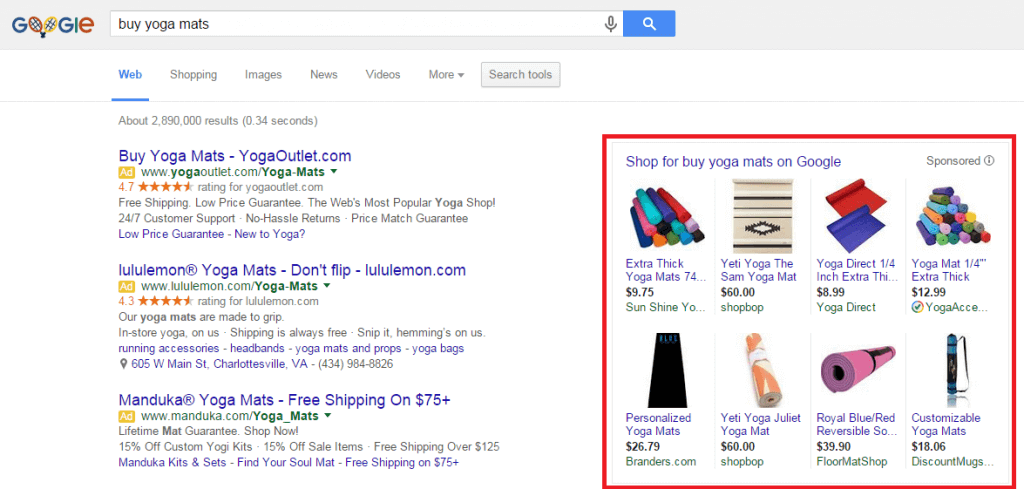 The best part? These ads show an engaging photo, product rating, price, sale price, and more, all at a glance. Not only does this data-rich visual format drive quick decision-making, but it also has a strong influence on consumer behavior.
Why use Google Shopping? In short, it works. It dominates other shopping channels. According to research done by Merkle, ad spend has increased by 38% on Google Shopping compared to last year, while it decreased by 12% for Search Ads.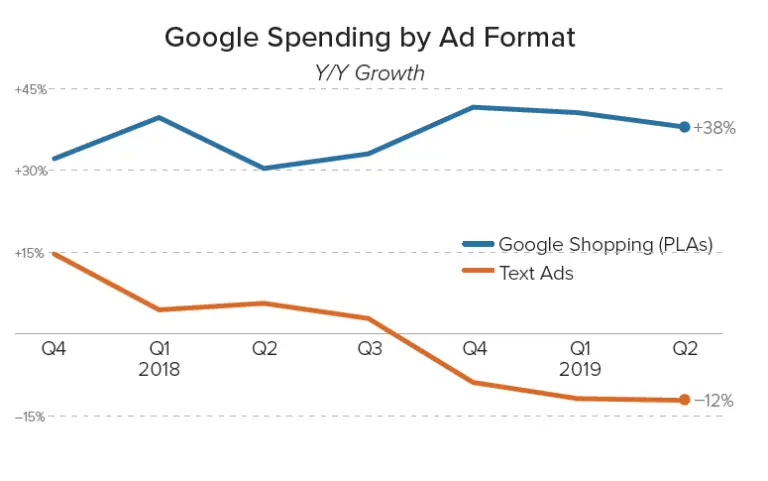 Here are a few other reasons to use Google Shopping:
Google Shopping adds a visual touch to an otherwise text-heavy searching and shopping experience.
"Google Shopping ads generated 85.3% of all clicks on AdWords and Google Shopping campaign ads" (report by Adthena)
Google Shopping is proven to have a 30% higher conversion rates than text ads.
By April 2020, Google Shopping gives free product listings (temporarily US only), aims to expand globally before the end of the year. In addition, in June 2020, Google is bringing free listings to the main Google Search results page in the U.S., helping shoppers choose the products and sellers that will serve them best, from a wide variety of options. Check out their article.
?Tip: At the heart of any successful Google Shopping campaign is a good product feed, we strongly recommend Socialshop to sync your Shopify product data with Google Merchant Center.
Google Product Ratings: How do they work?
Google Product Ratings are the star-ratings that appear under product listings in Google Shopping.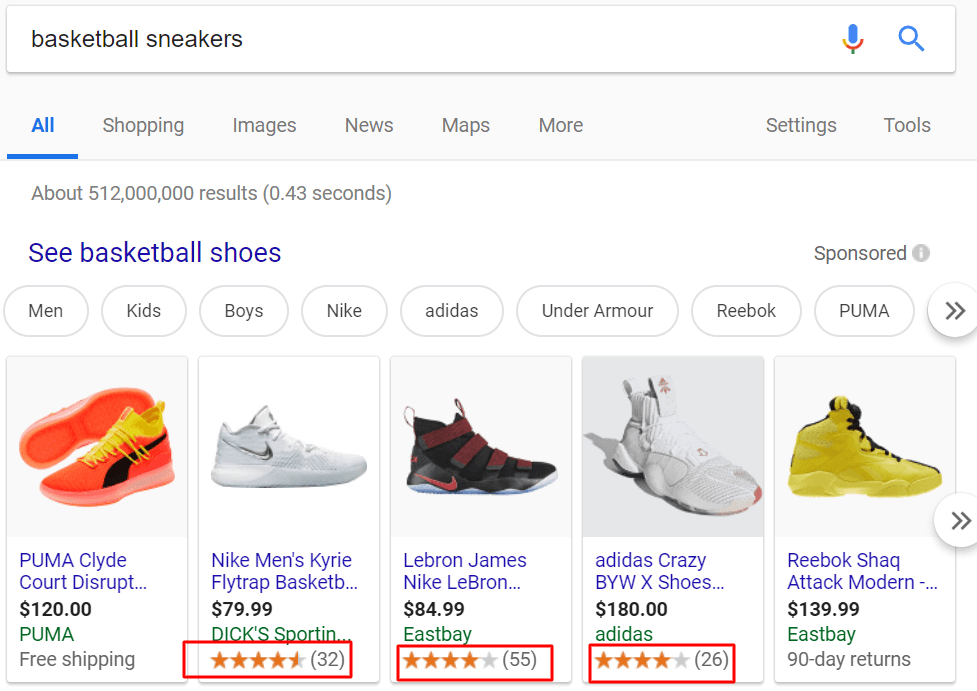 The star rating is from 1-5 and designed to give customers an overview of the product's performance.
By clicking on the Product Rating, you can access a more in-depth page, where the detailed reviews aggregated to form the Product Rating can be seen all together.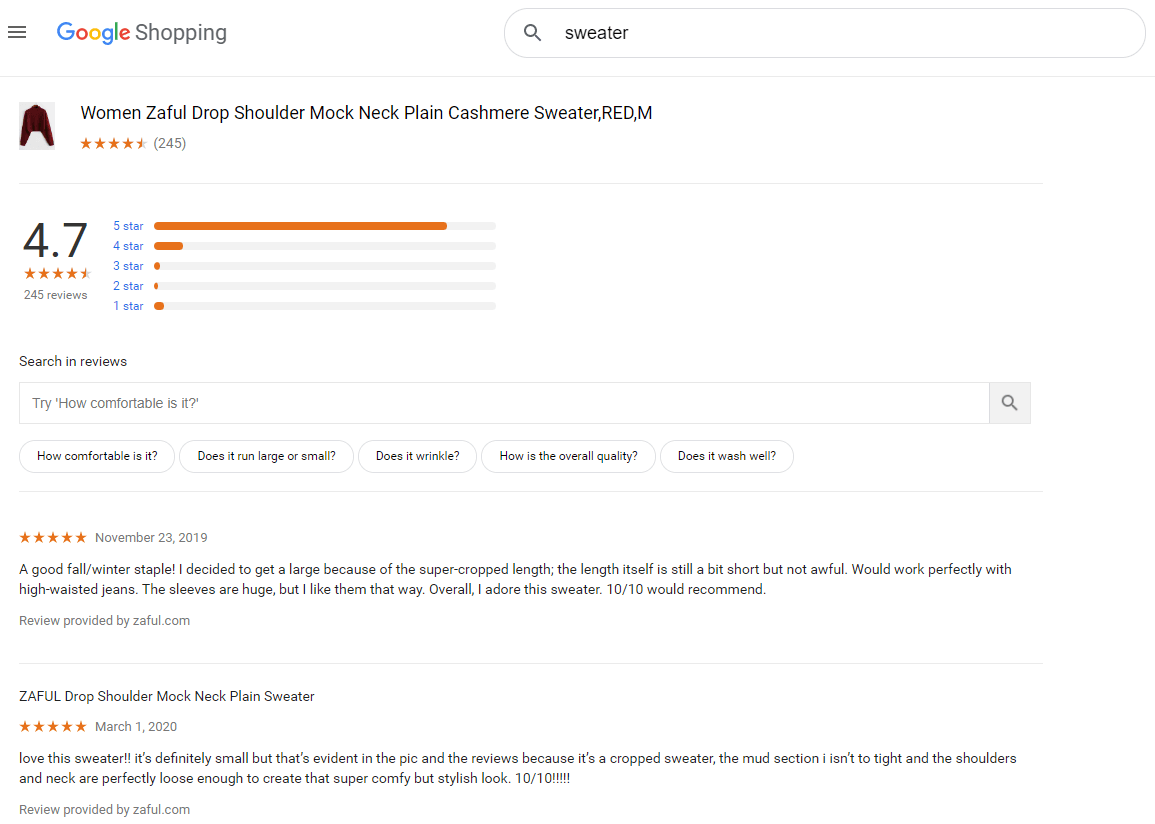 3 benefits of Google Product Ratings
The fact that 9 out of 10 customers use online reviews to make purchasing decisions only adds to the importance of Product Ratings. Indeed, there is no reason for you to advertise on Shopping Ads without taking advantage of Product Ratings.
1. Google Product Ratings make your products stand out
The most obvious benefit of having Google Product Ratings is to make your goods stand out amongst your competitors.
If you are searching for 'swimsuits' and some listings show stars where others don't, the eye will naturally be drawn to them.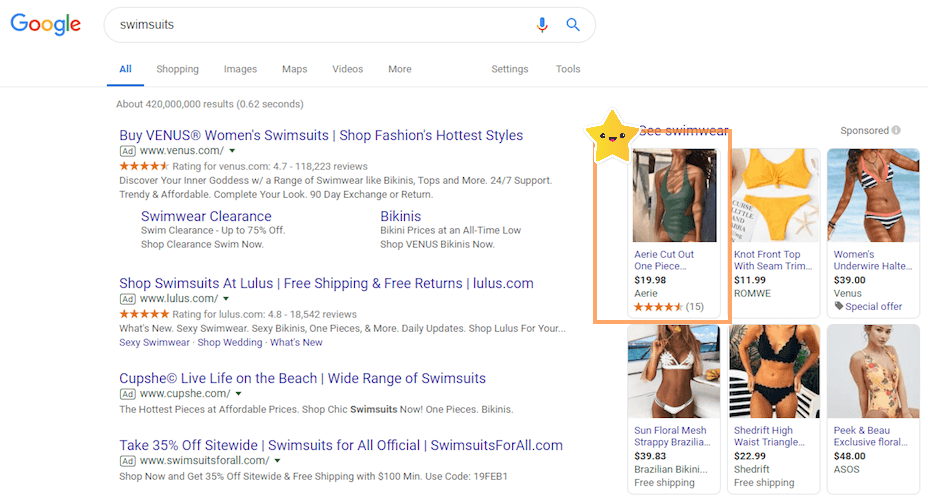 We have had the concept that stars = trust and quality ingrained into us, and will usually have a bias towards product listings that feature them.
Products with Google Product Ratings stand out amongst those without, leading to higher conversion rates and more sales.
2. Make customers more informed
Google Product Ratings don't just make some products stand out, they increase the product details customers can gather.
Most sellers rely on product descriptions to promote their products. But, let's be honest, how many of us read those?
That's where product reviews come in.
Customers who know more about the product they're purchasing are less likely to be disappointed. It's why 78% of buyers who read reviews are happy with their final purchase.
More informed customers leads to more confidence in buying and an increase in conversions.
3. Increase on-site conversion rate
Perhaps the best thing about Google Product Ratings is the impact they have on the buyer journey. Customers that arrive at your site after seeing a Google Product Rating are much more trusting, informed and confident.
They are, therefore, already quite far along the buying journey, with a high intent when they arrive on your site.
Increased trust off site leads to an increase in on-site conversions, sales and profits.
Push product reviews to Google Shopping via Ali Reviews
As you may know, the process of getting your product reviews accepted in Google Shopping Ads is complicated due to Google's strict rules. Thus, Ali Reviews released this automation feature to bring you a higher possibility of being approved by Google's Product Rating Program.
Pre-built XML feed file
Customize review settings easily
Update XML file everyday based on review settings
For more details, please check out our instructions to integrate Ali Reviews to Google Shopping.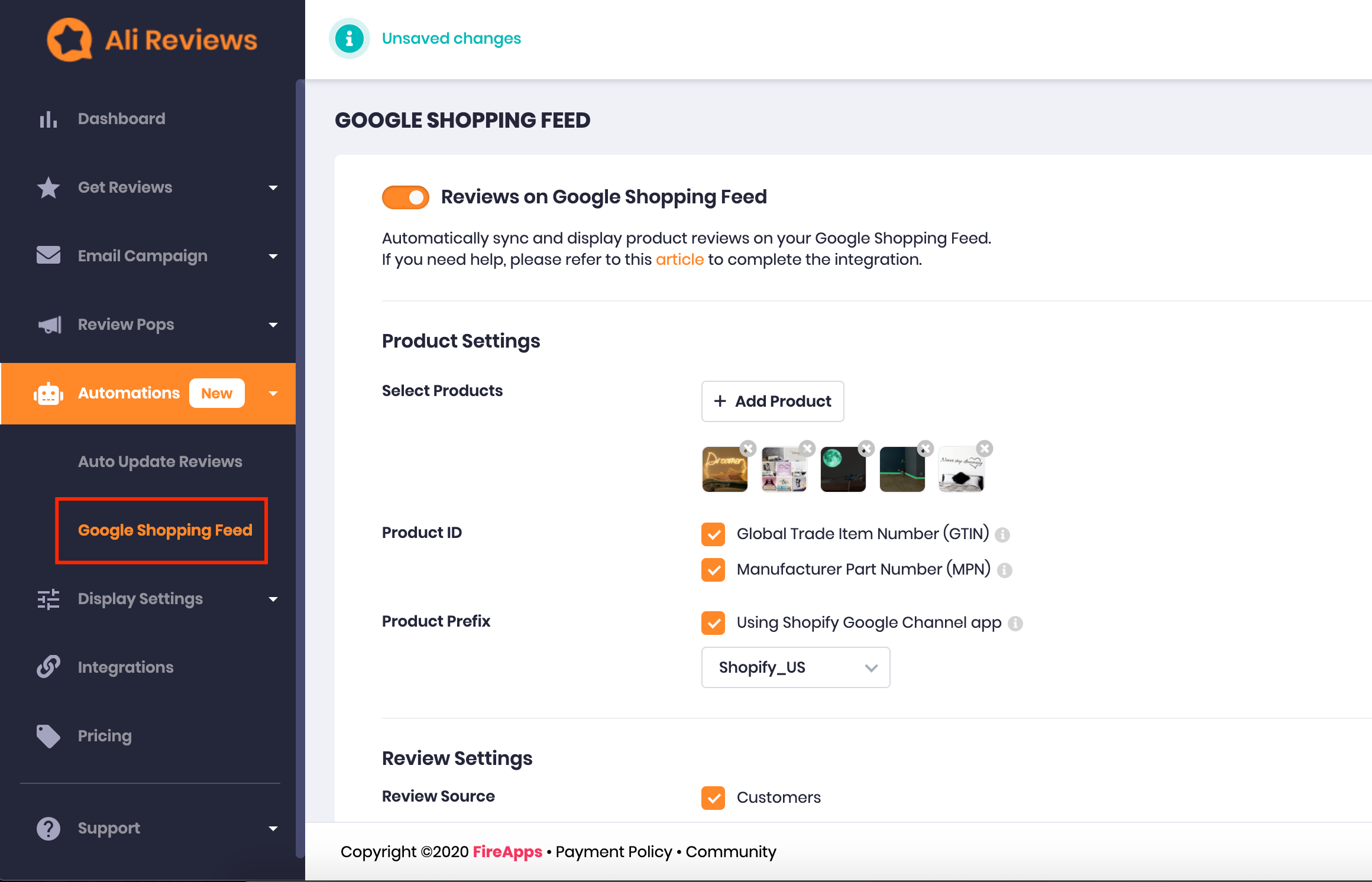 XML file Update method
There are two main update methods for XML file: Auto update XML file & Manually update XML file. See file limits here.
?Pro tip: This integration will perform better if you combine with Auto Update Reviews to keep your product reviews always up-to-date on store & Google Shopping.
Ready to add your Product Reviews to Google Shopping?
There's no denying that Google Product Ratings come with many benefits, but getting them is a real battle. With Ali Reviews, you can have a clearer understanding of what to do and how to qualify Google's rules to showcase your product reviews on Google Shopping Feed successfully.
Need a Start-to-Finish guide?
Follow our step-by-step tutorial here to know what you should do first and avoid wasting time. Feel free to chat with our support specialists if you encounter any problems!
Now if you're up and ready, explore this amazing feature right away!
Launch your Shopify store now! https://www.shopify.com/