Drive Retail Sales by Creating Personalized Reviews: Why & How
Product Update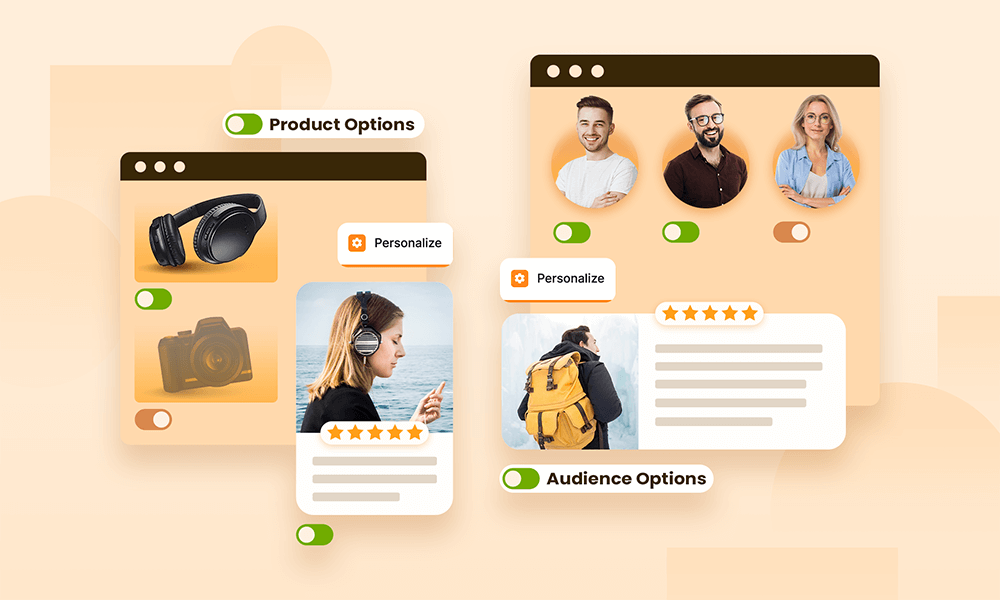 The only thing that will help your store increase sales is to keep customers coming back to you. A great personalized customer experience is key to customer retention. Especially if it is personalized reviews, it will bring you more surprises.
According to Google customer insight research, 59% of shoppers expect brands to personalize their experience based on their past favorite items. Combine this research with the statistic that 84% of shoppers trust online reviews as much as a personal recommendation. We have a short conclusion: Brands or stores that offer the best-personalized reviews will win.
If you're behind in this area, apply the following steps to make it possible to personalize customer reviews for a better chance of driving revenue growth.
Why can personalized reviews create a boom?
Said by Shopify:
75% of shoppers prefer brands that personalize their messages and services
74% of shoppers feel frustrated when brand content is irrelevant to their lives
Personalized experiences can improve conversion rates by nearly 8% for online stores
As a business owner, you know that customer review is an integral part of the purchasing experience of your client. Personalized reviews are like your beloved whisper to your customers to give their favorite items an honest look.
So personalizing customer reviews can undoubtedly be a bomb to help your stores explode.
In particular, you can leverage the personalized reviews throughout holidays such as Halloween, BFCM, or Christmas to catch customers' attention. The power of personalization can boost conversions, ROI, and customer lifetime value (CLTV).
How to perform personalized reviews of customers on Shopify store with Ali Reviews
We have established a program at Ali Reviews to personalize reviews with review widgets. It aids in narrowing your customer focus.
We allow you to showcase personalized reviews based on customer lifetime value (CLTV). CLTV is the return rate that a business expects to get via its business relationship with the average customer. It emphasizes the focus of the customer journey and the latest and frequent engagement of customers. So aside from presenting specific product reviews, you can also display reviews based on average customer spending, the latest purchase time, and others with Ali Reviews.
You'll start setting up the review personalization at the Display conditions section of Ali Reviews. We give you two options: Product options and Audience options.
Product options
1. Types of Product options:
Display reviews of all products: Turn on this option, you can display product reviews of all products in your store. Excluded products option have been added to support this option.
Static trigger: In Static trigger, you have 3 more options, including This product, Specific products, and Product type:

This product: This option is recommended to be used on the Product page to display only the reviews of the corresponding product.
Specific products: You choose the products that you want your shoppers to see repeatedly. And the corresponding reviews will be shown.
Product type: Display product reviews based on collections you've created.

Dynamic trigger: It is one of the most unique functions on the market. I highly recommend this option, as it not only makes reviews personalized but also helps you reduce cart abandonment. On average, 7 out of 10 shoppers leave at the last minute to complete the transaction. So, the Dynamic trigger will do the job of appearing as reviews of the products added to the cart and showing them on all pages. Your store can significantly reduce the cart abandonment rate from there. By the way, with the Ali Reviews app, you can display customer reviews on all pages perfectly.
Let's find out more about the world of e-commerce here Fireapps
2. How to activate Product options:
Product options setting is used to set which products' reviews can be shown on the widget. You can find this setting from the Show → Manage widget → Open the widget → Personalize section.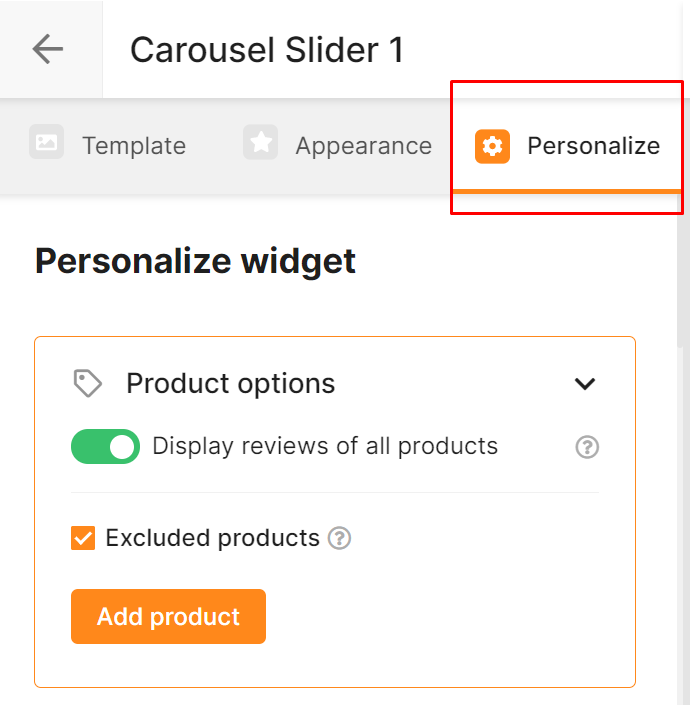 For Review box:
On Product Page: you can only show reviews of the corresponding product. So it will auto-set "This product".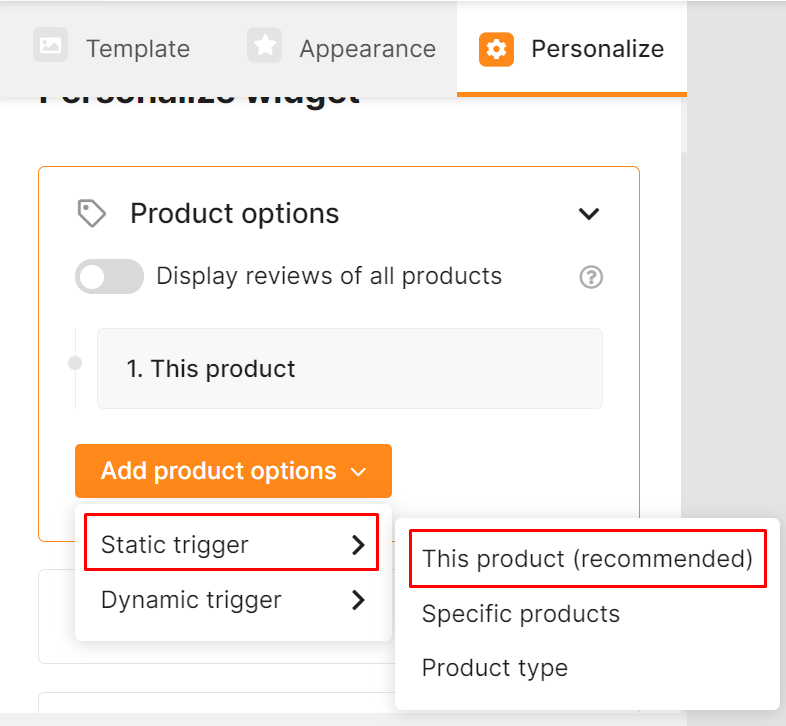 On other pages: It will select "All product" as the default
Static trigger: Only show reviews of the products that match conditions (Specific products, Product Type).
Dynamic trigger: Show the reviews based on visitors/ buyers' actions.
For Review pops and Carousel: It will show reviews of all products as default
Static trigger: Only show reviews of the products that match conditions (Specific products, Product Type, Product Combo for Review pops).
Dynamic trigger: Show the reviews based on visitors/ buyers' actions.
Note: You can only have one product option in one widget, create the new product option will delete the old one.
Audience options:
1. Types of Product options:
Show widget to all visitors: It will be set to show the widget for all visitors as the default.
Location: You can pick specific countries to show the widget to audiences.
Tag: Based on the Tag you put on your customer's data on Shopify, this trigger works for verified customers. If you didn't add Tag, go back to Shopify admin to create.
Last purchase date/ Average order value/ Total spending: Apply for verified customers. The trigger works based on the information on your Shopify Customers data.
2. How to activate Audience options:
Audience settings are used to target who can view the review widget on your store. You can have more than one widget which targets different audiences.
Take a look at the instruction below to know how this setting work: This setting is placed on the Show reviews → Manage widget → Personalize section.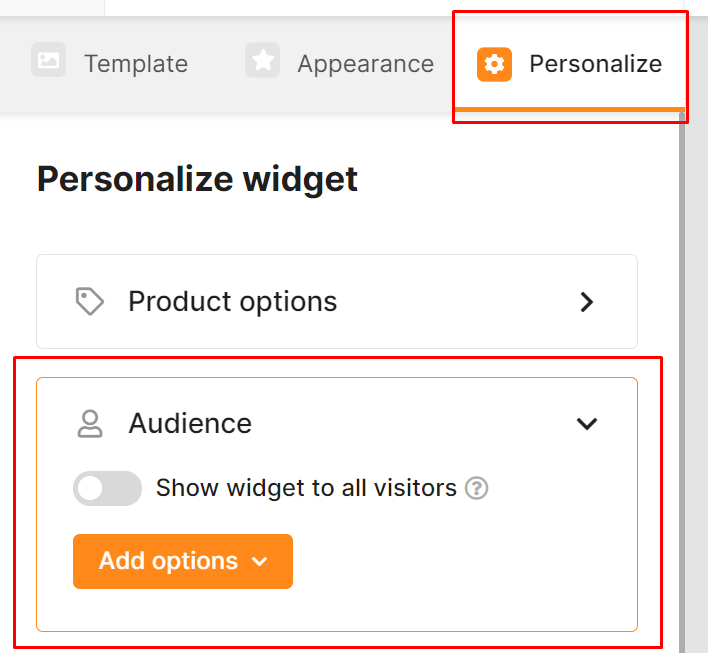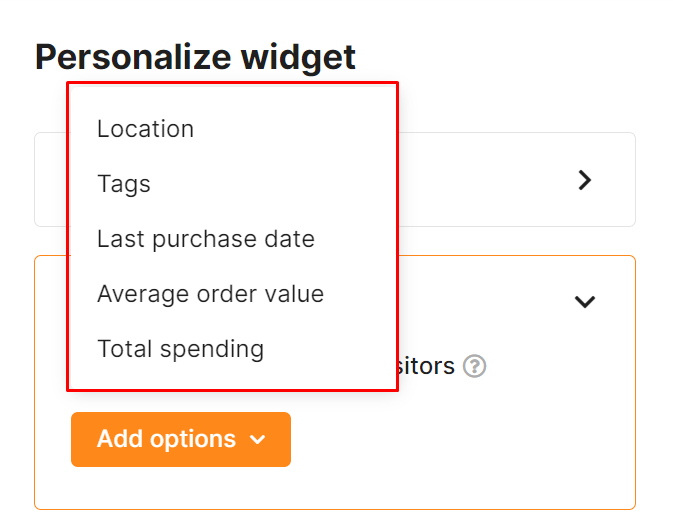 Reviews options:
This option helps you to make the reviews displayed most naturally based on what you have established.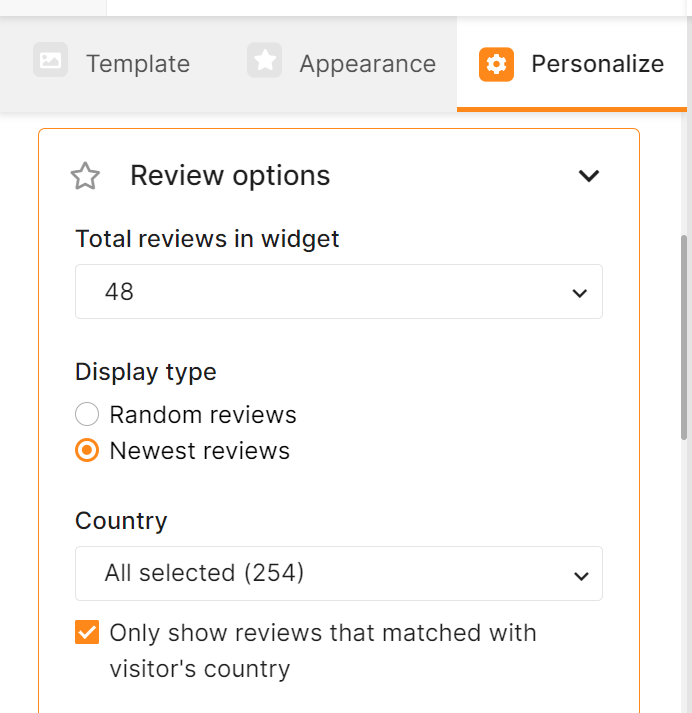 Ali Reviews allows you to choose the number of reviews in the widget, the display type, and the country of the audience you want to target.

Other options that you can use for better-personalized reviews include Ratings, Photos, Content, Hide reviews with keywords, and Hide reviews older.
Conclusion:
While this may appear to be a lot of effort, most tools for displaying personalized reviews automate much of the work for you. You only need to put it all up once and then update it as required.
Using these functions, however, is not sufficient. You should create a list of customers, group customers who have been, and bringing you profits so that personalization reaches the maximum potential: nurturing trust and attraction for them to become loyal consumers to boost store sales. We hope this article will help you execute that.
You can also learn 7 more proven tactics to grow your Shopify store with our Ebook.
Let's make a review-wonderland impressive with Ali Reviews
You can't wait to put previews on your store? Don't miss out this app!
Import reviews in seconds & collect reviews through multiple sources
Showcase reviews beautifully with 9+ styles & layouts
Fully moderate & manage review contents