Marketing Funnel 101: How this strategy can help you scale
eCommerce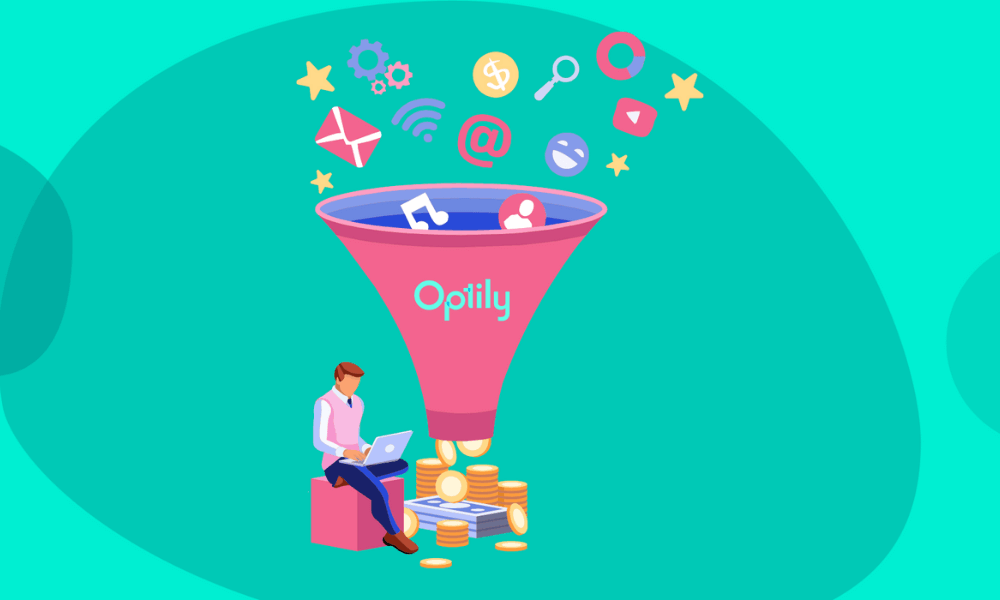 Online marketing is a constantly shifting landscape and it can be quite a challenge to keep up as a marketer. Knowing this, you might be wondering if a structure like the marketing funnel is even relevant anymore, given how much advertising has changed in the past century.
The team here at Optily strongly believes it is. We think it's a really important and fundamental strategy to use as the foundation of your entire marketing blueprint. And if you have a strong base, then you're already starting off built for success!
When we work with a new business, we help them build a comprehensive campaign strategy that uses the funnel structure. It's based on the psychology of a buyer, so building a series of campaigns that complement where a potential customer is in their thought process makes sense. In our experience, building out a structured campaign eventually translates into spending marketing dollars most efficiently.
Start your Shopify 14-day trial with FireApps
Did you know Shopify is now accounting for 20% of the e-commerce business.
Over 2200 merchants open their Shopify store everyday and 50% of them have a repeat purchase. Join them today!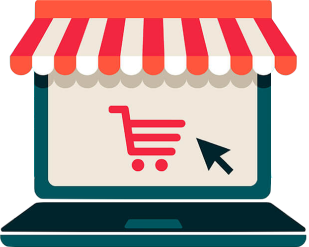 What is this marketing funnel anyway?
We're not into jargon here, so let's get some definitions squared away so we're all clear on what exactly we mean by the "marketing funnel."
Back in 1898, an ad marketing agency executive named Elias St. Elmo Lewis invented the first marketing funnel model. He used the acronym AIDA to define it, which stands for attention, interest, desire, and action.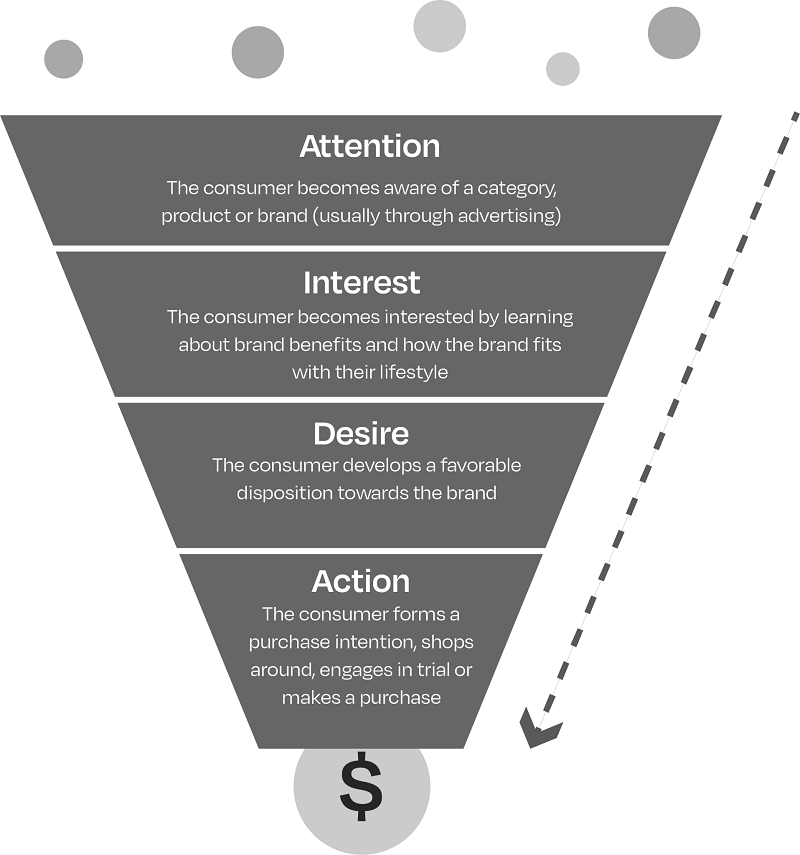 What this structure is supposed to do is to slowly warm up a person to the idea of buying your product. First, you want to introduce your brand and make them curious enough to engage in some way. Next, you want to take that interest they've expressed and make them really want your product. And finally, you try to take that desire and get them to convert by actually making a purchase.
The funnel is a fitting abstract construct because it makes sense that a wide audience will see your ad and go "hmm," but much fewer will make their way down to the end to actually buy your product.
This much hasn't really changed at all since the 1800s and is very much applicable today.
The buyer's mindset
The main reason why the marketing funnel still applies today is because the thought process behind making a purchase hasn't really changed much at all. What has changed, however, is the buyer's purchase journey and our ability to track it with much more precision through digital marketing analytics.
In a recent study conducted by Google, they tracked the journey of one person buying a pair of headphones. At the end, it took a total of 375 touchpoints before they completed their purchase!
On the other hand, 44% of Americans admitted they've made at least one impulse purchase in the past 3 months.
Different products have different buying cycles–a car and a candybar, for example–but the psychology behind the purchase is the same, whether it takes seconds or months.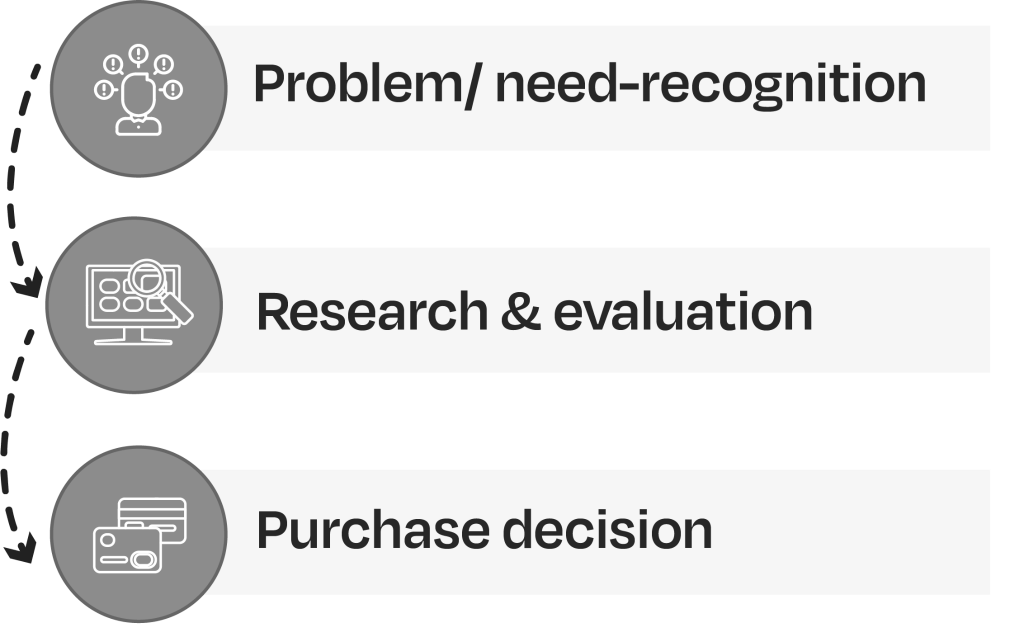 A modern take on the marketing funnel
Using this buyer journey, modern marketers have slightly tweaked the older AIDA version of the funnel and simplified it into the following: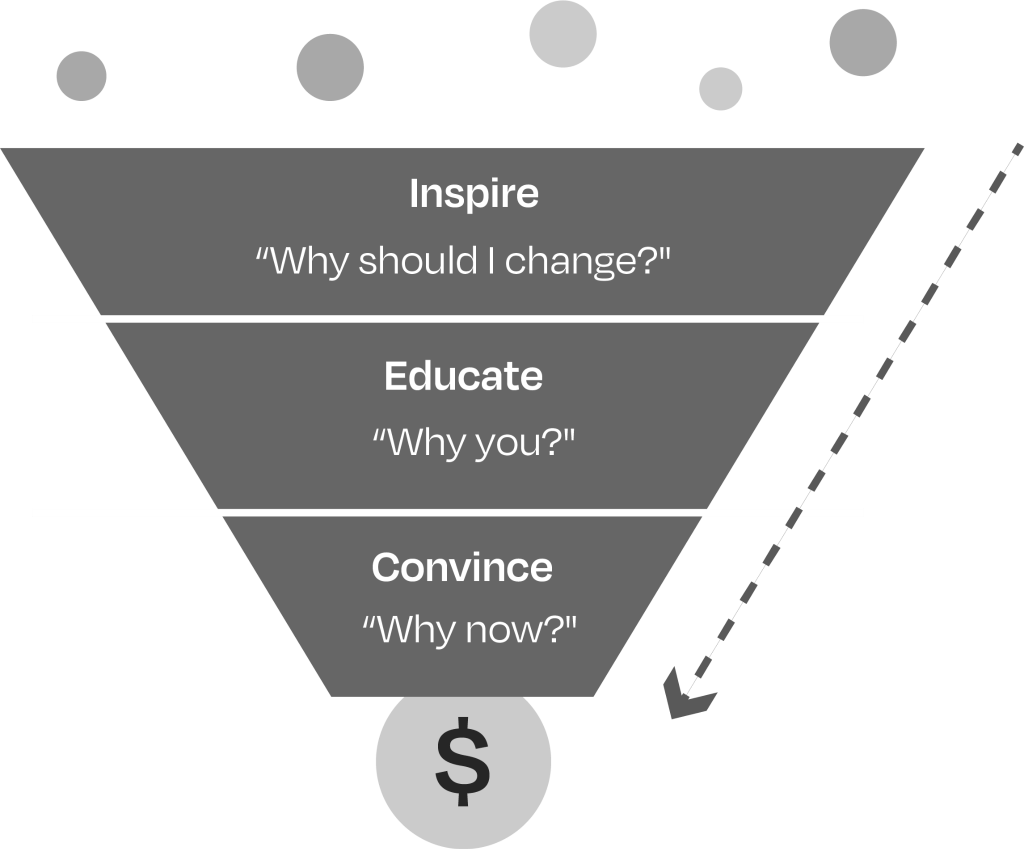 Step 1: Inspire
This top of funnel stage is all about awareness. The vast majority of people probably have no idea who you are or what you sell. The goal here is to get people's attention and introduce them to your offering.
At this stage, we're not driving traffic to our website or expecting conversions–although the odd one here and there is a very welcome surprise! In an awareness campaign, we like to employ short, snappy ads and typically encourage our clients to use videos.
You want to make sure to keep it under 15 seconds total and introduce your branding at the very start, since most people won't watch more than a few seconds. Also, don't forget to optimize for sound off!
Those who watch more than half your video or engage with it by liking or commenting become a more tailored audience that you can nurture through the rest of your funnel.
Step 2: Educate
The middle of funnel stage is the more exciting part of the funnel. You've already introduced yourself, so now the real conversation can start. Here you want to tell your story and highlight the benefits of your product. You want the viewer to be able to visualize how their lives will be improved by your product and how yours is better than your competitors'.
We encourage longer videos, carousels, and collections at this stage in order to help with showcasing your products and brand.
When it comes to targeting, you can include a small portion of fresh prospecting audience, usually in the form of a Facebook lookalike audience, but the majority of your audience should already have interacted with your brand and be a true remarketing audience.
Step 3: Convince
For the bottom of the funnel, your main goal is to get people to buy now. You already know these people are interested in what you have to offer since they've engaged with your ads, visited your website, or even put something in their cart.
The messaging here needs to be clear and to-the-point, as opposed to the previous stages where it was a bit more general.
Here, you want to show social proof to convince them that others haven't regretted their decision to purchase. You can offer them a limited time discount to further prompt them to buy now.
You want to help them overcome any reservations they may have about ordering now. This is where you really put your best foot forward in showcasing the best features about your product and quality of service.
A few notes on budgeting throughout the funnel stages
If you've been running ads on Facebook, the funnel structure might be ringing some bells for you. They've structured their ad campaign builder around the funnel, enabling you to easily select which stage of the funnel a particular campaign's objectives fall into.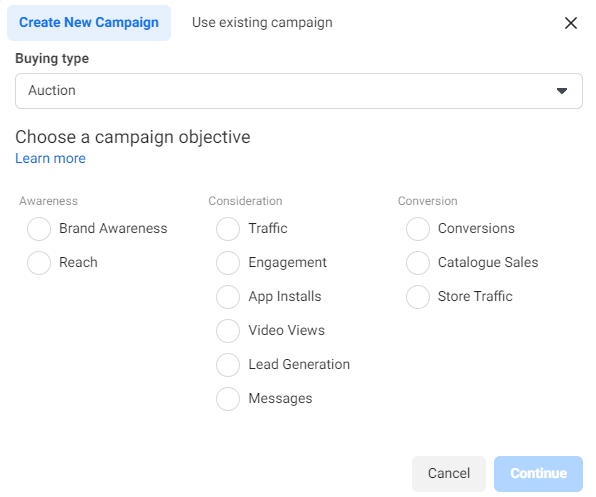 When you go to start a campaign, you'll be prompted to select an objective, which is pretty straightforward for experts like us who get the funnel. For some newcomers to digital marketing who may not be familiar with how important implementing the funnel is to success, we might see them run into difficulties at this stage.
A business owner may identify their goal as being "make more sales," so they set their very first campaign objective to "conversions." Of course, there's a big red flag here: they're using a top of funnel audience and creative with a bottom of funnel goal. What's going to likely happen here is they're going to burn through their ad budget very quickly with few results.
If people don't even know who you are or what you're selling, they're not going to immediately convert. This is why it's so important to "feed the funnel" from the top down.
For the top of funnel objectives, like brand awareness, video views and impressions come pretty cheap. As your goals change and you set new campaigns for lower in the funnel, page click, form fills, and conversions can get a lot pricier. This is why you want to be careful that you're targeting very interested audiences at the bottom of your funnel.
A good example of a well-structured marketing campaign might look like this:
A 10-15 second video briefly introducing your offering and branding
A longer 30-45 second video explaining the problem your product solves
A retargeting carousel that displays the different versions of your product

In the example above, we might expect to see the cost per video view on the top of funnel ad to be around $0.10. For the second, longer video, where we're trying to generate clicks to our site, we might see something closer to $1.00 per click. And at the bottom of the funnel where we're driving people to specific landing pages, we might be looking at nearly $8.00 a click.
It's clear that the costs can get out of hand quickly if we're driving a ton of traffic at the bottom of funnel campaign. This is why we need to be selective about who we target with these ads and ensure they're truly the most likely people to convert.
"Invest wisely in paid media right through the funnel and closely align advertising with other internal marketing and sales activities," says Optily CEO, Brendan Hughes. "It is this holistic approach that is behind many of the most successful eCommerce growth stories we hear about today."
Keep in mind that you need to feed your funnel. While the bottom of funnel campaigns, oftentimes, are what are driving conversions directly, that audience is sifted through from the top. If you aren't investing in brand awareness you'll end up spending big on conversion campaigns. Research points to a budget split of 60% for brand building and about 40% for sales activation, or bottom of funnel campaigns.
Want a personalized funnel strategy review?
We're all about helping eCommerce companies get going with a proper funnel strategy. If you'd like to book in a short session with the Strategy Squad, we'll be more than happy to review your current campaign structure. One of our digital marketing experts will also walk you through our instant ad optimization software and see if it could help you make the most of your cross-channel campaigns across Facebook and Google. Book in a session today!
Author
Katarina (Nina) White
Optily's Content Marketing Manager
Nina is the Content Marketing Manager at Optily and the host of Optily Radio: Accelerate eCommerce Marketing, a bi-weekly podcast featuring experts in the industry who discuss various topics related to growing online businesses through digital marketing. She moved from California to Dublin, Ireland to complete her MSc in Digital Marketing Strategy at Trinity Business School in 2018 and has been there since.
Social Media
https://www.linkedin.com/in/katarinawhite/
Optily handle @OptilyGlobal
Let's find out more about the world of e-commerce here: https://fireapps.io/