6 Things you shouldn't miss out about Shopify before launching an e-commerce store
Shopify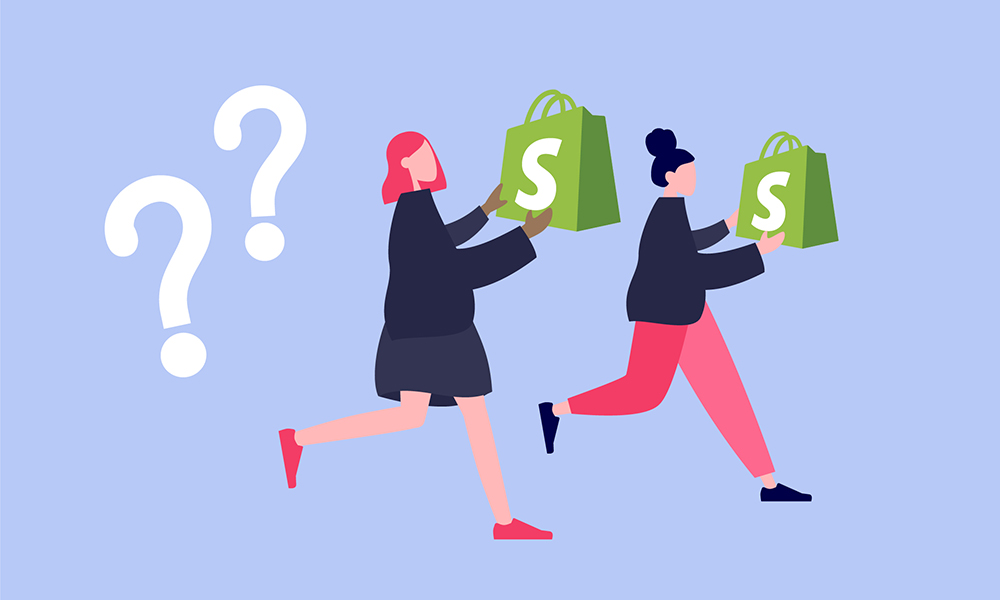 Shopify app is almost a must-know word for those who get involved in e-commerce. However, there still are people who keep searching "what is Shopify?" Don't worry, in this article, we will give you a brief answer for not only this question but other "myth" beyond Shopify.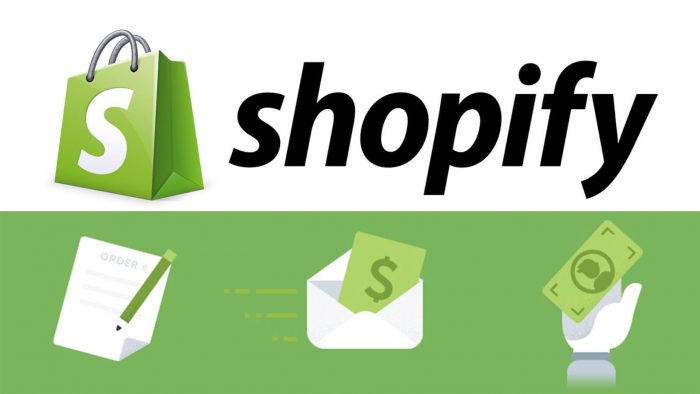 1. What is Shopify?
Shopify is a platform for e-commerce. What does it mean? It is a "place" that provides the service for online sellers and buyers.
The platform for e-commerce
The traditional market is set at a particular locale. In this locale, people have direct commercial transactions done. This is what we call commerce.
Start your Shopify 14-day trial with FireApps
Did you know Shopify is now accounting for 20% of the e-commerce business.
Over 2200 merchants open their Shopify store everyday and 50% of them have a repeat purchase. Join them today!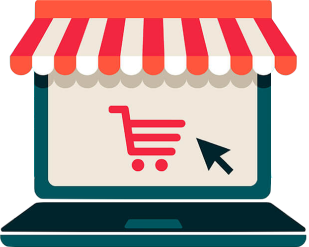 But for e-commerce, the market isn't necessarily set at the geological area. The market itself can occur completely in cyberspace. The vendor would never meet the buyer, they even never hear the other voice. The physical contacts in this type of commercial transaction unlikely to happen as well.
Indeed, with the absence of physical contact between two subjects, people are afraid of being wiled. For thousands of years, we've likely trusted what we can make direct contact and it is normal. Therefore, to ensure the e-commerce occurs smoothly and to protect its participant, the e-market needs its platform.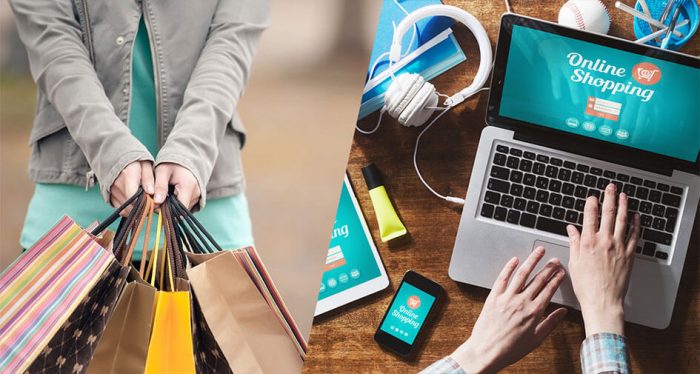 Back to the first line of this paragraph, Shopify is a platform, a virtual locale for the online vendors to set up their kiosks or stores.
There are many kinds of the platform may be very familiar to you. These are Youtube – the platform for video content creators; WordPress – the platform for bloggers or somehow, web builders; Pinterest – the platform for creative workers share and store their creativity ideas; and so on.
Why should you use this platform?
In a nutshell, Shopify is a platform for e-commerce and it will help you to build your store, show up your products, and to ensure the transaction.
Shopify is an advanced platform for e-commerce with a lot of benefits. And you will want to know why we should use this platform?
Firstly, it is an entire ecosystem. Shopify has websites, payments, shopping carts, and inventory which are working together perfectly.
Then, is it provides many plug-ins a.k.a. apps, which help you to run your business more effectively. The community of developers to build the app is large and never ceases to develop.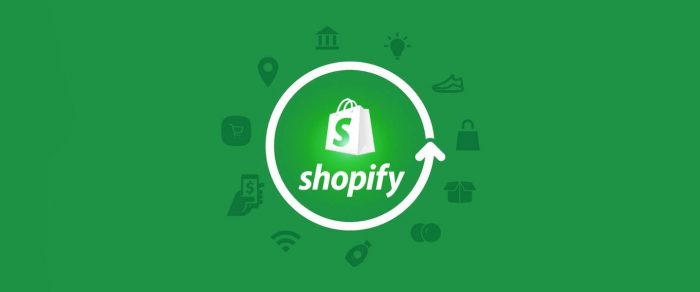 These 2 main reasons we think Shopify is the best platform but if they are not enough to convince you to use it, you may want to check how awesome Shopify is in another article.
Though we have tried to get stuff simpler, you should learn deeper about Shopify and its mechanism in this article "7 Reasons why Shopify is the best option for e-commerce stores"
2. What worth selling on the Shopify store?
From the normal merchants to the online store owners, this question seems to be the critical one. Find the right product and you can win that game of commerce is the common thought for everyone.
That is true but it can be misleading for anyone who doesn't have experience in the business. You must know the market is never static, instead, it changes every time. And there is no brief answer to such a question like: "what is worth selling on Shopify?"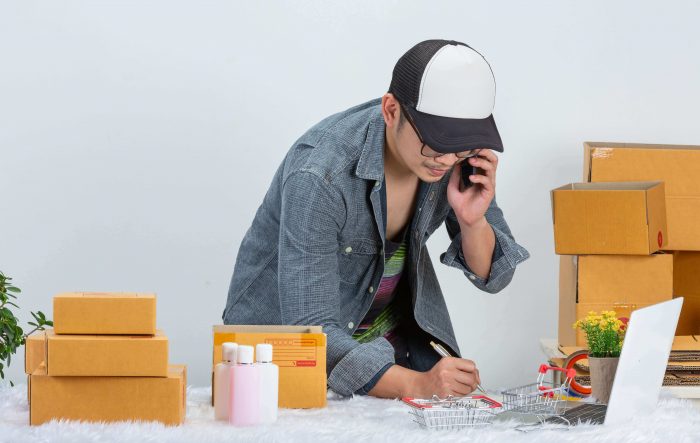 The price of goods is settled by the demand and supply in the market. Briefly, if the demand increases or supply decreases, the price will rise. On the contrary, the price will drop if there are too many suppliers take part in the market.
That means, you wouldn't want to pursue that wave because in the end, you will realize that you are late, just a little bit, again and again.
Instead of taking part in the trend when it hitting its peak, you can predict it in advance and presume what would be a good set for your inventory.
On the other side, we recommend you not depend on much on-trend or occasional hot products. For long term business, you may want to build a sustainable development store rather than some kind of hot trend following store, right?
So, stay with what you are most interested or most acknowledged and then build up your inventory from there. Example: you are addicted to outdoor activities, you can start selling outdoor gear like camp, trekking boots, survival items, etc.
Because of being the enthusiast of particular stuff, you can drive yourself to research deeper and deeper about what you are selling on Shopify. This can make a big difference for your business. You will know what is worth selling.
For the fresh new store owners, the were many tools to help you researching what can be sold as well as provide many-valued information such as price, supplier credibility, etc.
You may feel so uncertain about what you are going to put on the shelves? Take your time to check this detailed tutorial "3 Proven strategies on how to find products for selling on Shopify?"
3. How to begin your Shopify store?
Shopify is the platform for e-commerce so what should we do to get started?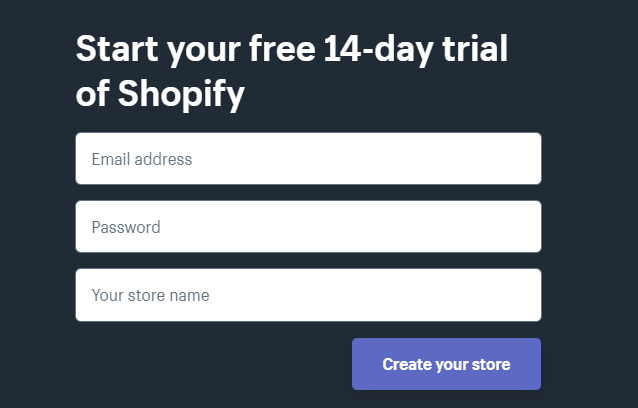 Sure, let's start from the homesite. You will have to sign up for an account. After filling the required information, just click the button "Create your store". It will lead you to your store right away. At this point, you have your own Shopify store.
It will not look nice? It's okay. It's just our very beginning. You have a lot of things to be done for your best Shopify store.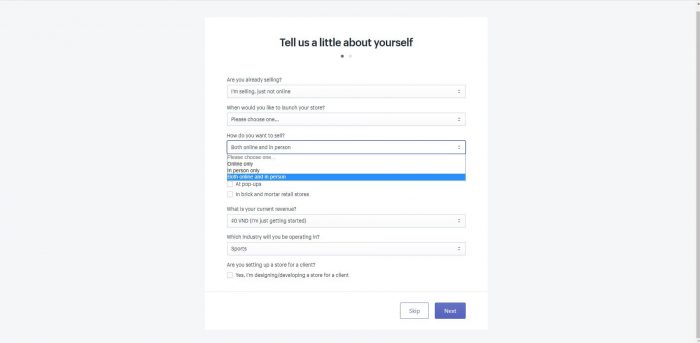 The first of them is learning how to use your admin page. There will be many functions that you should know clearly.
Then, you will want your site to look brilliant and attractive? Take a look at "Theme" or "Layout". Shopify has its storage of customizable themes and if it is not enough for you to choose, you even can hire Shopify Experts to design the layout, just for your store.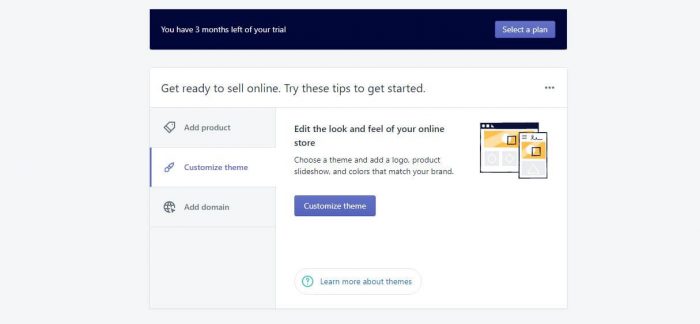 After that, you will have to add your products to your store; set prices, taxes, shipping methods, etc.
We think you should want to test your store sometimes before it goes live.
Too much complicated, why don't you get more details tutorial in "5 Steps to set up your Shopify store within 20 minutes".
Don't be afraid, many best Shopify stores exist out there. They are the best for good reasons. Remember, before they become the best Shopify stores, they were fresh new store owners, like you today. Visit their stores, learn how they set up their sites and you will know what to do with your store.
4. What is Shopify App?
As the e-commerce platform, Shopify has the build-in tools for store owners to set up their stores. However, those tools provide just only a few basic functions and might not fit your demand when setting up the store.
You will need more tools to get your site run smoothly. They are called plug-in or app. They are web-based software programs that work on the Shopify platform, help you in some delicate tasks for your business.
Familiar to your smartphone apps? Yeah! You get it right. Shopify is like a smartphone's operation system, which has some built-in functions and programs like Email, Calculator, Phone, Contacts, etc. but you will need to download more apps from the app store to maximize your smartphone experience.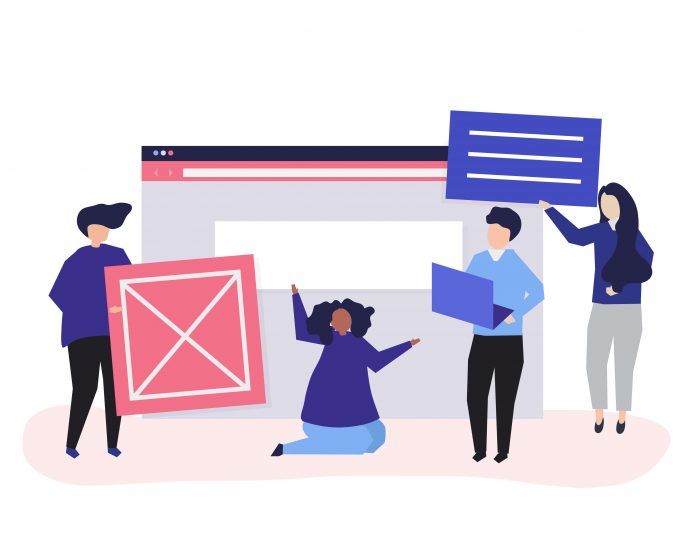 On the App Store, you can find the most suitable app for your need. The app was divided into categories based on benefits or functional characteristics like Marketing, Store design, or Customer support, respectively.
The category tag of the apps is crucial for you to determine what is necessary. Shopify Apps tagged with many categories to make you search app easier but to be brief, we will tell you there are 3 main kinds of app.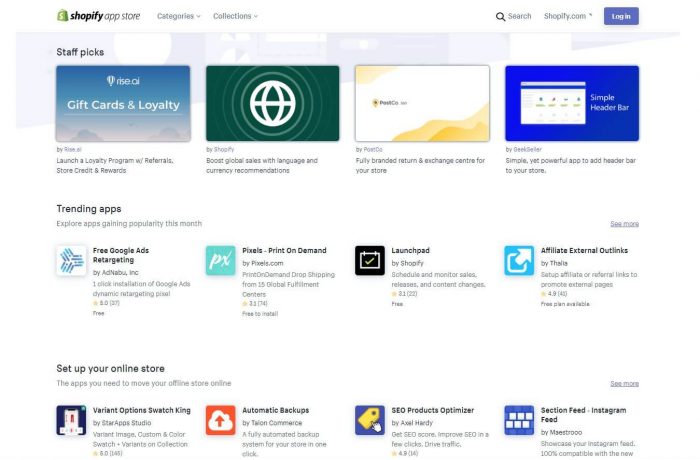 First is the "Marketing app", which gets involved in marketing stuffs like report analytic, campaign management, social proof building, and so on. Most apps on Shopify App Store get this tag.
Second is the "Site-building app", which will help you, literally, build your online store and make it run smoothly like layout design, fraud protection, order fulfillment, etc. Some Marketing apps also have Site building functions.
The last kind is "Productivity" that will help you in daily work as the store owner. They are staff management, workflow tracker, bulk editor, etc. That kind of app would help you a lot but if you can't afford it, your business is still okay!
Using the right set of apps will make your business workload softer and more effective. This is also a key to have a successful store as well. Indeed, you will need to master the Shopify Apps as soon as possible.
Want to learn more about Shopify Apps? You will need to read "tutorial how to choose your right app for your store?"
5. Use Shopify App to optimize users' experience?
When your store is going live, the people will see it on their screen. The customer's screen is the playground for online store owners. That means what you want your customers to see on the screen will lead them to their decision: to buy or not to buy.
Therefore, you will always want to make customers feel better after visited your site instead of keep them stay away from you. The action to create a better feeling like that, we call optimize users' experience.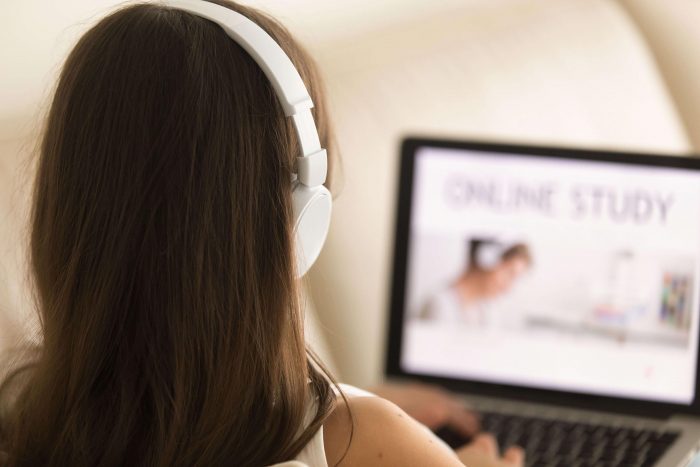 For now you may want to ask: "I got it and what I should do to optimize users' experience?" There will be neither a simple answer nor a short checklist for you. That stuff is hardcore and complicated for not only fresh guy to e-commerce but also big business. You will need a lot of time to conduct many trial and error tests.
For the scale of e-commerce individual store, the job is almost about site-building. You may need to know coding, website design, etc. In case you know nothing about these things, you still can optimize users' experience via the Shopify App.
That is the true power of these apps. They simplify the hardcore task of optimizing users' experience as much as they can so the store owners can be able to fine-tune the store.
So, how to do that with Shopify Apps?
You want the site look clean and brilliant, let start with the "Store design app".
You want the store to be more friendly, transparent, and trustful, search for "Social proof app".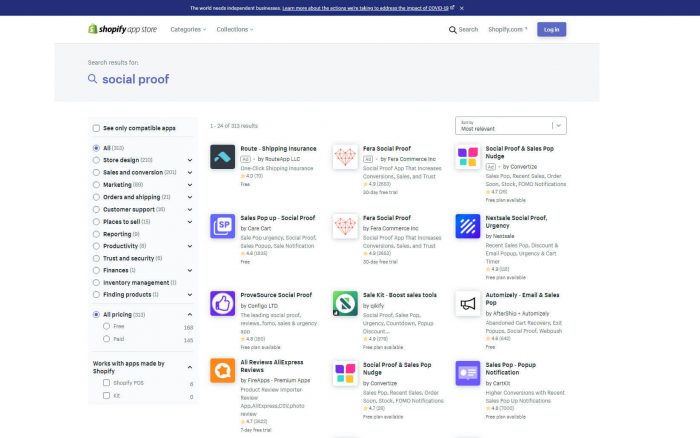 As mentioned before, there were many kinds of Shopify Apps available on Appstore. It does take a long time to get your right apps. However, we recommend you to try those tips to optimize users' experience.
6. The best Shopify Apps in 2020
As soon as you get acknowledged about Shopify and Shopify App, you will wonder what the best app for your store is.
Honestly, set the best app list for everyone is impossible because e-commerce is much diverse with thousands of stores and millions of products. Different stores will need a delicate approach and there is nobody but the store owner knows what the most suitable for him is.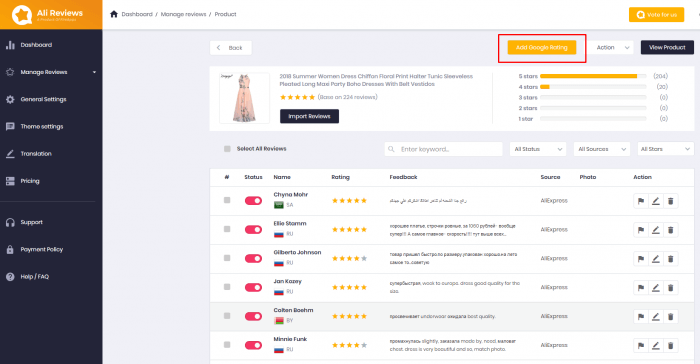 However, to get rid of your confusion, we will suggest some app names that worth being called "the best" for beginners.
They are Orbelo, Kit, Ali Reviews, Plug in SEO, PushOwl, etc.
They will help you in adding products, managing marketing campaigns, building social proof, optimizing search engines, respectively.
Still, be confused? Here is our complete best Shopify App list for the beginner.
Conclusion
The question "What is Shopify?" is very short but its answer is not. At this point, we want you to change the thought from "Shopify is a platform" to "Shopify is not only a platform but also a gate to new chances".
If you are going to make money online through e-commerce, Shopify is the best place to start. Take your advantage as its 14-day trial to set up your store, experience Shopify App, and bring your products to customers.
Launch your Shopify store now! https://www.shopify.com/