Top 5 best Shopify SEO Apps in 2022
Shopify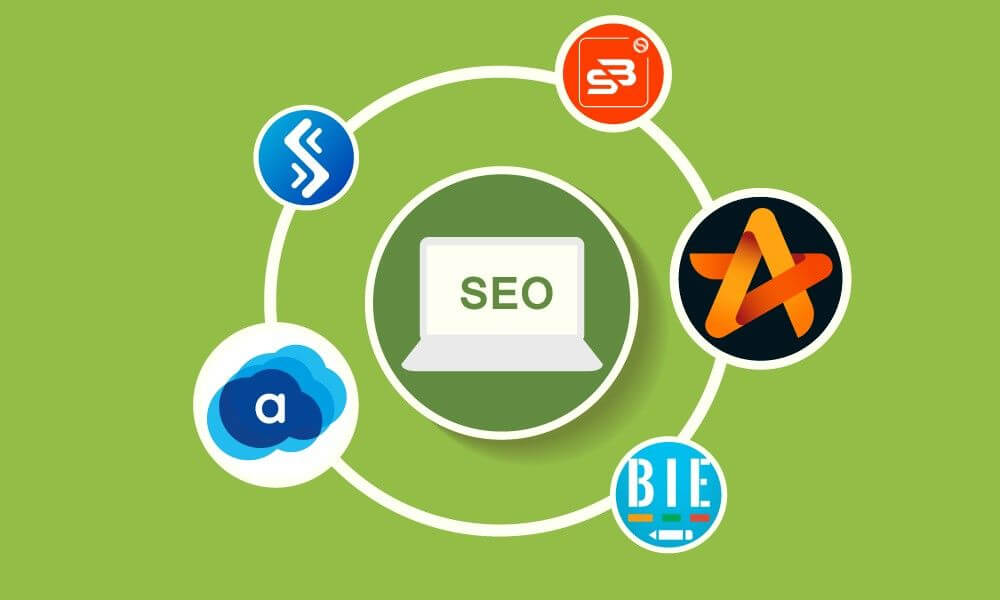 We are living in a time in which it's become extremely hard to get free traffic and/or interaction. Brands are splashing cash on ads to get enough traffic for your website that causes the ads CPM skyrocketing. It doesn't mean that you will have to shift all your focus and resources to compete on paid channels but it's mean you will have to focus more time on organic channels like Search Engine Optimization.
Same thing applies to Shopify. Boosting SEO for Shopify stores isn't just about following the best and latest SEO practices, although it's still important. But it's also about finding and applying the right tools for your strategy.
In September 2020, Google just introduced mobile-first indexing for websites. In short, the mobile-first indexing prioritizes the mobile version of the Shopify store over its desktop one on search results. This update means that you need to make sure the content (texts, images, videos, and meta tags.) will be 1-1 on both desktop and mobile versions.
Start your Shopify 14-day trial with FireApps
Did you know Shopify is now accounting for 20% of the e-commerce business.
Over 2200 merchants open their Shopify store everyday and 50% of them have a repeat purchase. Join them today!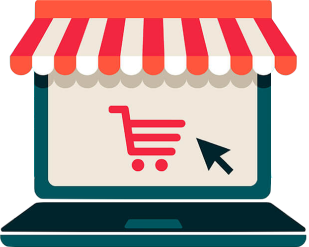 Content is king but without traffic it's worthless. With these 5 best Shopify SEO apps, you can drive more FREE organic traffic to your store everyday.
Let's dig in.
1. Ali Reviews
Top of the list is my favorite app, Ali Reviews from FireApps. Ali Reviews has built-in seo solution that are available upon installation and also Google Shopping integration that can help boost your Shopify SEO effort.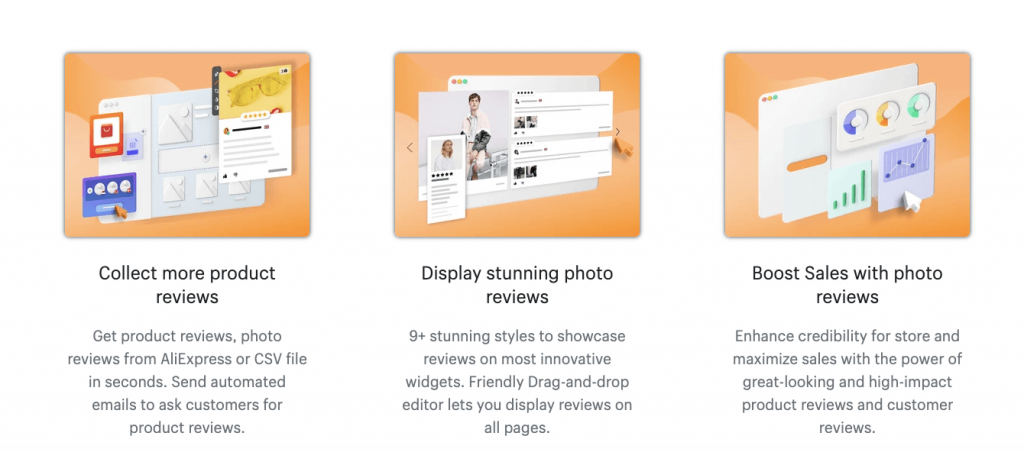 SEO rich snippet: Ali Reviews allows you to display reviews & ratings in search results using Google rich snippet which will help increase trust and drive more traffic to your stores.
Pricing: Starter plan $9.9 | Shopify ratings: 4.9
SEO Booster by Secomapp is a one-size-fits-all SEO solution for all Shopify stores. It is designed to suit every SEO need, from starters to professionals, as there are not only no coding skills required but also advanced SEO features.

SEO Booster offers you powerful and premium tools to make your website data more friendly to Google, then gradually improve its ranking and drive more organic traffic. With many auto features and a dedicated support team at service, this app surely helps you save more time, money and effort in managing SEO tasks.
You can start your SEO journey easily at $0/month and 7-day free trial on paid plans with SEO Booster and cancel any time you want. This is guaranteed to have no risk to your store, so why not give it a try to enjoy the best SEO service?
Pricing: Pro Plan $29.99 & Unlimited plan $79.99 | Shopify ratings: 4.8
3. Avada Image Optimizer
Avada offers a "forever free" image optimizer solution for your Shopify stores which is really cool.

While it's free, it does offer many features that you can only find in pricy options including: Optimize Image ALT tag, Image optimization, Google structured data, Meta tags & rules, Site verification, Social Meta, Redirect 404 pages, SEO for Local Business, HTML sitemap and SEO analysis,check backlink.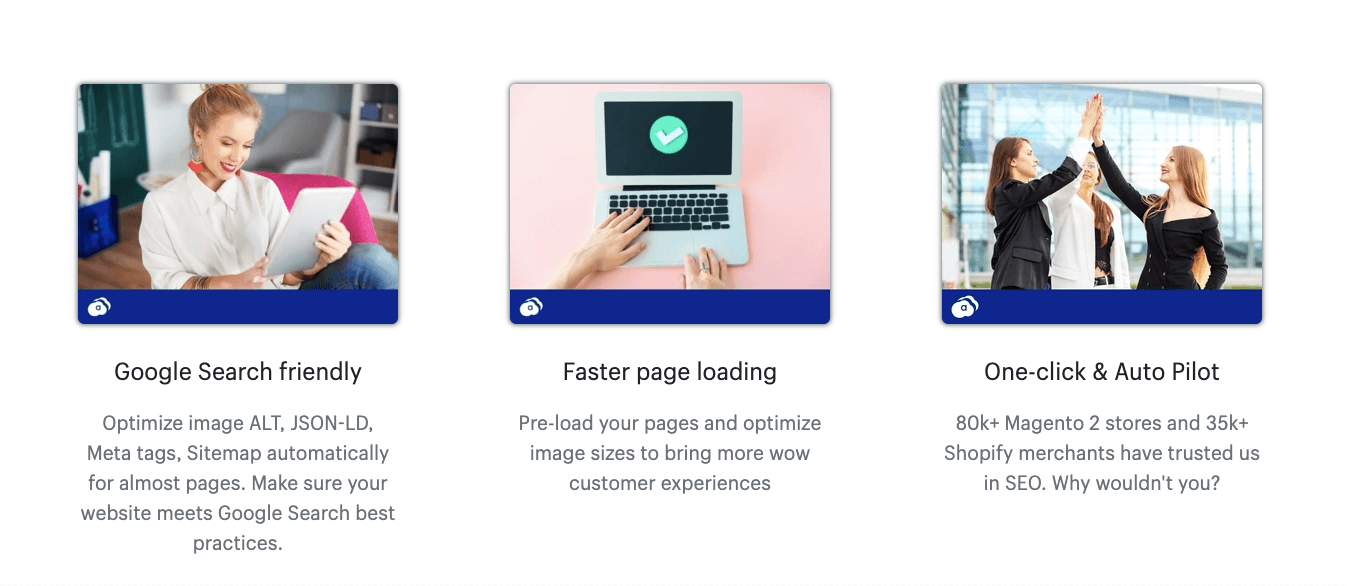 Moreover, they are also integrated with the best and most popular Shopify apps like Pagefly, Shogun, GemPages, LayoutHub and Ali Reviews.
Pricing: Free | Shopify ratings: 4.9
4. Hextom Bulk Image Edit
Image optimization is an important factor when it comes to your site ranking in Google. As the name implies, it's ideal for Shopify merchants who use a substantial amount of images.

Bulk Image Edit allows you to update the alt text and file name of your images and compress them for faster load times in bulk. Being able to do this in bulk is crucial if your store has a lot of images, this will save you lots of time.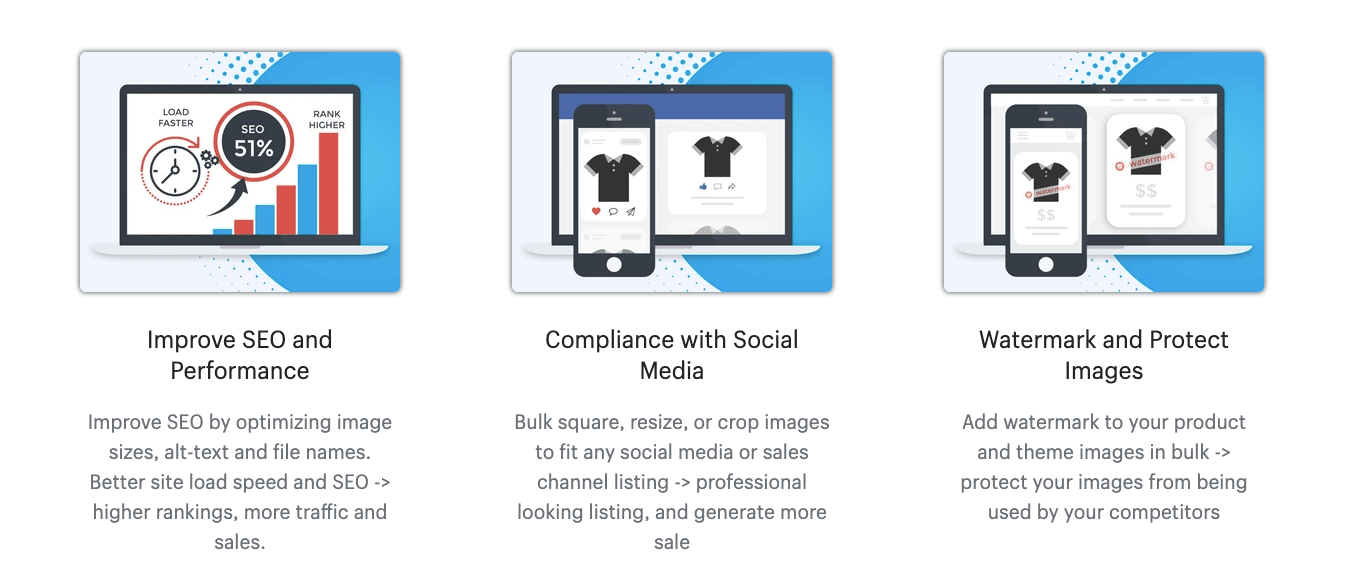 Bulk Image Edit is able to compress images up to 51% without affecting image quality. It also makes sure that images have the right width and height ratio.
Pricing: Basic Plan $9.99 | Shopify rating: 4.7
5. Swift Page Speed Optimizer

And last but not least on the list of our best Shopify SEO apps is the Swift page speed optimizer.
Unlike heatmap tools like Hotjar, Lucky Orange, Yoast which only allow you to analyze the audience, Swift is a Shopify Page Speed Optimization solution that offers an innovative approach based on powerful tools including Google Lighthouse, PageSpeed Insights, GTMetrix, Pingdom to speed up your store performance.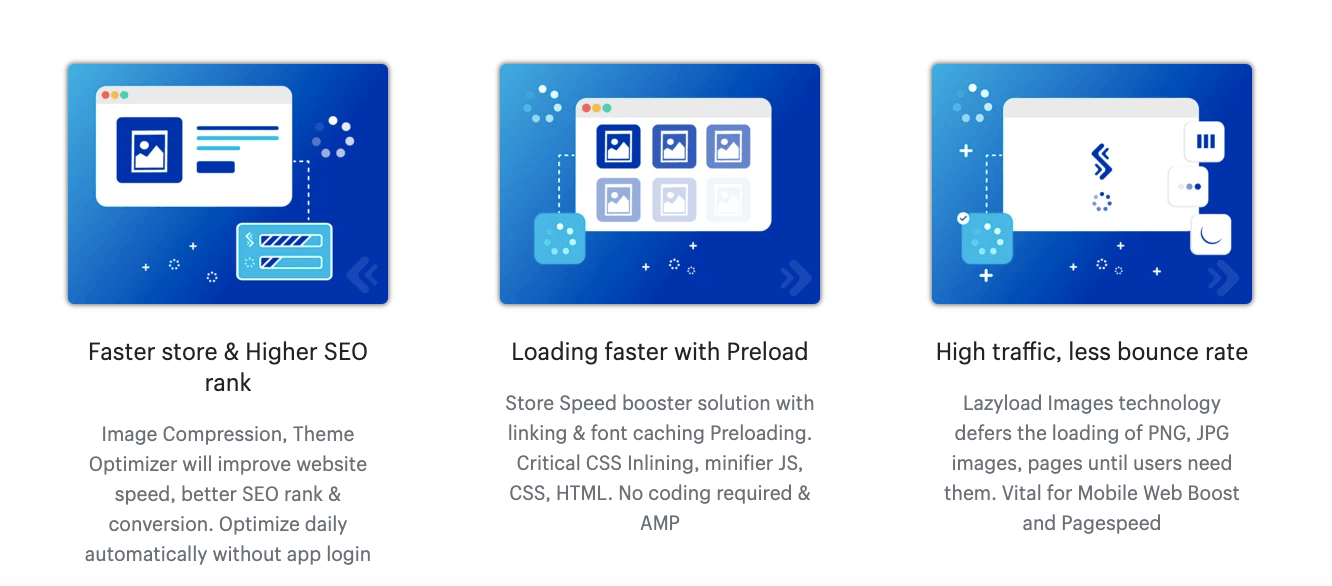 Swift speeds up your Shopify store by 600 milliseconds on average which is pretty impressive. By using AI, Swift provides the level-up prefetch techniques to increase 3x faster speed than other apps using normal preload.
Pricing: Free | Shopify rating: 4.7
Conclusion
Relying on paid ads channels is both risky and costly. Facebook, Google and all other ads platforms are always looking for ways to reduce your organic reach so you will have to spend more on ads. SEO is not becoming less important but indeed it's become crucial for any business to survive.
To succeed on Shopify, awesome products, huge ads budget may not be enough as the cost to acquire a customer will always be increasing by the time. Doing good SEO for your Shopify store is one of the key things that help you survive and thrive in such a competitive market like Shopify.
However, SEO is not easy as it requires technical, content management and creative knowledge. Fortunately, we have these tools above to take care of the hard work and guest work so Shopify merchants can focus on what matters most to their business.
Let's find out more about the world of e-commerce here https://fireapps.io/