Transcy vs Langify: Choose the best one?
Shopify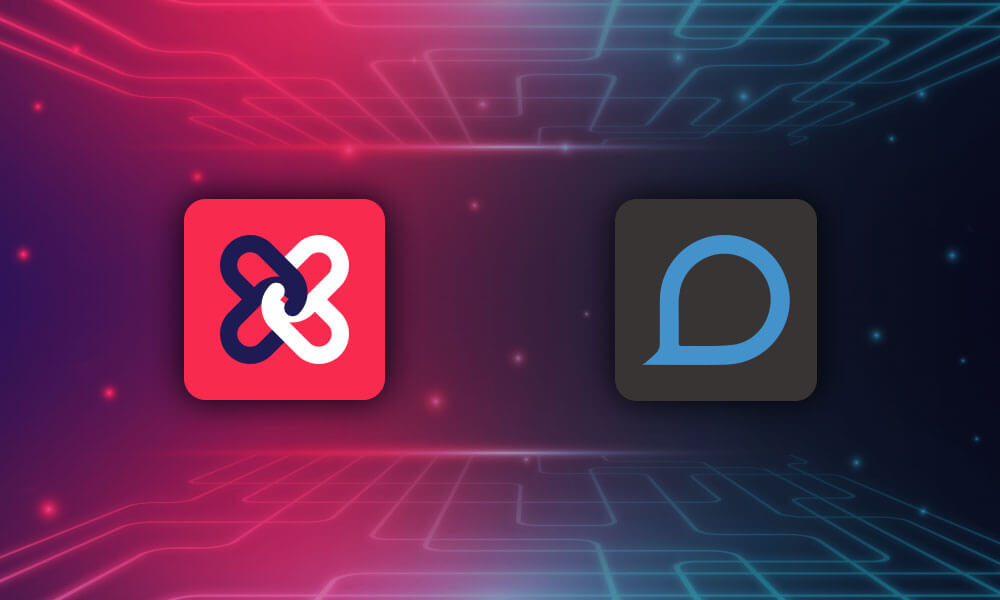 Having a Shopify multi language website has numerous advantages. For example, preparing your online store for internalization is less difficult than creating a custom website. It is critical to translate both the functions and the static text of your online store.
But, exactly, what makes a good translation app for your Shopify store? The ability to translate into any language is clearly advantageous. The app's price and ease of use are also important considerations.
Transcy and Langify are two powerful apps available in the Shopify store, and we will compare them for you to pick the best one today. Langify is Transcy's competitor and has been in the industry for a long time.
We've summarized with a short table comparison here:
Transcy

Langify

Pricing
$17.9/month, up to 100,000 words
$17.5/month
Pros
– Support 100+ languages

– Use Shopify & Google API for quality translation

– Navigate UI/UX

– Easy to use

– Customize languages switcher

– Add-on currency converter without costs

– Dedicated customer support and so on….
– Simple installation

– Navigate UI

– Unlimited number of SEO-optimized languages

– Import/Export options include CSV, PO/MO, XLIFF, and JSON.
Cons
– Not multilingual SEO optimized metadata, Hreflang tags, metadata
– There is no automatic translation available.

– Setting up takes time.
We compare them by dissecting some specific information between them.
Let's get started!
1. Overview
Transcy
Transcy is an excellent tool for quickly and easily creating a multilingual version of a website or store for businesses of all sizes. It also aids in currency conversion, allowing you to personalize your customers' shopping experiences.

Despite its recent release, Transcy has already achieved and left an indelible mark in the e-commerce industry.
If you need to sell across borders, Transcy will handle everything for you. It outperforms all other tools in terms of features, speed, and customer support.
Langify
Langify is a very popular Shopify plugin. The app creates an entirely new domain for each language. It also includes SEO optimization for each language, sitemaps, and RTL translation support.

Langify, on the other hand, is unable to translate pages for you automatically. The app keeps track of which pages have been translated so far. As a result, the process of creating a multilingual page may be time-consuming for the average person.
2. Features
Transcy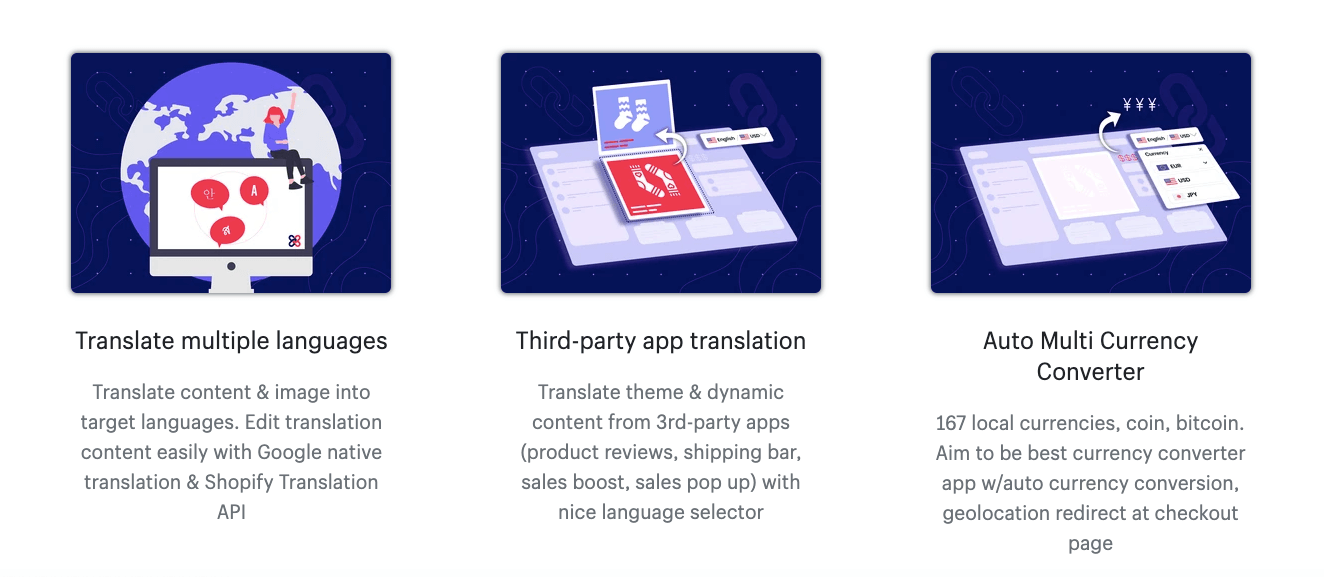 The following is a list of Transcy's features:
Edit content manually and manage content in single place
Use Shopify APIs & Google APIs for the highest translation quality
Third-party app features to translate content in front-end apps like Product Reviews, Sales Pop-up, Information Box, Widgets,… for smarter and faster translations
The media replacement feature allows you to add a specific image for every translation, translates the homepage banner, product images, e.g to give your store the best look possible
Auto-update language translation to up-to-date new content for your products and collections to save you time, effort, and money.
Customize language switcher to fit your store themes and have great website looks
Moreover, Transcy gives the Currency converter with no costs
Langify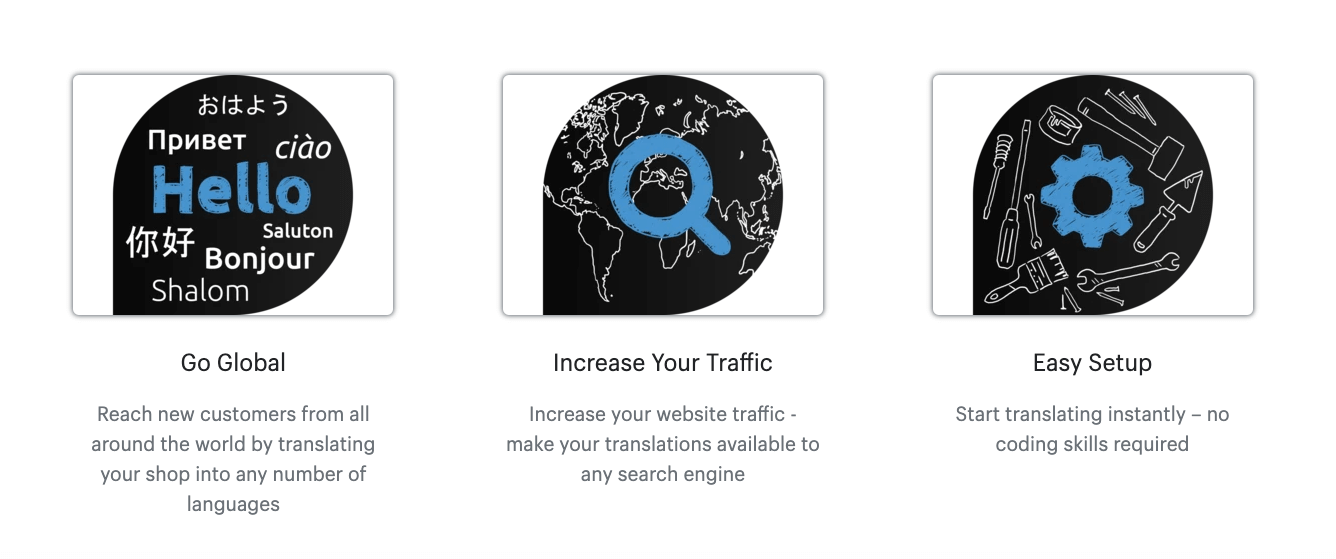 The following is a list of Langify's features:
Translate content using Rich-Text-Editor
Keep track on the translation progress of each single item
Automatically optimized hreflang and tags
Pick up and index translations by all major platforms such as Google, Facebook, Instagram, etc,…
Dedicated language specific URLs for all pages
Import/Export your translations
3. Pricing plans
Pricing is an important consideration, and we must proceed with extreme caution. One prudent approach is to determine whether the price of a product is worth paying.
Transcy
Free: 2000 words, 1 translated word, 167 currencies
Starter: $17.9/month, 100,000 words, 5 translated words, 167 currencies
Essential: $39.9/month, 250,000 words plus 50,000 free words/month, 5 translated words, 167 currencies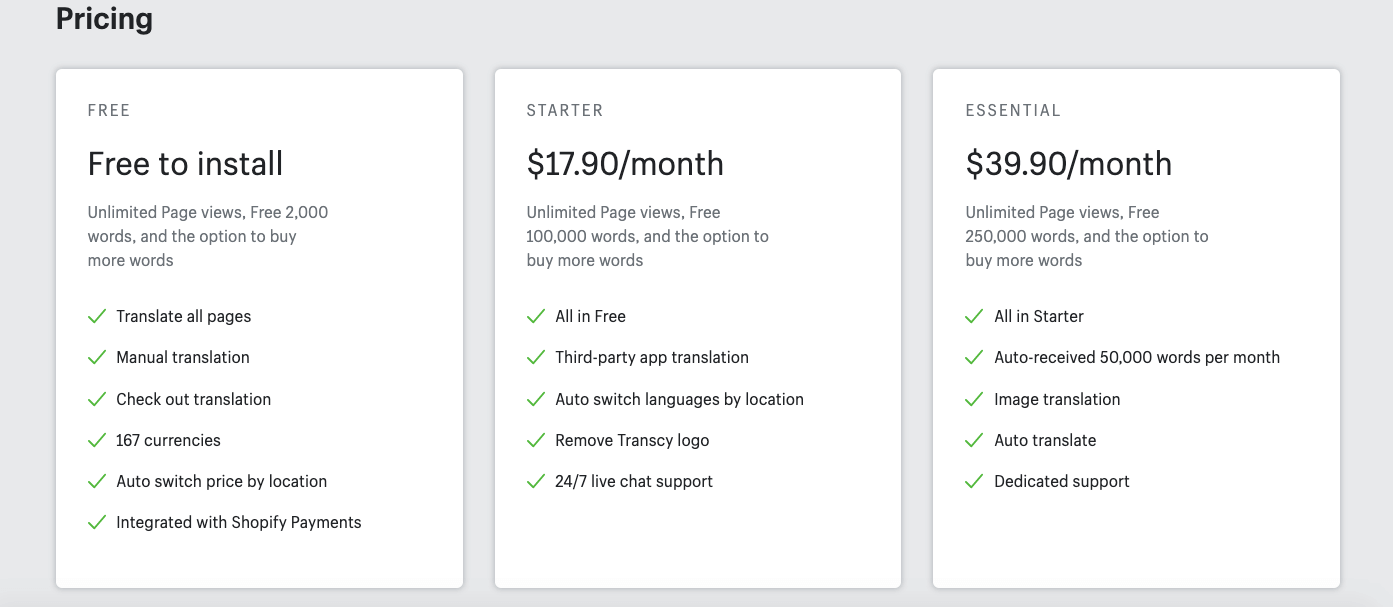 Transcy provides you with more options based on the size and needs of your business. It's convenient and saves money on currency conversion fees.
Langify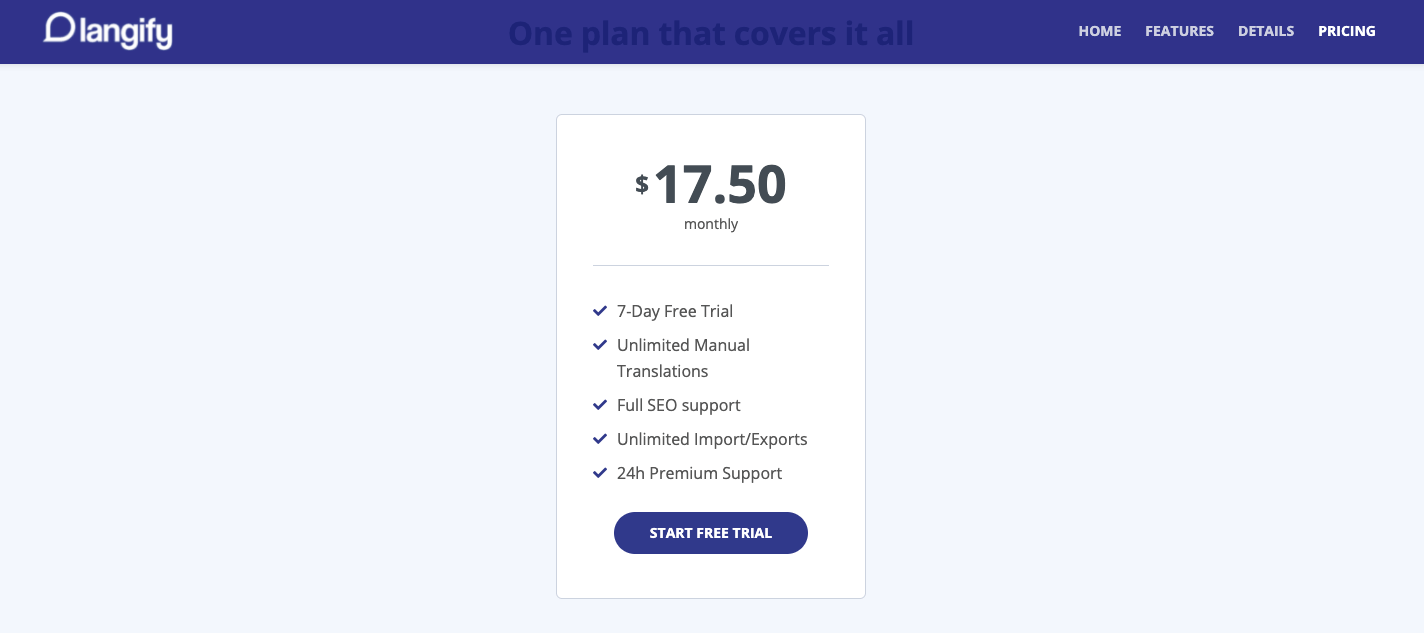 For $17.5/month, Langify only provides one option: unlimited manual translations, SEO support, and a 7-day trial. It is not appropriate for small businesses, and you should consider it.
4. Easy to use
Despite the fact that both Shopify translation apps claim to be extremely user-friendly, it is never a good idea to take their word for it without thoroughly researching the factor.
Transcy
Very easy to use
Easy to translate content
User-friendly installation
Navigate with UI/UX
Langify
User-friendly installation
Navigate with UI
5. Customer support
Transcy's dedicated support team is always ready to solve your business problems, providing assistance via chat and email 24 hours a day, seven days a week.
Langify's paid plan includes premium support that is available 24 hours a day, seven days a week via email.
So, which one do you choose?
So, now that we've summarized the highlights of Transcy and Langify, which one do you prefer? We prefer Transcy a little bit because its pricing plans are suitable for all sizes of businesses and it provides essential features to assist you in expanding your brand into international markets.
It's now your turn!
Transcy - The ideal localization solution for all size businesses
Transcy is the most efficient way to assist you in multilingually translating your whole Shopify store content and converting your local currencies in order to provide localized experiences, increase sales, and scale globally.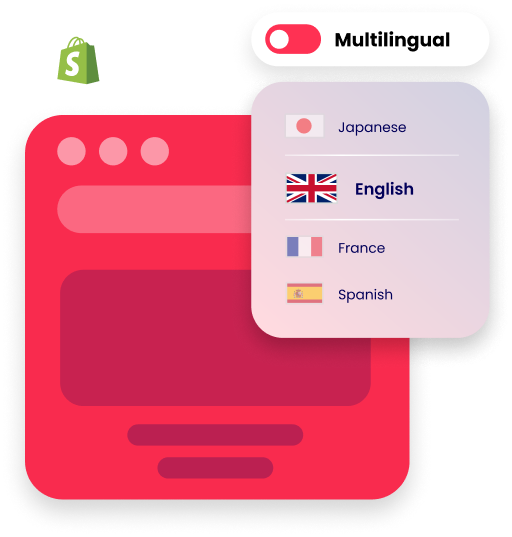 Let's find out more about the world of e-commerce here https://fireapps.io/