How to optimize on-page SEO for your online store?
eCommerce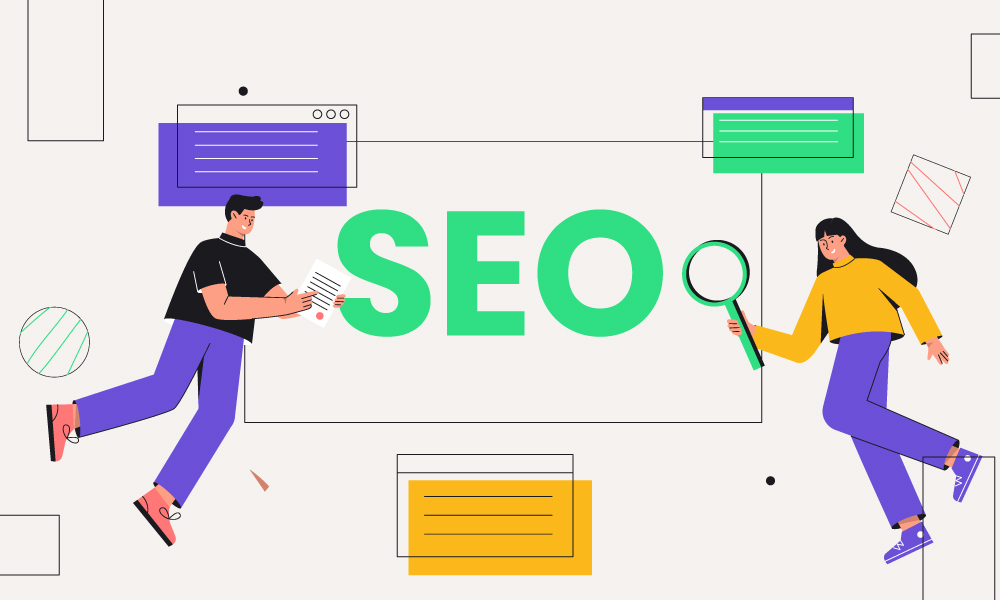 Learning how to optimize your website for SEO and conversions is critical to the success of your site. It will ensure that your website can perform as effectively as it possibly can.
With strong SEO, you can generate more traffic and increase your chances of converting potential clients. Furthermore, a conversion-optimized website often has better analytics, such as time on page and bounce rate, which means Google will rank it higher.
In many ways, 2020 was a watershed year for the world, and 2021 will continue many of the digital transformation projects, trends, and predictions in the e-commerce industry. With that in mind, it's time to reflect and consider what 2021 has in store for us!
Start your Shopify 14-day trial with FireApps
Did you know Shopify is now accounting for 20% of the e-commerce business.
Over 2200 merchants open their Shopify store everyday and 50% of them have a repeat purchase. Join them today!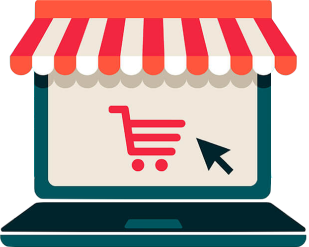 In this article, I will share with you the best practices you can use to optimize your on-page SEO. Let's jump right into the details!
What is on-page SEO?
Any optimization that you make on your website is referred to as on-page SEO. On-page optimizations try to increase your ranks or visibility in search results on Google, Bing, and other search engines by making your webpage more usable and beneficial to users.
Why is on-page SEO important?
On-page SEO leads to improved search ranks, more visitors, and more conversions. On-page SEO takes time to produce results, but once it does, it can boost your web ranks and revenue dramatically.
What on-page SEO ranking factors should you optimize?
On-page SEO includes a variety of ranking criteria. You want to maximize all of these variables. Investing the time to optimize each of these elements can increase your search engine rankings and make your website become more competitive and difficult to compete with. You should concentrate on the following on-page optimization factors:
URL
Meta description
Title tag
Alt tags
Heading tags
Content
Keywords
Internal linking
Speed
Images
Mobile-friendliness
Example of some on-page SEO practices include:
Writing in-depth, quality content
Optimizing your title tags and meta descriptions
Streamlining your site's navigation
Cleaning up your site's code
Speeding up your website
11 Practices For Optimizing Your On-Page SEO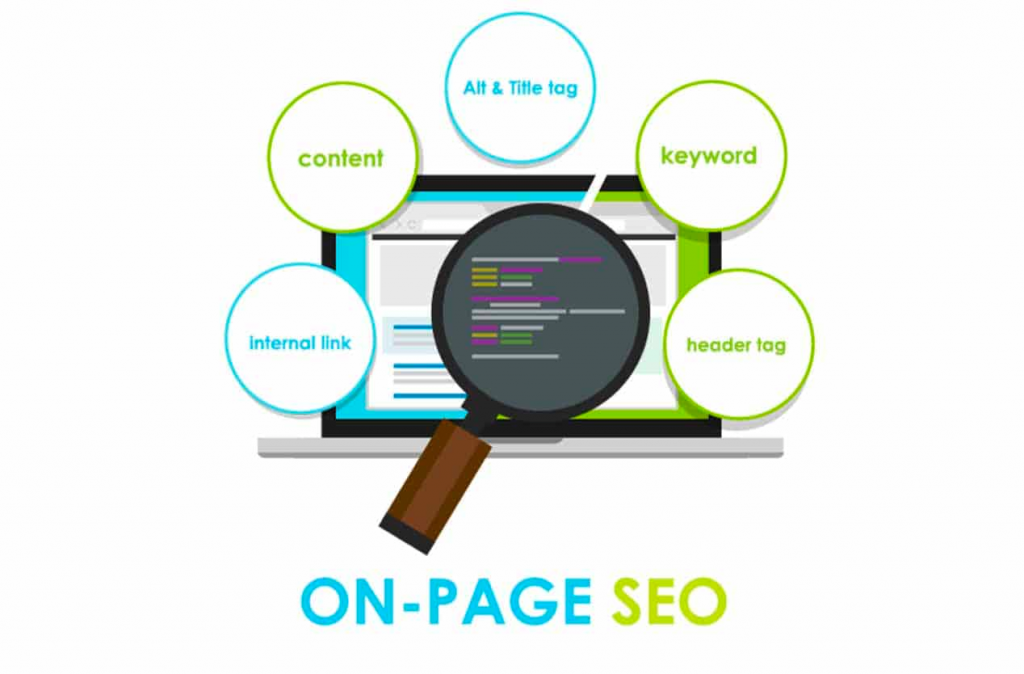 There are many ways you can optimize for both search engine algorithms and users. We'll walk you through all you need to know to start optimizing your own on-page SEO:
1. Understand Google's Criteria
Before you can start improving your on-page SEO, you need to understand how Google search works, specifically its algorithm. To identify the best material to serve to a user who has made a query, the search engine focuses on a key areas:
It considers the overall experience the user experiences when they first arrive on the page. Google will pay special attention to the first impression of the site, such as site speed and how quickly consumers can engage with the page.
Google takes a detailed look at the content itself. It seeks to find the information that is relevant to the query, which means it will look at the keywords and phrases used throughout the text.
The search engine is interested in how users interact with the content. Do they immediately click away? Do they browse around the site a lot? This helps to determine whether or not visitors to the page found it useful.
Finally, Google is looking for high-quality information that is also reputable and trustworthy. This implies that it will seek for authoritative content.
With proper on-page SEO tools and techniques, you can improve your ability to meet Google's criteria and your ranking position on the SERPs. Our SEO Suite can help you optimize specific technical elements, such as optimize Image ALT tag, Image optimization, site verification, etc.

2. Use Your Target Keyword in the opening Paragraph
Using your main target keyword in the opening paragraph allows you to establish your objective and topic right away. Keep in mind that the search engine algorithm looks for keywords and terms that provide it information about your content and the sort of information it includes.
Including a major keyword in the opening paragraph of the material ensures that your objective is clear. Begin to integrate semantic keywords and/or synonyms that have a strong association to the core term and that Google expects to see as you fill out the content.
Conduct keyword research to inform search engines about which terms are relevant to the sector. The keyword density of the text should be kept natural in order for the content to sound smooth.
3. Use H1 For Titles and H2 Tags For Subtitles
H1 and H2 tags help search engine crawlers focus on your page title and the structure you've defined in your content. It aids the algorithm in understanding how you've ordered your text by making the content outline visible.
The header and subheadings also provide essential suggestions about the content of the paragraphs that are under the heading, making it easier for the search engine to register the crucial information about your content.
Keep in mind that Google prefers material that provides a favorable user experience. It can be difficult to understand content that looks like a massive wall of text. The clear structure gives hints about the material while also exhibiting an easy-to-read arrangement, making it straightforward for users to find the sections that are most relevant to them and their query.
Using H1 and H2 tags to create a clear structure pleases both search engines and users. According to research, content with this clear hierarchy is more likely to perform well.
4. Prioritize External and Internal Links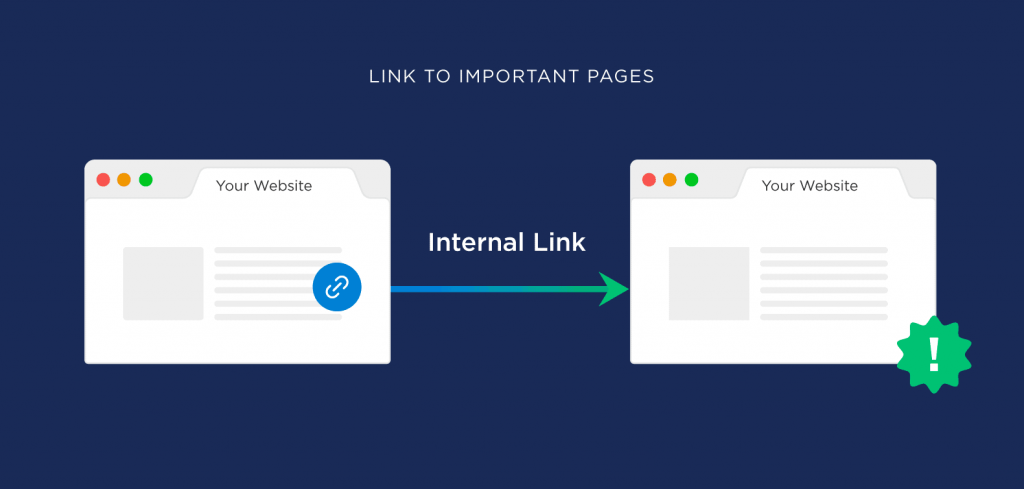 Internal links give you the key to demonstrating to Google how your content links to your site and the greater digital ecosystem. External links are links that lead to other websites. These links are frequently used by content creators to provide extra information on a topic or to provide an authoritative source for anything they just mentioned. Marketers should include these links in their marketing strategy because they can assist build authority to your website and improve the experience for users interested in this specific topic.
Internal linking, on the other hand, entails linking to information on your own website. If you mention a topic that you have more in-depth content on, including an internal link can help you. This link will make it easier for searchers to engage further with your site, as they may click on it and continue to explore it, lowering your bounce rate and promoting brand awareness.
These links also provide Google with information about the architecture of your site. Google can identify how the information on your site links to one another and the depth of content on specific themes, which can improve your authority even further.
5. Optimize URLs
The URL structure of your webpage might also help with SEO. Specifically, when you build a URL that incorporates crucial keywords, it becomes clearer what topic this website will address.
Both search engines and visitors can look at the URL and be certain that they understand the topic of a specific page. This can entice consumers to click from the SERP to this specific result, increasing your traffic.
6: Optimize Title Tags
The title tag is the title that displays within the search engine result. It is below the URL but above the meta description.

The title tag informs viewers who are viewing the results page about the content of your page. These users utilize the title tag to decide whether your content will fulfill their demands. As a result, a relevant title tag with vital keywords will promote more clicks and visitors.
7. Add and optimize Meta Descriptions

When your site shows in the search results, the meta description or meta tag refers to the brief description found beneath the URL and title of the page on the SERP. This description provides additional information about the content on the page.
When the keywords in your description match the searches that this particular user is making, it shows that your website has relevant information for them. Consider the meta description to be your chance to advertise your page to the user. Make the content actionable and urge them to visit your website.
8. Generate new SEO On-Page Content
The Google algorithm is not fixed, as it is updated on a regular basis to better reflect user search intent and new search habits such as voice search. Because the algorithm evolves, brands must be willing to adjust their SEO methods on a regular basis to meet those needs.
Revisit your previous content on a regular basis, as well as generate new content to stay relevant. Keep in mind, however, that while the algorithm changes, the goal of providing great material to people does not.
9. Add and optimize images
Content consumers like visuals and tend to have higher levels of engagement with them. Concentrate on adding photos that enhance your content, especially any that you may produce yourself that reflect what you discuss on a certain page.
Using tactics such as lowering file size and using lazy loading to ensure they load quickly.
Creating good alt tags that describe the image to the search engine so that Google recognizes it as an important piece of information on your site. The alt text also helps visually impaired visitors to the site, allowing them to fully understand your information.
Choosing picture titles and file names that reflect the image and keywords you wish to add into the article.
You can also use AVADA SEO Suite to optimize your website images with just a click.

10. Optimize for User Engagement
The content on your website should entice the reader and increase their involvement. You want to increase their duration on your site while minimizing your bounce rate. These elements show Google that your material is well-liked by customers. It also establishes the groundwork for a relationship with this specific visitor, who will ideally become a lead in the future.
To improve readability, use clear headers that highlight the topic of each portion of your article.
To make the material easy to scan, use bullets and lists.
Including video in your material.
Creating suitable calls-to-action (CTAs) that entice consumers to click and gain access to gated information.
Having a clean and clear layout that does not divert consumers' attention away from your content.
By adhering to load time best practices, you may ensure that your page loads quickly.
11. Display customer reviews
When it comes to SEO, customer reviews aren't always the first thing that spring to mind. With all of the other important SEO priority areas to sort through, such as content production and link building, reviews just don't get much attention. But they should.
The reason is Google relies on signals to decide whether or not a site is worthy of high rankings. We've seen this with the importance of links since Google's early days. When your site gains a link from another relevant site, Google interprets it as a form of trust endorsement and rewards you with increased visibility.
Similarly, when a customer evaluates your business (whether positive or negative), Google learns not only that it is a real, legitimate organization, but that other people have engaged with it and might assist future potential customers make decisions. In a nutshell, Google adores this type of content, and it will use it to decide whether your website should be ranked on top or not.
So if you've got lots of customer reviews, don't hesitate to display them with Ali Reviews.

You can also combine AVADA SEO Suite and Ali Reviews to display your reviews on the Google search results like this.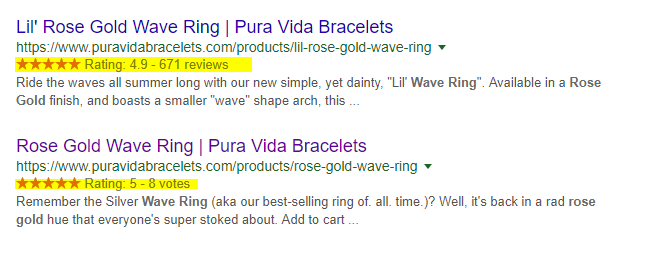 Final words
That's it! I hope this article has provided valuable information about how to optimize your on-page SEO. Please feel free to leave comments below for further discussion on this topic!
In addition, you can ask an SEO expert internetvalore.it to help you onpage your website better
Let's find out more about the world of e-commerce here Fireapps