Boost sales & retention with Discount
Following the release of SMS Review Request last week, this week we're excited to introduce a brand new feature of Ali Reviews: Discount
Understand the importance of Discount in retaining and engaging with customers, we decided to develop and bring this feature to life.
How it will benefit you:
Collect more reviews: exchange photo reviews for discounts to encourage happy customers to leave photo reviews.
Boost retention & repeat purchases: offer discount to keep your customers coming back to your store and buy again.
How to get the most out of it:
Use Discount in every review request that you send via Email or SMS.
Use Discount in Review box for customers to leave reviews on your product page.
This feature is only available for Essential, Premium and Enterprise plan. If you're on a Starter plan, please upgrade to higher plan to get all the benefits of this feature.
How to set it up:
Navigate to Collect Reviews –> Discount options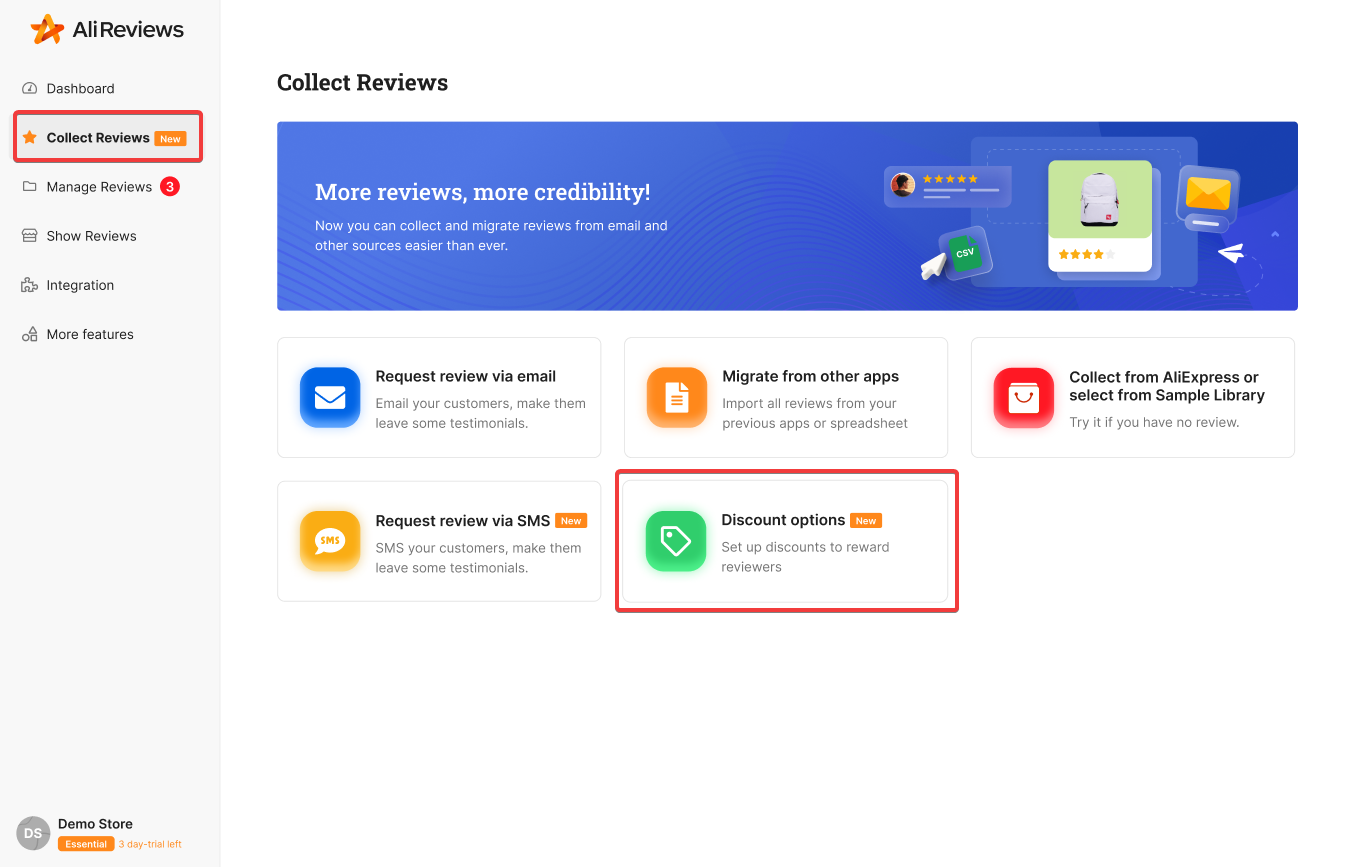 You can also find the Discount options in Show Reviews –> Discount options
You'll see the interface as below: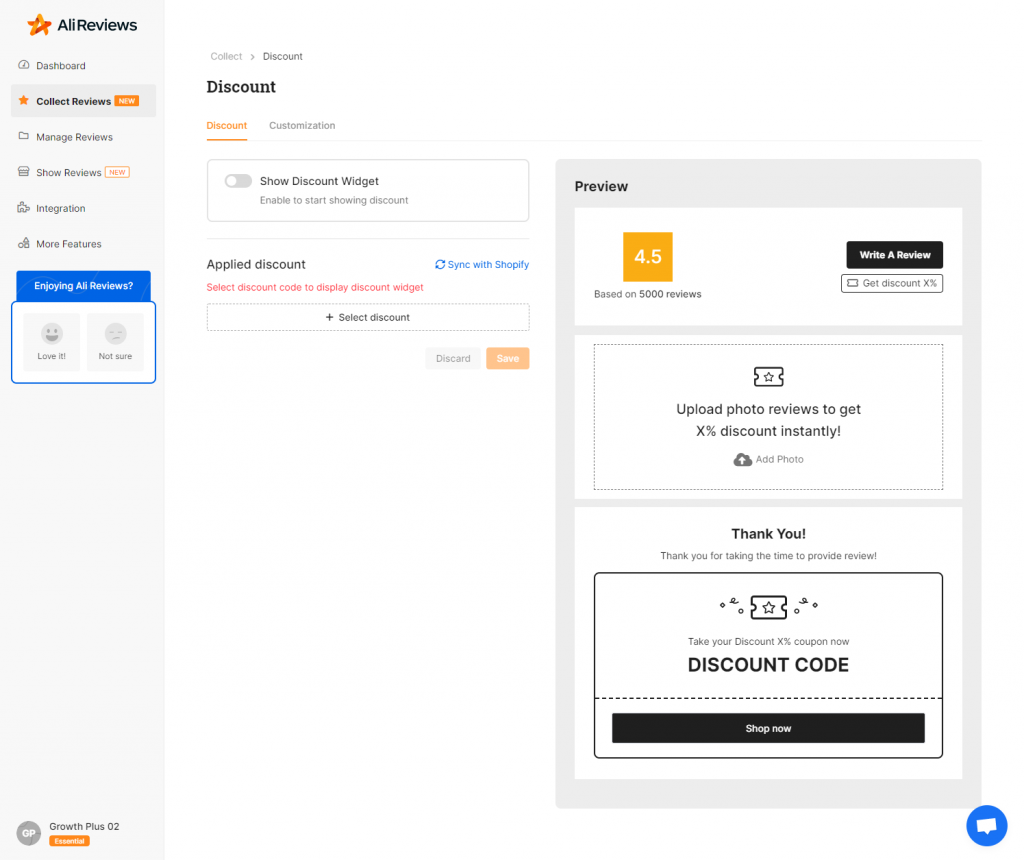 2. In order to use Ali Reviews's Discount feature, you must set up the discount code inside Shopify admin first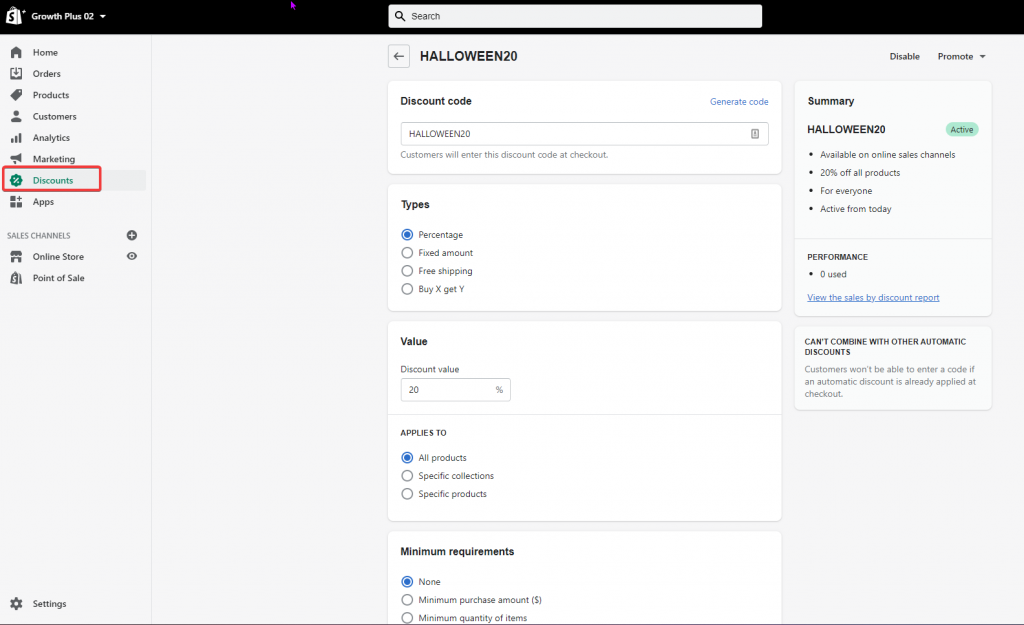 3. After setting up the discount successfully, go back to Ali Reviews tab and turn on Show Discount Widget and Select discount to choose the desired discount.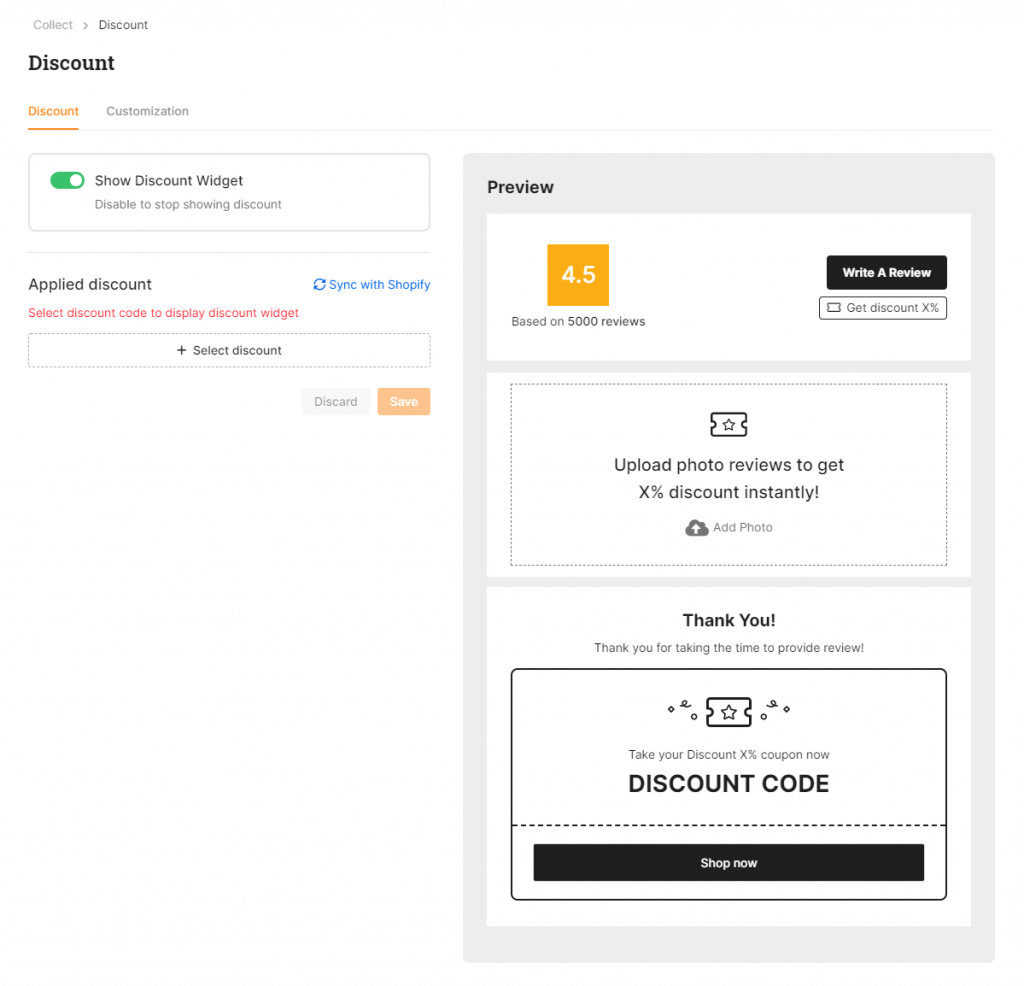 4. A popup will appear and let you choose whether to offer a discount for all reviews or for reviews with photo only.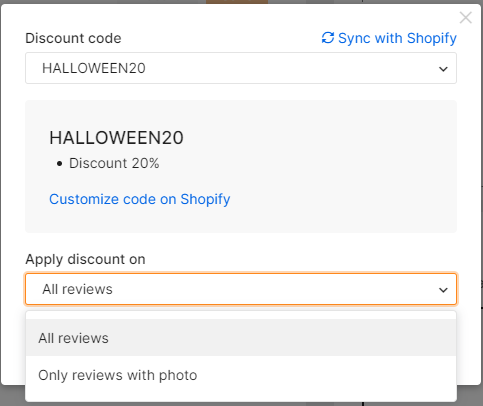 5. On Customization tab, you can edit the content of photo request message, thank you message, action button, expiration date etc.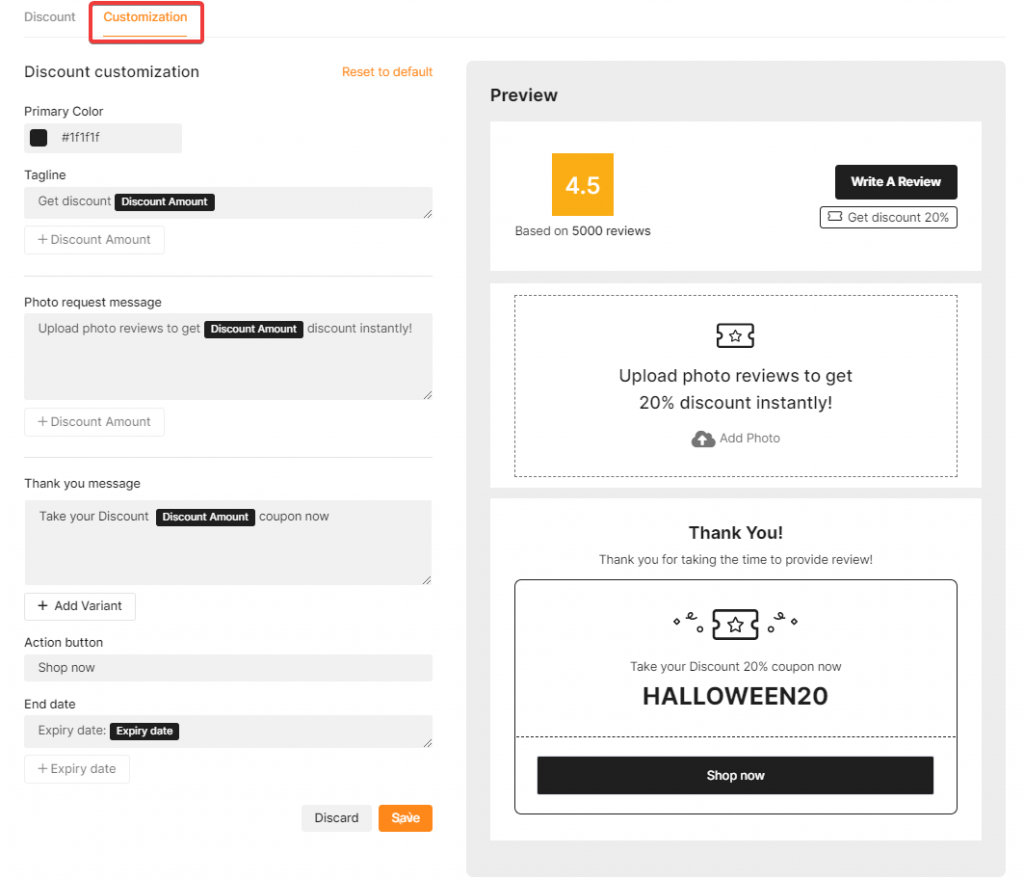 6. Hit the Save button and you're good. Go to your product page, click on Write a Review button and see how it displays. Here's an example: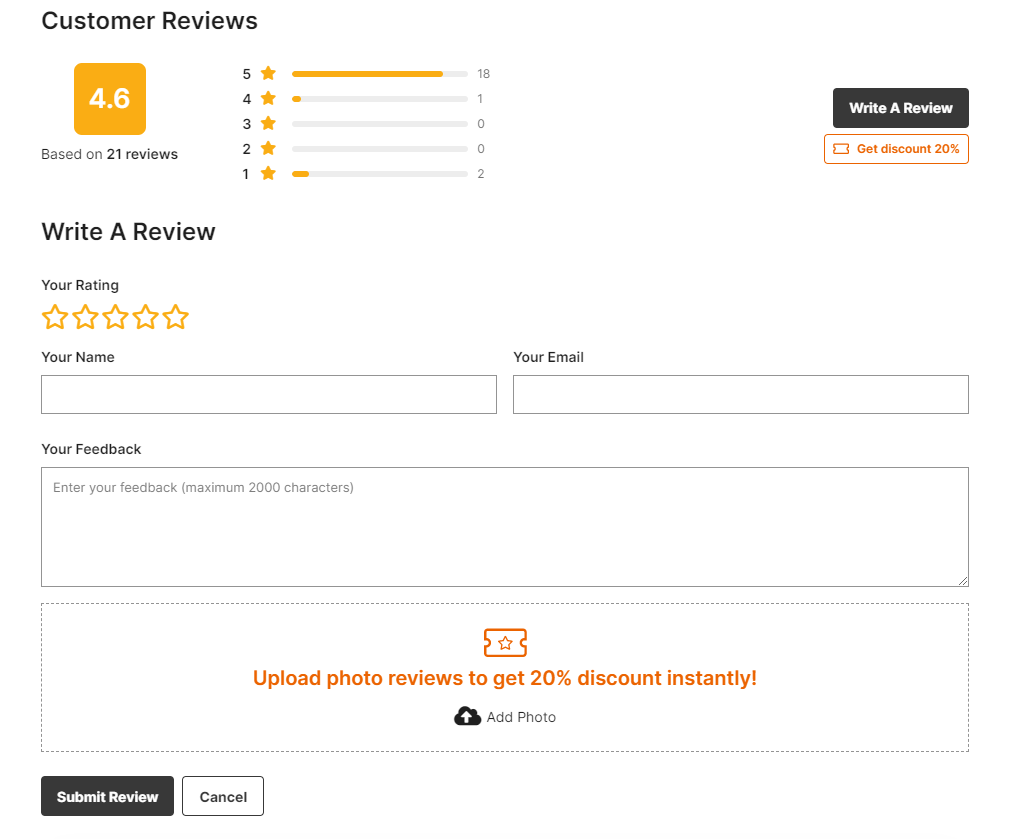 After a customer successfully submitted a photo review, the Discount code will appear as image below:
7. Now you can take this Discount feature to another level and get the most out of it with Email and SMS Review Request
To set it up in Email Review Request, go to Collect Reviews –> Request review via Email, then check the box Show discount tag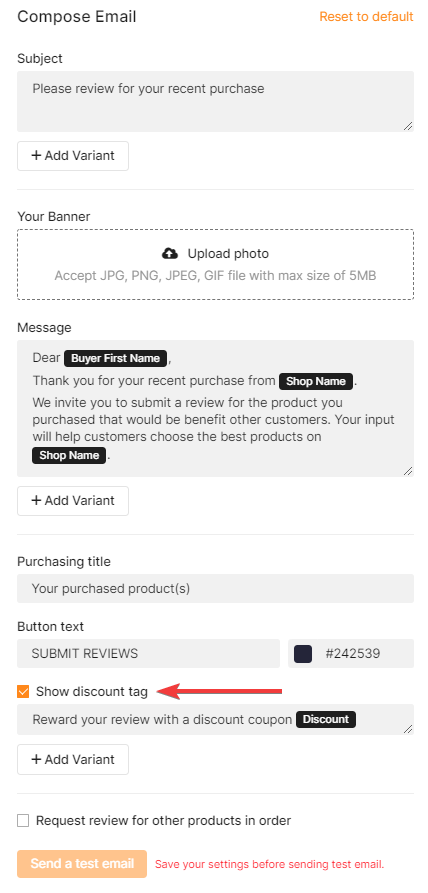 For SMS Review Request, go to Collect Reviews –> Request review via SMS, scroll down and click on Add variant –> Discount to add it into your message.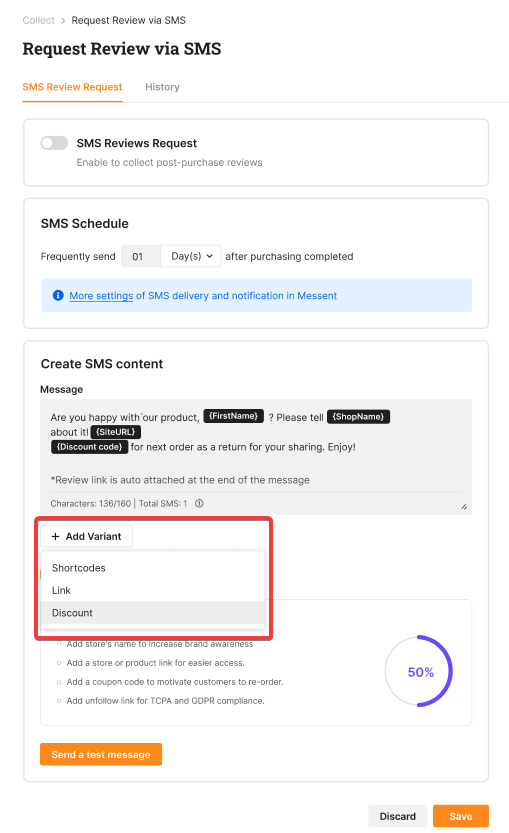 And congrats, you're done 🙂 Now you can collect more fantastic photo reviews on autopilot.
Partnership between Qikify and Ali Reviews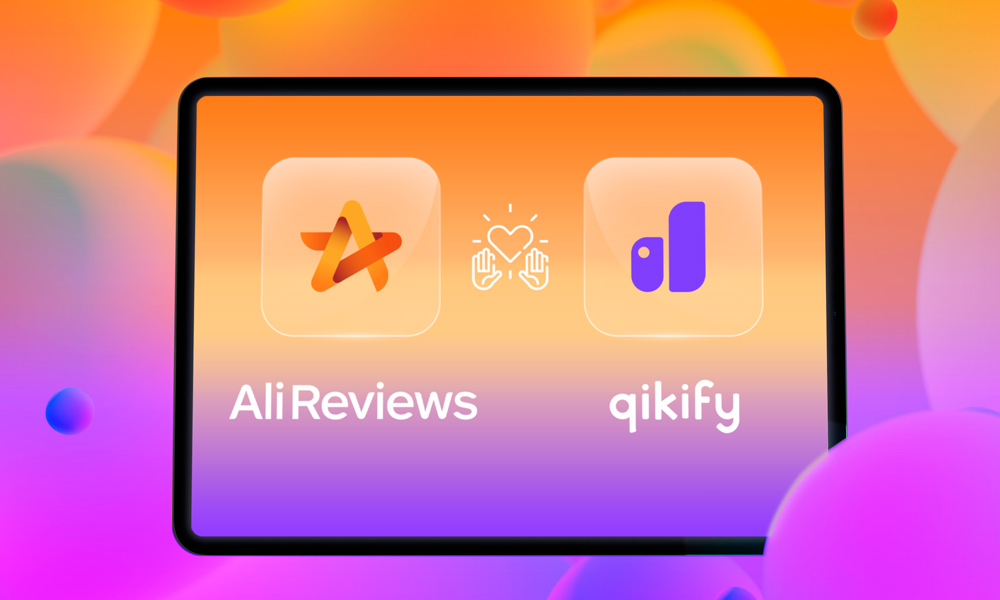 We're so excited to announce our Partnership between Qikify and Ali Reviews. Qikify is a trusted Shopify developer, specialized in-store customization and boost sales tools that can help you to create a highly converted store without any coding experience.
One of qikify top-rated apps is Sale Kit – Sales Pop up. As an easy-to-use solution to increase conversion rate for Shopify store, this application received 4.8/5 stars on Shopify Apps store from over 700 reviews.
Learn more about Qikify through this post and get 20% discount!