Integration between Ali Reviews and Transcy
Transcy is a language-translated and currency application that allows you to globally translate your storefront. Hence, you can reach your targeted customers more easily.
And the good news today is that Transcy is connected with Ali Reviews, which means that all review widgets can be instantly translated into any language you desire!
This article will explain why you should integrate Transcy with Ali Reviews and what Transcy can reinforce on review widgets to make your store even more powerful than ever.
Integrate with Transcy in one step only
Integration is never easier with Transcy: all you need to do is install Transcy on your store in any way possible.
In-app Ali Reviews: just tap the Transcy Integrate button either on Manage Reviews or Integration menu, you will be redirected to the Shopify app store to install Transcy.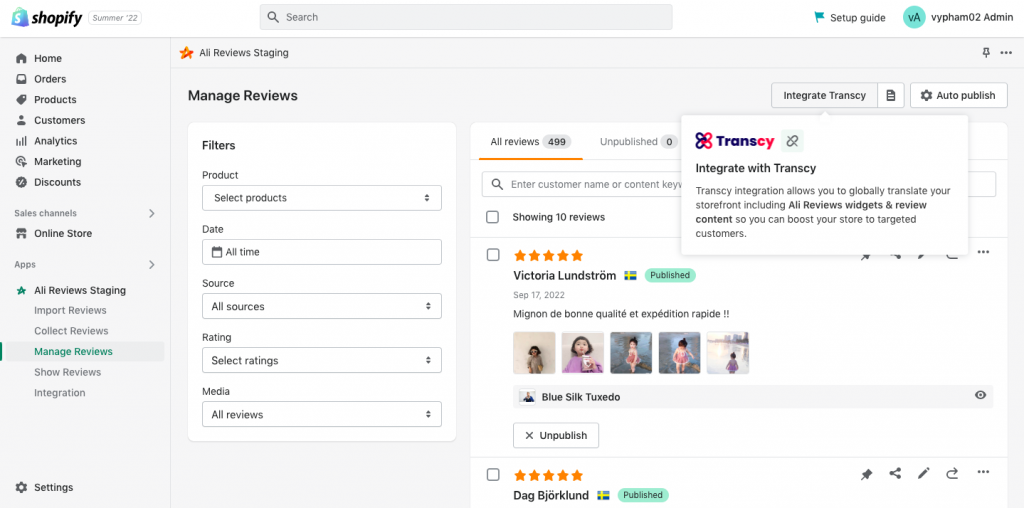 In the Shopify app store: find and install Transcy.
How does Transcy work on your review widgets?
There are 2 types of translation supported by Transcy on review widgets: basic and advanced. So what are they, let's explore them!
Basic translation: auto translating your review widgets without allowing you to customize the translation of primary contents in your own style.
Advanced translation: it allows you to alter the Google basic translation into a better one you prefer. All you have to do is to hit the Translate button after saving your edited version.
Please keep in mind that with this first release integration: except for the review contents, which are available only in basic translation, the other widget sections will be applicable in advanced translation.
Manage review widget translation on Transcy
You can refer to our articles for Transcy guidelines in general.
Especially for Transcy and Ali Reviews integration, before getting started managing every single widget translation, you have to follow the steps below:
Add target language then publish a language
Turn on the switcher both on your Transcy app and in the Theme app settings of Shopify
Then you can always manage any translation of your review widgets in Transcy app by: Clicking on the Transcy Manage translation button on Manage Reviews page in Ali Reviews app, where you will be redirected to the Manage content page in Transcy.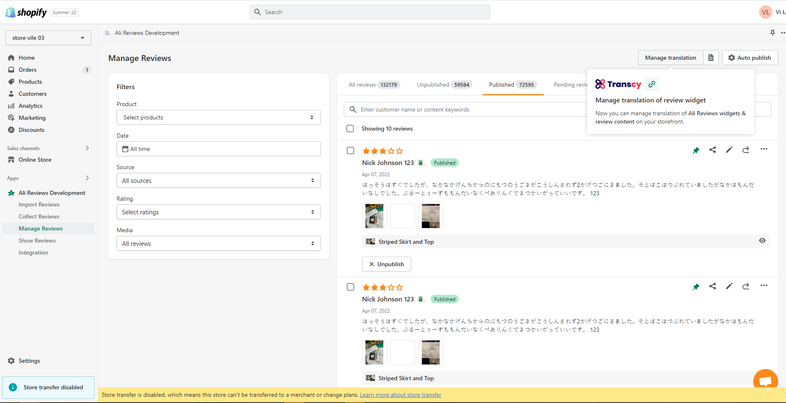 Directly access this link, select Ali Reviews and start to manage your translation.
Detailed guidelines for managing translation by basic/advanced type:
For basic translation, you cannot directly edit or customize the primary review content in-app Transcy; instead, you must edit it on Ali Reviews's Manage Reviews page. All the sections supported in basic translation will be auto-implemented by Google translator.
Next, go to Transcy -> Translation -> Third-party apps- > Select Ali reviews -> review section and manually hit the Translate button to get the new version updated on the storefront.
For advanced translation, Transcy allows you to directly alter the primary translation into whatever advanced version you want just by following these steps:
Go to Transcy Manage Translation – Find Third-party app management
Tap the Edit button to find Ali Reviews and select the Page section accordingly which includes the targeted widget you want to edit
Tap the Edit button to customize the translation as your own
Then save your edits. The newest updates will be immediately reflected in your storefront in the blink of an eye!
Last but not least, don't forget to switch to Enable Translation on column Third-party app.
Please keep in mind that customer support will be provided for both apps Transcy and Ali Reviews for your integration. Don't hesitate to contact us if you have any questions or support needed.
Check out these 3 new features that will help your sales soar in April: Smart Inbox Request, Review QR Code, and Manual Requests features have been added.