Smart Inbox Request, Review QR Code, and Manual Requests features have been added
With Ali Reviews's lightning-fast release of valuable improvements, a new update arrived in March, bringing in unique features such as Manual Requests, Inbox Request, QR Code Generator for reviews.
Manual Requests
To send review requests to specifically targeted customers. Ali Reviews allows you to bulk import targeted customer addresses from an external CVS file. You can send all of the emails on your targeted list as long as you stay under the monthly email limit of your paid plan.
Manual Requests feature is only available for Essential, Premium, and Enterprise plans.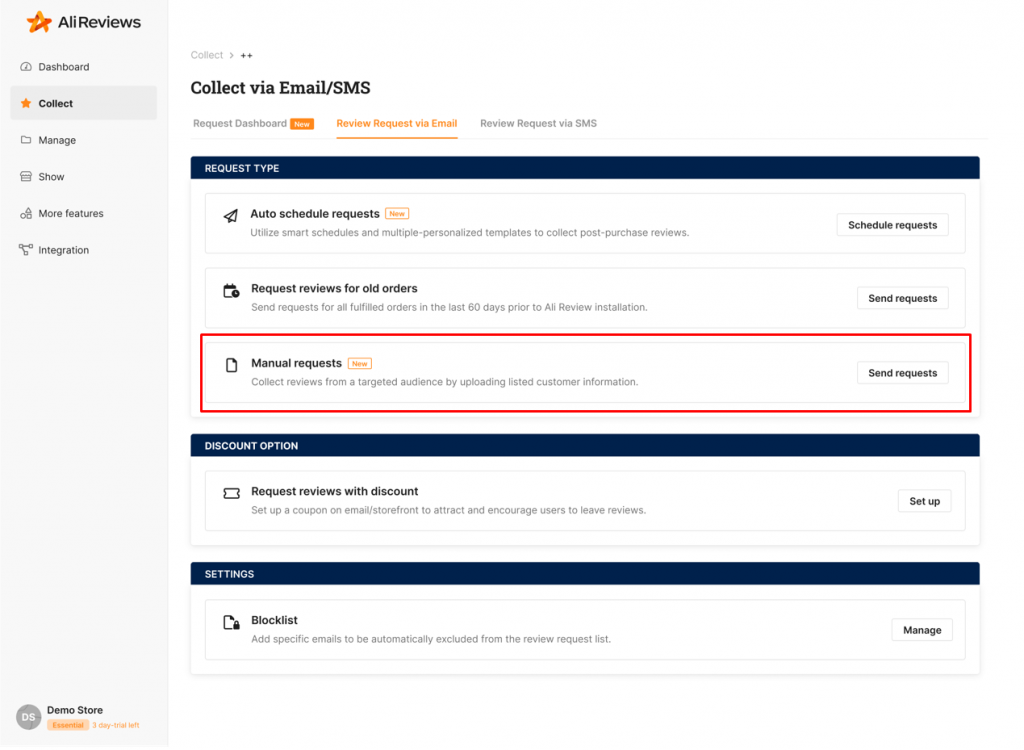 This feature is available in the Collect section. In the Request Dashboard, you can see and manage all of your emails in one place quickly and effortlessly.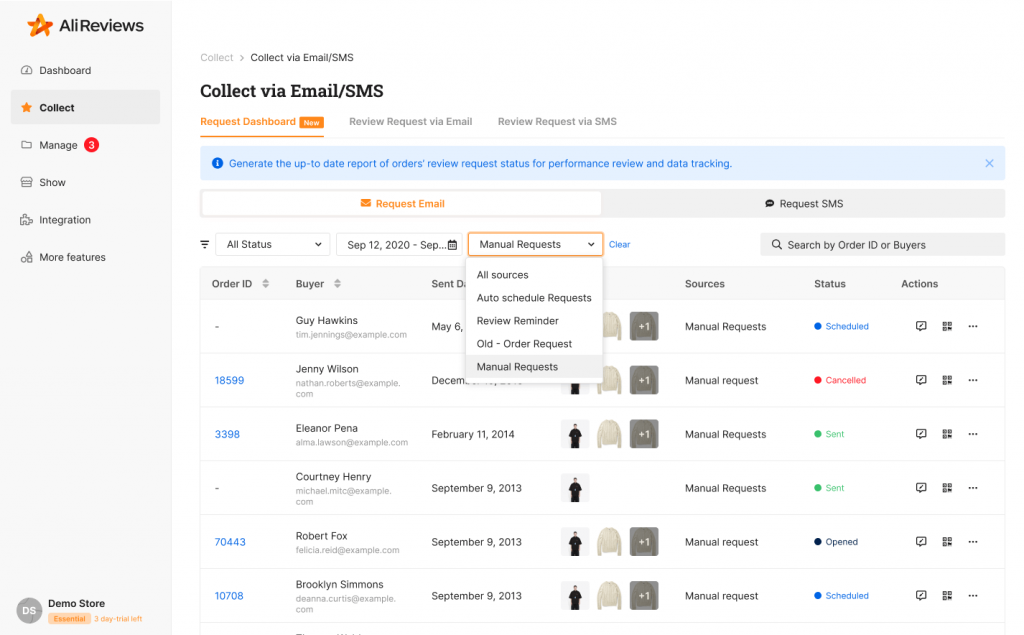 Get to know about the Manual Requests here.
Inbox Request
While existing ways of gathering customer reviews are beneficial, they are not enough for your fast-growing online store. As a result, we're happy to provide a new type of "collecting": sending a review request via social media inbox.
Ali Reviews allows you to select a dynamic template with auto-generated content and then copy and paste it onto your social channels like Facebook, Instagram, or any of your sales channels. Customers will submit reviews by clicking the review link highlighted in the message.
The advantage of this feature in Ali Reviews is that it automatically cancels the scheduled request email when your customers submit reviews using this link, helping prevent the appearance of duplicated review requests.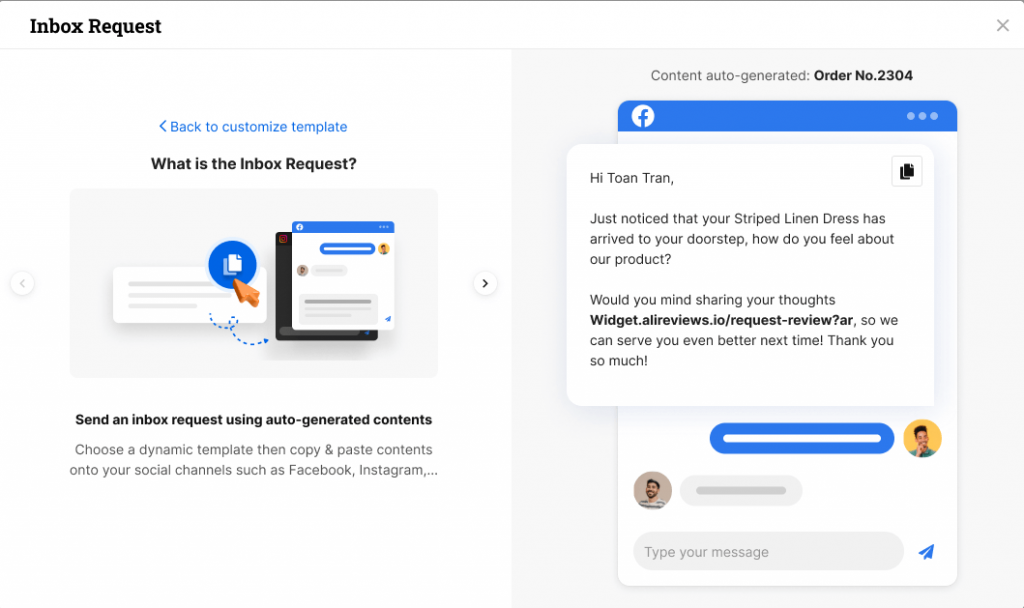 Inbox Request feature is only available for Essential, Premium, and Enterprise plans.
Learn more about the Inbox Request here.
QR Code Generator
Get instant reviews as easy as a scan. You generate a QR code to write a review using Ali Reviews and print it to stick on the package or send it out. When a customer scans the code, it opens an area to input their experience. And you'll get reviews right away.
As with the Inbox request feature, when your customers use this QR code to leave a review, it will also automatically cancel the scheduled request email.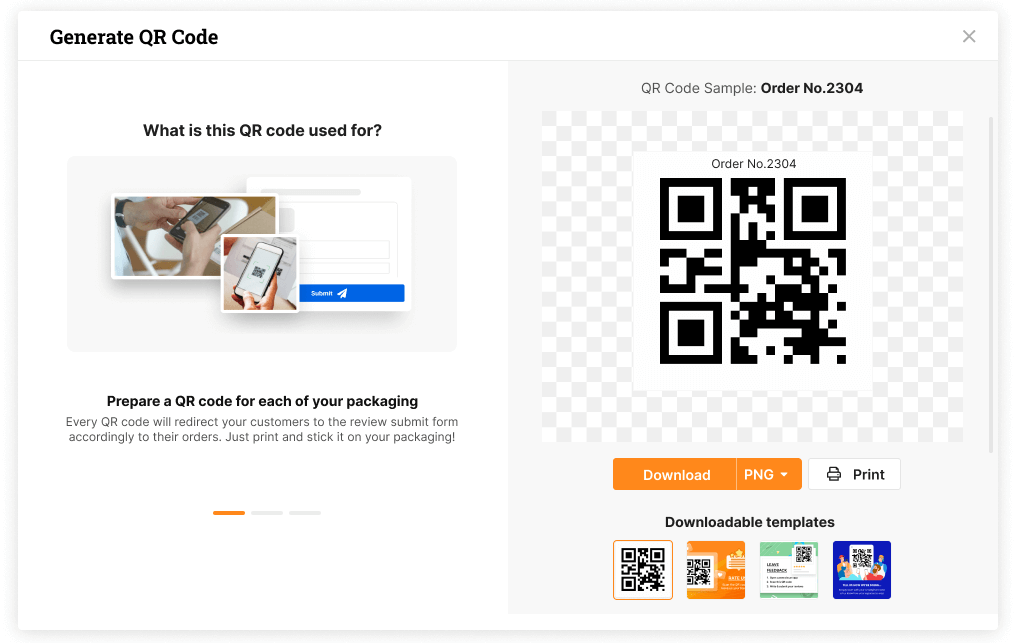 Generate QR Code feature is only available for Essential, Premium, and Enterprise plans.
Learn more about how to create a QR code so that customers can scan and submit the review.
Now is the time to take advantage of new features to get more reviews!
This month, we've also partnered with Transcy to help you expand your global reach with multilingual reviews. Read more.