8 Free SEO Tools for A Startup Online Business
eCommerce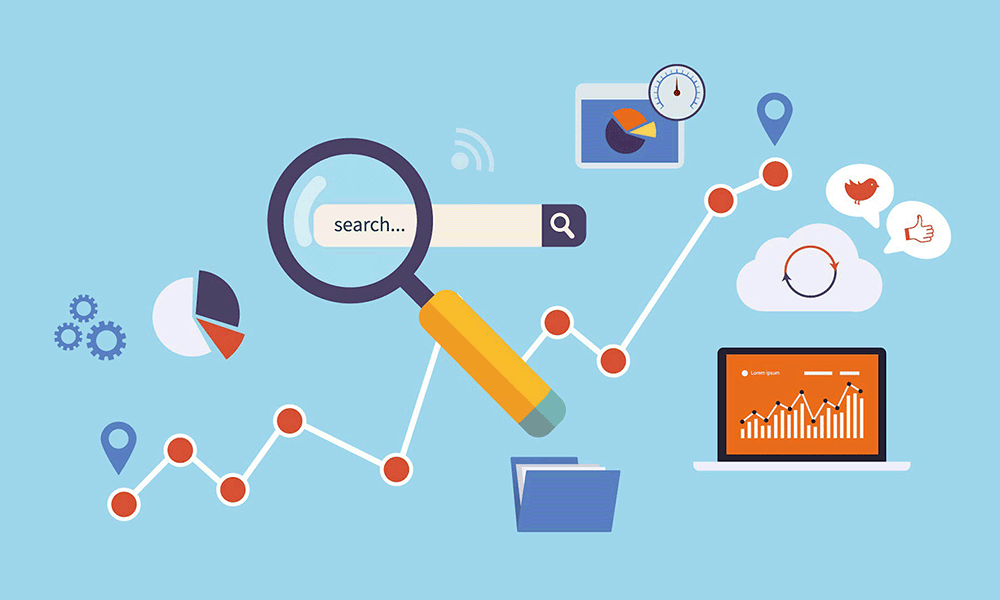 A working knowledge of Search Engine Optimization (SEO) is useful for more than just search advertising and getting your site found for relevant keywords.
In fact, I'd argue that knowing the basics of SEO, and the tools to use, can help you become a more effective entrepreneur. In general, using search volume to evaluate the demand for a product idea or piece of content, to establishing empathy will help much for effective copywriting.
That's because search engines offer a window into our collective wants, questions, concerns, and curiosities.
Start your Shopify 14-day trial with FireApps
Did you know Shopify is now accounting for 20% of the e-commerce business.
Over 2200 merchants open their Shopify store everyday and 50% of them have a repeat purchase. Join them today!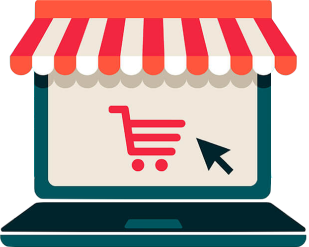 Unfortunately, many of the best SEO tools on the market (like SEMrush and Ahrefs) can run you about $100/month, which might not be ideal for a startup business or someone who's still trying to wrap their head around SEO.
That's why we've put together this list of useful free SEO tools that you can use for anything from keyword research to backlink analysis.
Keywords Everywhere: Search Volume as You Search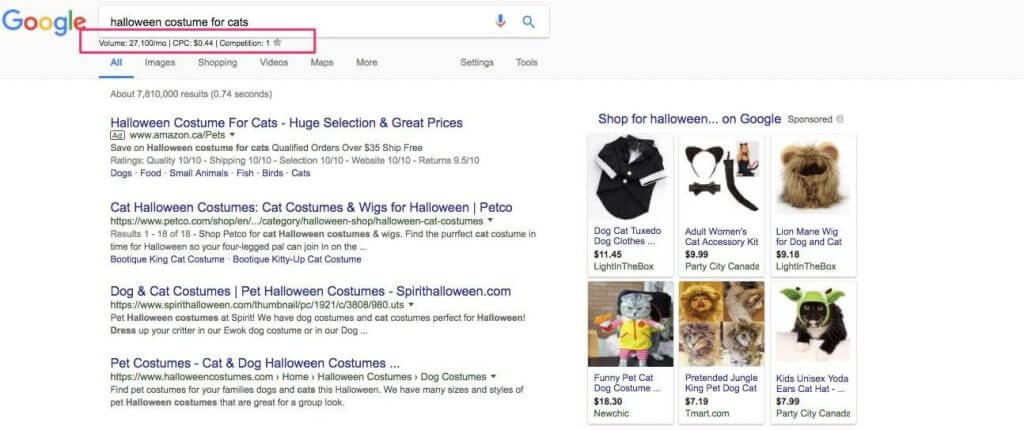 Let's start with one tool that actually makes many of the other tools on this list better: the Keywords Everywhere Chrome Extension. It's especially useful now that Google restricts access to its own Keyword Planner tool.
Not only does it show you data from Keyword Planner underneath your searches on Google, Amazon, YouTube, and more, but it'll also bring that data into Answer the Public, Soovle, and other tools on this list.
It makes every search more insightful by giving you basic stats around monthly searches, cost-per-click, and competition.
Whether you're trying to brainstorm new keyword opportunities or just googling around out of curiosity, it's the fastest way to answer the question, "I wonder how many people search for that?".
Keep in mind two caveats, however: It shows Google AdWords data even on other sites like Amazon, and just because the average monthly volume for a search reads "0/month", doesn't mean people aren't searching for those terms.
Ubersuggest: Generate Long Tail Keyword Ideas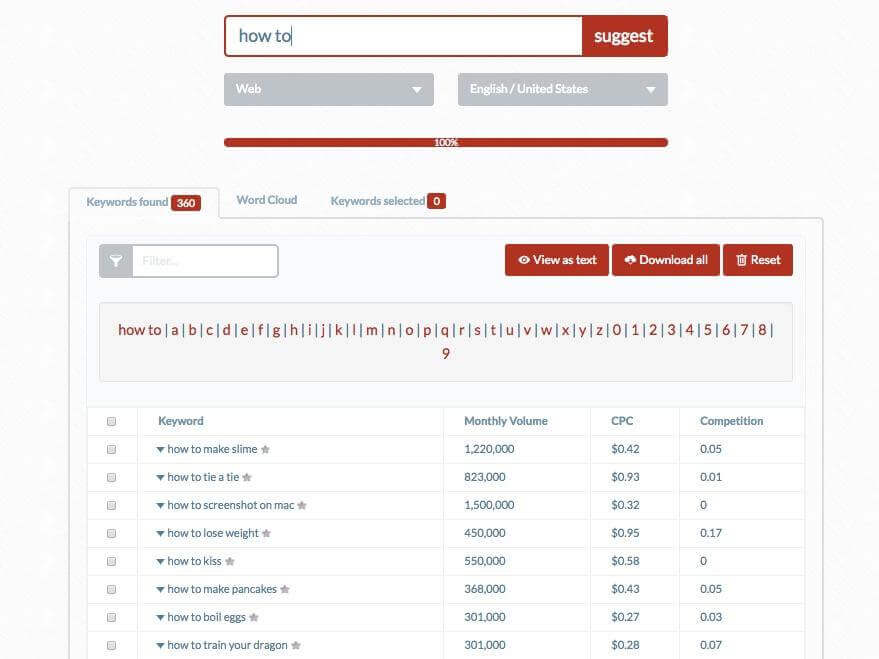 Google is pretty good at making suggestions to help you complete your search query.
But while these can be useful for brainstorming other searches that might be relevant to your target keyword, Google only gives you a handful at a time.
That's where you can use a tool like Ubersuggest, which offers you a long list of keyword ideas based on the main keyword you enter.
You can use this to generate product ideas, angles for marketing, your next blog post, and more.
MozBar: Link Metrics in Search Results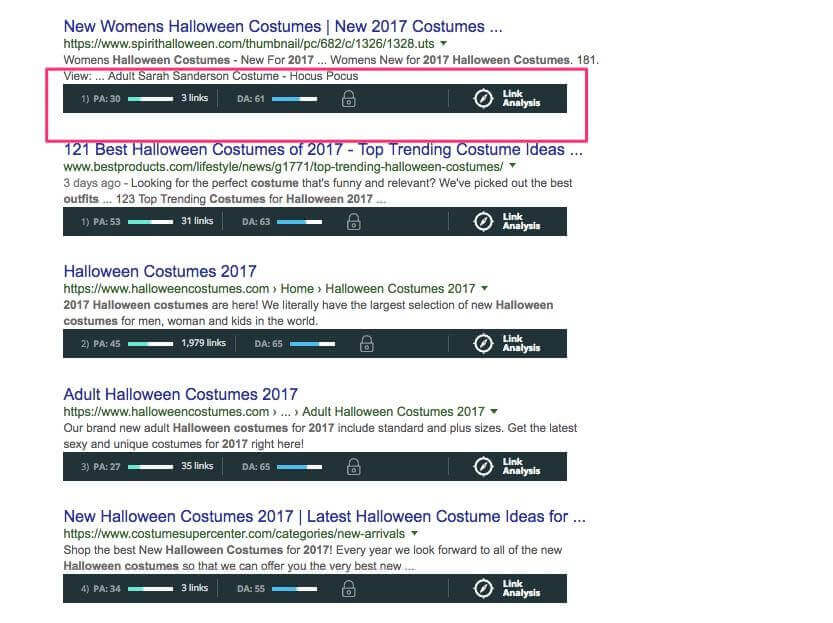 Moz offers a few different free SEO tools in the form of their MozBar (a Chrome extension you can use if you create a free Moz account). But, for the sake of this list, I'd like to highlight the Link Metrics feature in particular.
With this, you can gauge how competitive a spot is in the search engine results for a keyword based on Page Authority, Domain Authority, and the number of backlinks pointing to the page.
This can help you make decisions based on how hard it might be, and how many quality backlinks you might need to build, to get a good ranking.
MozBar also gives you other tools for conveniently analyzing on-page SEO and evaluating how useful a backlink from a certain page might be.
Soovle: Keyword Suggestions from Other Search Engines

Soovle, like Ubersuggest, gives you keyword ideas via autocomplete suggestions. But what it does differently is instead of generating a lengthy list, it goes beyond Google and gets you suggestions from Bing, Yahoo, Amazon, YouTube, Answers.com, and more.
Each platform, as you'd expect, can yield different insights. Answer.com, for example, gives you common questions that people ask about your main keyword, while YouTube's suggestions will tell you what people want to watch regarding the topic (like unboxing videos or reviews).
These suggestions can often inspire less competitive long tail keyword ideas that you can capitalize on.
Screaming Frog: Crawl Your Site For Errors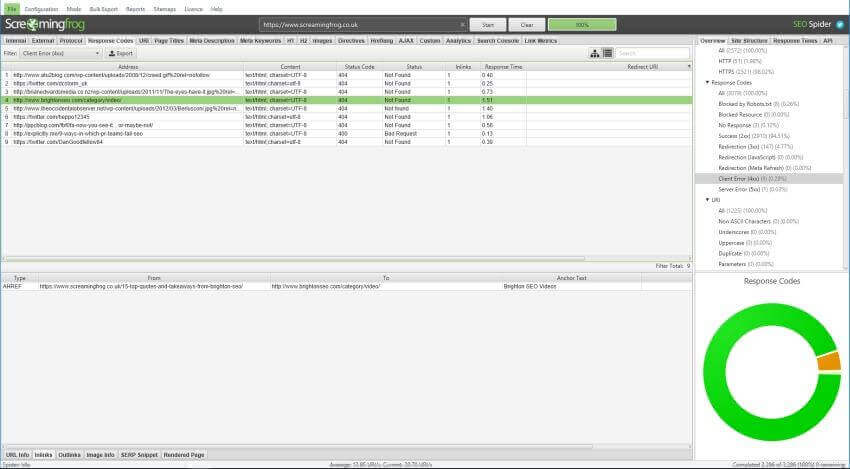 Running a website, especially with a blog, eventually results in more pages than you can manually keep track of and maintain.
Sometimes links break or you duplicate pages by accident, all of which isn't ideal for Google's books (or your visitor's). Luckily you can conduct a free site audit using Screaming Frog (up to 500 URLs in the free version).
This will tell you if there's anything that might need to be updated or optimized and where these issues are. You can then export this information into a spreadsheet to use in a variety of ways.
Answer the Public: Find Out What the Internet Is Asking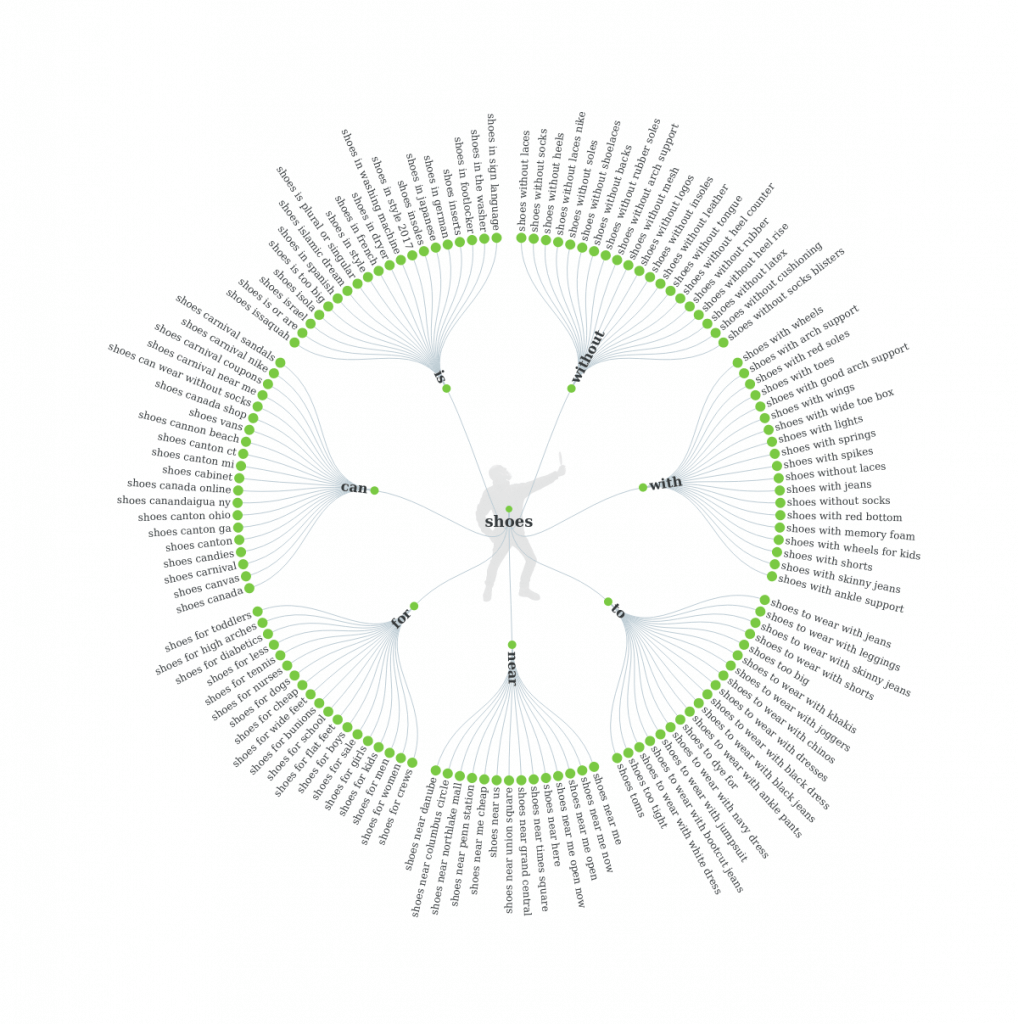 Answer The Public is a nifty tool that uses Google's auto-suggestions to offer a visualization mapping out long tail keywords that stem from your focus keyword.
I personally love to use this for content marketing since it suggests and organizes keyword ideas based on questions (who, what, when, where, why), comparisons (versus, and, or), and more. Creating great content that ranks well, after all, means anticipating the questions people will ask beyond your focus keyword phrase.
Answer The Public is also a good way to get a sense of how people feel about a topic and what specific obstacles or choices they may face in making a purchase decision.
Backlink Tool: See What Sites Are Linking to a Page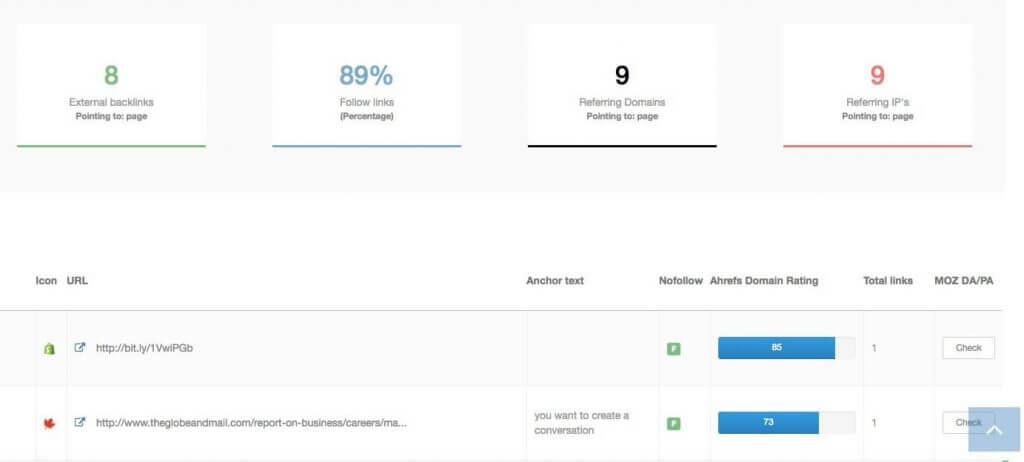 A backlink, as the name suggests, is when a page links back to yours from another website. They're generally considered a signal of relevance on the internet (depending on the quality of the source).
While Google's Matt Cutts once went on the record saying backlinks will eventually become less important in determining how you rank, they still bear an influence in 2017 according to many SEO experts.
Even if they no longer did, a good backlink checker can be useful for all kinds of reasons, like understanding the kinds of sites that link to your own or your competitor's in order to create an outreach list of blogs or writers.
The Backlink Checker by SEO Review Tools (which offers several free SEO tools) is pretty useful in that regard. The only limitations are you can only get the best backlink per domain, and you're limited to running it 18 times a day.
This tool, though, tells you the domain authority of the linking site, how many times they've linked to you, whether they are followed vs. no-follow links, and the anchor text they used in a single view.
As an alternative, you can also check a URL's backlink profile with Moz's Open Site Explorer.
Google Search Console: Check Your Rankings and More
I'd be remiss to write about free SEO tools without mentioning Google's own Search Console.
With it, you can control and monitor how Google sees your website, along with analyzing which queries are driving traffic from Google to understand your user's search patterns. You can also use it to find errors on your website and choose to exclude pages you don't want showing up in search results.
Check out this guide to learn how to set up Search Console and all the things you can do with it. It's an absolute must if you own and run a website.
What Free SEO Tools Do You Recommend?
Like I said at the start of this post, there are several paid software suites that offer robust features that cater to most SEO needs—from keyword research to backlink analysis—in much greater depth. But the tools above can prove pretty useful for the price (free).
Still, there's bound to be handy tools we didn't cover. What would you recommend? Share it in the comments below!
If you're a Shopify store owner, check out the app store for SEO apps to optimize your site for search.
Launch your Shopify store now: https://www.shopify.com/
Via Shopify
And here are the articles I suggest you read next: