Integrating your Ali Reviews to Google Shopping Ads
Troubleshooting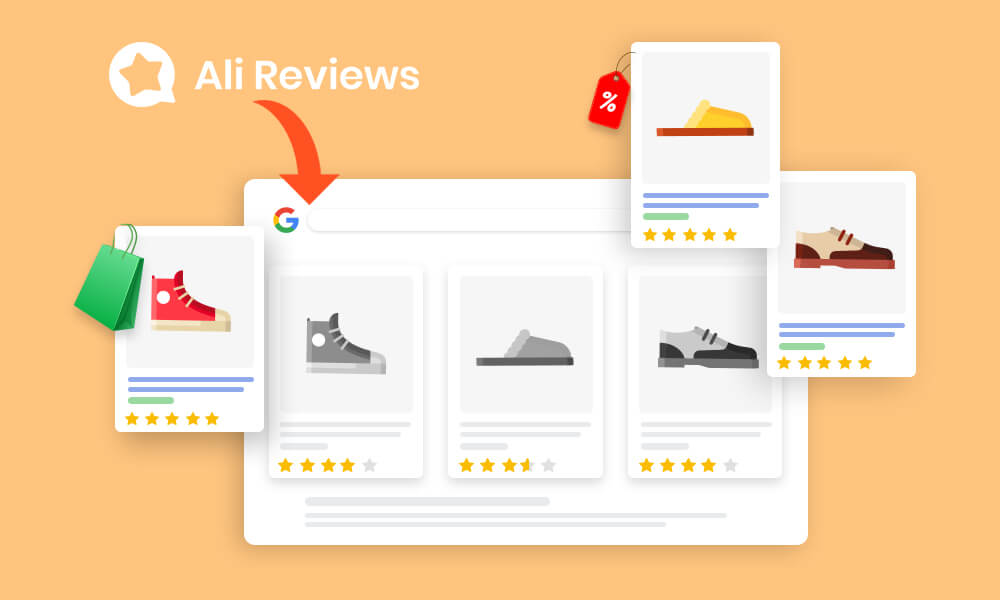 First of all, you should understand about Google Shopping. Google Shopping, also previously known as Google Product Search or Google Products, is a Google service that allows users to search for products on online shopping websites and compare prices between different vendors.
To use it, you need a Google Ads account to run your shopping campaigns and a Google Merchant Center to keep your so called "Product Feed". Then, you can effectively use this Google service to reach more customers.
You can filter to choose reviews/ products that you want to upload to Google Shopping Ads via Google Shopping Feed sub-menu in the Automations section.
PREREQUISITE
Please help to check these articles below first to make sure that you are eligible for this integration
How it works?
Google Shopping Feed sub-menu is arranged at the Automations section in the left menu bar and is available on the Essential plan and higher.
XML file Update method
Firstly, you need to select suitable methods including Auto and Manually update to update XML file. For more detail about them can be found here.

Google Shopping Feed setting
1. Product Settings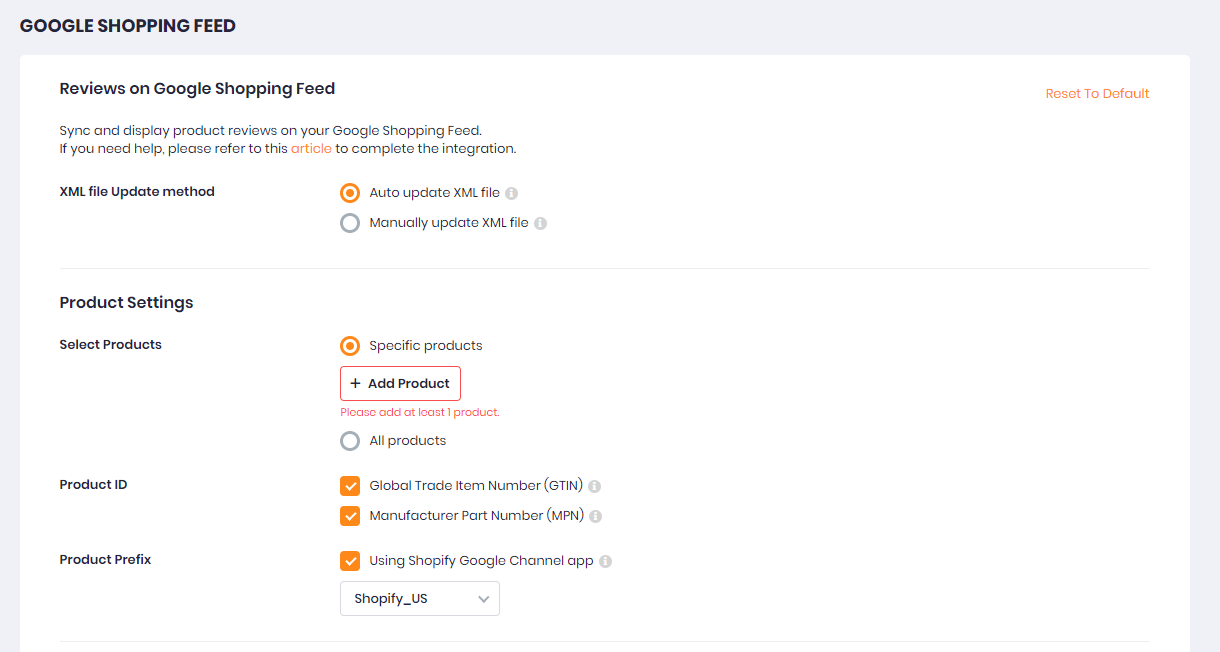 Select products
It is up to you to upload reviews for selected products or all products. Note that we just take the published products from your store.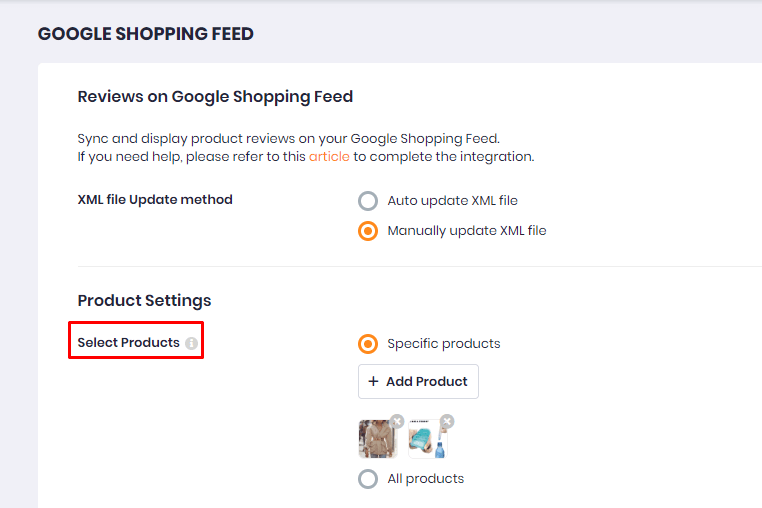 Product ID
Can be defined by Global Trade Item Number (GTIN) and/or Manufacturer Part Number (MPN), including Barcode, SKU, and Product ID.
Product Prefix
If you are using Shopify's Google Channel app, you can turn on this option, and select a prefix with your store's country code to add to the product.
We have a supported list of country code, you can select your appropriate country code to add to your products.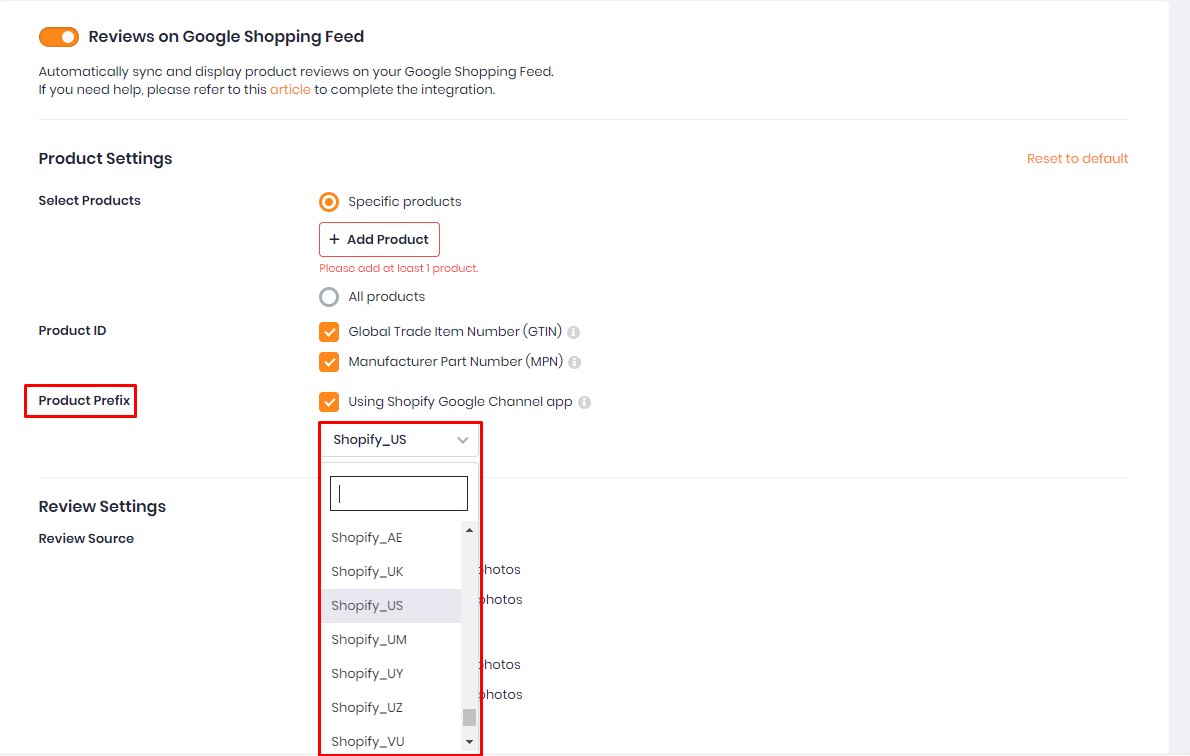 2. Review Settings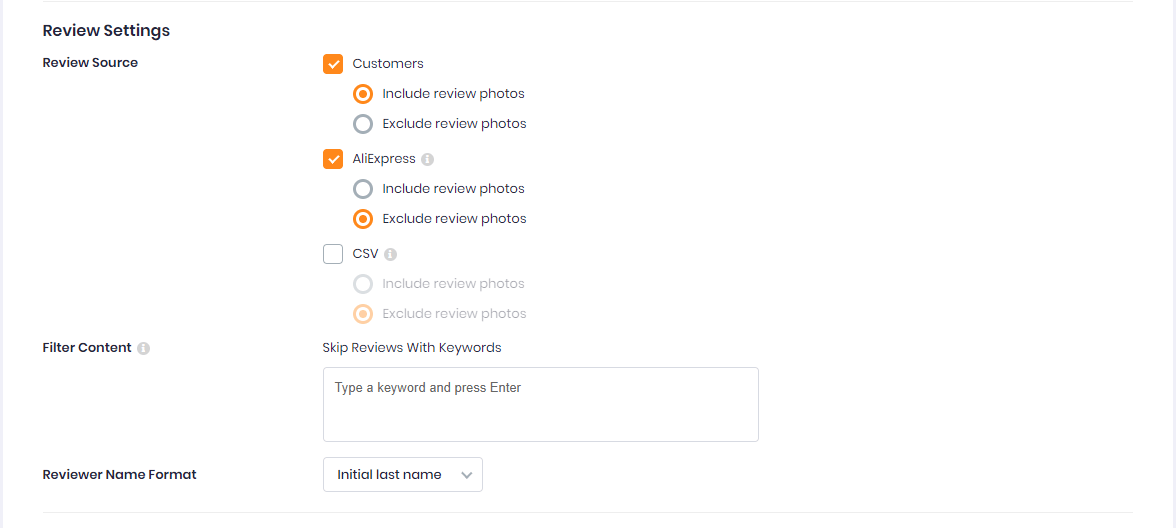 Review Source
There are 3 sources to choose, Customers, AliExpress and CSV file along with include/exclude review photos.
With review sources from AliExpress and CSV, we recommend excluding review photos for a better chance to get approval.
Filter Content
You can skip any keywords in reviews as you want here, and we'll exclude reviews containing them from your feed when submitting to Google.
Reviewer Name Format
You can format your reviewer name by Initial last name, or Initial full name.
For example, if the reviewer's name is Jane Smith, it can be uploaded to Google as Jane S or J.S.
3. XML File Settings
To inform Google under the submission process, we create an XML link and the File Name at default.
These 2 sections cannot be edited, and we provide a Copy function for your better usage.
And a notice for you:
Based on your XML file Update method mentioned above, it will be a different XML file setting.
If you need some more help, please feel free to contact us via live chat or email us at support@fireapps.io
Let's make a review-wonderland impressive with Ali Reviews
You can't wait to put previews on your store? Don't miss out this app!
Import reviews in seconds & collect reviews through multiple sources
Showcase reviews beautifully with 9+ styles & layouts
Fully moderate & manage review contents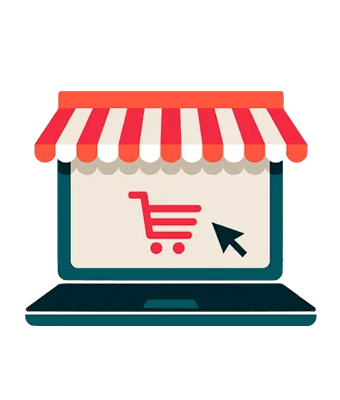 Related Articles: