Top 6 Best Black Friday and Cyber Monday Campaigns from creative brands that peak sales
eCommerce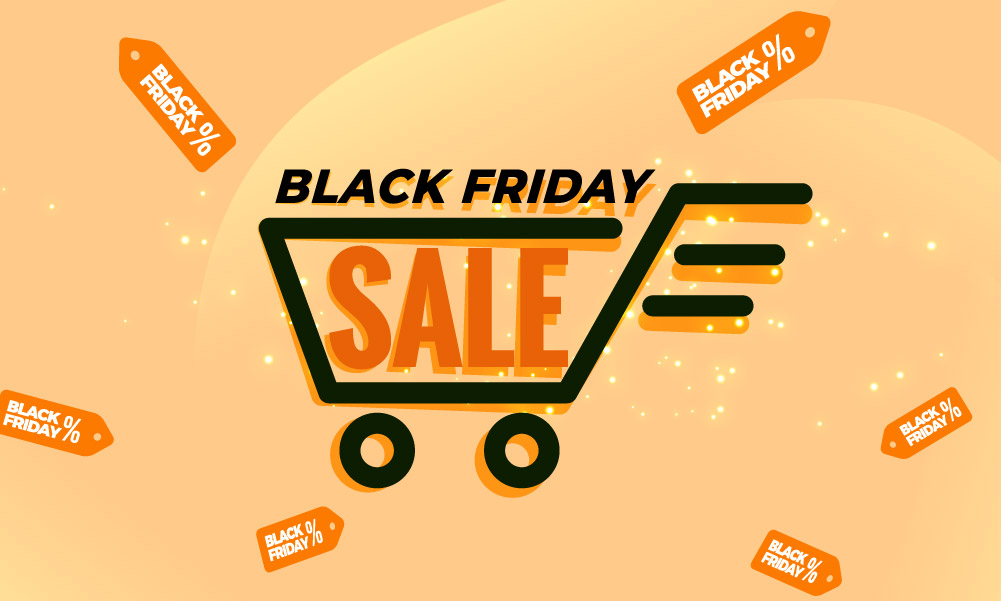 According to The National Retail Federation, the holiday season accounts for approximately 20% of total annual retail sales. Black Friday and Cyber Monday, two of the biggest shopping days for online retailers, are coming. In 2021, Black Friday is on November 26th and Cyber Monday is on November 29.
As an online merchant, these two days are the biggest opportunities to meet your sales goals. Creating an impactful Black Friday campaigns and Cyber Monday campaigns can gain more customers this holiday season. As every brand goes all out with massive markdowns, making your site stand out can be tricky. How can you make your brand stand out?
Check out our pick of some of the most effective Black Friday and Cyber Monday campaigns from creative brands that peak sales below.
Start your Shopify 14-day trial with FireApps
Did you know Shopify is now accounting for 20% of the e-commerce business.
Over 2200 merchants open their Shopify store everyday and 50% of them have a repeat purchase. Join them today!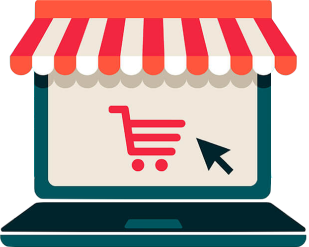 What is Black Friday and Cyber Monday?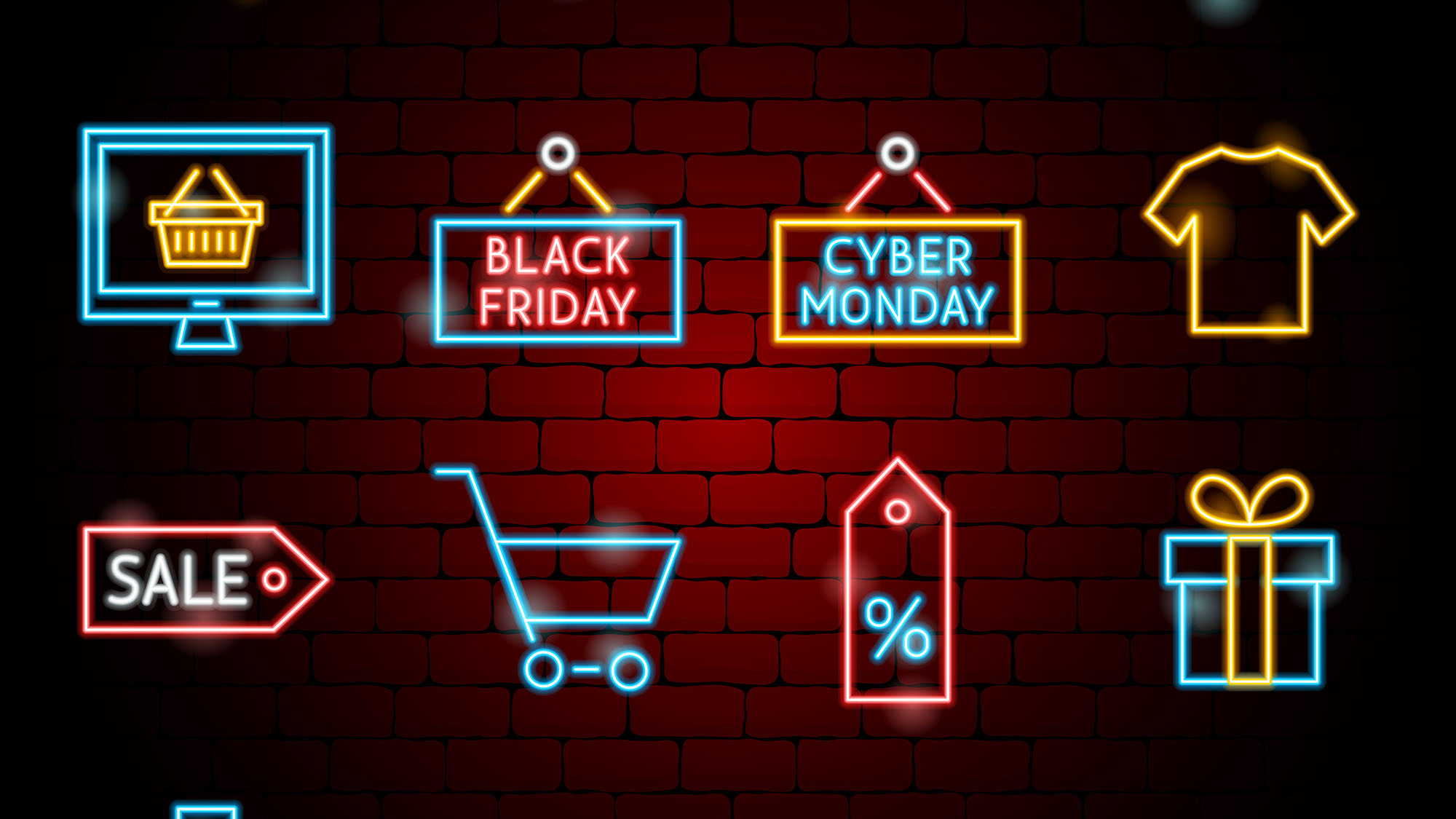 According to Wikipedia, Black Friday is known as the day after American Thanksgiving, the name was first coined in the 1950s. This is the start of the holiday shopping season. Cyber Monday is the first Monday after the Thanksgiving holiday, the term was coined in 2005. It's a 24-hour online shopping event and often known as an extension of the Black Friday sale.
And as we know, now what started as a one-day event has become a four-day shopping event starting on Black Friday and ending on Cyber Monday. For example a retailer may have 4 different discounts for each day:
50 percent off everything on Black Friday
Buy 1 get 1 free on Saturday
30 percent off Sweaters on Sunday
50 percent off online purchases on Monday
Black Friday campaigns trends and statistics
Because of the pains of the pandemic lockdowns around the world, the sales season of this year is slated to be a make-or-break for many retailers. And it can be difficult to predict what the future will be.
To help you prepare better for the sales season ahead, we've rounded up some observations on measurement and statistics from Finance Online. We hope that discovering these Black Friday and Cyber Monday statistics may help you find the best way to deal with the busiest sales season of the year. Hope you'll use these statistics, trends, and data to the advantage of your business.
Here are Black Friday 2020 Sales Statistics: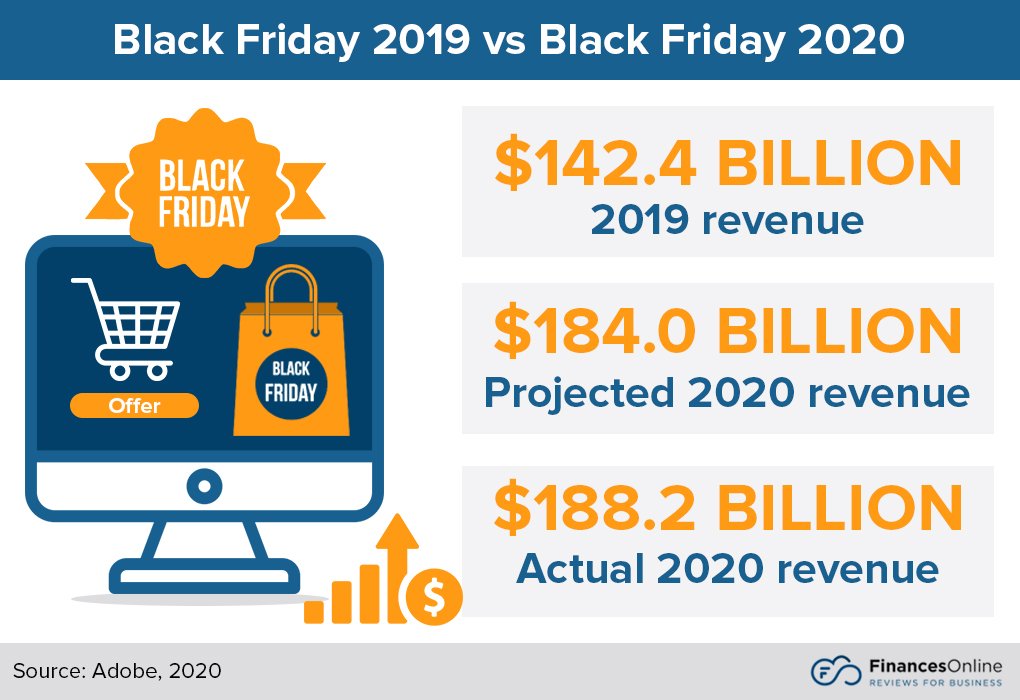 The Black Friday 2019 sales reached $142.4 billion. (Adobe, 2020)
$184 billion was the predicted Black Friday 2020 sales revenue. (Adobe, 2020)
The actual Black Friday 2020 revenue sits at $188.2 billion. (Adobe, 2020)
Because of the COVID-19 outbreak, Black Friday 2020 witnessed significant drops when it comes to traffic. However, we have also witnessed a rise in average transaction value.
Traffic numbers for physical stores were down 42.3% in 2020. (RetailNext via Forbes, 2020)
Here are Black Friday and Cyber Monday 2020 Mobile Commerce: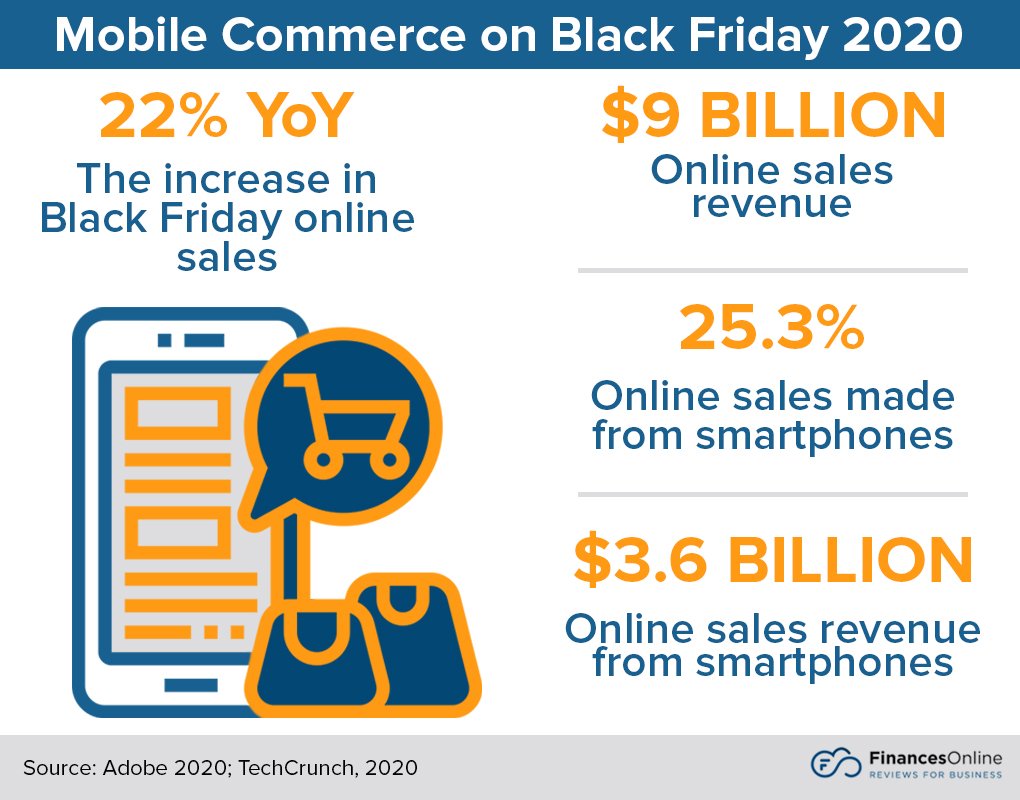 In 2020, ecommerce sales during November including Cyber Monday reached $100 billion for the first time. (Adobe via CNBC, 2021)
The online Holiday purchases in the US in 2020 grew 32.2% compared to 2019. (Adobe via CNBC, 2021)
37% of digital sales on Cyber Monday were made on mobile devices. (Adobe via CNBC, 2020)
Online sales have reached $10 billion on Cyber Monday. This is the biggest ecommerce day in US history. (Adobe via CNBC, 2020)
Online sales on Black Friday rose to about 22% YoY to $9 billion. (Adobe via CNBC, 2020)
Smartphones increasingly accounted for a portion of online sales up 25.3% at $3.6 billion. (TechCrunch, 2020)
70% of sales made on Shopify were made via smartphones. (TechCrunch, 2020)
Top 6 Creative Black Friday and Cyber Monday campaigns from creative brands
As well as the statistics above, we outline some b Black Friday and Cyber Monday marketing campaigns that will set any e-commerce sellers on the way to success.
1. Apple's email marketing campaign – creative Black Friday campaign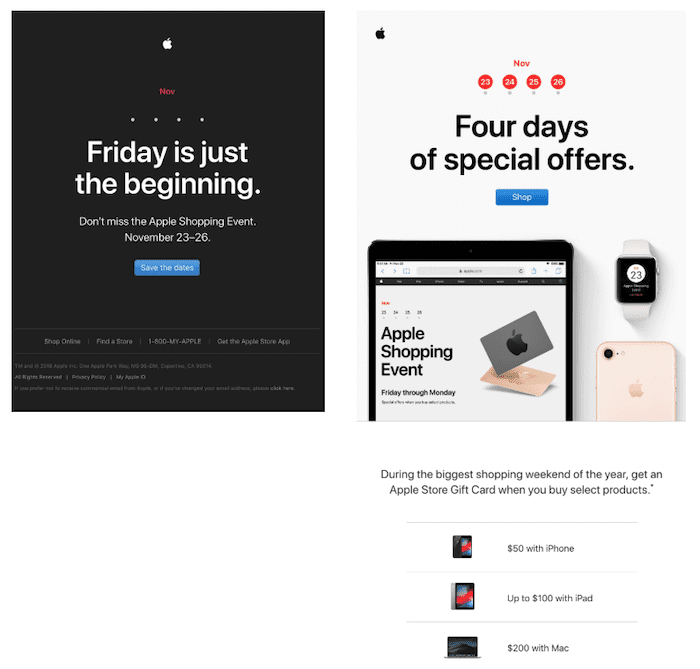 According to Shopify, email marketing is the highest converting channel for Black Friday promotions with an average conversion rate of 4.29%. So you can involve email marketing for BFCM like the way Apple did. This is a strategy you can adopt right away.
Instead of just sending out an email on BFCM morning, Apple started earlier. So they were able to capture a greater share of consumers' wallets before they spend their money on other purchases. Offering people early access to your deals makes them feel important and a part of a VIPs club and creates a sense of FOMO as people want to take advantage of and wait for the opportunity.
Step 1, they sent a teasing email for their sale a couple of weeks before BFCM.
Step 2, then a second email highlighting Apple's exact offering was sent a week in advance.
2. Kohl's Black Friday social media best campaigns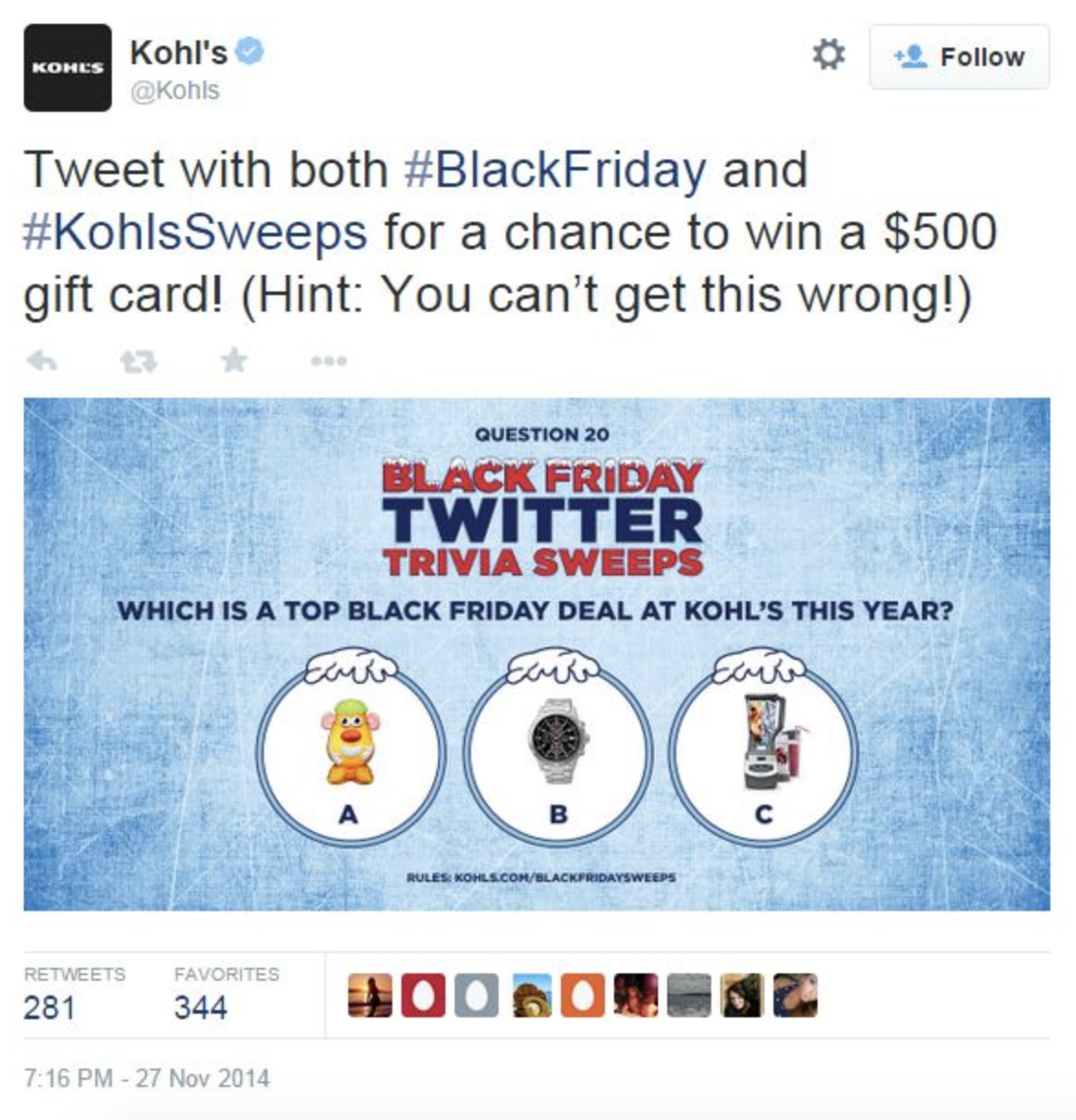 Social media plays an important role in brand promotion for Black Friday and Cyber Monday ad campaigns. And social media is a two-way communication: you are broadcasting your message to your target and your audience is able to interact with your brand.
So Kohl's created Black Friday social media campaigns to engage with more targeted customers.
The company shared ads announcing special Black Friday discounts.
They also offered a gift card to the customers in return for any response or retweet with a hashtag including the brand name.
They asked their audience questions across their social accounts in the lead up to and during Black Friday and earned plenty of social media engagement. You just need to make sure you place some clear calls to action in your posts.
3. Patagonia donates 100% of Black Friday sales to environmental groups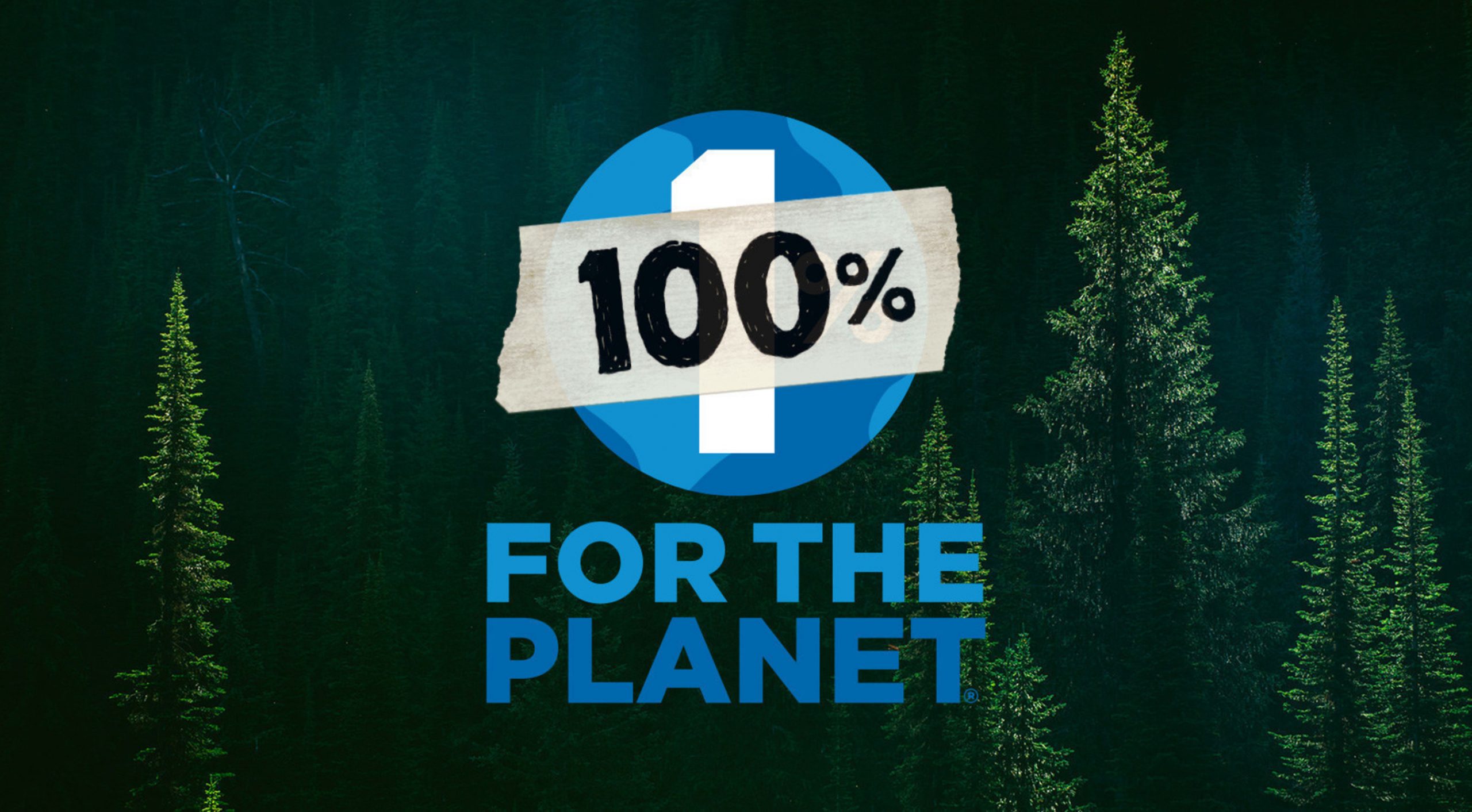 Outdoor clothing brand Patagonia has always advocated charitable causes. On Black Friday in 2016, through a partnership with One Percent of the Planet, Patagonia donated 100% of what they earned from ad campaigns to the charity to raise global awareness about the environment. And this great campaign perfectly matched Patagonia's brand identity. The story was especially picked up by the likes of CNN and Forbes. Emma Watson and Al Gore also mentioned it on their personal social media.
Patagonia exceeded the expectations and reached a record-breaking $10 million in sales, with 70% of online purchases made by first-time customers. The company estimated online sales at $2 million. The response was far beyond their expectations and they resulted in over 60,000 new Facebook followers in just two days.
4. Patagonia "Don't Buy This Jacket" advertisement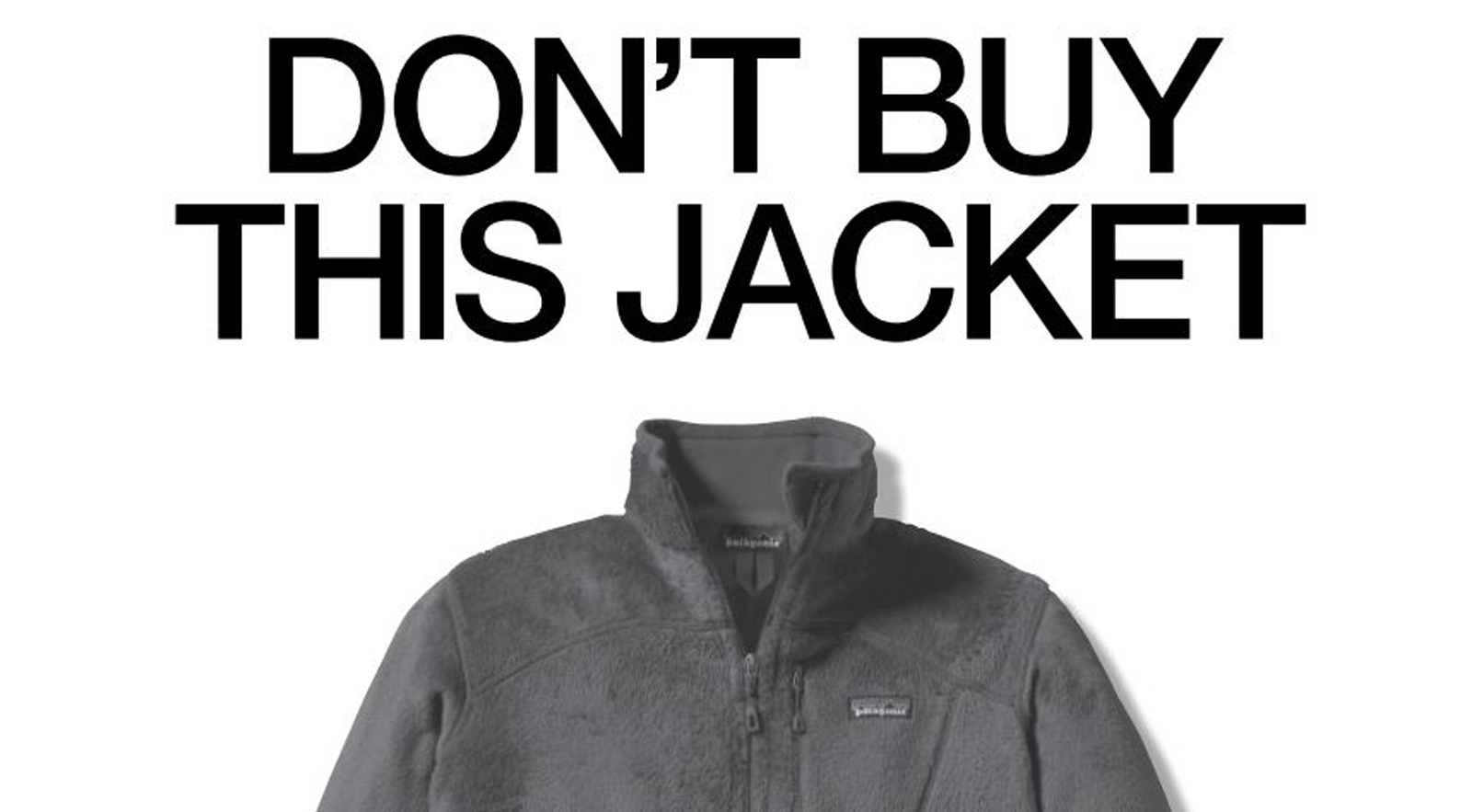 In 2011, Patagonia released an advertisement named "Don't Buy This Jacket" as their first anti-Black Friday campaign to encourage people to reduce, reuse, recycle, and repair their items instead of buying a new one. This campaign was published online and in the New York Times.
There were ethical consumption values that declared a war against consumerism on Black Friday and Cyber Monday. Actually, both pro- or anti- Black Friday methods work well to promote your brand and gain attention. And as a result, Patagonia attracted thousands of people's attention with this smart ad.
5. Kopari and influencer-sourced gift lists for Black Friday campaign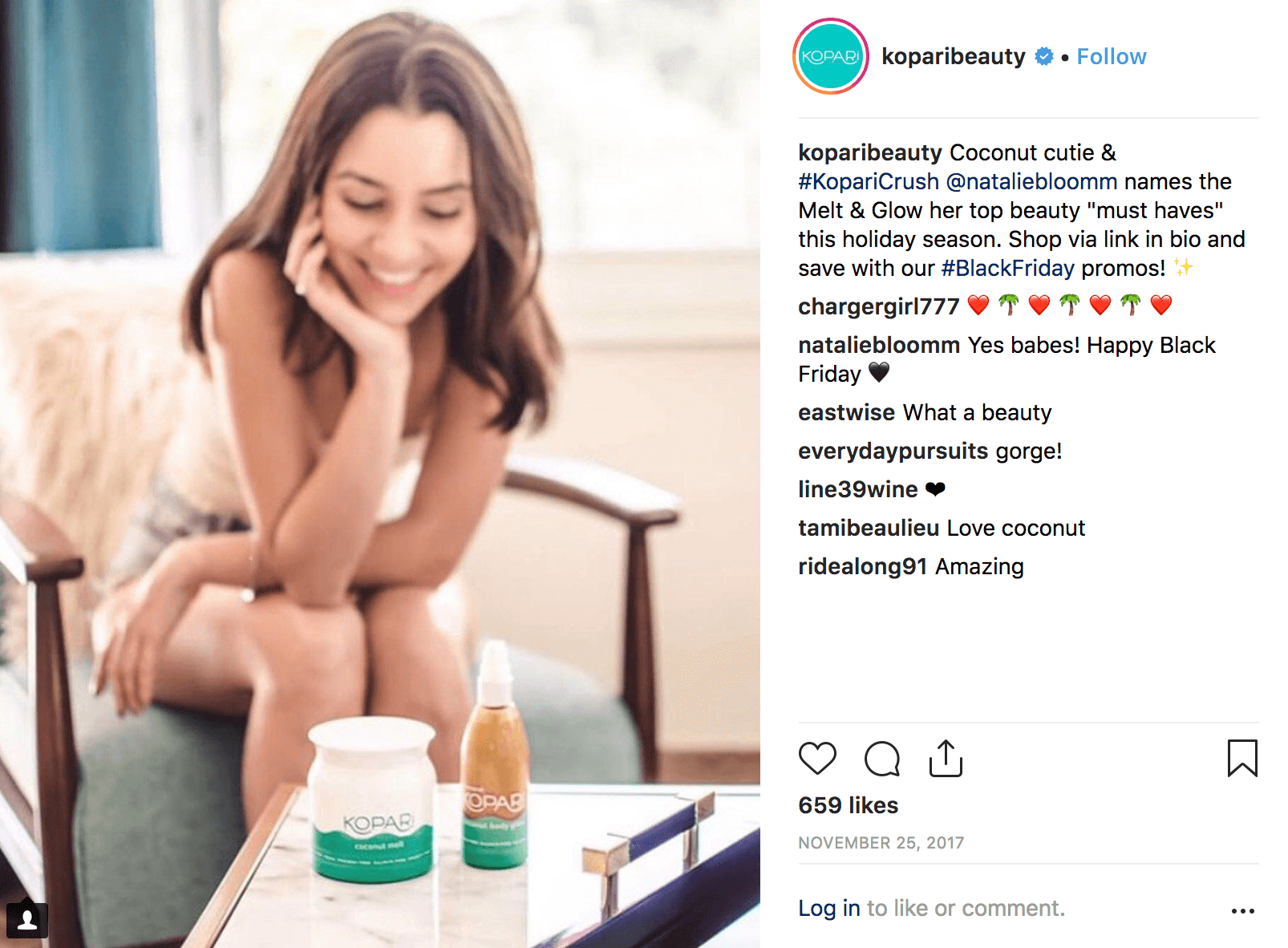 As we know, shoppers have in mind holiday gift lists. It's always a good idea to cooperate with influencers on social media to share their opinion pieces of advice with your products for holiday gift lists. That was what Kopari made. On Black Friday and Cyber Monday campaigns, Kopari shared influencer gift lists that mention their special products. This gives shoppers inspiration as well as social proof from the influencers for "must-have" products.
6. MeUndies hosted a virtual event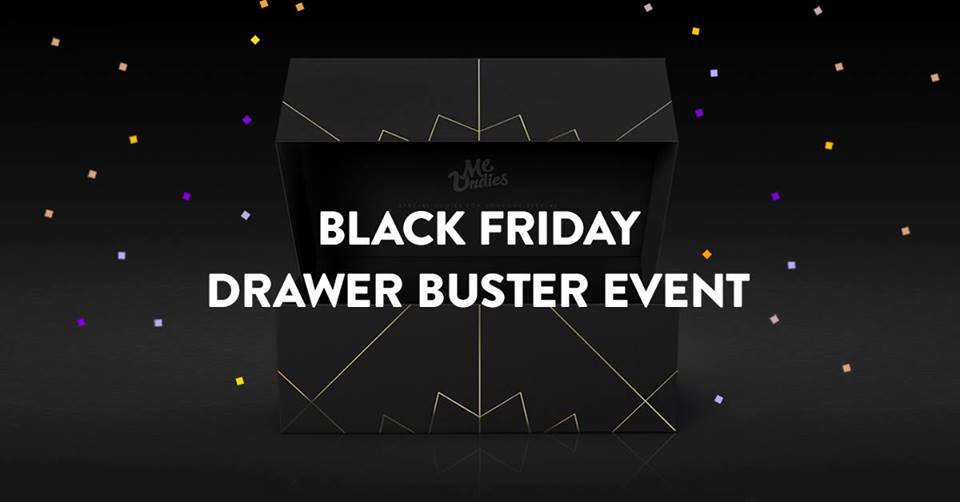 Live events have the potential to become attractive due to COVID-19 lockdowns. And one of MeUndies most successful Black Friday and Cyber Monday campaigns was an exclusive Facebook Live party like that. This event included a DJ and dance contests. As more people joined the event, the brand unlocked more significant discounts. It attracted more than 13,000 viewers with a conversion rate of 25%.
Conclusion
Black Friday and Cyber Monday are the craziest sale time of the year. Every business wants a piece of the holiday season pie. With the right campaign and strategies, you can stand out from the crowd and win your customers' hearts. So you can learn from Top 6 Best Black Friday and Cyber Monday Campaigns from creative brands that peak sales above to gain new customers and drive revenue during Black Friday and Cyber Monday this year.
And here are some key takeaways for you to keep in mind:
Leverage email marketing
Ring true to your brand values
Make people want to share about you on social platforms
Leverage social proof from your customers and influencers
You can learn how to do push hard with social proof with below essential articles:
If you have any further questions, hit up our comment section and keep an eye on https://fireapps.io for more topics.