Turn on the new SMS Review Request feature in Ali Reviews
Product Update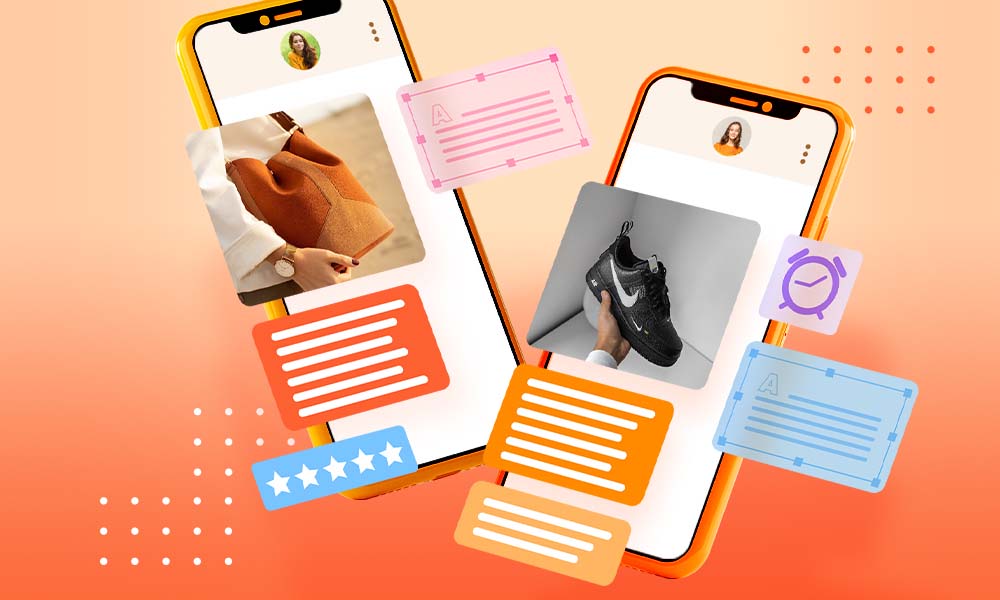 The 2023 SMS Review Request feature version is the most recent available. Check out this article for further information.
According to statistics, SMS messages have an open rate of up to 98%. And 90% of them are read within three minutes. Recognizing the value of SMS marketing, Ali Reviews built a new SMS Review Request tool to assist businesses in collecting more product reviews and user-generated content.
Let's look at the advantages of SMS marketing to ensure you get the most bang for your buck with campaigns.
Benefits of SMS
Your store needs to be able to encourage online reviews to build its reputation and advance the competition. SMS is an excellent platform. Here's why:
You can take advantage of mobile-specific tactics to reach customers in a more friendly and easy way.
As far as information delivery, SMS only takes a few seconds to reach large audiences.
Various researches have proven that SMS open and response rates are as high as 98% and 45%.
SMS provides a simple and cost-effective way of requesting reviews from customers.
Moreover, most people have phones at hand. SMS messages can always reach your customers at the happiest time in their purchase experience and leave you a fantastic review.
How to get started with an SMS Review Request?
For businesses with limited resources, it is often difficult to get inspired to create new marketing campaigns. Ali Reviews wanted to remain confident in our ability to evaluate products and saw an opportunity for SMS as a beneficial tool to help all businesses collect customer reviews more efficiently. Our idea is that the merchant creates an SMS template requesting reviews and sets a schedule to send them automatically. The team set up a quick survey to start building this new SMS Review Request feature and found it's hard to find another tool to achieve as well as SMS.
Ali Reviews app has integrated with the Messent app to create an SMS Review Request feature. Our SMS Review Request allows users to edit content and schedule messages to send right inside Ali Reviews without moving to Messent.
Moreover, Ali Reviews provides Free Top Up to all new customers. With this reward, you can fully test out the SMS Review Request feature before deciding to add more to your balance. Click here to check a top-up reward for each plan.
If you believe SMS Review Request is the feature you are looking for to collect more customer reviews and increase social proof for your business, follow the steps below to get started:
1. In Ali Reviews, go to Collect reviews –> Request Review via SMS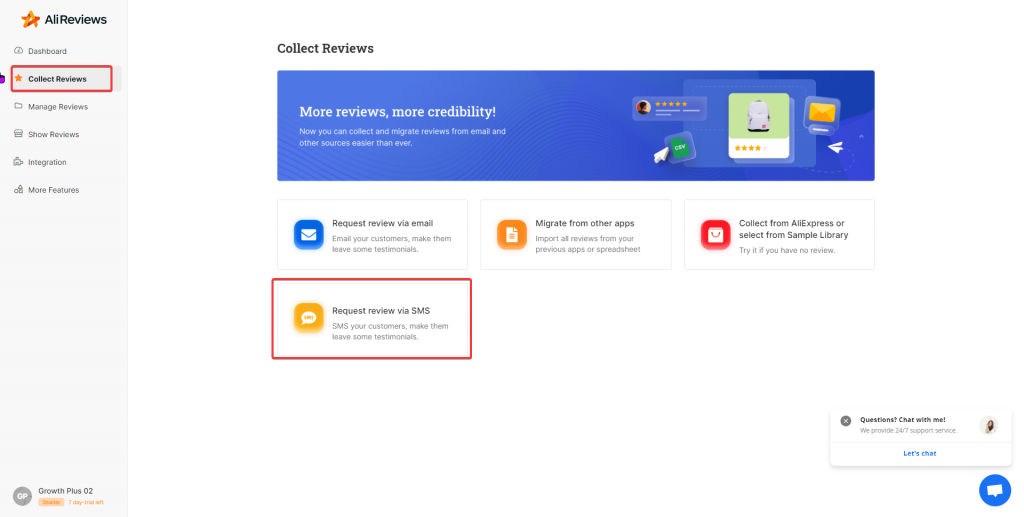 2. After that, you will receive an integration request, and don't hesitate to click Integration now!
3. After successfully integrated, click on "Set up Ali Reviews SMS Campaign"
At this step, you have the option of operating the SMS Review Request feature directly on Ali Reviews or moving to the Messent app. All of your data will be synced across both two applications.
You will manage your funds and balances here. Don't forget to use your Free Top Up to make use of this feature. (please note that Free Top Up is only available for New users)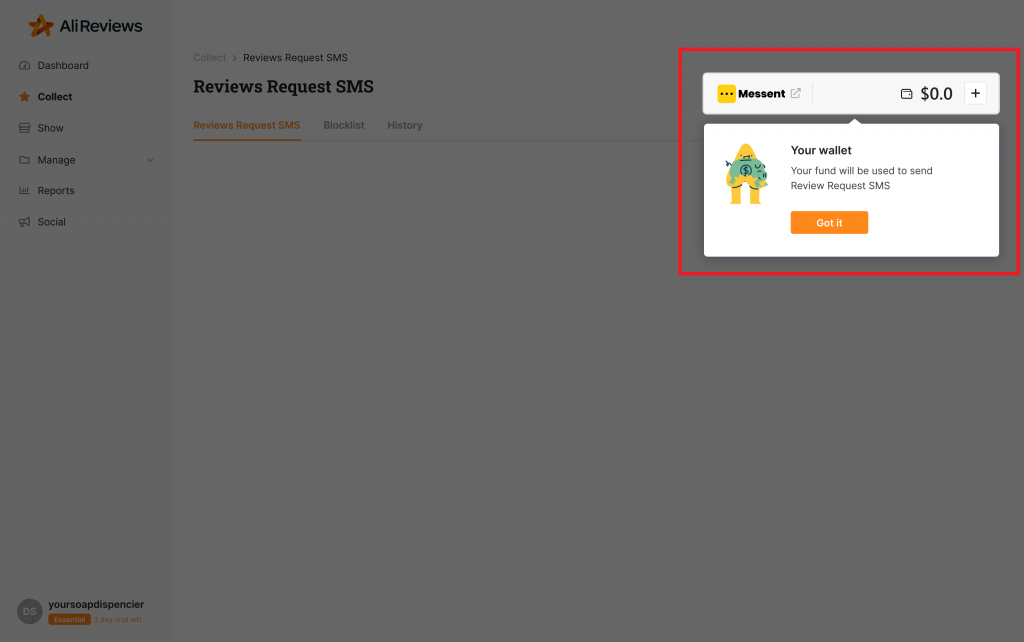 4. Turn on the SMS campaign
Note: This feature only works with orders which are fulfilled after you Save the settings
5. Please schedule the day to send SMS according to your normal delivery time. The SMS should come after the customer received their order.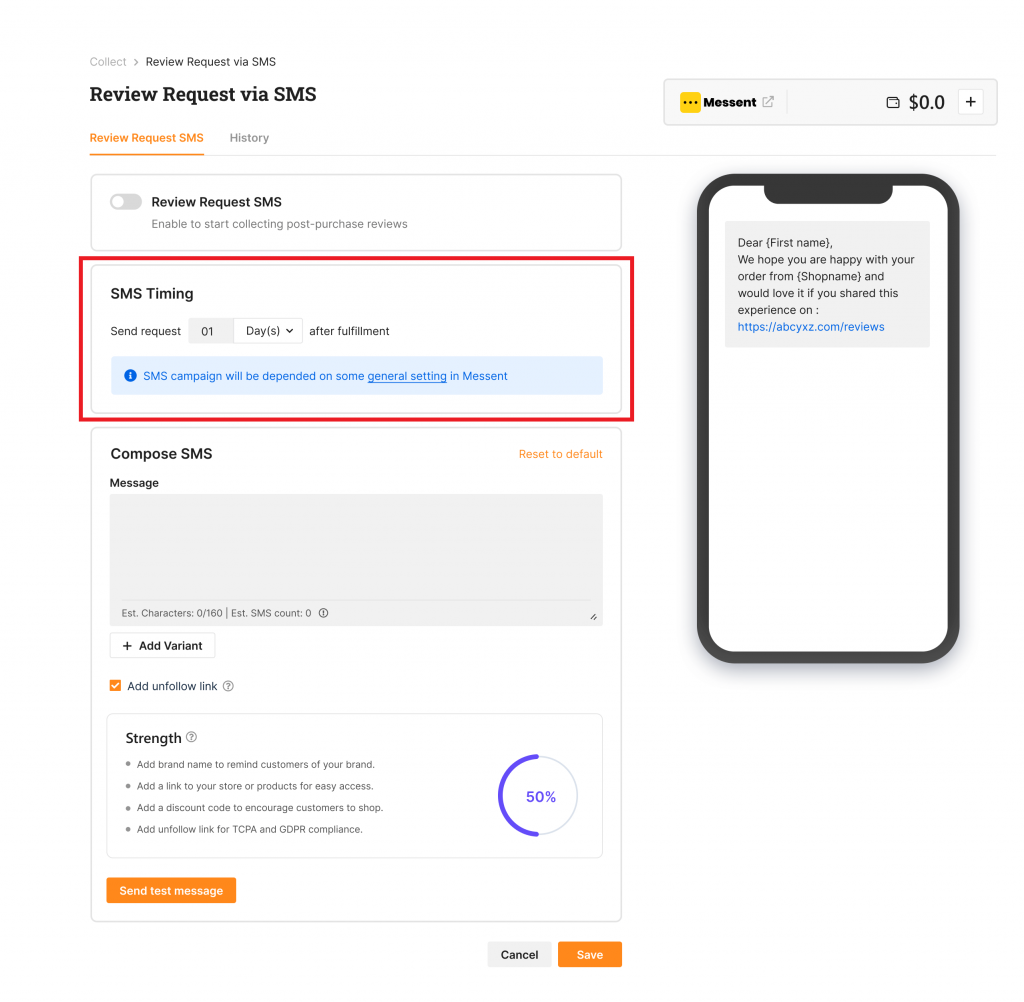 6. Prepare the message for your SMS and fill out the form
For example:
Hey Jane Doe, thank you for purchasing! To help us best serve you and others, could you click on this [link] to leave a review about your experience with the product? Thanks!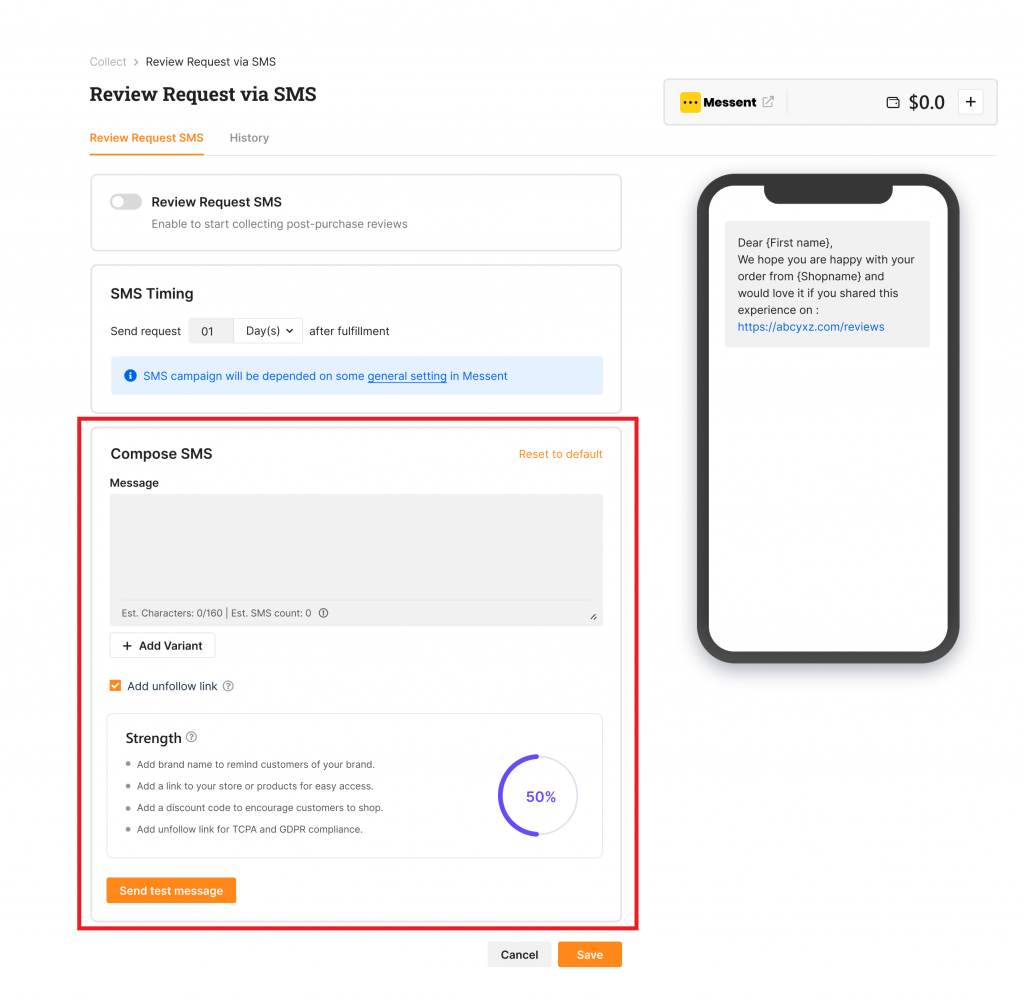 SMS Review Request supports quick review to show how "strong" the message is and suggest what can be improved in brief.
Let's make a review-wonderland impressive with Ali Reviews
You can't wait to put previews on your store? Don't miss out this app!
Import reviews in seconds & collect reviews through multiple sources
Showcase reviews beautifully with 9+ styles & layouts
Fully moderate & manage review contents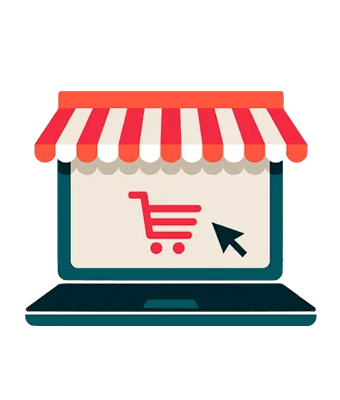 Wrap up
We hope you will find everything you want to know about the SMS Review Request feature in this article.
We want to highlight that customer reviews are crucial for any business. To inspire your customers to believe that their opinions matter, you necessitate building a stronger relationship with your customers by closely and friendly approaching them. SMS Review Request would be a great tool to encourage that.
In addition, you can combine SMS Review Request with Discount feature to improve repeat customer rates, especially useful in boosting sales in upcoming Holiday season!
If you need some more help, please feel free to contact us via live chat or email us at support@fireapps.io.
Let's find out more about the world of e-commerce here https://fireapps.io/