What can you do when reviews still are not working?
Troubleshooting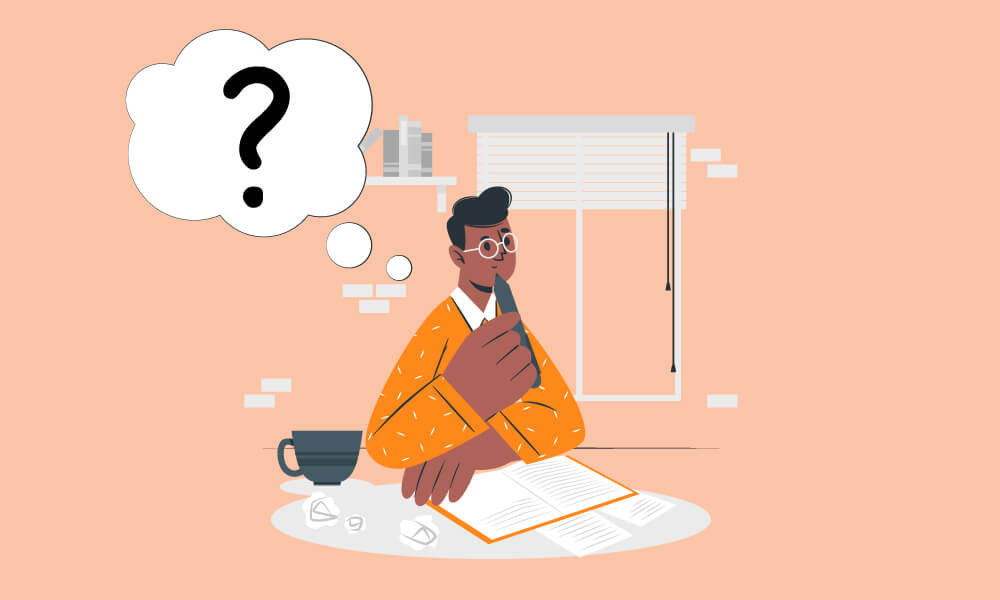 There're tons of reviews on AliExpress, but sometimes it takes a bit longer than usual you can't get/import reviews to your store successfully. What can you do at that time?
I. Why can't you import reviews and import reviews is not working?
First of all, the prerequisite that import reviews, please make sure that you have met these following requirements:
1. There are reviews showing in AliExpress as the below picture
If NO reviews is showing here, Ali Reviews will NOT work, and you will need to find another product to get reviews.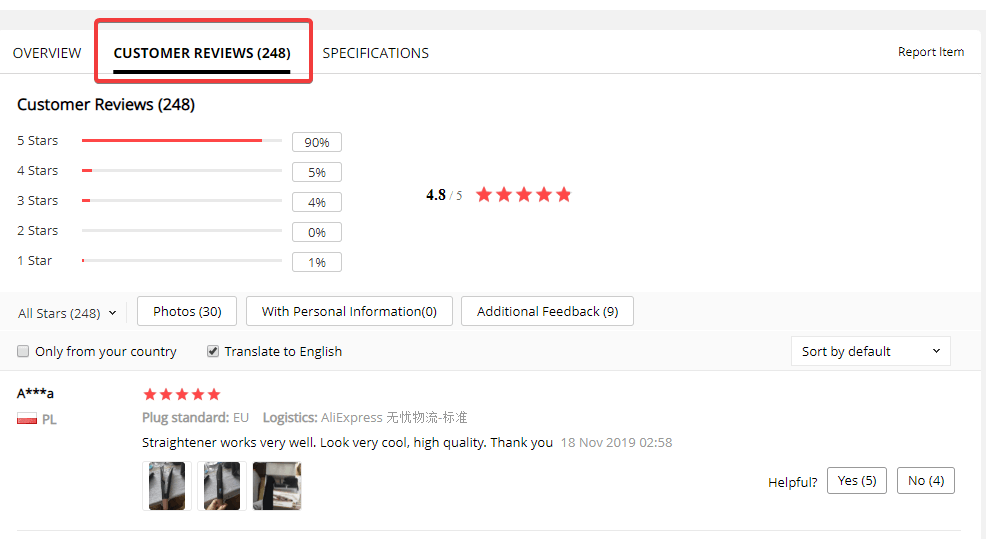 2. The Review form is presented properly on your Product page as the below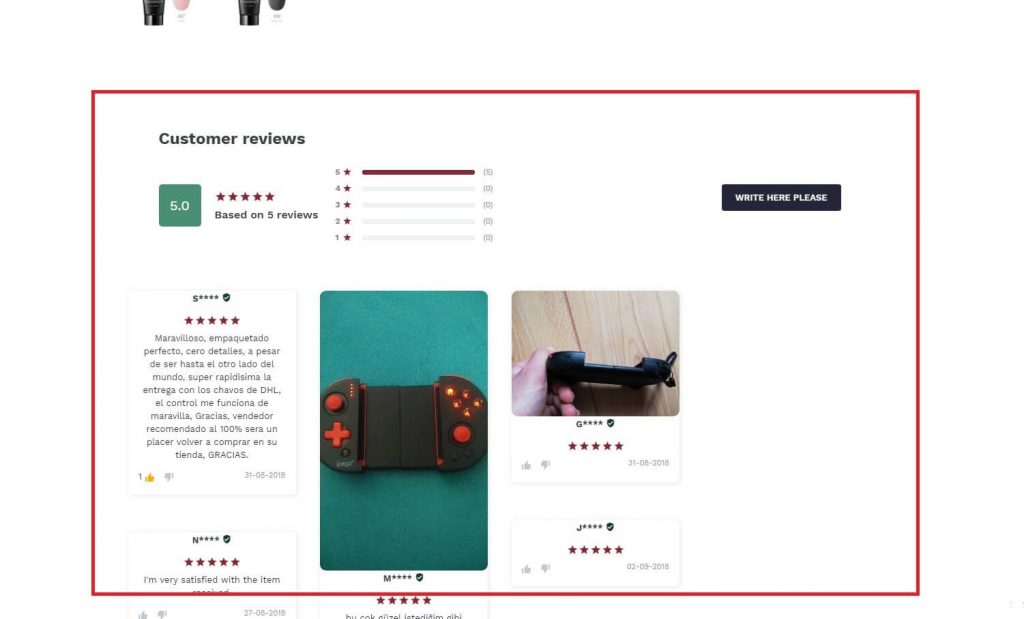 3. You added Ali Reviews Chrome Extension, and you're importing reviews on Google Chrome browser on a computer.
4. The link of the product you want to get reviews on AliExpress.com is correct.
Your product URLs MUST look like: https://www.aliexpress.com/item/long-tails-product-keywords
Here're some examples of product links whose URLs are INCORRECT:
https://m.aliexpress.com/item/long-tails-product-keywords
https://www.aliexpress.com/item-img/long-tails-product-keywords
https://www.aliexpress.com/store/product/long-tails-product-keywords
Don't worry! We're still here to guide you some steps below, let's check it:
Check Review Settings
Go to Get Reviews > Import Reviews > Default Filter Settings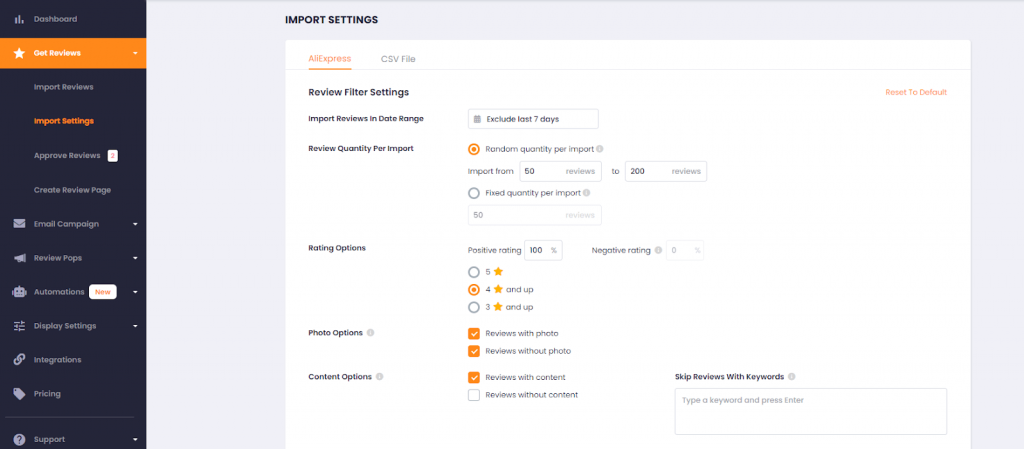 Check Filter settings, sometimes due to your filter settings, the app cannot find any reviews that match all criteria.
Some examples below will help you understand clearly:
You choose to import reviews with Photo only, but actually, there are no reviews which have pictures in AliExpress.
You want to have reviews from specific countries. However, there are also no reviews that match that condition. As a result, you need to change settings in order to import reviews from other countries, or choose another product.
Check the Review Quantity Per Import, if you choose Random Quantity, make sure that the reviews in AliExpress are not lesser than what you set.
Check Skip Reviews with Keywords, make sure NO any mark at the end of the word list.
For example: aliexpress, dropship, china.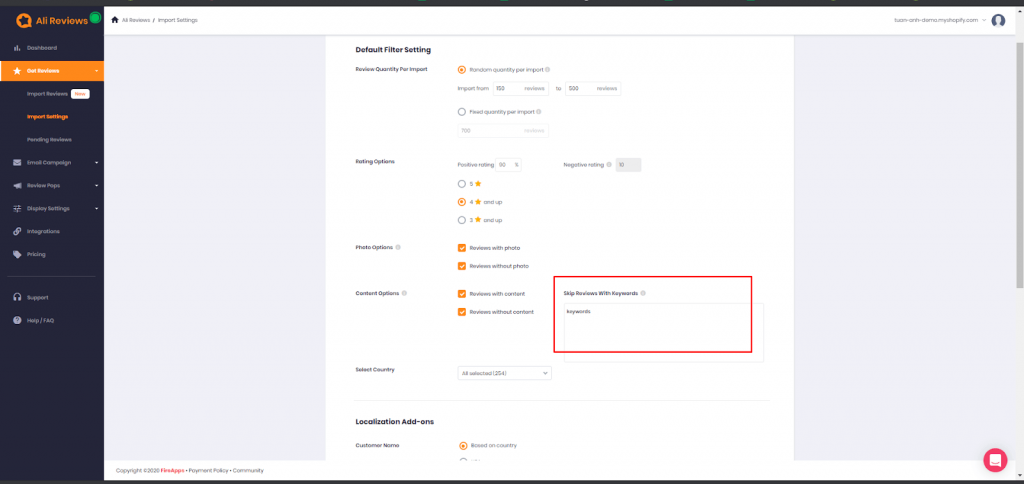 2. INSTALL A VPN APP, AND TRY AGAIN.
We found that for some specific countries, AliExpress is blocking users from those countries to import reviews. Therefore, we suggest you try to install a VPN app, and try importing again.
You can consider downloading and using this Touch VPN app here.
We hope this article helps you resolve "import reviews are not working". And if you need some supports, feel free to contact us via live chat or email support@fireapp.io
II. How to use the "Reviewer Name" filter?
Based on your configuration, the reviewer name can be localized based on his/her location, or put under US name.
Normally, when you import reviews from AliExpress, due to lack of real names in that platform, our third-party integration app will randomly add reviewer names to your reviews to make it more realistic.
How it works?
Check reviews settings
Click on Get reviews > Import Settings > Review Filter Settings > Reviewer Name. Sometimes, due to your filter settings, the app cannot find any reviews that match all the criteria.
And, there are 2 options for you to choose:
Based on reviewer location: this option will be chosen by default. You can check the list of 60 supported countries at the end of this post. Reviewers from those countries are not listed, their name will be shown in US names.
US names: if you choose this option, all reviewer names will be generated as US names.
Try to import reviews for your products, and see the results.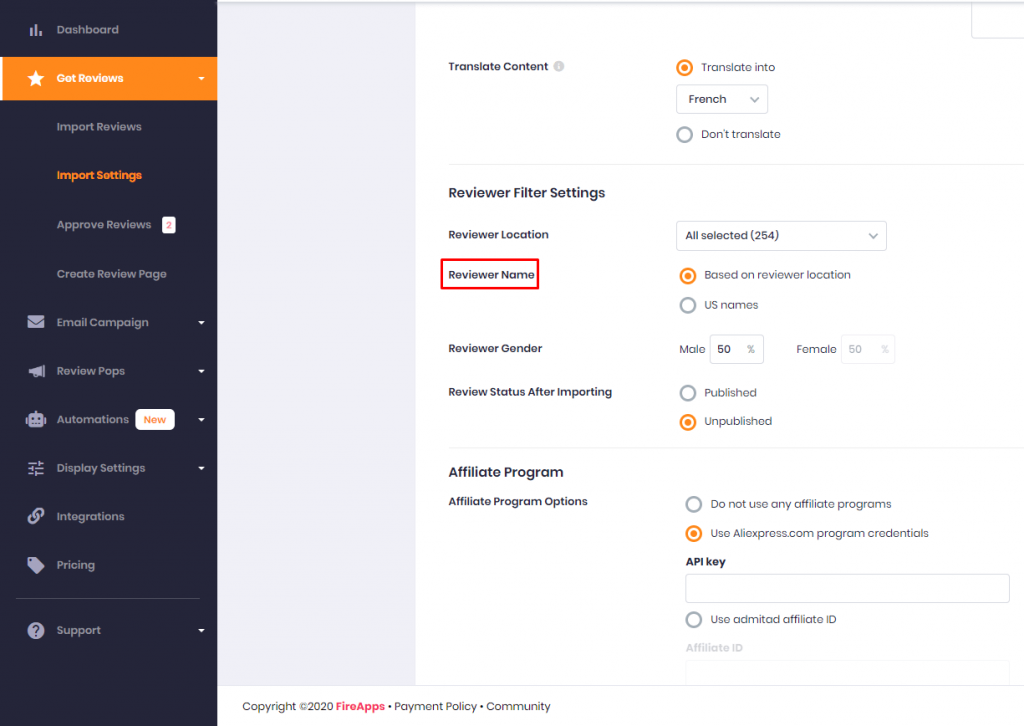 We have some tips for smoother importing reviews
Besides choosing countries, you can simply choose Reviewer Gender to be applied for your reviews also.
Reviews will be changed by the country which you have chosen in Reviewer Location.
This function is ONLY applied for those reviews imported after settings were saved.
Here's list of supported countries: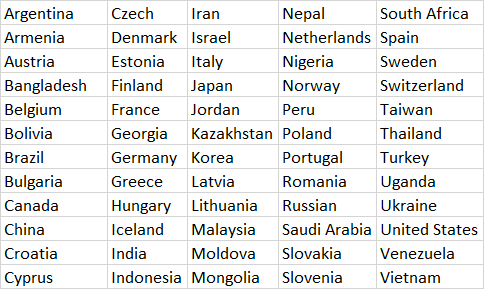 Finally, if you have any doubts and need a support, please contact us asap via live chat and email: support@fireapps.io
III. Why does this message "Reviews are flying to your store" keep loading and waiting for a while for reviews imported and why is this occurring and how long does it take?
It depends on A lot of settings and how many number of reviews on AliExpress link. Normally your reviews should be imported within 10 – 15 seconds.
In some cases, after everything is set up in Import Setting, you start to import reviews but this pop-up keeps loading for so long but you still do not see the result yet.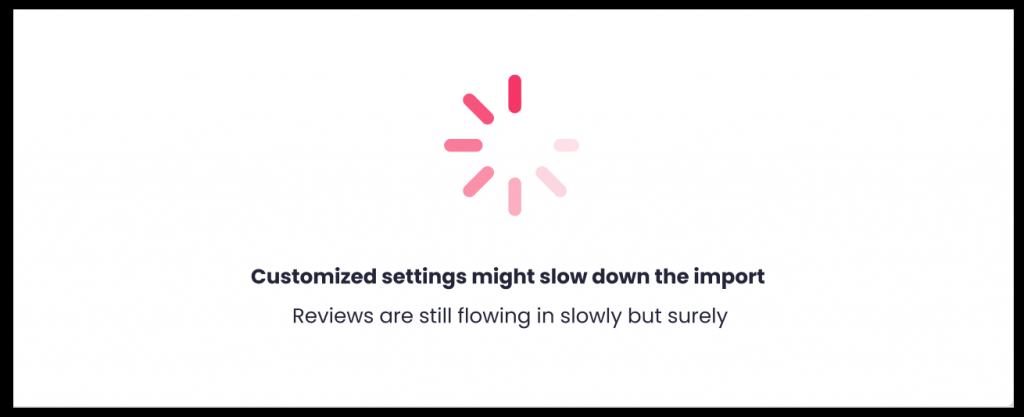 Don't worry. Look at some reasons as below and follow accordingly steps:
Your products have so many reviews on AliExpress and thus the app needs a little more time to import all reviews on each AliExpress page to your store.
There are lots of filters in your settings such as Review option, Rating option, many keywords in Skip Reviews with Keywords, etc,… so it takes time to sort out all criteria on each AliExpress page matched with your filter setting.
At the moment AliExpress does not support the filter to sort reviews based on the country when importing reviews. So if you only choose some countries in the filter "Select country", it will take so much time to sort out all the reviews on each AliExpress page matched with your setting and countries chosen.
And solution if you caught it:
Please keep patient and wait for some minutes to get the result.
OR get back to Import settings > Uncheck on some filters > Save. Then import reviews again. It should get reviews quicker.
We recommend you check on "Select all" countries to import reviews faster.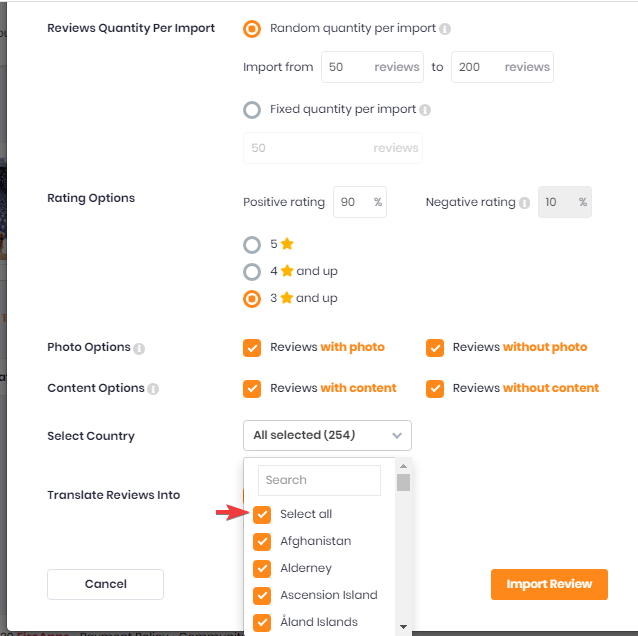 Sometimes, due to filter settings, the app "Cannot find any reviews" that match all the criteria, please read this above writing to resolve the problem.
Finally, if you checked everything but still no results, please feel free to contact us via live chat or email us at support@fireapps.io
Related Articles: